Are you in need of a translation plugin for your multilingual website? A translation plugin is a must-have for multilingual website owners. There are many choices of translation plugins that you can install, one of which is TranslatePress.
Each plugin certainly has its advantages and disadvantages, and so does TranslatePress. So, for those of you who need an alternative TranslatePress plugin, there is a Linguise service that you can use.
So, why is Linguise the best alternative to TranslatePress? In this article, we will discuss starting from the introduction of TranslatePress, what is Linguise, and Linguise VS TranslatePress.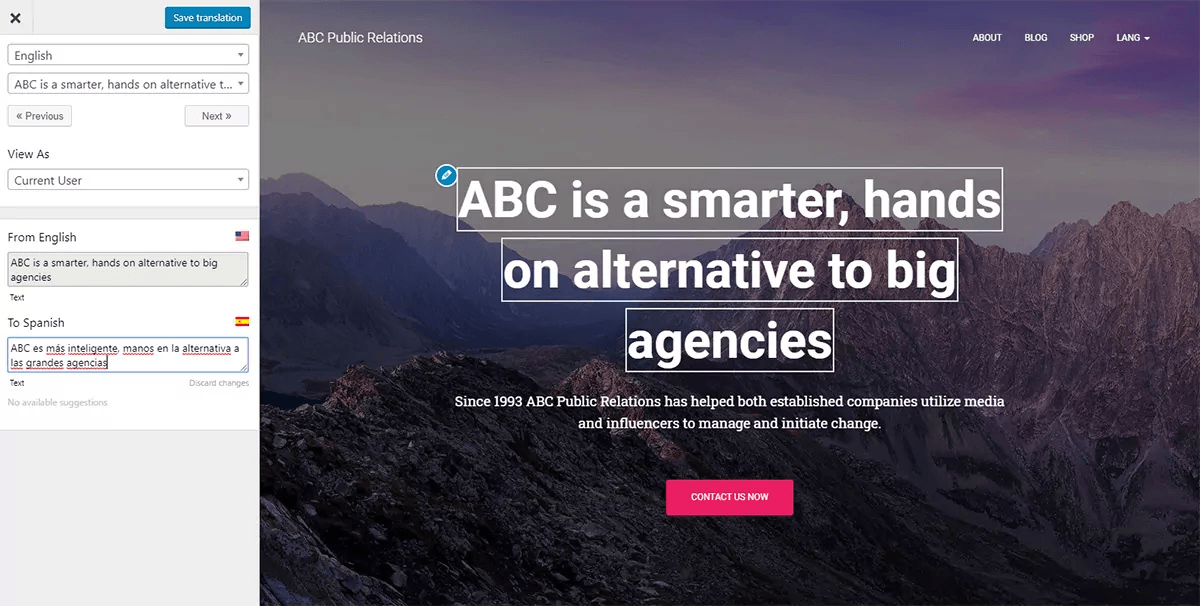 TranslatePress is a WordPress plugin that enables website owners to translate their websites into multiple languages. With TranslatePress, allows for easy and efficient translation without the need for any coding or technical knowledge. 
The plugin also includes features such as automatic translation suggestions, customizable language switchers, and SEO for translated content. 
TranslatePress supports both manual and automatic translation methods and is compatible with most WordPress themes and plugins.
Features of TranslatePress
TranslatePress offers various features to make it easier for users to translate sites. Below are some of TranslatePress' features in a bullet list.
Frontend translation:

TranslatePress lets you translate your website content directly from the front end, so you can see the changes in real-time.
Compatibility with theme/plugin:

 TranslatePress works seamlessly with other WordPress plugins and themes, so you can easily integrate it into your website.

Translation of all website elements:

TranslatePress lets you translate not only your website content but also menus, widgets, and other website elements.

An Unlimited number of languages:

TranslatePress does not place a limit on the number of languages ​​used.

Multiple translation options:

TranslatePress lets you translate using machine translation, manual, or a combination of both. Because TranslatePress supports Google Translate and DeepL.

Customizable language switcher:

You can customize the language switcher to match your website design and choose from various styles and placements.

Automatic user language detection

: TranslatePress can automatically detect the user's language and display the website content in the corresponding language.

SEO friendly:

TranslatePress helps search engines understand different language versions of your content and improves your website's SEO.
Common limitations of TranslatePress
That aside, there are a few things TranslatePress can't do as a translation plugin. Including the following.
Limited translation customization:

TranslatePress offers a limited amount of customization options for translations. For example, it may not be possible to adjust the translation of a specific phrase or word or to override a machine translation with a human translation.

Limit free version:

The free version of TranslatePress offers limited features where you can only translate your website into a single language.
In addition to the two things above, there are several features offered by TranslatePress, which will be explained in more detail below.
Break Language Barriers
Say goodbye to language barriers and hello to limitless growth! Try our automatic translation service today.
Why consider Linguise as an alternative?
After knowing what TranslatePress is and the various features it offers. Now is the time to find out what Linguise is, which can be an alternative plugin TranslatePress.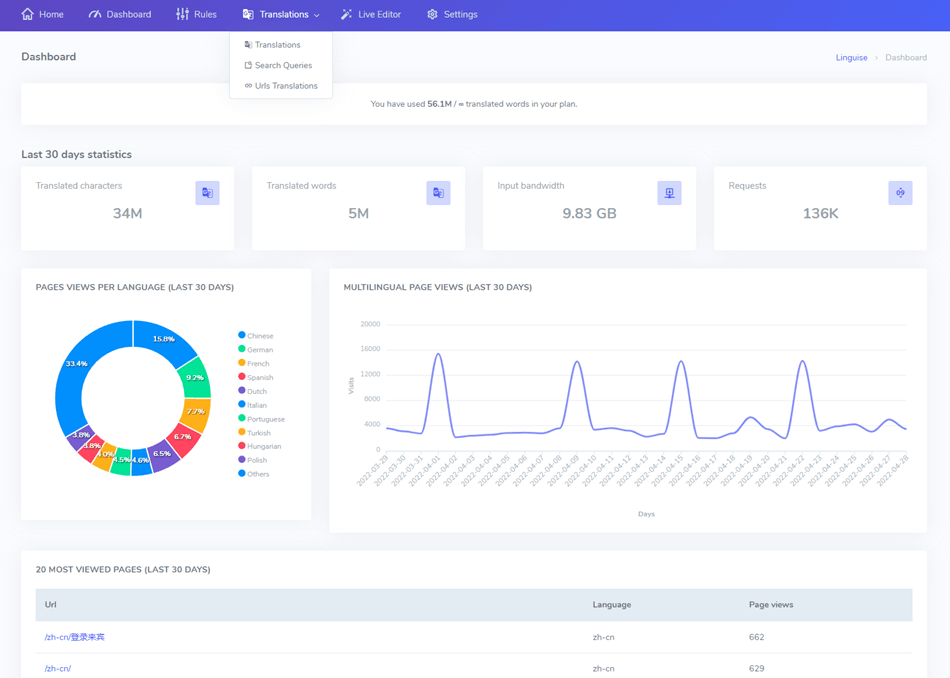 Linguise is a language translation and localization software that can assist users in translating their site content. Linguise can translate many types of content, including websites, plugins, and more.
This service allows editions to be performed using translation rules (eg replacing a word with another word throughout the website) or from a live website editor where the user can click on it to edit the translation.
Benefits of using Linguise over TranslatePress
Why is Linguise one of the best TranslatePress alternatives? What are the benefits if you use Linguise over TranslatePress?
More advanced translation features:

Linguise offers a range of advanced translation features, such as the ability to translate images, videos, and even entire web applications. It also uses machine learning algorithms to improve translation accuracy over time.

Linguise is based on affordable automatic translation. You can translate 100% of a  small or medium website, with the price of a TranslatePress license that allows only manual translations
Better integration with multiple CMS:

Linguise integrates with a wider range of CMS. 

The 1-month trial is more profitable:

Linguise offers a 1-month trial period that fully translates your website and during when the trial you'll have to 100% of the features

Better user interface and user experience: once you have registered with Linguise, you will get a dedicated dashboard which can be used to manage translations. This dashboard is designed with a user-friendly interface so that even novice users can quickly understand how to use it.
 
Before deciding to use Linguise as an alternative to TranslatePress, you need to know first how Linguise works in translating sites.
First, you need to register Linguise, then Install Linguise on WordPress. After successfully installing on WordPress, you can set the language you want via the WordPress dashboard or the Linguise dashboard directly.
On the Linguise dashboard, there are various features that you can use. Starting from selecting the language, adding translated content, and so on.
You are free to choose whatever language you want to display on the site. Then copy the API key that you got from the Linguise dashboard and paste it into the WordPress dashboard. 

You can also set the language icon using the country flag at the same time. Don't forget to save to apply changes.
Then, if visitors from other countries visit your site, they can change the language according to their native language as shown below.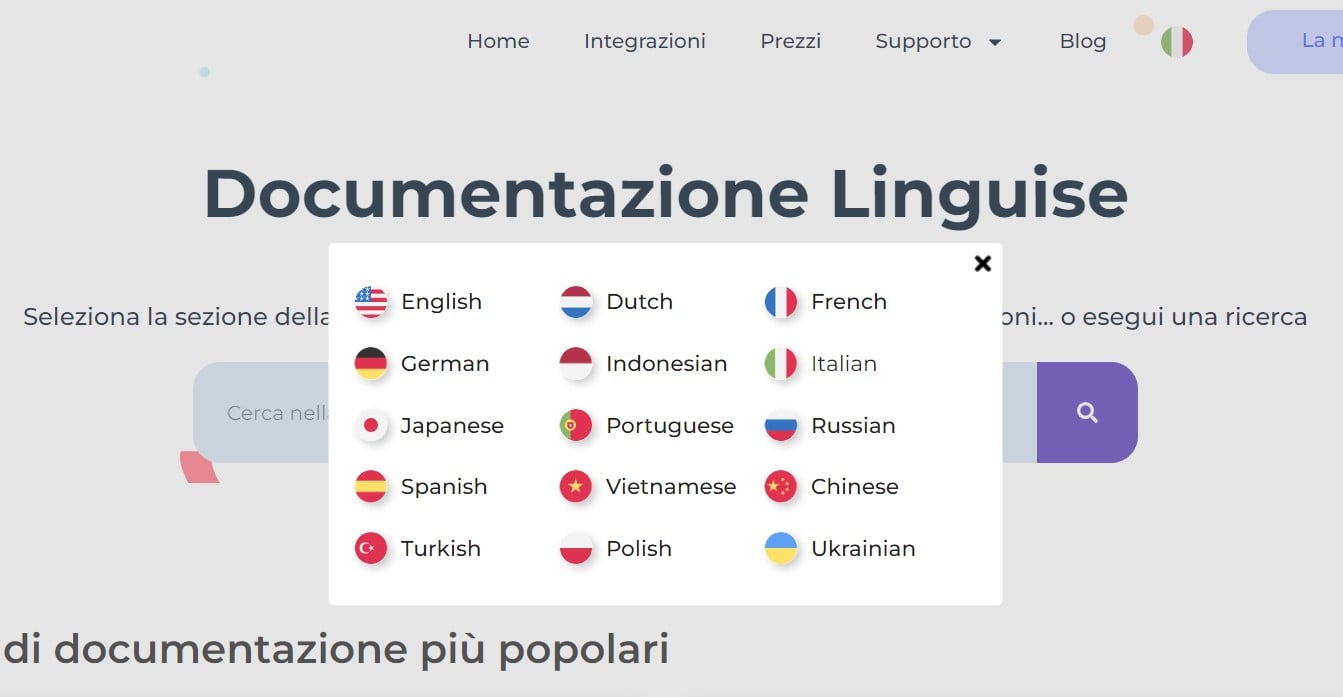 Every time there is new content on your site, Linguise will translate it automatically and store it on the server. So that if there are visitors who need the translation, the server will immediately display it on the web page.
Ready to explore new markets? Try our automatic translation service for free with our 1-month risk-free trial. No credit card needed!
Linguise vs TranslatePress comparison in details
So that you understand better why Linguise is the best alternative to TranslatePress, below we will compare Linguise and TranslatePress in several ways, including the following.
All websites are translated upon install
Linguise is the best alternative TranslatePress replacement for many reasons, including its ability to automatically translate entire websites after installation. 
Once configured in the Linguise dashboard, it applies automatic translations across the site, making it an easy and convenient option. In contrast, with TranslatePress, users need to use the Advanced Translation Editor to implement automatic translations manually by section. This limitation means that TranslatePress is unable to implement automatic translations on some sites.
Advanced translation exclusion rules
The next thing that differentiates these two translation services is the translation exclusion rules. Not all services offer a rule feature to exclude some content or sections on a site.
However, Linguise provides this feature to make it easier for you to exclude content. There are 3 ways to exclude, which are content exclusion, exclude text or text ignore, and exclude by URL.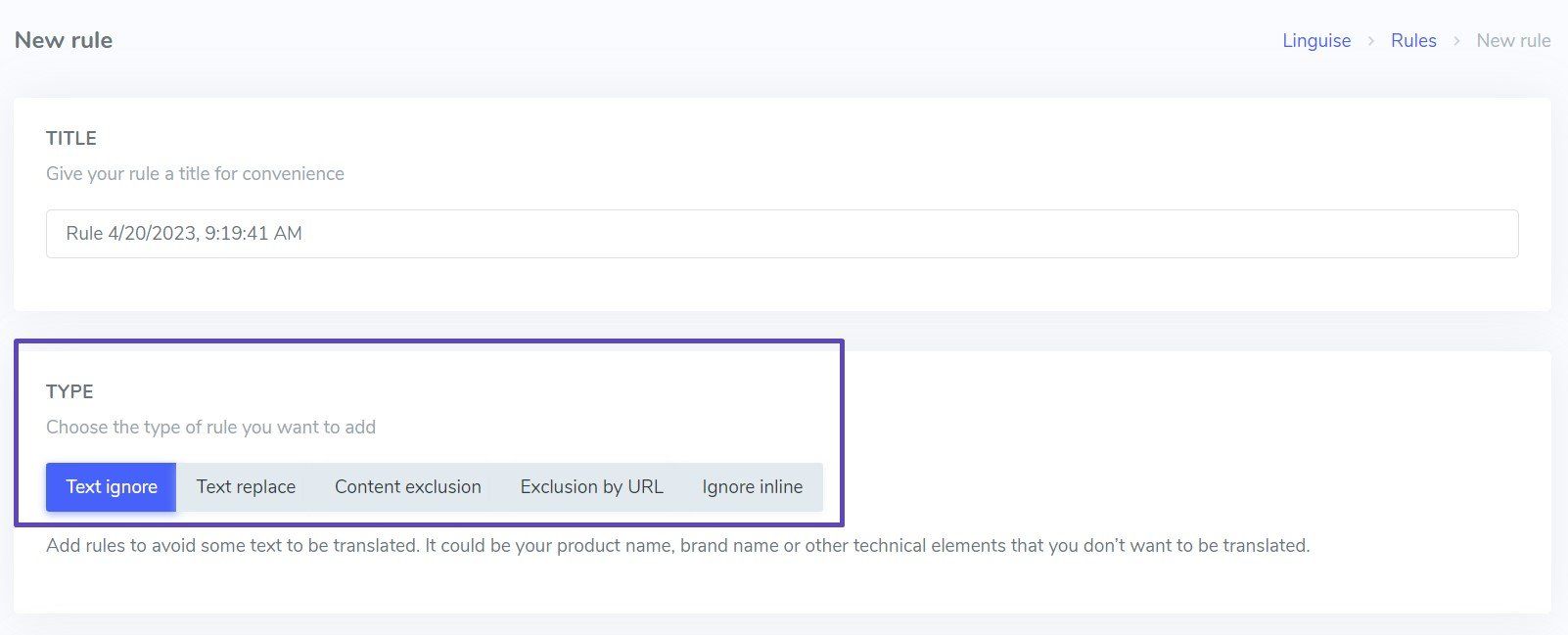 Compatible multi CMS, multiplatform
The thing that distinguishes Linguise and TranslatePress next is seen from their integration. Linguise is compatible with several CMS and platforms, including the following.
Joomla

Drupal

WooCommerce

Magento

Prestashop

Opencart

JavaScript & PHP.
In addition, TranslatePress is also integrated with CMS, but not as much as Linguise, for example, such as WooCommerce and the Guttenberg platform.
TranslatePress does not offer a free custom installation service for its customers, whereas Linguise has this service to help customers who have difficulty installing.
When you first register for Linguise, you can ask the Linguise team to help with the free installation. Just fill request Linguise Install in the form below, some of the fields that you must fill in include.
Name

Email

site URLs

Custom message about installation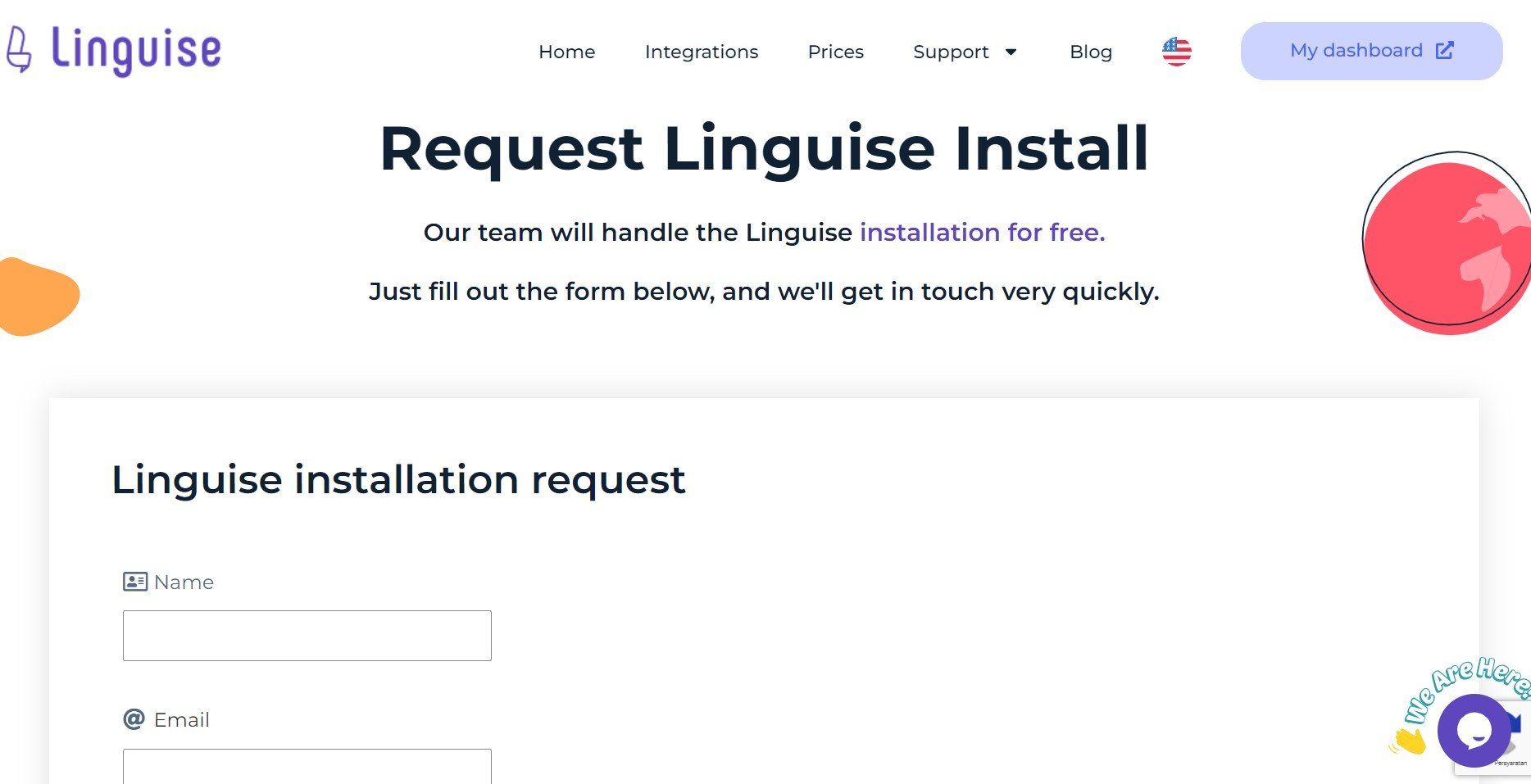 Once the form has been sent, the Linguise team will contact you soon for further coordination.
Free 1-month trial without credit card and multiple languages
Linguise has a 1-month free trial feature for those of you who want to try it before subscribing. To use the trial, you don't need to use a credit card for registration, you only need to register for Linguise and get access to the dashboard.
Even though it's free, Linguise provides almost the same facilities as the premium package, which allows you to translate up to 600,000 words, accessing more than 80 languages.
On the other hand, TranslatePress also offers a free service, but you can only translate your site into 1 language. This is, of course, very limited for those of you who want to translate the site into many languages.
SEO support, even with 100% automatic translations
Linguise has a free trial feature for 1 month as mentioned earlier, even though Linguise offers a free version, the facilities you get are quite complete, one of which is SEO support. By translating site content using SEO, the translation results are still optimal for SEO.
All major search engines can quickly and fully index Linguise's multilingual content. After enabling your website translation, you can speed up the indexing process of your pages by leveraging webmaster tools such as Google Search Console, Baidu Search resources, and Yandex Webmaster. Therefore, Linguise's multilingual content is indexed efficiently and comprehensively by all major search engines.
Apart from the content, other SEO elements such as meta titles and meta descriptions are also translated. This is inversely proportional to TranslatePress, the free version of this service does not support SEO because there is no meta-description translation. This will certainly greatly affect the SEO performance of your site.
Customer Reviews Linguise
If you are still unsure about the Linguise translation service, below are some reviews from customers using Linguise on their sites.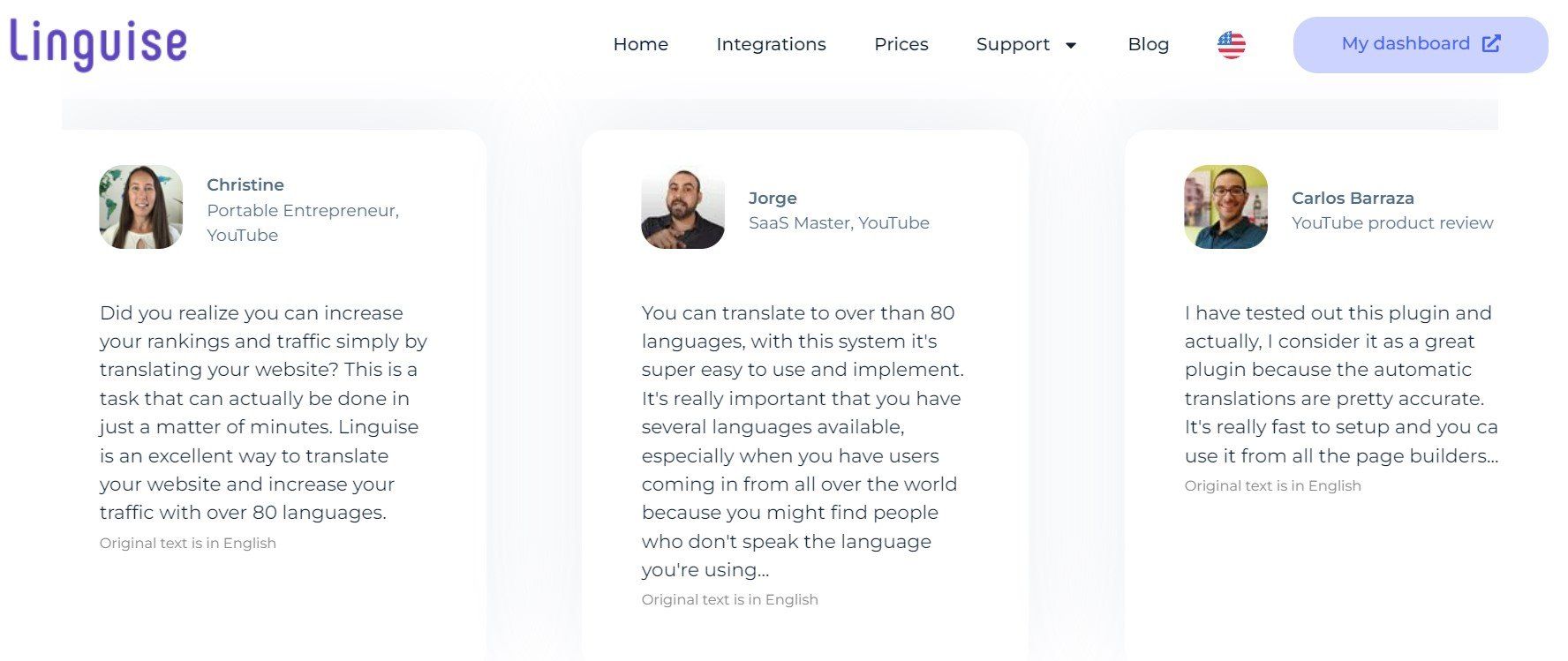 If summarized in the form of points, this is something like a testimonial from a customer.
Easy to use and implement a system

Accurate and very clear translation results

Quick setup

Linguise helps increase web traffic

Fastest translation plugin ever

One of the most effective translations
Apart from that, below are also reviews from users of the Linguise plugin on WordPress. Most of them give 5 stars to Linguise review.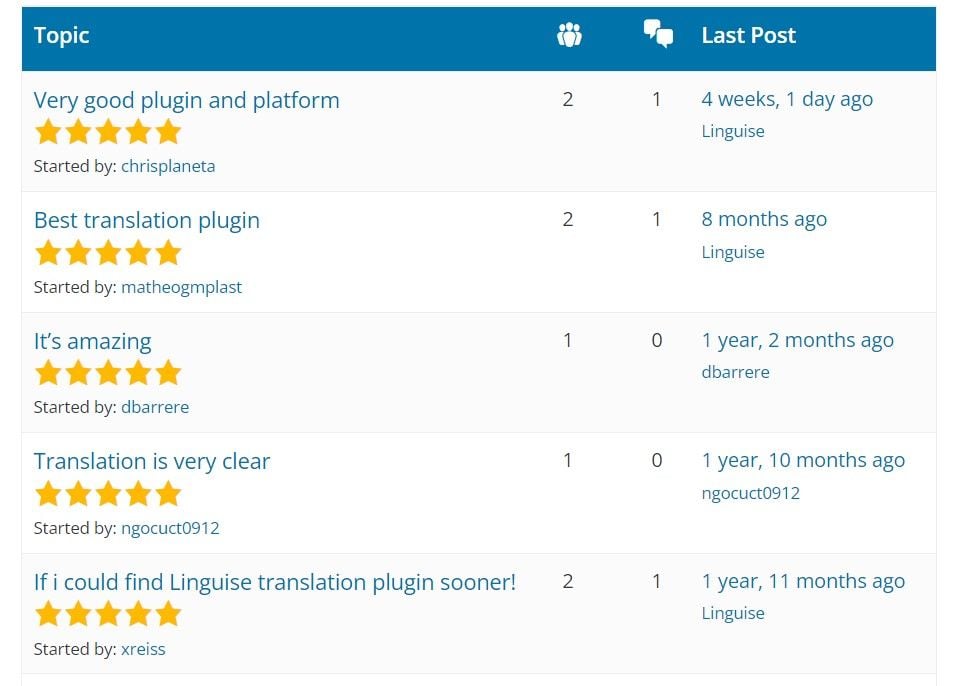 How to migrate from TranslatePress to Linguise
How did you get interested in using Linguise as an alternative to TranslatePress? Then how to migrate from TranslatePress to Linguise.
When migrating from TranslatePress or automatic translation, your website will be immediately re-translated based on your previously added languages. While most URLs will likely have the same translation, it's advisable to redirect to the URL with the highest traffic and views to avoid the 404 error and maintain the link's popularity.
Moreover, following the switch from automatic translation, the website will benefit from Google's latest translation API, which offers better translation quality. There is no migration process for manual translation, but automatic translation enables you to translate your website into additional languages of your choosing.
In Linguise, manual translations carried out via the live editor won't deplete your word translation quota. Therefore, if you need to translate a large amount of content directly via the front-end live editor, you can do so without consuming your word translation quota.
Use Linguise for an alternative TranslatePress!
How, are you now more convinced to use Linguise as the best alternative to TranslatePress? Linguise is suitable for you website owners who want to try a free 1-month translation service with unlimited language access.
In addition, you beginners don't need to worry because Linguise provides a free custom installation for those of you who have registered with Linguise. After subscribing to Linguise, you can integrate into many CMS and platforms.
In the end, the best translation plugin for your WordPress website will depend on your specific needs and preferences. However, if you are looking for a reliable and flexible translation solution, then Linguise is worth considering as a TranslatePress alternative.
Discover the missing Linguise features in TranslatePress and experience the benefits for your site. What are you waiting for, try Linguise right now!