The7 is one of the popular WordPress themes used by users, especially online shop websites. The7 is a popular theme on ThemeForest with many features and customization options.
A website built with the The7 theme can also be a multilingual website offering multiple languages.
For those of you who are interested in building a website with the The7 theme, in this article, we will discuss in full what the The7 theme is, features, installation, and editing content translation on the The7 website, along with a full review.
The7 is a highly customizable WordPress theme that stands out as the most flexible option available on the market today.
It offers unparalleled creative freedom, making it a great choice for users of all levels, whether they are beginners, website owners, creative professionals or digital agencies. The7 provides everyone with extraordinary power and unbeatable value, allowing them to unleash their creativity and customize their website according to their unique preferences and requirements.
Until now, there are 270 thousand active users who use the The7 theme on their website. In addition, this theme managed to get good reviews, namely 5 stars from its users.
Then, The7 theme offers a variety of ready-to-use website templates and demos covering a wide range of industries and niches. These ready-to-use designs can be imported with one click, providing a quick and convenient starting point for building professional-looking websites.
Key features of The7 theme
If you are still unsure about using The7 theme, this time we will provide the main features of The7 theme which will complement your multilingual website.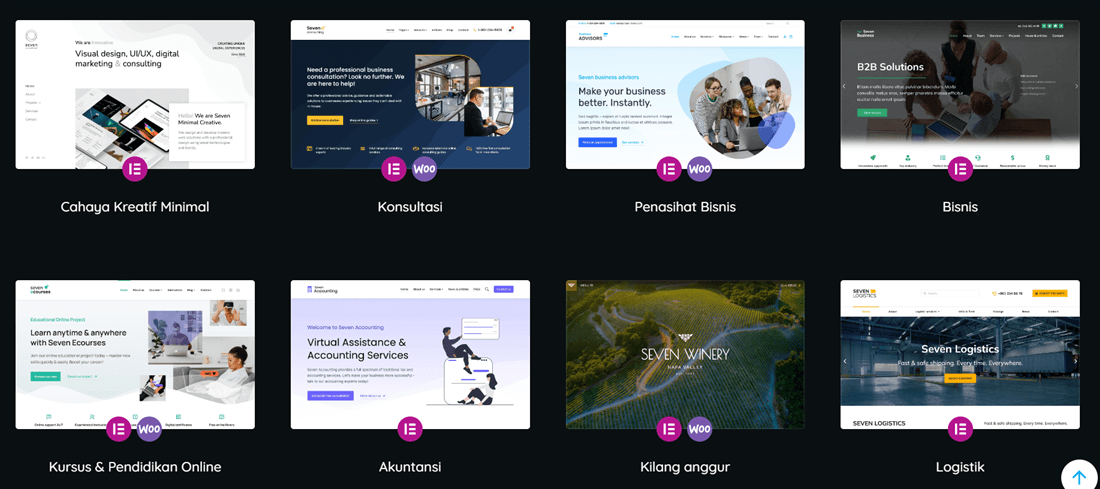 The7 theme is equipped with more than 60 website demos that you can import easily and customize as you like. Thus, you don't need to be proficient in website programming, because The7 makes it easy for beginners who want to build their own website.
The7 provides various demo categories ranging from the e-commerce industry, companies, business, education, and various other niches as shown above.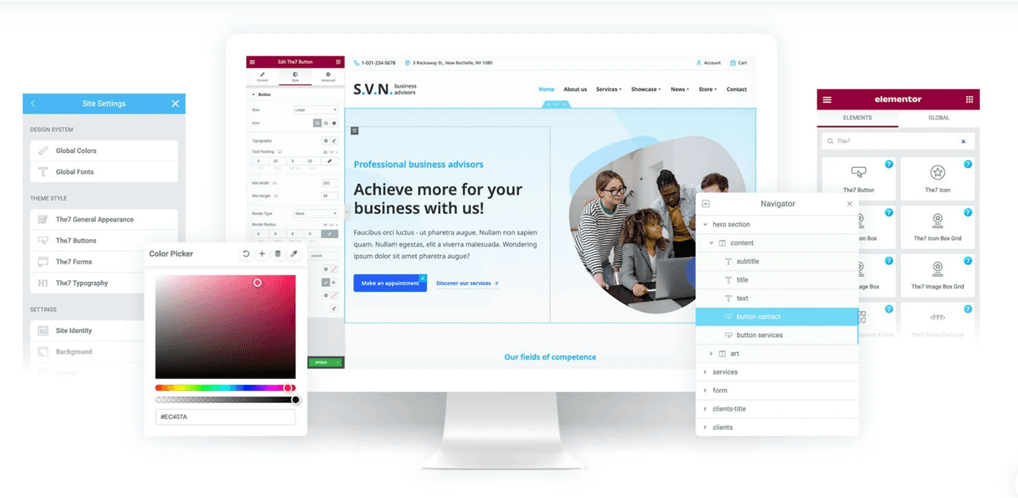 One of the main features that The7 offers is full support for popular homepage builders like Elementor and WPBakery.
Firstly, The7 is fully compatible with Elementor page builder. Apart from that, The7 also supports WPBakery Page Builder, formerly known as Visual Composer. It is a drag-and-drop visual page builder that allows you to easily create stunning layouts via drag-and-drop functionality.
You can use the editor in frontend or backend mode to make changes to your site. You can also see the immediate destruction of the changes you make.
That way you can easily create almost any aspect of your website elegantly and effortlessly.
Integration with WooCommerce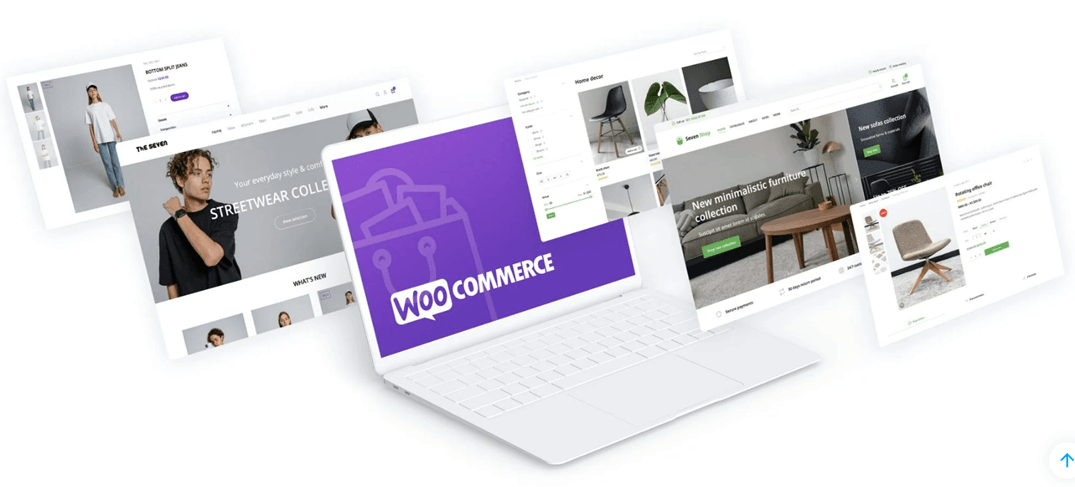 The next key feature is deep integration with WooCommerce. WooCommerce is a popular platform used to build online web shops, and The7 integrates very well with it.
Here you can include shop pages, categories, and archives that are specific to presenting your products well. Apart from that, other features like shopping cart and checkout, product grid and carousel, product filters, upsell offers, and much more are included in this theme. That way, you have everything you need to easily create and manage your online store with The7.
Multilingual and translation ready
The7 is a translation-ready WordPress theme that supports more than 10 languages, that way you can create a multilingual website and get visitors from different countries.
However, 10 languages ​​may not seem enough, considering the many languages ​​that exist in this world. So from that later you need to add a website translation service to help translate into more languages.
No need to worry, because The7 is also compatible with various plugins, one of which is the multilingual plugin.
Apart from that, several other plugins included in the The7 bundle are Slider Revolution, WPBakery Page Builder, Ultimate Addons for WPB, Convert Plus, and Go Pricing Tables.
Getting started The7 theme
After knowing what are the main features of The7 theme, this time we will start trying to use The7 theme starting from purchasing, installing, and customizing the website.
To buy the The7 theme you need to visit the ThemeForest site and then search for The7 theme. After that click Add to Cart.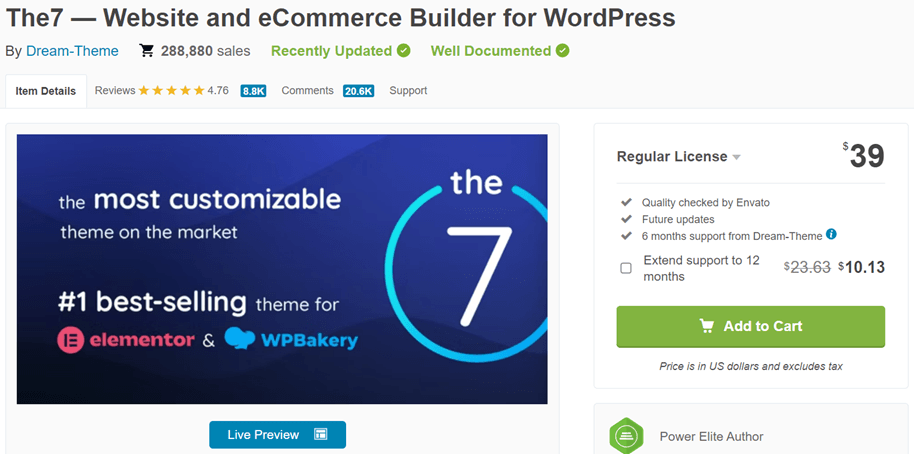 If so you will be asked to create an account and pay bills. Once payment has been made, you will receive a license key and a downloadable file.
You can start the The7 theme installation steps from the WordPress dashboard. On the dashboard select Appearance > Themes.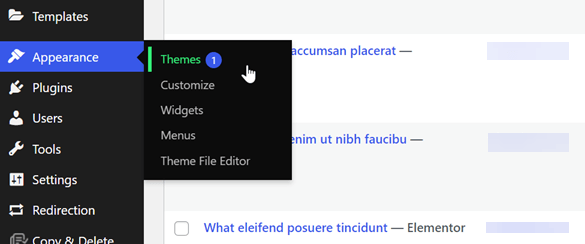 Then select Add New > Upload Theme > select the The7 file that was previously downloaded. After that click Install Now > Activate.
If so, then enter the purchase code that you got when you bought > Register Theme.

Import and customize The7 demo sites
Once the installation is done, the next step is to import the demo website provided by The7. The7 theme provides various ready-to-import demo websites with various categories.
If you have found a suitable demo website, now select Import Content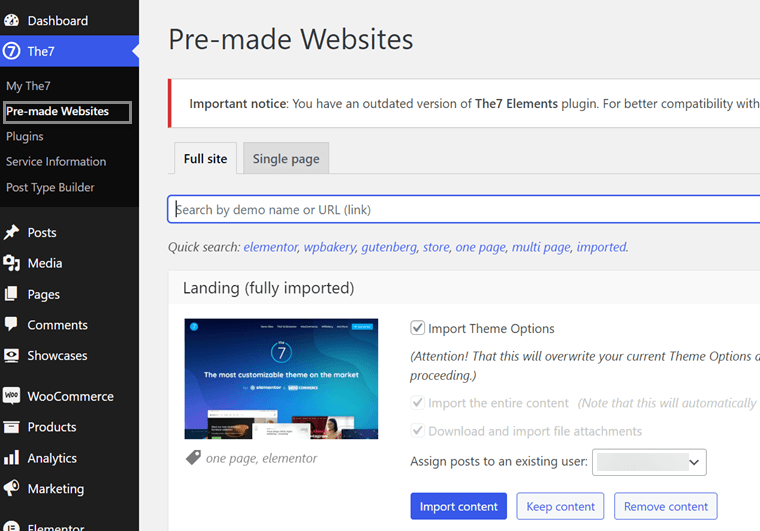 Then all you have to do is customize the website that has been selected, how to open the site then click Edit with Elementor or other editor options depending on what you are using.
On the right, namely the Navigator, you can select the section you want to edit, then on the left, you can change the contents.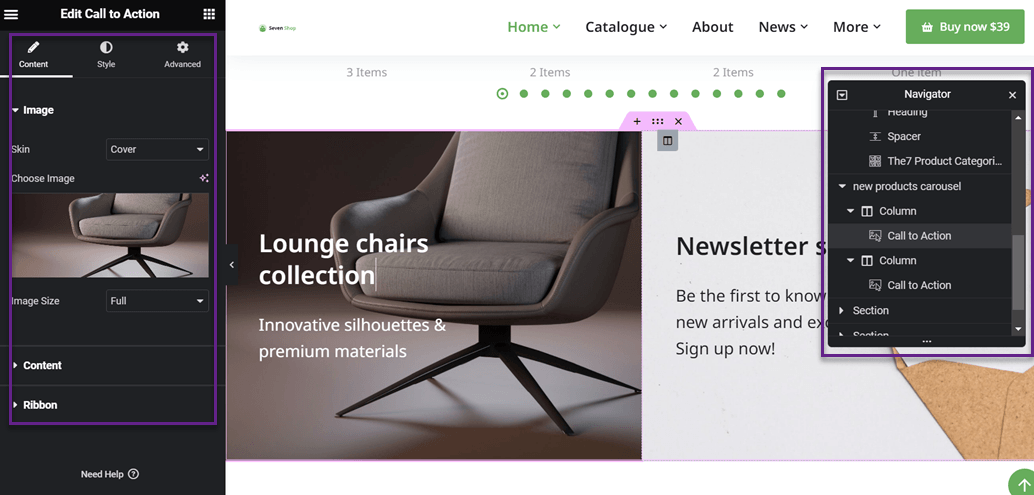 Likewise, for other website parts that you want to customize, you can do as above.
Break Language Barriers
Say goodbye to language barriers and hello to limitless growth! Try our automatic translation service today.
Translate a website The7 with Linguise
If you have completed the custom The7 website, now is the time to make the website a multilingual website. To make the site multilingual, use a multilingual plugin or a translation plugin to help it.
One of the translation services or multilingual WordPress plugins is Linguise. Linguise is a tool that can help you in the process of translating the The7 website.
With all the exciting features offered, Linguise can make it easier for your website to become multilingual. There are more than 80 language options that you can add to your website, as well as various language display options.
Therefore, Linguise is suitable as a translation assistant tool. Then how to make The7 theme multilingual and content translation with Linguise? Here is the full explanation.
Install and configure Linguise
The first step is to register for an account at Linguise for free, you only need to enter your email and password. If the account has been created, you will get access to the Linguise dashboard and add your The7 website domain by selecting Add Domain.
After that, there are several fields that need to be filled in, such as website URL, platform used, default language, select language, and translation URLs.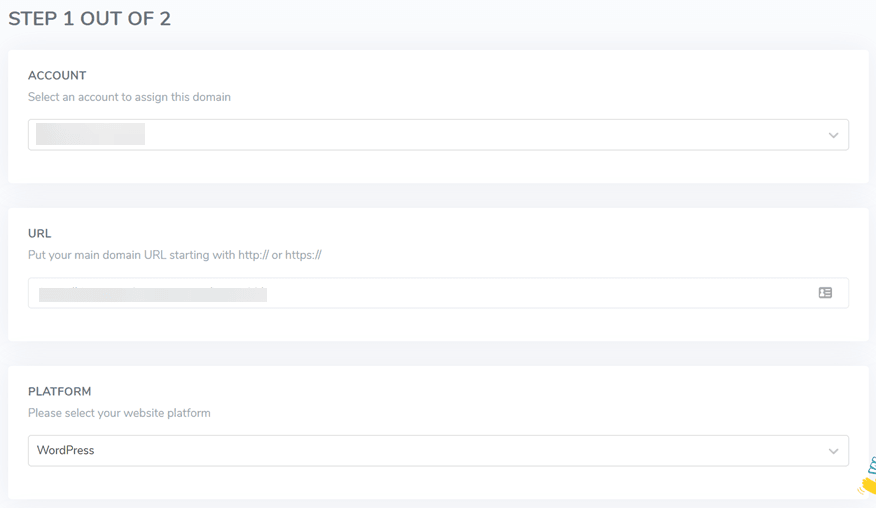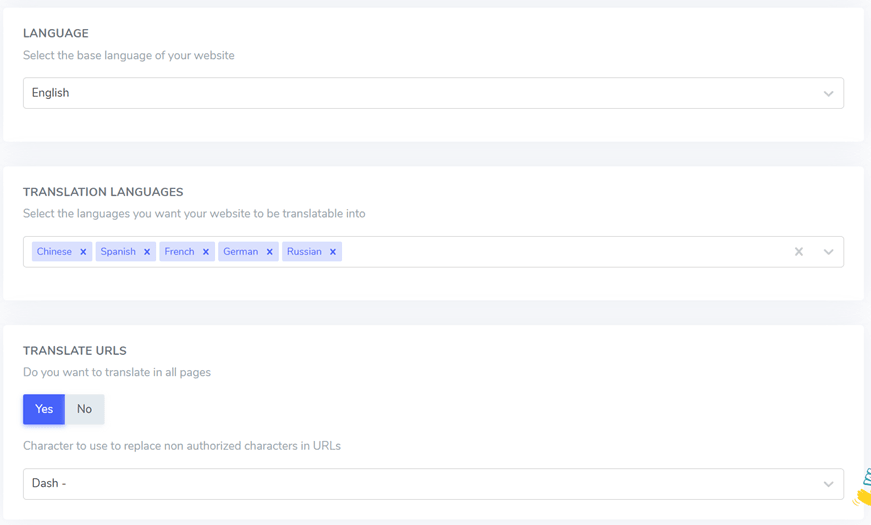 In the next step you need to enter Next Step then you will enter the Settings menu. Here, you need to copy the API key which is in the following field.
You can later embed this API on the WordPress The7 dashboard.

Next, open your WordPress dashboard then install the Linguise plugin by selecting Plugins > Add New > Linguise > Install Now > Activate > click on Linguise plugins > Main Settings.
In the Linguise API Key column, paste the API that has been obtained then click Apply.

If so, scroll down again and a list of languages ​​will appear which will appear on every page of your website.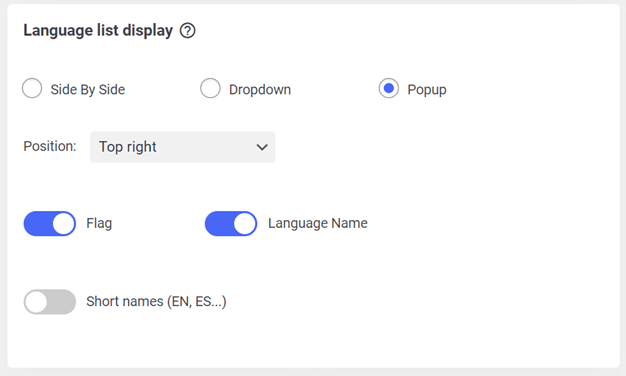 When everything is set, select Save Settings to save changes. Then don't forget to activate URL rewriting to load your new language on namadomain.com/id for example.
How to enter the menu General > Permalinks > Custom Structure. Make it like the following.

Then visit the The7 website to see the results. Something like this is the result of the The7 website. In the right corner, there is a language switcher. Below is an example of the website translated into Spanish.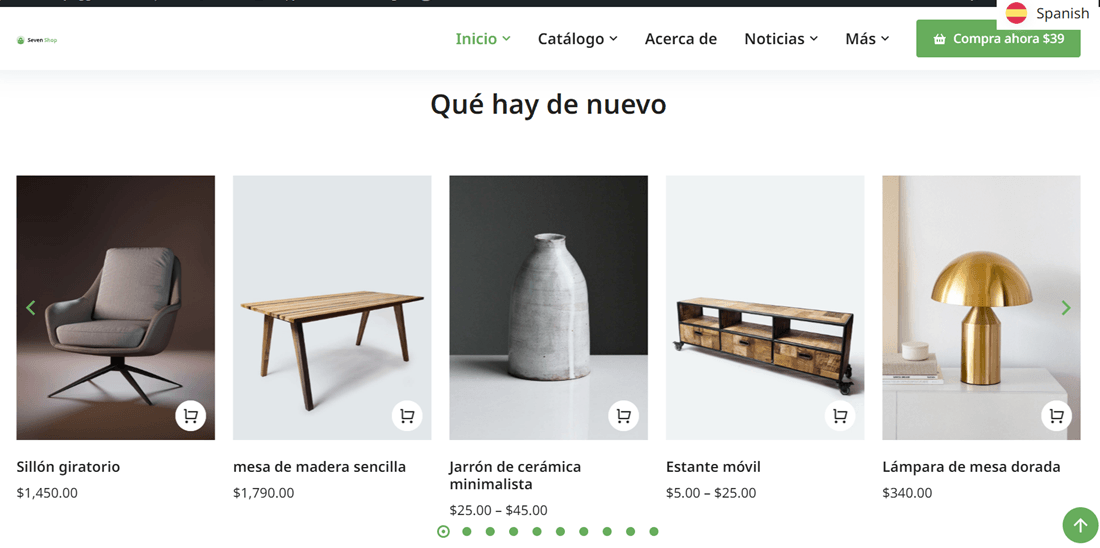 Edit translation with live-editor
If from the results of the automatic Linguise translation, there are results that don't suit you, you can edit the translation directly or manually via the front-end live editor.
The method is also straightforward, you only need to enter the Linguise dashboard > Live Editor > Open Live Editor > choose language > Translate. Then select the part of the website that you want to edit the translation for. When you're done editing, don't forget to click Save.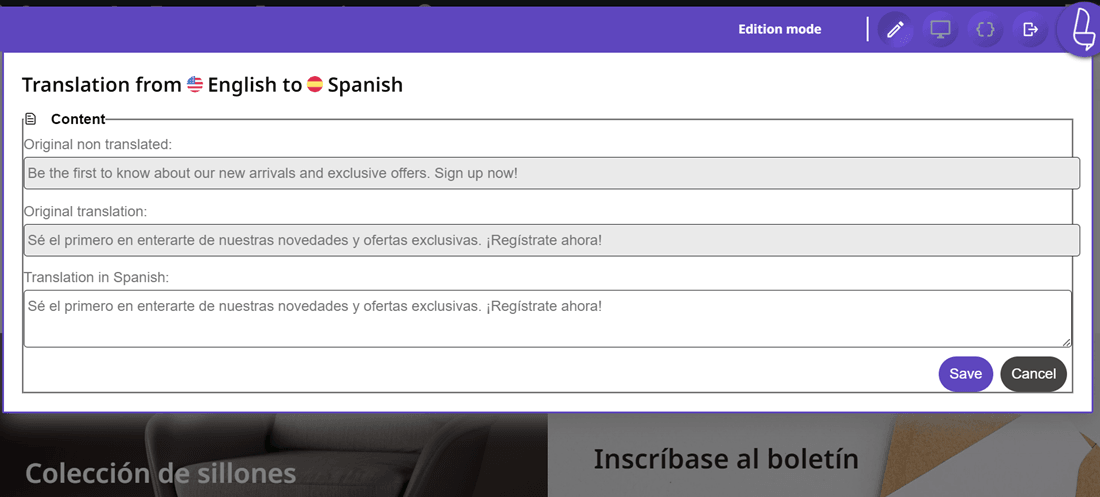 Add translators to your website The7
In having a multilingual website, of course, you add many languages, therefore you need an expert translator to ensure whether the translation results produced by Linguise are correct or not.
Well, in Linguise you can add translators from outside. You can add as many translators for each language you add.
To invite translators, you can do it via the Linguise dashboard. Select Members > Invite new members then fill in a few fields such as.
Email translator
The role is a translator
Website
The language the translator will translate
Then select invite, if already done the translator will accept the invitation and study the article how to setup access for translator  to get a complete explanation.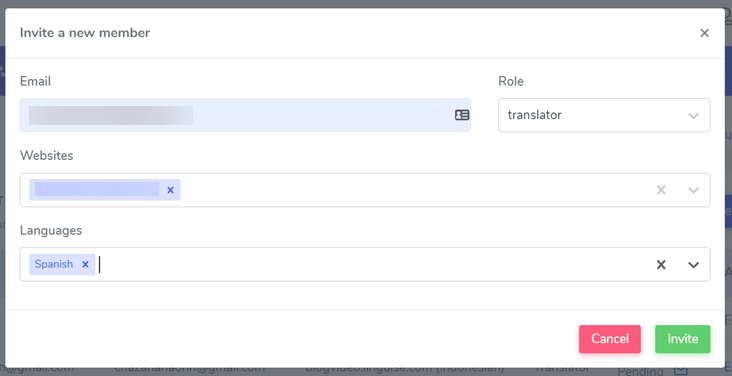 Set translation exclusion rules
Apart from setting translators for your The7 website, you can also set translation exclusion if there are sentences or words that you don't want to translate or just leave the original.
Again, you need to set it via the Linguise dashboard. On the dashboard select Rules on the top menu then select Add new rule. In Linguise there are several types of rules that you can choose from, including:
Ignore text: to set text that you don't want to be translated, for example, a brand name.
Text replace: to replace a text with another text.
Content exclusion: to exclude some content on a page.
Exclude by URL: exclude content by URL.
Ignore inline: excludes content on multiple lines.

To add a rule, you need to fill in the following fields.

After that, these rules will be translated to all pages, all content, and all languages ​​or not. Then click Save, then see the results of whether the rules are applied successfully or not.
This is roughly what the website looks like when translated into Spanish, the word "Mobile rack" is not translated into Spanish.
The advantage of Linguise
Compared to many other translation services, why should you choose Linguise? Below are some of the advantages of Linguise compared to other translation plugins or services.
More than 80 languages: With Linguise, you can effortlessly translate all your website content into 84 languages. It provides instant translation, saving you time and effort. 
High quality translation: We regularly update our translation models every 3 months, ensuring that we utilize the latest automatic translation technology available. This allows us to consistently provide you with accurate and high-quality translations for your website.
Perfect translation quality: You have the flexibility to edit all translations either through the Linguise dashboard or directly on your website frontend. Simply click and edit the translated text to make any necessary adjustments. This convenient feature allows you to have full control over the translated content, ensuring it accurately reflects your intended message.
SEO optimized: Linguise has been developed with a strong focus on SEO optimization, considering every aspect from URLs to alternate links and optimizing for search engines other than Google. With Linguise, you can ensure that your website is ranked prominently worldwide, allowing you to reach a global audience and enhance your online visibility.
Multilingual installation: For those of you who have difficulty installing, Linguise offers a free installation service. You only need to send us a request then the Linguise team will help install it.
Translation instant update: when you add new pages to your website, Linguise is able to quickly translate and index the pages.
Linguise pricing for website the7
After the free trial period is over, you can continue using Linguise by selecting the subscription plan we provide. Here are some packages that are distinguished based on the limited translation he said.
All Linguise packages come with features such as unlimited number of languages, SEO & URL translation, live front-end editor, multiple CMS, translation exclusion rules, and much more.
START
INCLUDED IN 1st MONTH FREE TRIAL

200 000 translated words

Unlimited translated page views

Unlimited languages

10% OFF compared to monthly prices

1 website per plan with one month free
PRO
INCLUDED IN 1st MONTH FREE TRIAL

600 000 translated words

Unlimited translated page views

Unlimited languages

10% OFF compared to monthly prices

1 website per plan with one month free
LARGE
UNLIMITED translated words

Unlimited translated page views

Unlimited languages

10% OFF compared to monthly prices

1 website per plan with one month free
Translate a website The7 with Linguise start now!
Up here, you have succeeded in creating the The7 website and translating it into various languages ​​using Linguise. Linguise is able to help with all the completeness of website translation, starting from various languages, exception rules features, live editors, and adding translators.
If you are interested in using it, just sign up for Linguise for free and use the trial for 1 month, translating over 600 thousand words!