Are you looking out for the best ways to translate your website into Spanish without any hassle?
In today's fast life, everyone is looking for quick solutions. So do global customers expect everything in their local language and quickly navigate to other sites if they do not get their desired results.

Research shows that only 25% of the overall internet market is shared by English-speaking users, while 75% consists of other language users. You can blow a big opportunity to expand your business manifolds if you ignore the localization of your website's content.

Thankfully, it's not much difficult to convert a website into a local language using digital technologies. You can convert those audiences into customers looking for products and service information online in their local language. However, if you are trying to expand your business globally, translating your website into the local language needs exceptional care.

Let's find out what are the possible ways to translate your website into other languages.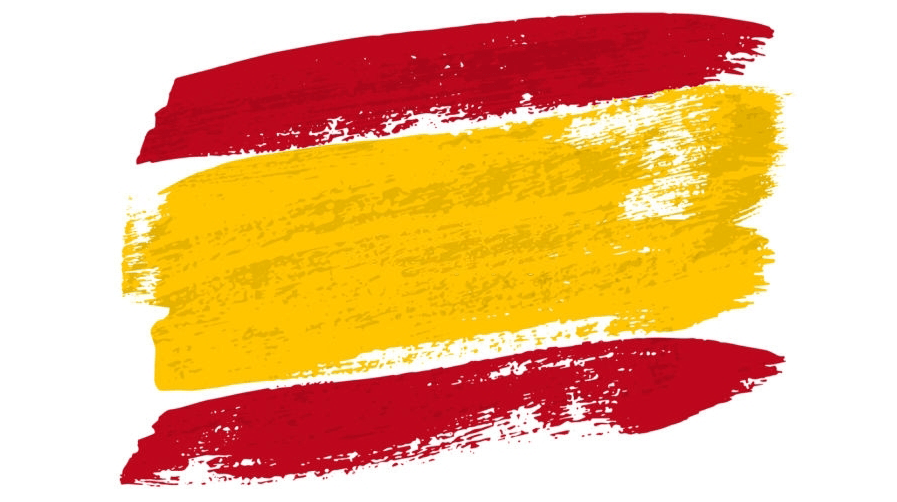 Possible options to translate your website into Spanish
There are 3 main solutions for translating your website into Spanish; human translation, browser translation and automatic translation. You can also make a hybrid translation, this is the modern way, but we'll get into that.
Spanish human translation
Most of the agencies provide language translation services for a cost per word. For the Spanish language when it's translated from English prices vary between 0.08 and 0.20 cents, in USD, per word.
That may represent a lot of money! If you have 50 pages of 1000 words, it can be calculated like that 50000 * 0.15 = 7500 USD.
On the other hand, human translation is a reliable way to translate any website because a human eye can better understand the context of paragraphs, structure, and language nuances. Other than just translating the web content, your content will be proofread and maintain good quality content.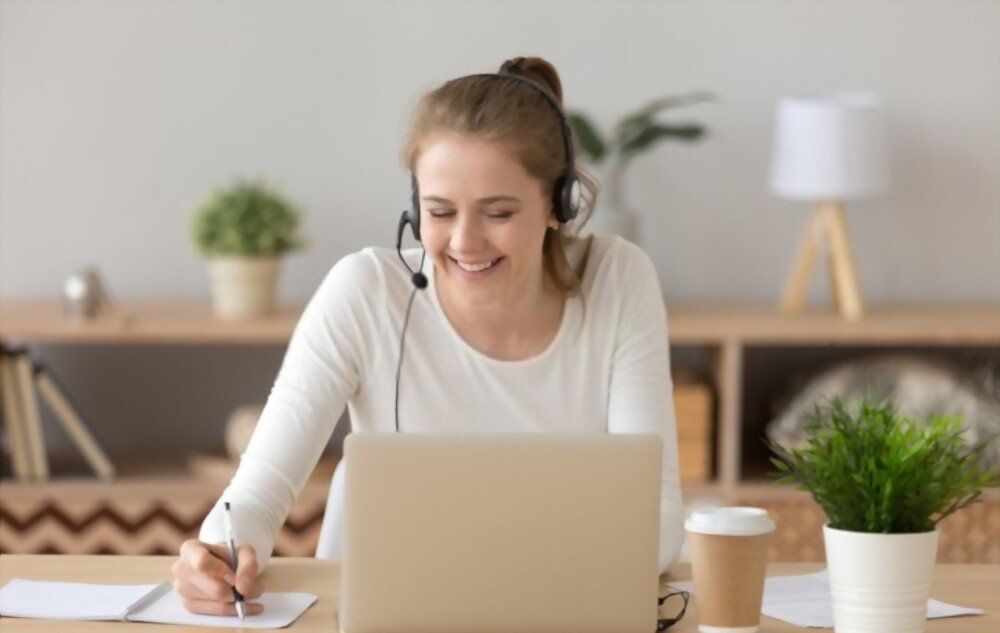 Using Google Translate for Spanish translation
When opening a page in a language that is not set up in your browser, you must have seen a Google Translate option popup asking if you want to translate the page into your language. Google Translate helps in translating whole web content from one language to another.
Here are a few simple steps to translate a complete website using Google Translate.
• Open the Google Chrome browser and type in "Google Translate" in the search bar.
• Once Google Translate opens, type in your desired website address on the left text box
• Now select your desired language to get your web content translated
• Now push the translation button, and you are good to go

You'll notice your website translated into Spanish instantly. There is a toolbar on the left corner which allows you to control your preferred language to get your website translated.
You can change the desired language from the dropdown menu.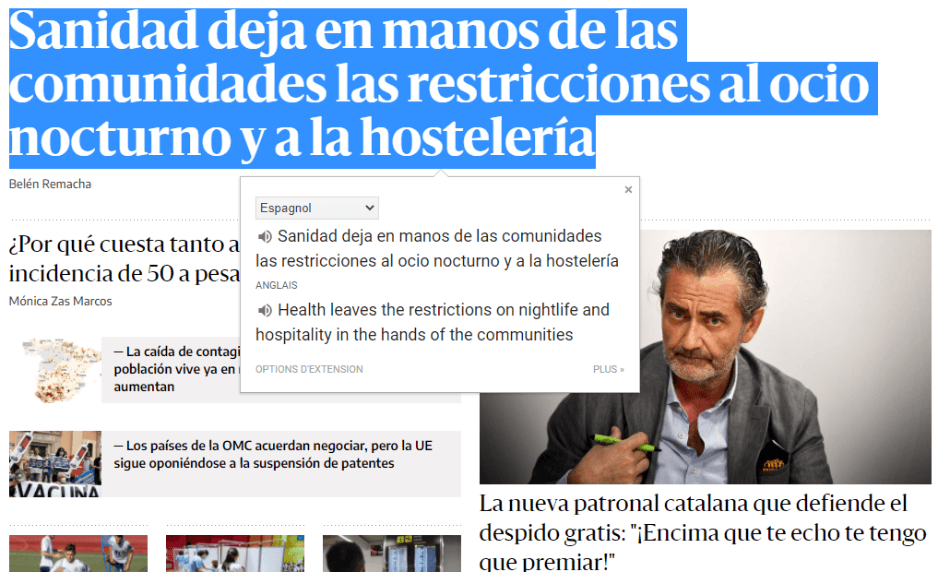 This Spanish translation method has its advantages as a user (not as a website owner obviously), however there's also several problems :
The content is not indexed in search engines, this is not "real Spanish page" just a live translation
Most of the translated content is not bad regarding quality, but it's not the same quality as the Google translation API that uses several other improvement techniques like translation models.
All the words would not be translated using Google Translate, and text on images won't be translated. The same goes with any of the Google Chrome translation extensions.
Problem
The problem with the browser automatic translation is that the translations are not yours, not hosted on your server, and therefore you cannot make any modifications or optimizations.
It also implies that it's not real translated with real URL in Spanish per page, so it won't be ranked on search engines and won't bring any business to your company. 
How can you get your website really translated easily from English to Spanish without breaking your bank? Don't worry; we have got you covered with a much better option that is Linguise.
Spanish neural machine translation
Machine translation is a process of translation of one content to another using the artificial intelligence method.
Neural Machine Translation is using translation models to provide accurate translations (legal model for legal website…)  Google Translate is using artificial intelligence to convert website content into another language but cannot get all the website context to return a 100% accurate translation. Google API, Microsoft, DeepL, on the other hand, can do that with excellent results.
Check the translation quality table below to compare human and neural automatic translation:
| | | | |
| --- | --- | --- | --- |
| | NMT Translation | Human Translation | Quality |
| English-Spanish | 5,428 | 5,550 | 97% |
| English-French | 5,295 | 5,496 | 96% |
| English-Chinese | 4,594 | 4,987 | 92% |
| Spanish-English | 5,187 | 5,372 | 96% |
| French-English | 5,343 | 5,404 | 98% |
| Chinese-English | 4,263 | 4,636 | 92% |
Break Language Barriers
Say goodbye to language barriers and hello to limitless growth! Try our automatic translation service today.
Linguise - a complete multilingual solution for Spanish translation
Linguise is a complete tool kit for translating your website content into other languages using its unique automatic instant neural machine-translation method. We use neural machine translation models to get the best quality translation than any other machine translation. Thanks to these flawless NMT models, you'll get a pixel-perfect translation of your website within an affordable budget.
Here's a small infographic that illustrates the speedy translation process using automatic translation and translation revision.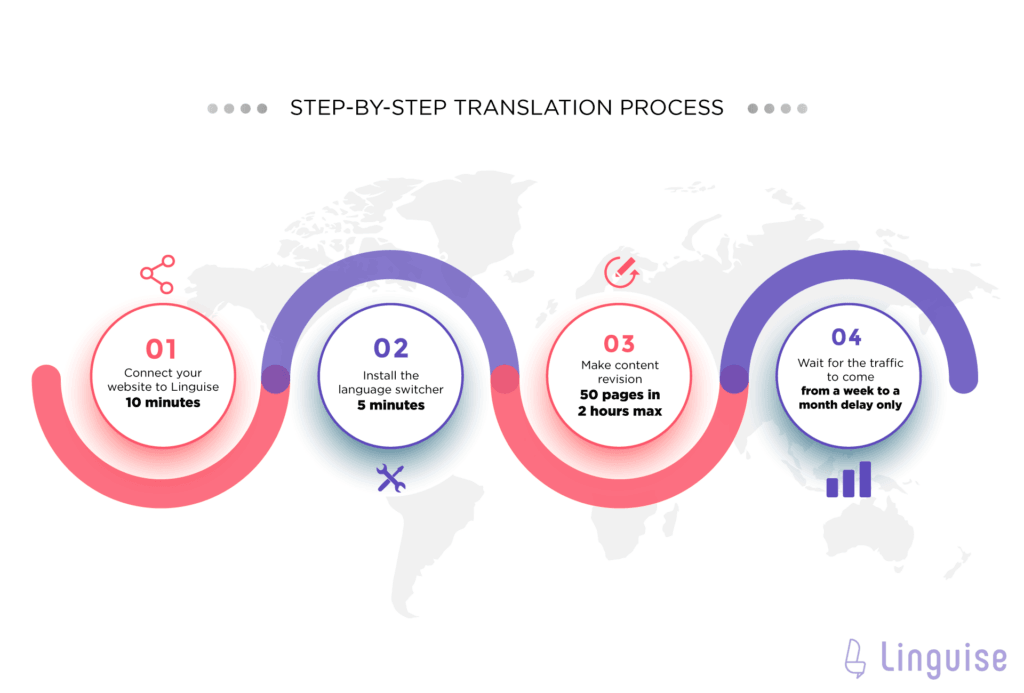 Why is Linguise better than any other online translation tool?
Linguise can quickly translate your website into more than 100 languages, and you need not do it manually.
You can easily edit the translated content using the frontend editor or from the Linguise dashboard. Click on the content you like to edit and then translate it into your desired language.
Linguise provides an affordable translation solution that'll cost you merely 10% of the normal fees.
Linguise strictly follows SEO rules, and all the content is easily rankable on Google.
Once you publish any of your web pages, they'll be quickly translated into different languages, and all the pages will start indexing right away.
No need for a credit card before you sign up, take the trial period before you subscribe to the plan.
Works great on multi-platforms and multi-CMS
A dedicated cache server can reduce the loading time to 80% once the translation is done. Therefore, translation in more than one language is easily done without any heavy load on the server.
Linguise has a dedicated team to install Linguise on your site without any cost quickly, and your website will be translated within 15 minutes.
Integrates seamlessly with any of the PHP-based CMS such as WordPress, Joomla, OpenCart, WooCommerce, JavaScript, and PHP
You can edit your content live using the frontend editor, providing both AI-based translation solutions and human-eye editing.
Let's explore how Linguise can translate your website into multi-languages, including Spanish, in no time.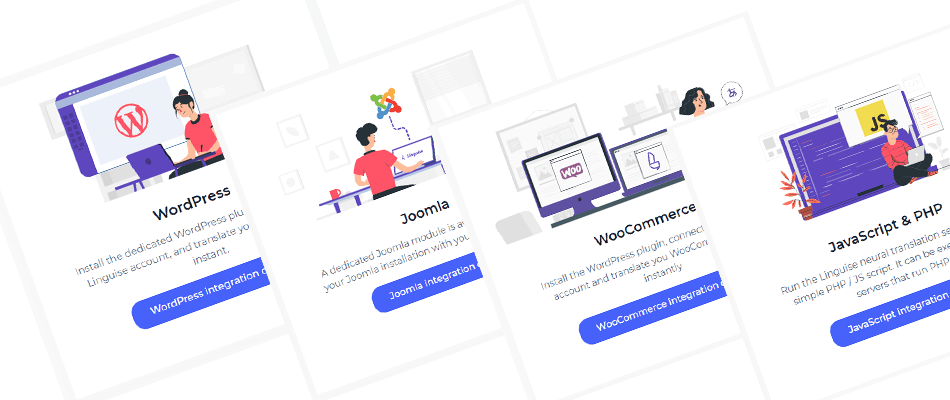 How to translate your website into Spanish or any of your desired local languages
Linguise comes with support for almost all popular CMS; however, most people have WordPress websites, so we'll focus on translating your WordPress website using Linguise. However, if you like to see what other Linguise supports CMS, check here.
Step 1: Linguise registration to get an API key
First you need to register an account to get an API key. The first month is totally, no credit card is required, so you can test with any risks.
Once you connect to your Linguise dashboard, the next step is to set up your new domain and get the API key.
The API key is required to check which language is activated and help the neural translation model translate the pages. Get the API key and save it for later use.

Step 2: Select the Spanish language (among others)
The language selection has to be made from the Linguise dashboard, so later the plugin will automatically synchronize the configuration!

Step 3: install the Linguise plugin
The next step is to install the WordPress plugin from the WordPress repository to activate the language switcher. Install it as you normally install any WordPress plugin by uploading it to your site, by downloading and uploading the plugin or just by using the auto installer.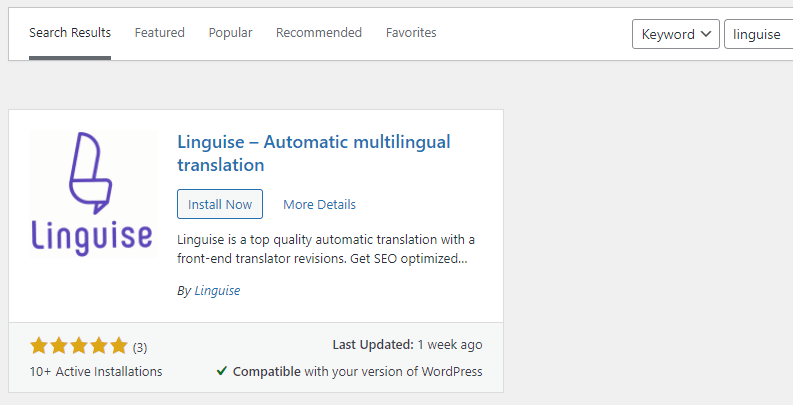 When you are done with the WordPress plugin install, just add you API key and save. If you've included the Spanish language and translated language for your website, that'll be automatic.

Step 4: language display setup
The plugin includes many language flags and names display option. You can load a language flag using a shortcode, a menu or even a PHP snippet.

Once you've added the flag list, you can setup the styling. First the way the language list opens:
As a popup
As a dropdown list
Side by side
Here's an example of the Spanish language flag + language name as a dropdown (you've got a preview at the right side).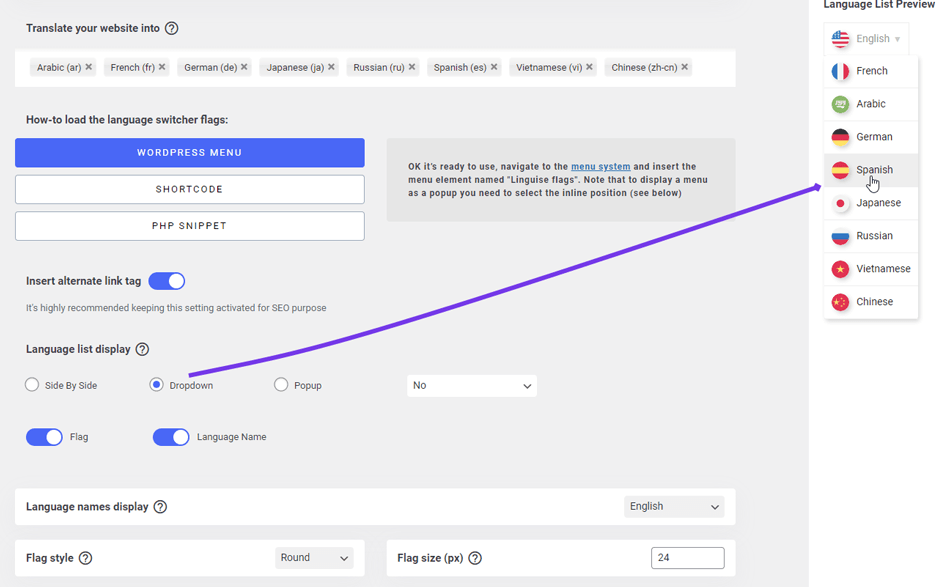 The display options include the possibility to display only the flag or only the language names or both. For example, the Spanish flag + the language "Spanish" is selected here.
Your website is already fully translated in Spanish
The Linguise automatic translation in Spanish has really wonderful quality (you can also edit all the translated content if you want). Here I've added the Linguise flags successfully as a menu, and you can view the Linguise language switcher icon with flags on the main menu.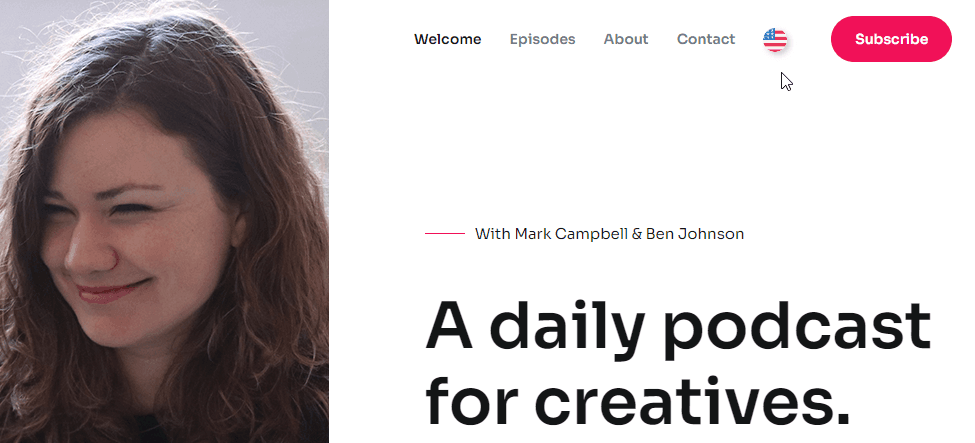 Click on the original language, open the language list.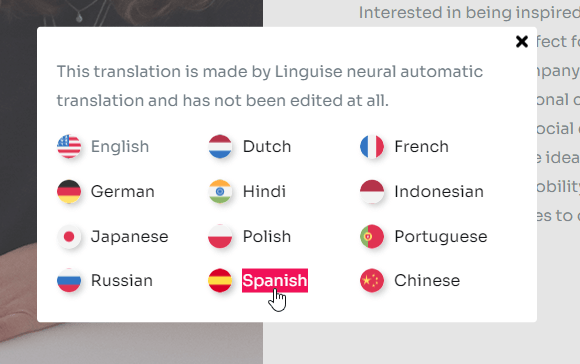 Here are the results, translated from English to Spanish in no time.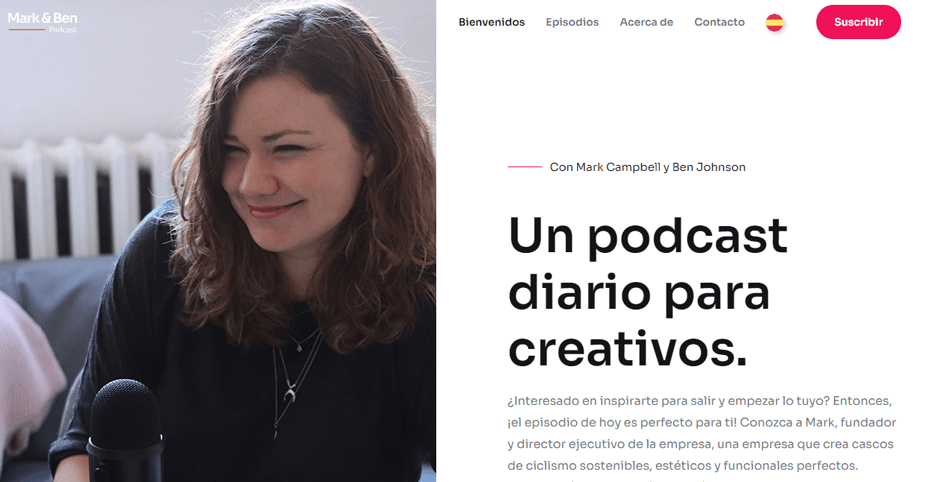 Ready to explore new markets? Try our automatic translation service for free with our 1-month risk-free trial. No credit card needed!
Linguise pricing for Spanish website translations
You can use Linguise free version with one-month period, with up to 600 000 words translated.
If you've planned to translate your website only in Spanish language only, that would represent 600 pages of 1000 words for a cost of $25/month or $275 per year. There's also a smaller plan for smaller websites and an unlimited translation plan for large websites.
START
INCLUDED IN 1st MONTH FREE TRIAL

200 000 translated words

Unlimited translated page views

Unlimited languages

1 website per plan with one month free
PRO
INCLUDED IN 1st MONTH FREE TRIAL

600 000 translated words

Unlimited translated page views

Unlimited languages

1 website per plan with one month free
LARGE
ACCESSIBLE WITH SUBSCRIPTION

UNLIMITED translated words

Unlimited

translated page views
Translating your website easily like a breeze; now, you can localize your website in Spanish or any of your desired languages and expand your business to the new horizon. Its extremely user-friendly plugin with a frontend editor can translate your entire website within 10 minutes. It not only works great with WordPress websites, but you can also integrate it with other PHP-based CMS like Joomla and any other. Also, the inbuilt caching system will keep your website loading speed fast and secure without compromising on translation quality.