A multilingual website is one of the important things that web owners must own. With a multilingual website, you can reach a global audience, not just limited to your country's audience.
The more varied your audience, the higher the website traffic that will enter. This will certainly help increase in terms of traffic and in terms of product sales if your site is an online web store.
Joomla has a native multilingual system but also has some extension that offer alternative translation methods, like automatic translations. For those of you who use Joomla CMS, below we will explain some of the best translation extensions for Joomla that you can install.
Benefits of using translation extensions for Joomla
Before discussing what are the best translation extensions for Joomla, below are some of the benefits that you will get if you use translation extensions.
Translation extensions allow users to view websites in their native language, providing a personalized and familiar experience. Users can easily understand and engage with the content, leading to increased satisfaction and positive perceptions of the website.
Expanded global reach for your Joomla website
Translation extensions play an important role in extending the global reach of Joomla websites, among others.
Access to non-English-speaking audiences:

by translating website content into multiple languages, businesses can connect with international markets where English is not the primary language. This will open up new customer opportunities and enable engagement with a wider global audience.

Increased website traffic and conversions:

multilingual websites attract visitors who prefer to browse and shop in their native language. By meeting their language needs, translation extensions help drive targeted traffic and increase conversion rates. Thus users tend to be on your website longer so that they can create a desire to buy products.

Competitive advantage: Having a multilingual website can provide a competitive advantage. By addressing international customers' language preferences, businesses become more accessible and customer-centric, there by standing out from competitors who offer only one language.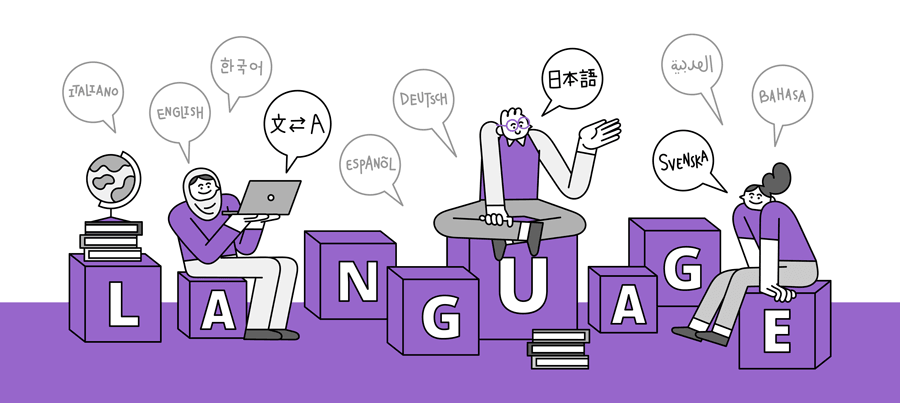 Improved Joomla SEO performance
Extensions contribute a translation to a Joomla website's search engine optimization (SEO) efforts, increase visibility in search results, and drive organic traffic:
Targeted International SEO:

By translating content into multiple languages, websites can optimize search queries related to specific languages. This helps capture relevant organic traffic from different countries and regions thereby increasing the chances of appearing in search results for their region.

Expanded keyword opportunities:

Translating content allows businesses to target specific keywords to each language, including long-tail keywords and local terms.
Flexibility and customization
Translation extensions offer flexibility and customization options to meet specific needs and preferences:
Customizable language switcher:

The extension offers a customizable language switcher, so developers can design and integrate a selection of language features that align with the website's branding and design aesthetic.

Support for complex languages:

Some translation extensions cater to languages ​​with complex scripts or right-to-left writing systems. They ensure accurate rendering and display of content in languages ​​such as Arabic, Hebrew, or languages ​​with non-Latin characters.
Considerations for choosing Joomla translation extensions
There are many translation extensions and the Joomla translation native system which we will discuss below. But before that, just know the considerations you need to pay attention to in choosing a translation extension for Joomla.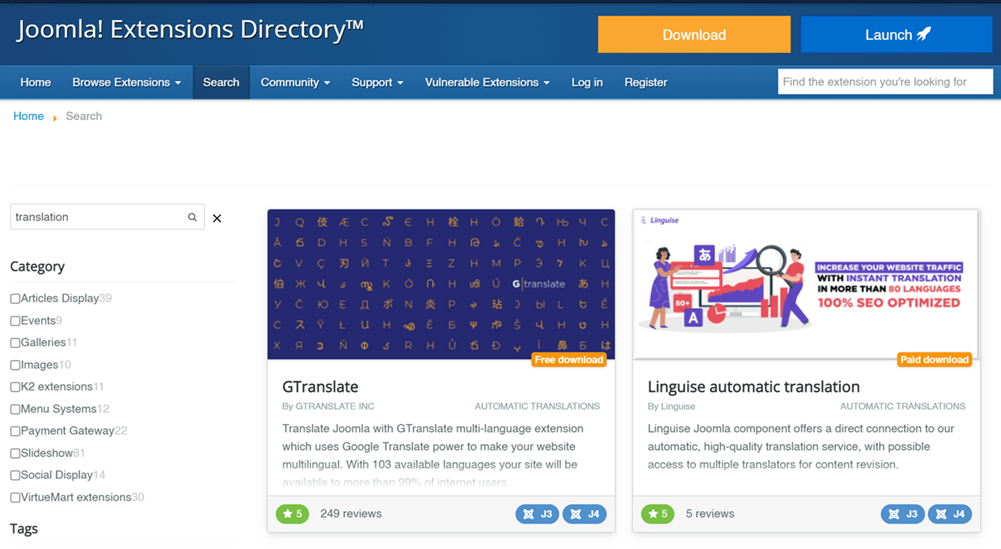 Compatibility with Joomla 3 & 4
The first thing to consider is to make sure the extension you are using is compatible with the Joomla version you are currently using. Because some extensions are often only compatible with specific Joomla versions.
Therefore, make sure you have checked the Joomla version you are using. Currently, the Joomla 3 version is at its end of like and the Joomla 4 version is the stable version. The Joomla 5 version is currently a draft.
High accurate Joomla translation
Apart from being compatible with the Joomla version, also make sure that the extension has a high degree of translation accuracy. A high level of accuracy is able to avoid translation errors.
Joomla integration and customization
The next consideration is the easy customization of translations. The customizations here are both languages switcher, frontend translation, language selection, and various other customizations.
Those are three things you should consider when choosing a translation extension for Joomla.
Immediately, here are recommendations for the best translation extensions for Joomla.
Break Language Barriers
Say goodbye to language barriers and hello to limitless growth! Try our automatic translation service today.
Best translation extensions for Joomla
Below is a list of the best translation extensions for Joomla which we will discuss in full.
1. Linguise automatic translation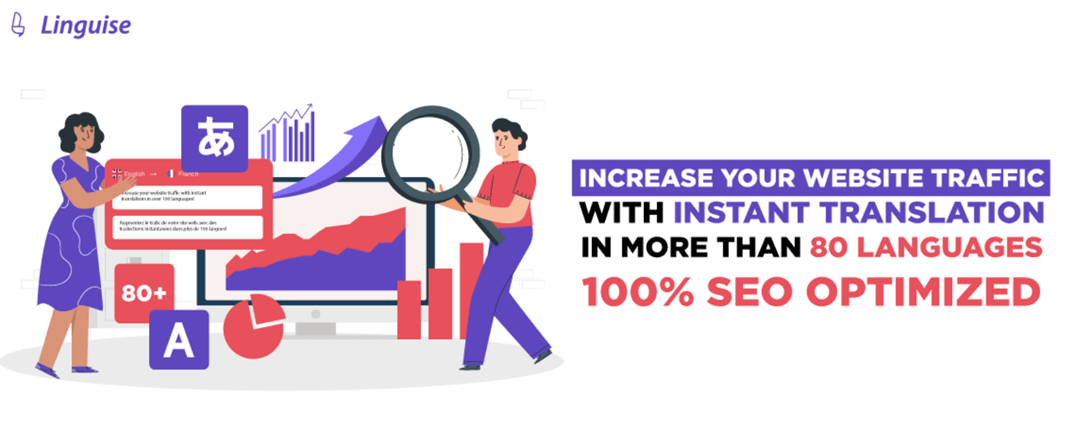 The first best translation extension for Joomla is Linguise. Linguise is an automatic translation service available in Joomla for free or for a fee. This service uses neural network technology or NMT so that it can provide an accuracy rate of up to 97% and is very similar to human translation.
With neural machine translation, your Joomla website translation will continue to be updated every 3 months, so the translation will always be fresh.
So, what are the Linguise features that make this service the #1 best translation extension for Joomla?
Linguise main features:
More than 80 languages:

Linguise provides more than 80 languages, as a user, you can use many language choices without any limit.

Translations exclusion:

the next feature is translation exclusion, which is to exclude translations of content that you don't want to translate. For example, a brand name.

Front-end live editor:

front end live editor allows you to translate content directly on website pages. So you just have to choose which part you want to translate.

Multilingual SEO:

translation results from Linguise will fully support SEO. Apart from being translated, the content will also be optimized for each language.
After understanding what are the features of translation extensions from Linguise. In the following, we will enter the Linguise installation steps in Joomla.
Step 1: Get the API key to translate your Joomla website
The first step is to register for a free Linguise account to get an API key. After that open the Linguise dashboard, then select settings and copy the API key to the clipboard.

Then scroll down and find the Languages ​​column. Here you can choose the language you want. If so then select Save to save changes.

Step 2: Install the Linguise extension for Joomla
The second step is to install the Linguise extension on Joomla. When it's active, you can access it via Components > Linguise. In the following column, you must paste the API key that was copied earlier, then click Apply & Save.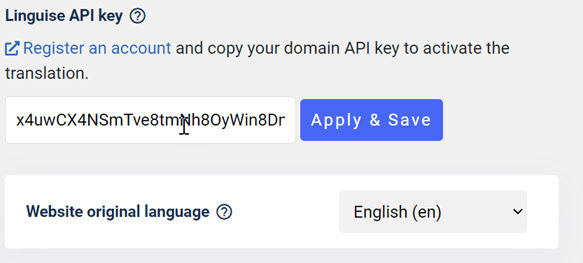 Step 3: Setup language display
The last step is to set up the language display, here you can choose where you will place the language switcher position. In addition, you can also choose the display language, using only the flag or the name of the language.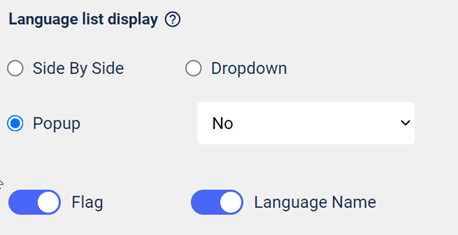 Those are the steps for installing translation extensions Linguise on Joomla. Now you have a successful multilingual Joomla website.
Learn more about it in video here
2. Joomla native multilingual system
Apart from Linguise, you can also use the Joomla native multilingual system. For you Joomla CMS users, Joomla core (not the extension and your content) has actually been translated into dozens of languages that you can install directly on Joomla.
Through multilingual native Joomla you can change the Joomla interface language to translate Joomla content into various languages.
Joomla native multilingual features:
Available in many languages

Not so easy installation

Not always compatible with Joomla extensions (requires developer integration)

Translate content, URL, title but requires manual translation

Meta description options for each language
For those of you who are interested in using the default Joomla translation, just follow the steps below.
Go to the Joomla website dashboard > System > Languages. Then a list of languages that you have previously downloaded will appear. If you want to add another language, click Install Languages.

After that, a list of languages ​​that you can install appears. Select the language that you will add to the website by clicking Install.

If the language has been installed, then if you want to set it as the default language, enter the Users menu > choose your user account. After that the display appears as follows and select Basic Settings.
Then in the Backend Language and Frontend Language columns, change to the language that was installed before, for example here is French, then click Save.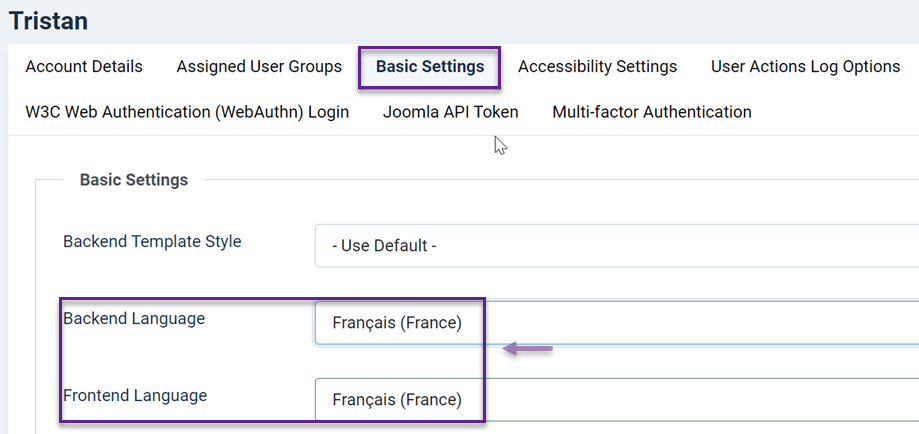 If it has been saved, your Joomla admin display will change to French.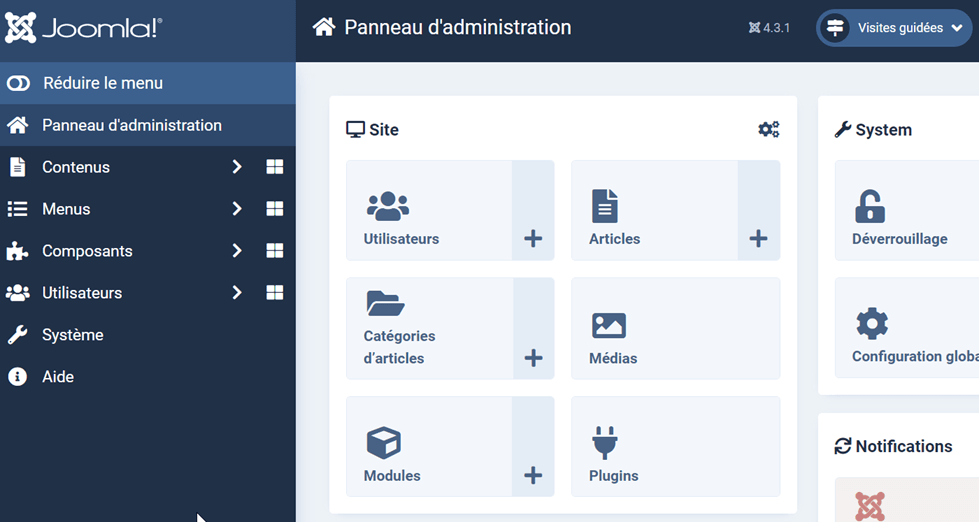 If previously we only changed the language on the Joomla admin display, now we will try to change website content so that it is available in several languages, so that your website becomes multilingual.
First, you need to open the System menu then checklist the language you want to activate, for example, French.

After that click on the language and select the Details menu to set the flag, language URL, then on the Options menu you can also set the language's meta description.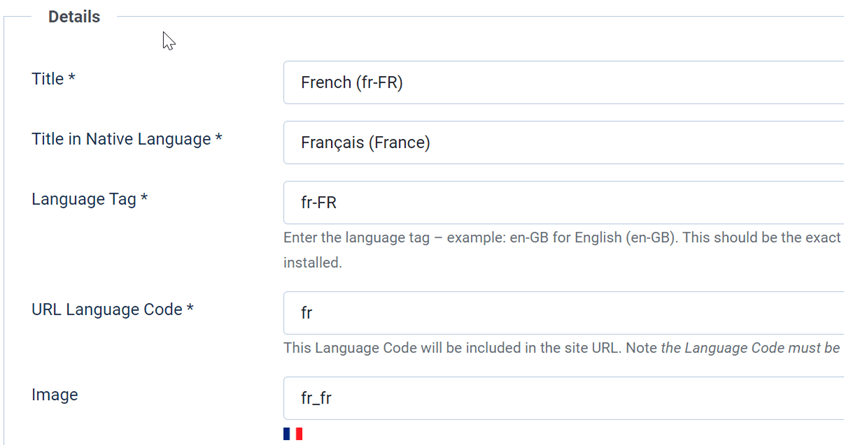 The next step we will try to translate the English content that you have created. To do this, open the content you want to translate then select Associations in the upper right corner, then a display will appear as below.
In this view, you can select the target language in the upper right corner, for example to German, then start translating English to German in the right column.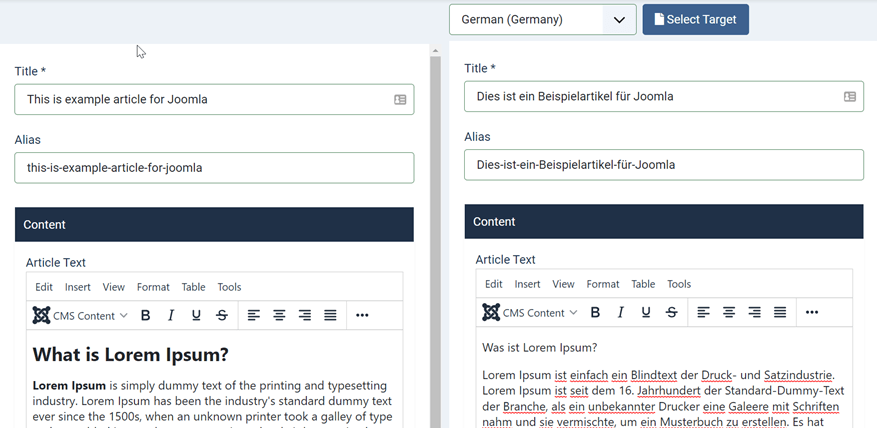 Then click Save target to save the translation of the German article. After that, if successful, an article will appear in German.

So far, you have succeeded in making the Joomla website multilingual using the Joomla native multilingual system. If the default language is changed to German, then your website articles are also available in German.
You need to note that translating Joomla content into several languages is quite time-consuming and expensive as you need to translate all your website manually.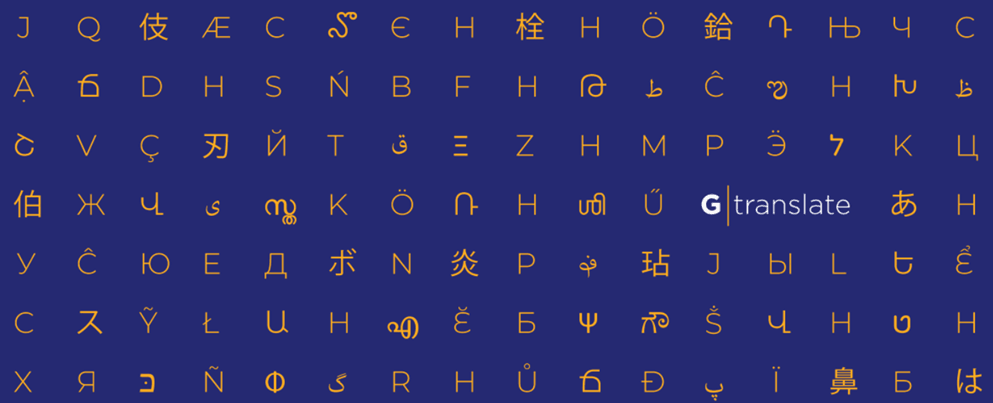 The next best translation extension for Joomla is GTranslate. GTranslate is a translation service provider that has been used since 2008 by various web developers around the world. It's an automatic translation solution, like Linguise but with limited features.
GTranslate features:
Provides 103 languages.

Provides language display customization.

Translate various website elements such as menus, components, content, plugins, etc.

Valid XHTML

Able to hide the Google Translate frame at the top right of the website.
You can use the features above for free, but it's just a basic browser translation that you can't edit and with no SEO content generation at all. If you want to experience advanced features such as multilingual SEO, neural network translation, metadata translation, then you have to use the paid features starting at $30 per month.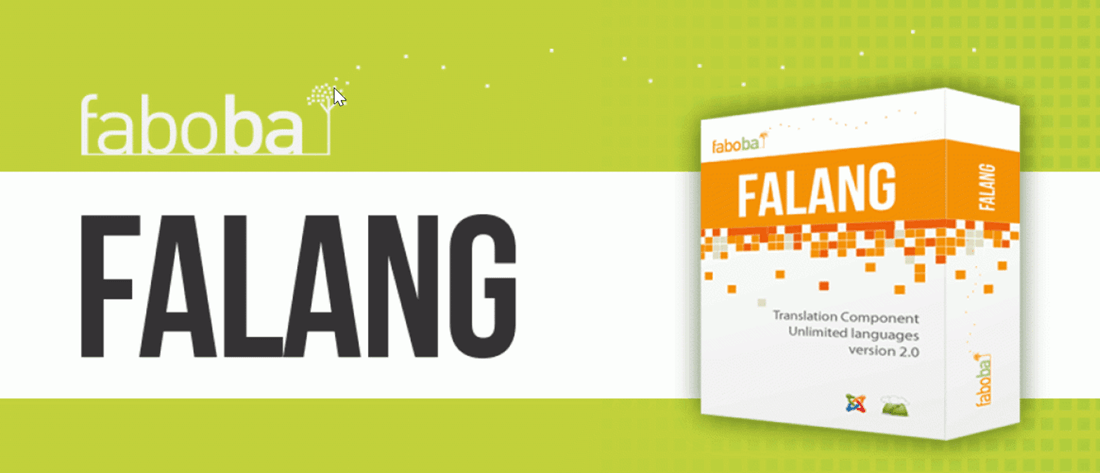 FaLang is a free Joomla extension that allows you to create multilingual websites using the Joomla content management system. It provides a comprehensive solution for managing and translating website content into different languages.
With FaLang, you can easily translate Joomla articles, categories, modules, menus, and other content elements. It offers a user-friendly interface and powerful translation features to simplify the translation process.
The FaLang extensions now work on Joomla versions 3 and 4.
FaLang Features:
Edit translation page

Link back to Faboba site

Display component translation status directly in Joomla for menus, articles, and modules.

Able to translate k2, aiContactSafe, hikashop, Redshop, jDownload, phocaDownload .

Package installation script.

Better support for small screens

Not compatible with all Joomla extensions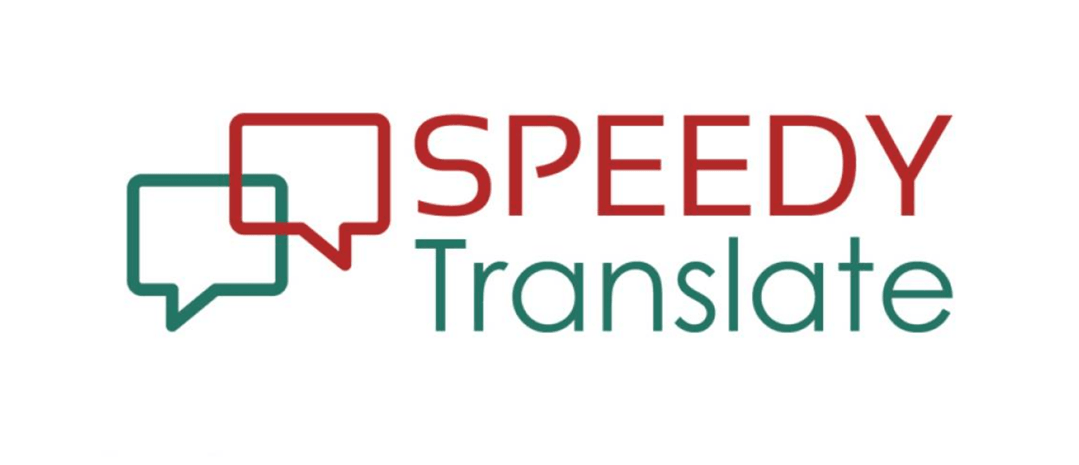 Speedy Translate is an extension based on the Joomla native multilingual system. This extension works to make translation work in Joomla easier and faster. This extension is made with the motivation that building multilingual sites in Joomla can be quite confusing and time-consuming, even for experienced users, let alone new users.
Therefore, Speedy Translate is here to make it easier for Joomla website owners to create their multilingual sites. Then Speedy Translate is a paid extension.
Speedy Translate feature
Fast translation for static and dynamic content in Joomla.

Translation options using the SPEEDY engine, FaLang extension, or Joomla's multilingual features.

Automatic translation with selectable translation suggestions.

Syntax checks to fix errors in language files.

Duplicate detection to avoid unnecessary work.

MySQL and PostgreSQL database support.

Joomla Custom Fields translation support.
6. Currency Languages Converter for Virtuemart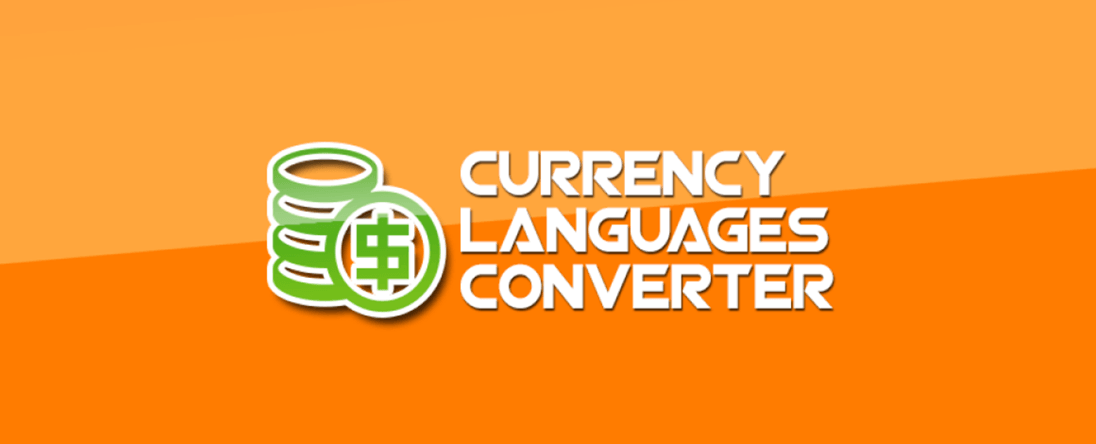 Currency Languages Converter for Virtuemart is also an extension that is based on the Joomla native multilingual system. It's not a real translation solution. This extension can be used for online store owners who wish to reach a global audience with ecommerce.
Well, the Currency Languages Converter allows you to set up a list of currencies and languages so that customers can quickly convert their currencies and languages on the front end.
VirtueMart feature
Integration limited to with Joomla and Virtuemart

Complete e-commerce functionality.

Strong product management.

Various ordering and payment systems.

Accurate analytics and reporting.
Ready to explore new markets? Try our automatic translation service for free with our 1-month risk-free trial. No credit card needed!
So far, you already know what are the best translation extensions for Joomla. You can make some of the recommendations above as a reference before choosing a translation extension for your site. Now it's time to choose which one is most suitable.
If you are looking for translation extensions that are available for free right now, you can go for Linguise with its 1-month free trial version. During the next month, you can translate up to 600 000 words without any language usage limit.
Quickly install Linguise on Joomla and translate websites effortlessly using the front-end live editor!