WooCommerce is one of the most popular eCommerce platforms (or WordPress plugin) available, powering over 30% of all online stores. Starting a WooCommerce business requires hard work and dedication. Your entrepreneur skills go through significant tests before you begin making handsome profits.
Are you experiencing stagnant business growth? It may be time to consider expanding your company internationally by translating your store into foreign languages. This will help you attract foreign traffic and potential customers, opening up new avenues for business growth.
A multilingual website is essential for reaching a global audience and ensuring that your content is easily understood by native readers. It also enhances user experience by allowing users to access your services in their preferred language.
Why should an online business be translated in several languages? (multilingual)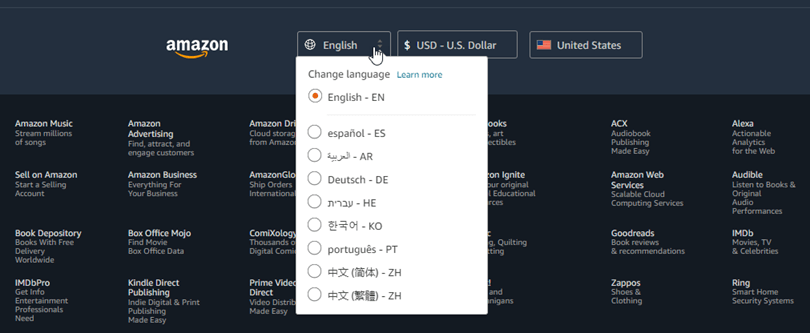 All it takes for a customer is one bad experience, and they will never think of doing business with you. With a population of 8 billion people worldwide, not everyone speaks English, which means they may not be able to access or purchase from English-only stores online. To attract a diverse range of customers, your online shop should be welcoming and accessible.
Here are some benefits that come with operating multilingual WooCommerce Stores besides accessibility.
When you have a multilingual store, visitors from foreign countries are more likely to stay on your website once they realize it's available in their native language. This can help reduce your bounce rate, which in turn can have a positive impact on your conversion rate and lead to more sales.

In today's uncertain economic climate, businesses need to stand out to gain a competitive advantage. An often-overlooked area of this, is video content. Adding subtitles to your videos can significantly improve comprehension for those whose first language isn't English.
By being multilingual, your WooCommerce store can differentiate itself from competitors and attract customers from diverse backgrounds. 

For a company to succeed online, it's crucial to rank well on search engine result pages. However, simply translating your shop's content may not be enough. You need to ensure that the content is optimized for foreign SEO and indexed on SERPs to improve your chances of ranking well. This can help drive traffic to your website and improve your online visibility.

Compared to other forms of marketing, content marketing is significantly less expensive. If you're planning to develop an international marketing strategy, having a bilingual website can be a cost-effective option. 

Having a multilingual website can demonstrate that your business operates on a global scale, which can convey sophistication, complexity, and attention to detail. These are qualities that customers often associate with high-quality and professional businesses, which can enhance your brand reputation and credibility.
Selecting a translation plugin for multilingual WordPress websites
One of the features that make WooCommerce stand out from other e-commerce platforms is its ability to be customized using plugins. You may manually add multilingual elements to your website using a multilingual translation plugin. The main benefit of this method is that the quality of the translations will be much better than that produced by online machine translation engines. However, the main challenges are the expense and time required when dealing with multiple languages.
Another option is to use translation plugins that leverage neural machine translation services such as Google, DeepL, and Microsoft. While these plugins do not require you to generate content in different languages, the quality of the translations varies based on the language pair and may require editing.
Below is a comparison of major neural machine translation language pair quality against human translation (with human translation scoring 100%):
| | | | |
| --- | --- | --- | --- |
| | NMT Translation | Human Translation | Quality |
| English-Spanish | 5,428 | 5,550 | 97% |
| English-French | 5,295 | 5,496 | 96% |
| English-Chinese | 4,594 | 4,987 | 92% |
| Spanish-English | 5,187 | 5,372 | 96% |
| French-English | 5,343 | 5,404 | 98% |
| Chinese-English | 4,263 | 4,636 | 92% |
Is WooCommerce translation ready?
WooCommerce core is already localized into a number of languages by the WordPress community and can be changed right away. This means that the backend of the plugin, as well as standard frontend information, is already available with translations. It's based on WordPress .po and .mo files system. You need a translation file in the language you require your store to be in. You can use translation plugins or tools like Poedit to create translation files for WooCommerce, which can be easily imported into your store.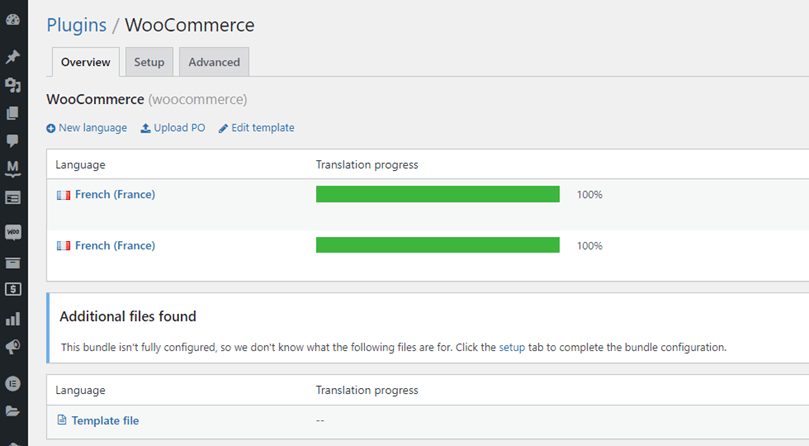 There are many translation plugins available for WooCommerce, such as WPML, Polylang, which allow you to create bilingual or multilingual online stores. These plugins provide advanced translation features and support for multiple languages.
However, it is also important to remember that while WooCommerce itself is translation ready, not all themes and plugins may be fully compatible with translation plugins. Therefore, you need to check the compatibility of your theme and plugins before you start translating your WooCommerce store.
While localization is for WooCommerce core features, WordPress cannot guess the language (or the translations) in which you want your actual product content to be shown. For this, you'll need to manage languages from a translation plugin such as TranslatePress.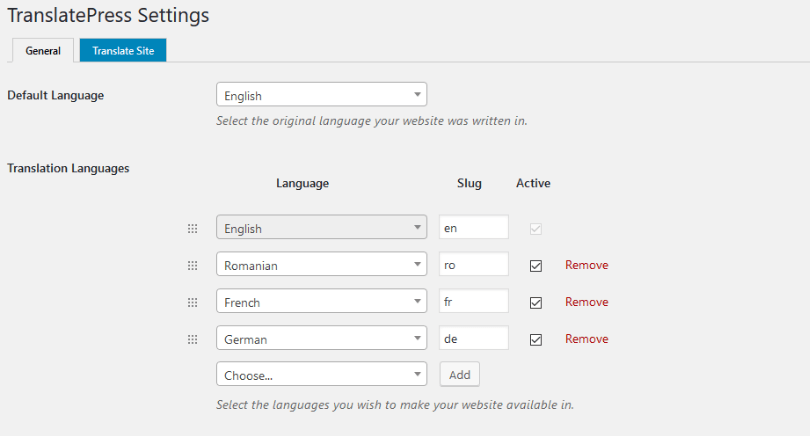 Downloading translations manually
To translate WooCommerce elements, such as the button add to cart, you have the option to download translation files manually from the translation repository.
Go to the official WooCommerce translations page.
Scroll down to the section labeled "Locales" and locate the language you need.
Click on the language link, and you will be taken to the translation page for that language.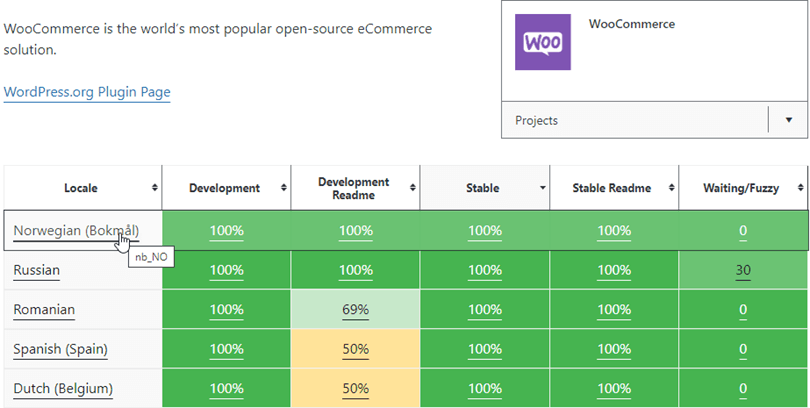 4. To see and download a Stable version, check the "Set/Sub Project" section and select the file you want.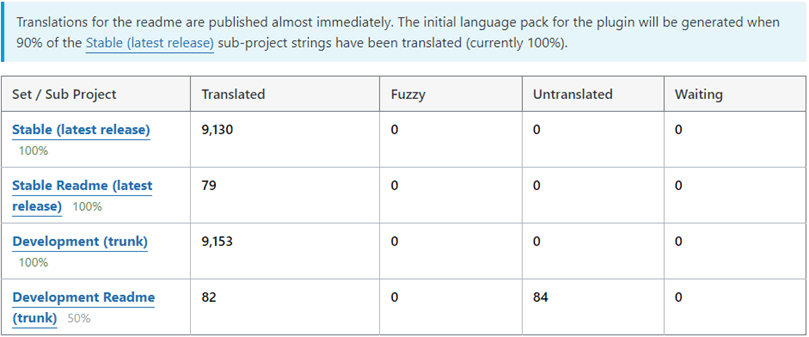 5. You may find export choices at the bottom of the page. Choose the ".mo" file for use on your website.

6. Rename this file to woocommerce-YOURLANG.mo (for example, en GB for Great Britain English).
7. Upload to your shop's wp-content/languages/woocommerce/ directory. You may use this translation file after it has been posted.
WooCommerce automatic translation plugins
On the other hand, there are plugins available that allow for the creation of multilingual websites using a hybrid translation approach. With this approach, the entire website is initially translated using neural machine translation, but the translator is given the ability to make further improvements to the translations at a later stage. This method is commonly referred to as "hybrid translation" and offers a balance between speed and accuracy in translation.
In this scenario, WooCommerce is deemed translation-ready by default since the automatic translations are generated based on the frontend content. It means that, for example, if you're in the cart view with an additional plugin, 100% will be translated.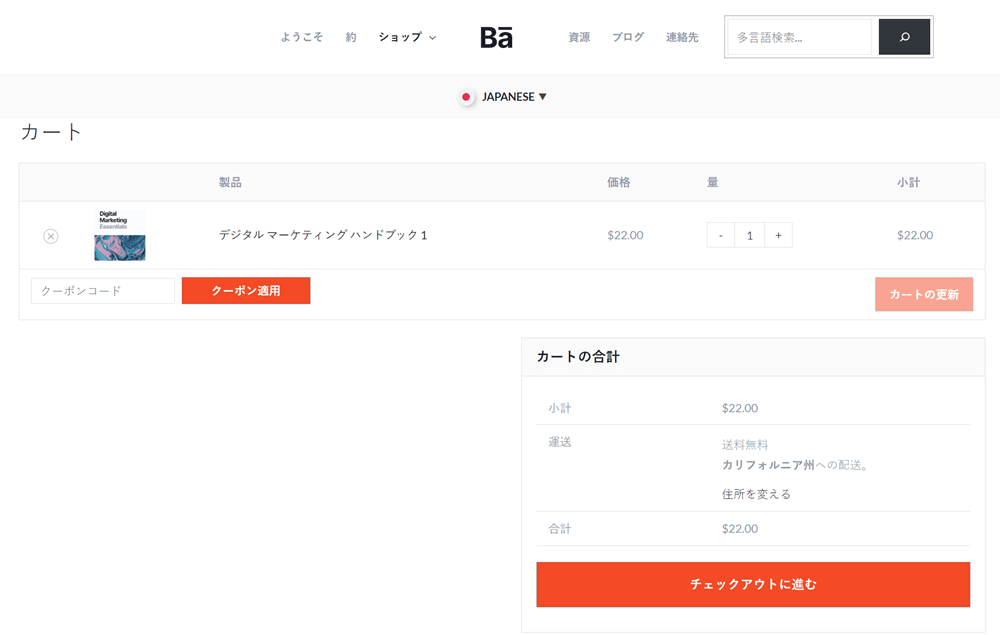 Break Language Barriers
Say goodbye to language barriers and hello to limitless growth! Try our automatic translation service today.
Recommendations for WooCommerce translation plugins
When it comes to translating WooCommerce, utilizing paid services is often necessary. Manual translation plugins typically require payment for their full functionality, while automatic translation plugins typically operate on a Software as a Service (SaaS) subscription model.
Nonetheless, integrating new languages into your store can offer significant benefits. Luckily, there are numerous plugins available that can perform this function, each with its own unique features and advantages. In the following section, we will go through some of the most popular and highly rated WooCommerce Translation plugins.
Linguise automatic translation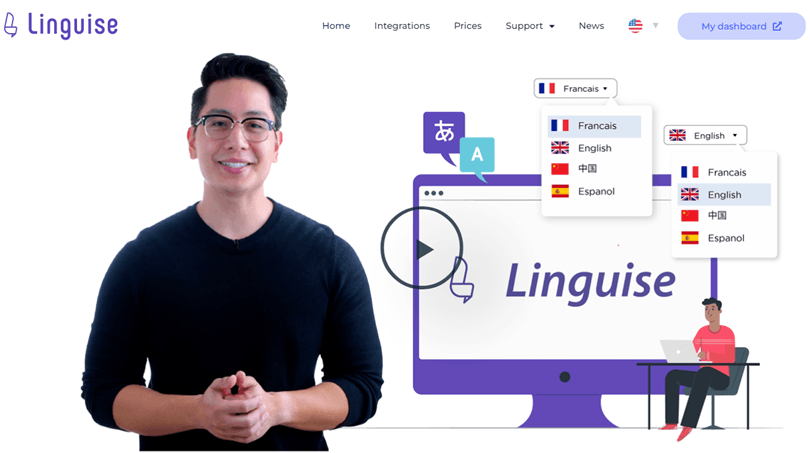 Linguise is an automatic translation plugin for WooCommerce that enables users to automatically translate their online store into multiple languages. The Linguise plugin supports over 300 languages, which makes it an ideal choice for online store owners who wish to expand their business internationally.
Linguise is 100% WooCommerce integrated as it translates all the content, cart, checkout, even notification emails. See the dedicated WooCommerce page here.
One of the standout features of Linguise is its machine-learning algorithm, which allows the plugin to improve its translations over time. The algorithm analyzes user feedback and usage patterns to refine its translations, ensuring that they become more accurate and natural-sounding over time. Linguise has a user-friendly interface that integrates seamlessly with the WordPress dashboard, allowing users to manage translations from a single dashboard.
Linguise is a great option for the automatic translation of your WooCommerce online store. It offers top-notch translation services with the added benefit of collaborating with multiple translators to improve your content. During the first month, you can enjoy automatic multilingual translation for free, with a limit of up to 600,000 translated words. Plus, there are no restrictions on the number of languages or page views, so you can reach as many customers as you need to. Best of all, Linguise supports WooCommerce completely, including all the essential pages, such as checkout and cart pages. You can even edit these pages to make sure they're just right for your customers.
Linguise is a fantastic option if you want to boost your website's search engine rankings with SEO-optimized translations. With Linguise, you'll get all the tools you need to rank your website in multiple languages.
One of the best things about Linguise is that it uses a neural machine translation algorithm that provides high-quality translations in just 15 minutes. To get started, all you need to do is install the Linguise WordPress plugin, link it to your account, and instantly translate it to your WooCommerce shop.
While Linguise is a premium service, it's definitely worth the cost, considering the benefits.
With plans starting at only $165/year for 200 000 translated words, you'll get access to high-quality, SEO-optimized translations and revisions that can help take your online store to the next level.
START
INCLUDED IN 1st MONTH FREE TRIAL

200 000 translated words

Unlimited translated page views

Unlimited languages

10% OFF compared to monthly prices

1 website per plan with one month free
PRO
INCLUDED IN 1st MONTH FREE TRIAL

600 000 translated words

Unlimited translated page views

Unlimited languages

10% OFF compared to monthly prices

1 website per plan with one month free
LARGE
UNLIMITED translated words

Unlimited translated page views

Unlimited languages

10% OFF compared to monthly prices

1 website per plan with one month free
Learn how to translate automatically all WooCommerce in video
Ready to explore new markets? Try our automatic translation service for free with our 1-month risk-free trial. No credit card needed!
TranslatePress: WordPress translation plugin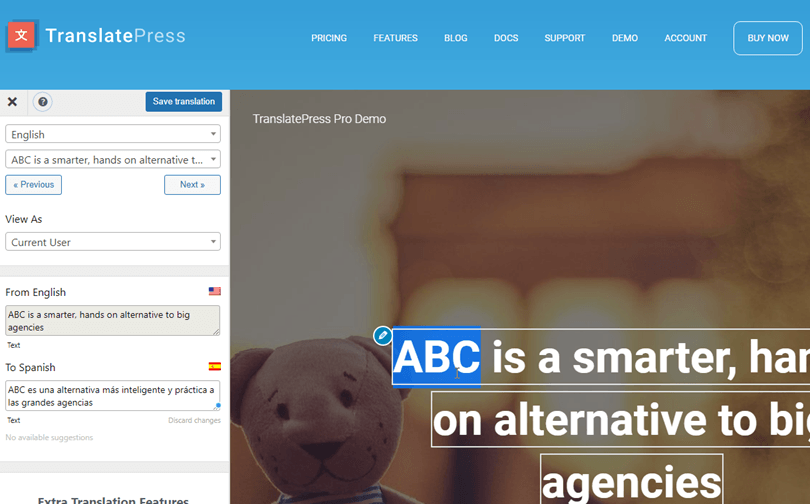 TranslatePress is a user-friendly translation plugin that lets you easily translate your WordPress shop right from the front end. With full support for WooCommerce, advanced themes, and site builders, everything from product titles and descriptions to categories, attributes, and even URLs and title tags can be translated in just a few clicks. Plus, TranslatePress supports multilingual search, making it easy for your customers to find what they're looking for.
To create a WooCommerce multilingual store, you'll need to have WooCommerce installed on your WordPress site and a translation plugin. Fortunately, you can get TranslatePress for free from the WordPress.org plugin repository, though WooCommerce translation is only included in the pro version. Simply go to the "Plugins" section of your WordPress Dashboard, click "Add New," and search for "TranslatePress" to install it.
Using TranslatePress's visual translation tool, you can easily translate every section of your WooCommerce shop, giving your customers a completely translated and consistent user experience throughout your site. And if you want access to more languages, navigation translation, and international SEO, you'll need to upgrade to the business version, which starts at $139/year + the automatic translation connectors, such as Google and DeepL, require you to purchase a translation quota from those companies.
Weglot translation solution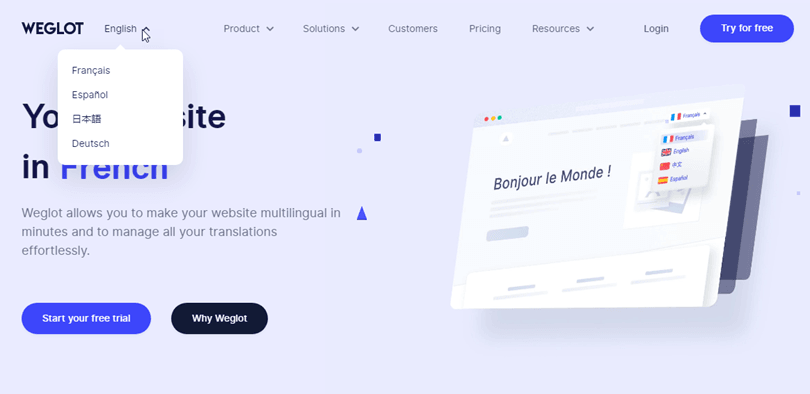 Weglot is a fantastic WordPress multilingual plugin that makes it easy for you to sell globally with a fully translated WooCommerce store. It works seamlessly with all themes and plugins, and comes with built-in multilingual SEO benefits.
Setting up Weglot is a breeze, and you'll have complete control over your translations. With Weglot, you can approve, amend, and manage all your translations from a single interface. You can also manage multiple shops from a single URL, and Weglot will automatically display your translated shop in language-specific subdirectories. This means you won't have to duplicate or upload translated material.

One of the key advantages of using Weglot is automatic content recognition. It translates and presents updated product descriptions and content in real time, making translation maintenance a breeze.
While Weglot is one of the most popular automatic translation plugins, it comes with a price tag. Costing 490€ ($541) a year, the pro edition supports 5 languages and comes with 200K translated words.
WPML, the WordPress multilingual plugin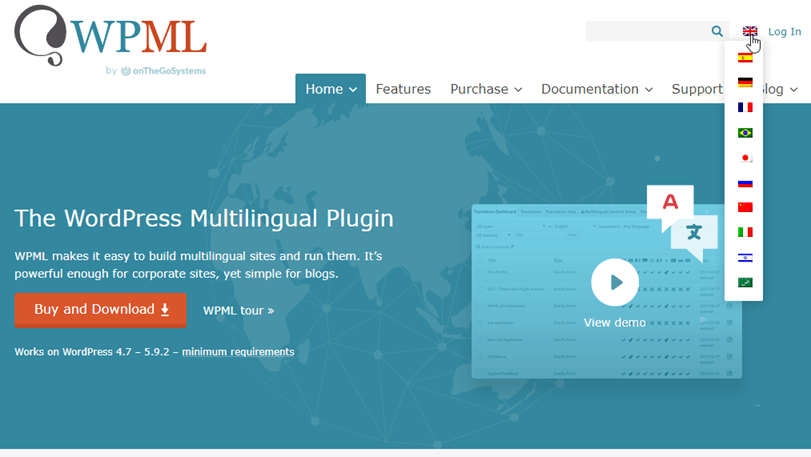 WPML is a plugin that allows you to run your WooCommerce store in multiple languages and currencies. It's a popular and reliable platform for multilingual e-commerce, powering over 100,000 multilingual WooCommerce sites worldwide.
WPML can help you translate WooCommerce items, variants, shop emails, URLs, image texts, and any other text that customers see during checkout. It also makes SEO in multiple languages easier and works seamlessly with all major WooCommerce extensions and themes.
WPML is a paid plugin, and to access page builder translation and WooCommerce integration features, you'll need to purchase the Business version ($99/year). The automatic translation option (Google, DeepL, Microsoft) requires purchasing translation quota from those companies. If you need 200K automatically translated words in 5 languages, you'll need to pay an additional one-time fee of $637.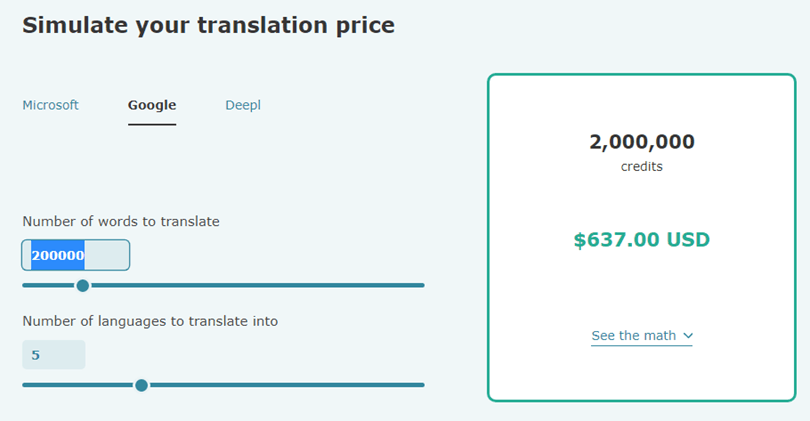 Translating your WooCommerce store is crucial for attracting customers and increasing your conversion rate. Fortunately, with the advancement of translation technology, you can now do so affordably and efficiently. By leveraging these translation tools, you can adapt to the changing landscape of online business without spending a fortune.
The availability of automatic neural translation tools has made the process smoother and hassle-free. With the advancement of technology and plugins, translating your WooCommerce store into multiple languages, making necessary revisions, and keeping your website localized in real time is now easier than ever.
As we recommend Linguise because it's the most affordable and has the better WooCommerce integration, you can check the prices here.