Automatic translation services are computer programs that translate text or speech from one language to another without human intervention. This service uses algorithms and machine learning techniques to analyze the structure and context of the text, then generates output in the target language.
There are several types of automated translation services available, ranging from basic word-for-word translation to more sophisticated machine translation systems that can interpret a sentence and produce a more accurate translation.
Then what are the automatic translation services that you can use to translate into other languages? Below we will discuss together!
The top automatic translation services
There are many automatic translation services that you can use, including popular ones like
Google Translate

DeepL

Bing Microsoft Translator

Yandex Translate

Baidu Translate
Some of the services above were created using machine learning technology, not human translation. Therefore, translation can be done quickly, easily, and with accurate results.
Even with the use of modern technology, machine translation is still a machine. Often we find inaccurate results, therefore in this article, we will compare these five translation services.

Google Translate features:
Word translation

Website translation

Document translation

Voice translation

Image translation

Translation application

Handwritten translation
Translation methodology:
Initially, Google Translate did not use NMT (Neural Machine Translation) technology. However, since 2016 he has transferred the translation method to NMT. This allows Google Translate to translate the entire text at one time. From the use of this technology, Google Translate manages to translate 100 billion texts every day.
Accuracy:
In 2017, Google released a report regarding the level of accuracy of Google Translate. They stated that the average accuracy of their translation results was 85%. Then, in 2019 they released again that Google presented an offline translation feature with an accuracy rate of 12%.
The 85% figure is checked based on translations in common languages, for example, English-Spanish which reaches 94%, and English-Korean 82.5%.
However, for a less common or less popular language like Armenian, the accuracy rate is only 55%.
Pros:
Google Translate is free.

The translation results came out quickly.

Use statistical methods to build an online database of translations based on the frequency of language pairs.

Several types of input.
Cons:
It usually appears "lost in translation" because there's no way to include context.

The resulting translation quality depends on the language pair.

There is no system for correcting translation errors.

There are frequent grammatical errors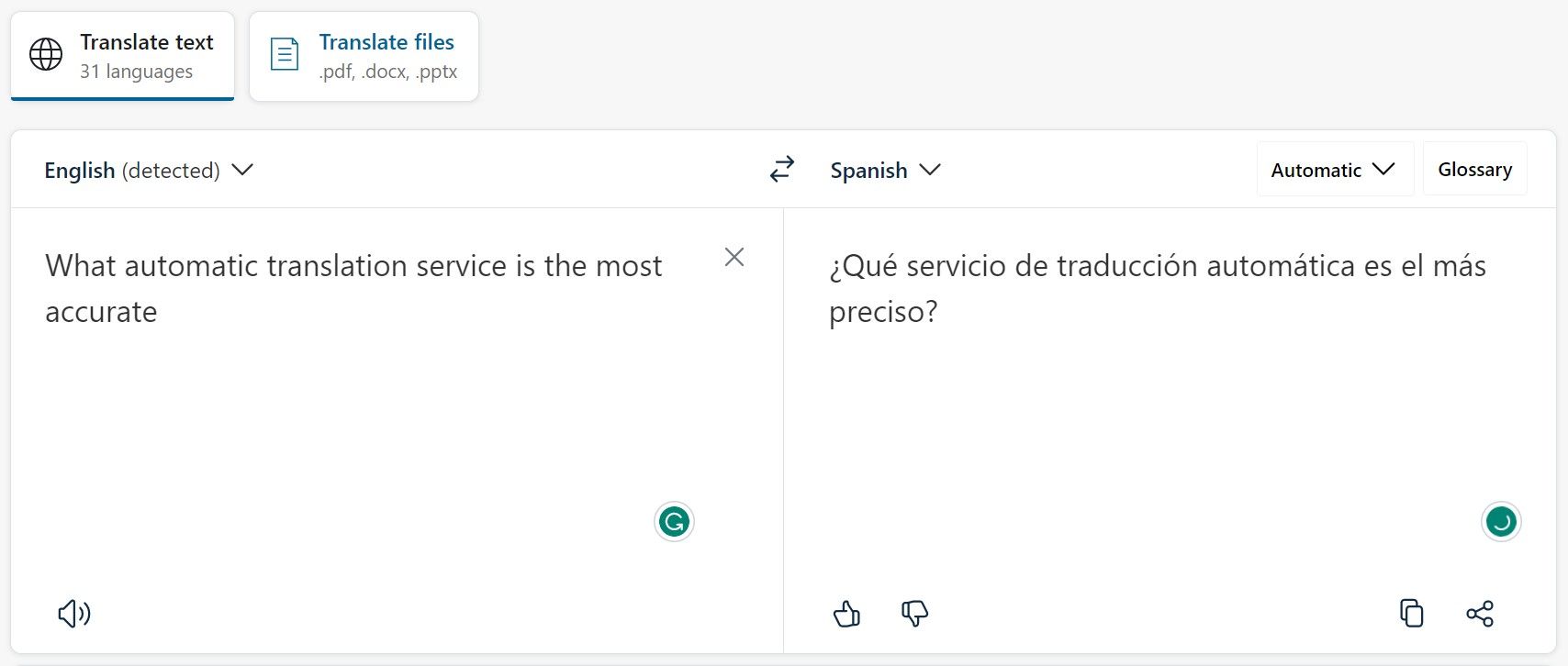 The next high-accuracy automatic translation is DeepL. This service was launched in 2017 and at that time only supported 7 European languages, but until now it continues to expand its language support to 31 languages.
DeepL is famously considered a European language translation service with high accuracy results, that's why most of the languages ​​it supports are European languages.
DeepL Translation features:
Website translation

Document translation

Mode editor

Unlimited text translation

Choose an alternate word or phrase

Choose between the formal and informal tone of voice

Determine how words and phrases are translated
Translation methodology:
DeepL Translate uses a neural machine translation (NMT) methodology to translate text. In addition to the NMT methodology, DeepL Translate also uses a statistical machine translation (SMT) methodology to improve translation accuracy.
Accuracy:
One study conducted by the German Federal Association of Interpreters and Translators found that DeepL Translate produced the most accurate translations out of all the machine translation services tested, including Google Translate, and several others. Another study conducted by the European Commission in 2020 found that DeepL Translate achieved the highest scores in terms of accuracy and fluency compared to other machine translation services.
Pros:
Natural-sounding translations.

Free version available

Support for multiple languages.
Cons:
The free version only allows for a limited number of translations per day .

Limited support for some languages.

Quality differs depending on the language pair.

Lack of human nuance.
3. Bing Microsoft Translator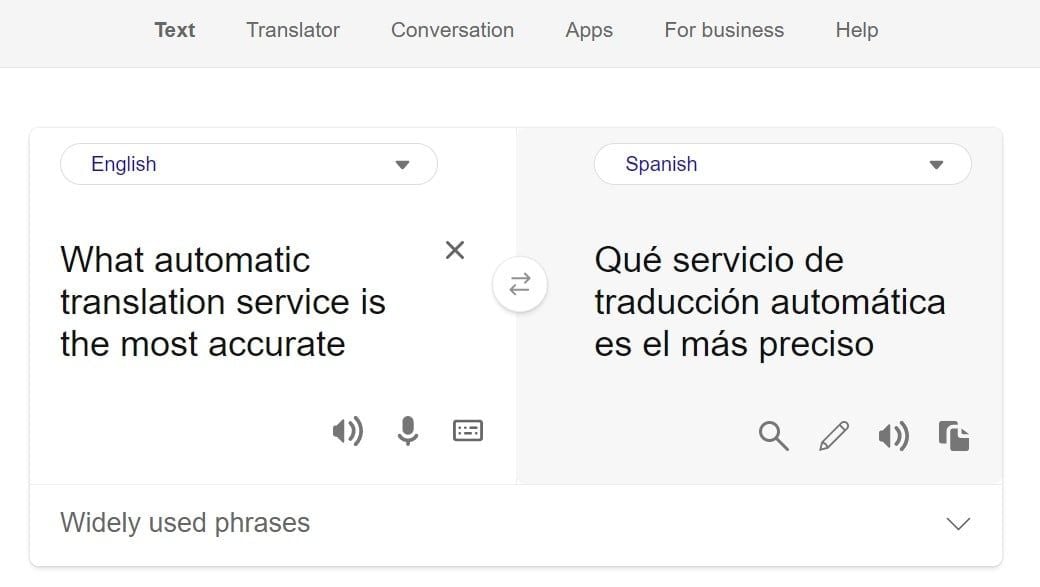 Bing Translator is a service provided by Microsoft as part of the Bing service that allows users to translate text or entire web pages into one of the languages ​​provided. All translations are supported by Microsoft Translator powered by Microsoft Research.
Bing Microsoft Translator features:
Text translation.

Image translation

Integrated with Internet Explorer and Microsoft Edge.

Supports more than 60 languages.
Translation methodology:
Bing Microsoft Translator uses machine translation to create instant translations from one natural language to another. The system is based on four different fields including NMT, Syntax-based SMT, Phrase-based SMT, Bitext word Alignment, and Language modeling using the n-gram model to build understandable translations in the target language.
Accuracy:
The quality of Microsoft Translator's machine translation is evaluated using a method called BLEU (Bilingual Evaluation Understudy). In November 2016, Microsoft Translator introduced translation using deep neural networks 9, neural networks provide better translation than the industry standard statistical machine learning. According to Microsoft, the overall accuracy of its machine translation service is around 80-90% for common language pairs.
Pros:
Versatility, including text, speech, and image translation, as well as support for multiple devices and integration into other applications and services.

Allows for customizable translation models for specific domains or industries.

Bing Microsoft Translator is widely available and accessible, with both free and paid versions of the service.
Cons:
Language detection through the camera is less accurate.

Certain languages ​​do not support all subtitle modes.

Sometimes the operation of the translator is very slow.

The next top automatic translation service is Yandex Translate which is part of Yandex, a technology company from Russia. Yandex Translate is a web service aimed at translating text, documents, and web pages into other languages.
In addition to web-based translation services, Yandex also offers a mobile application that allows users to access translations from anywhere at any time.
Yandex Translate features:
Text and voice input

Input documents in the form of PPT, and PPTX. DOCX, DOC, XLS, XLSX with a maximum document size of 5 MB.

Camera translation.

Supports more than 100 languages, apart from Russian.

Save your favorite translation, to use if there is a future.
Translation methodology:
Yandex Translate uses artificial intelligence and machine learning algorithms to improve the quality of its translations over time. It also has a feature that allows users to submit translation corrections to improve the service more accurately.
Accuracy:
Actually, there are no academic studies that discuss the quality of Yandex translations, then judging from the reviews, user reviews on Yandex vary greatly depending on the language one is looking for. Yandex reviews on G2 generally agreed that translating between English and Russian or English and Turkish was very accurate, but the results weren't quite as good as in languages ​​like Chinese and Korean.
Therefore it can be concluded that Yandex's level of accuracy depends on the destination language of the translation.
Pros:
Supports translations between over 100 languages.

Yandex Translate is a free service.

Integration with other Yandex services.
Cons:
Often Yandex Translate cannot translate image text correctly.

Limited features, Yandex does not have features that users need, for example translating entire documents or integrating with third-party applications.

Baidu Translate is China's most popular automatic translation service launched in 2013. This service was developed by Baidu, a technology company from China. Baidu allows users to translate text, documents, web pages, and even voice between multiple languages, including English, Chinese, Spanish, French, German, and many more.
Baidu translation services are available in two types, namely via website and mobile. Because it was originally made in China, Baidu is more famous in Chinese or Mandarin translation.
Baidu Translate features:
Word translation

Image translation

Translation speech

Voice translation

Object and menu translator

You can use Notepad to record important phrases or foreign words that you acquire.
Translation methodology:
Baidu Translate uses a statistical machine translation (SMT) methodology for its translation services as well as a neural machine translation (NMT) technique, which uses deep learning algorithms to improve the quality of translations over time.
In addition to this machine-based approach, Baidu Translate also relies on crowdsourcing to further improve the accuracy of its translations. This service allows users to submit cortexes on translations and select the best translations, which are then reintegrated into the system to improve the overall quality of translations.
Accuracy: 
Similar to other automatic translation services that use the NMT and SMT methods, Baidu also has results that are not much different in accuracy. However, because this service is originally made in China, Baidu is superior in terms of Chinese translation.
Pros:
Baidu Translate also offers an offline translation feature for some language pairs.

Baidu Translate supports translations between over 100 languages.

Baidu Translate is a free service, so users can translate text, voice and images without any additional costs.

It can be used for free.
Cons:
Not user-friendly for beginners.

Not designed for English-speaking users.

Translation quality may be inconsistent across language pairs or content types.
What automatic translation service is the most accurate?
You already know which automatic translation services are popularly used. Among the five services above, we will try to conclude which automatic translation service has the most accurate translation results.
Each service definitely has its advantages and disadvantages, in fact, we cannot draw conclusions just like that. However, when viewed from the translation method or technology, NMT technology is still a method that provides translation results with a high degree of accuracy.
That way most of the translations above use NMT and the accurate results are good enough.
When viewed from the number of users and its popularity, Google Translate still dominates number one. However, if you focus on European languages ​​then use the DeepL service.
Furthermore, if you want to translate to Chinese or from Chinese, try using Baidu. Because Baidu is more accurate in its use of Chinese translations.
Factors that affect the accuracy
Then what are the factors that affect the decline in the quality of automatic translation services? Here are some of the factors.
Language complexity:

more complex grammatical structures may be more difficult to translate accurately.

Vocabulary and terminology:

certain industries or fields may have specific terminology that machine translation systems may not recognize or accurately translate.

Ambiguity:

words and phrases can have many meanings, which can lead to ambiguity and make it difficult for machine translation systems to accurately determine the intended meaning.

Cultural context:

language is closely related to culture, and machine translation systems may not always be able to accurately capture cultural nuances or context.

Machine learning algorithms:

machine translation systems rely on complex algorithms that use statistical models and neural networks to create translations. This algorithm may not always be able to accurately capture the full meaning of the source text.
While automatic translation can be a useful tool for basic translation, it is important to keep in mind the limitations of machine translation and consider using a human translator.
Apart from human translation, you can use other alternative automatic translation services that have more complete features so you can have full control over the translation results.
Break Language Barriers
Say goodbye to language barriers and hello to limitless growth! Try our automatic translation service today.
Linguise, automatic translation service with 97% accuracy
For those of you who are still not satisfied using the automatic translation service, there is another alternative that you can use to translate your website with more accuracy, namely Linguise.
Linguise is an automatic translation service using NMT technology whose models are based on Google Cloud Translation with many homemade improvements. So, you will get a better guarantee of language accuracy.
Not all language pairs are equal in neural machine translation, but they vary from 82% to 98% accuracy. In this case, the English-Spanish pairing on Linguise with neural technology is capable of up to 97% accuracy.
| | | | |
| --- | --- | --- | --- |
| | NMT Translation | Human Translation | Quality |
| English-Spanish | 5,428 | 5,550 | 97% |
| English-French | 5,295 | 5,496 | 96% |
| English-Chinese | 4,594 | 4,987 | 92% |
| Spanish-English | 5,187 | 5,372 | 96% |
| French-English | 5,343 | 5,404 | 98% |
| Chinese-English | 4,263 | 4,636 | 92% |
Not only that, Linguise gives full control over the text to be translated. You will get a sophisticated system that will help exclude translated content, namely with the translation exclusion feature.

That way, you can choose words, content, HTML elements, or other parts that you don't want to be translated, even if the user has chosen the language to translate them to.
Apart from excluding content, you can also replace the translation results that you think are more accurate than machine translation results, namely with the front-end live editor feature.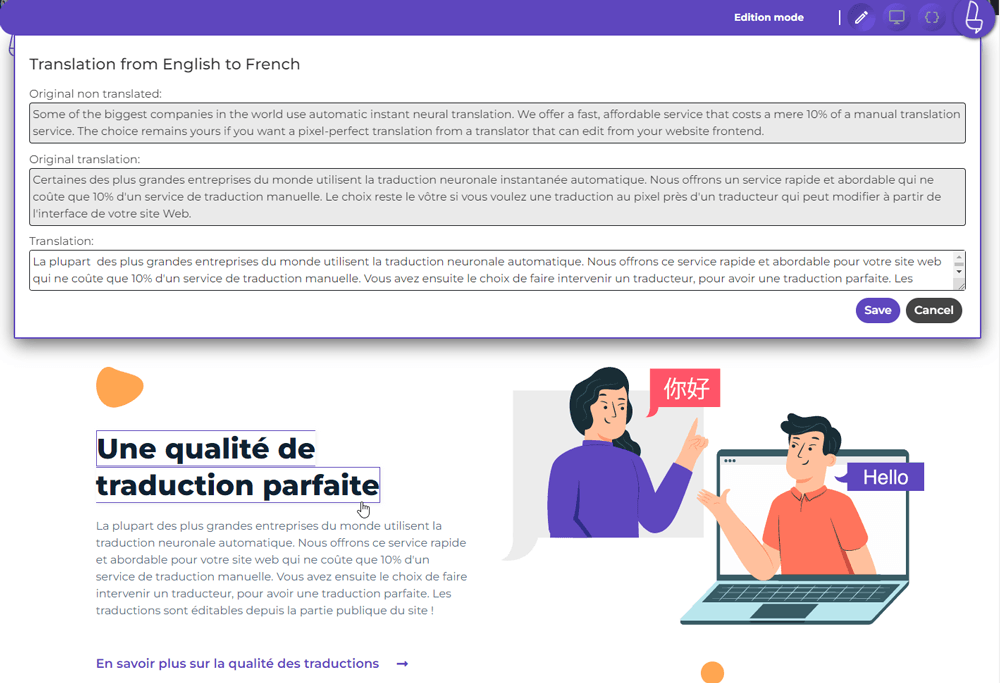 This feature allows you to edit the translation results of the words or sentences you choose. Simply select the language you want to translate on the Linguise dashboard, then click the element you want to translate.
How, interested in using Linguise? You can try our free trial version for 1 month. In this version, you can translate up to 600,000 words without a limited choice of languages.
Simply register for a Linguise account without the need to provide credit card information and use it as your web translation service.
Ready to explore new markets? Try our automatic translation service for free with our 1-month risk-free trial. No credit card needed!
Now you know which automatic translation service has the highest level of accuracy, it depends on several factors including sentence complexity, algorithm, cultural context, ambiguity, and vocabulary & terminology.
If you don't have special features in translation, you can use Google Translate, but if you want to specifically translate European, use DeepL, and then if the focus is on Mandarin then use Baidu.
If that's not enough, Linguise can help you get a better translation experience by offering more diverse features.