For those of you who own a Shopify store, translating your store into multiple languages ​​is very important nowadays. To achieve sales and target foreign consumers, you must translate your store into various languages.
Therefore, in this article we will tell you what are the best applications to translate Shopify. In this article we will compare several applications that can be used to translate Shopify.
The best app to translate Shopify store
Before going into application recommendations for translating Shopify stores, there are two ways to translate Shopify stores, namely manual translation and automatic translation.
The manual translation method requires you to copy and paste, therefore automatic translation is the right alternative for translating a Shopify store.
So, in this article we will discuss some of the best apps for translating Shopify stores that use AI-based automatic translation technology.
Break Language Barriers
Say goodbye to language barriers and hello to limitless growth! Try our automatic translation service today.
Linguise: translate your Shopify with cloud AI automatic translation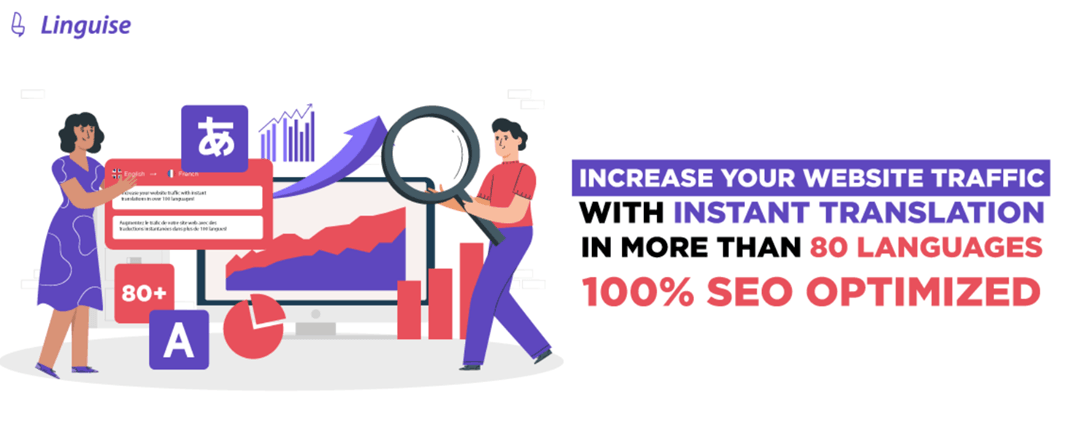 One of the AI-based automatic translation services is Linguise. Linguise provides automatic translation for websites and integrates with Shopify.
Linguise is able to offer fast translation support with almost 100% perfect translation quality. With neural machine technology and AI cloud translation, 97% of Linguise's translation results are very natural and similar to human translation.
Linguise is a translation application that is easy to install, you can translate Shopify store in 10 minutes, after that, you can immediately add 10 new pages and automatically translate them into 10 different languages.
In the Shopify transaction process, it is important to translate each page into all languages ​​starting from the checkout page, payment, and others. This will increase your transformation rate.
Apart from the offers above, what are the advantages of Linguise compared to other services in translating Shopify stores?
Edit product translations from the front-end editor: Linguise lets you translate translations directly on the front page. You only need to log in to the Linguise dashboard then select the language you want to translate.
Unlimited Shopify translation: Linguise offers unlimited translation packages limited to large stores, you can translate to more than 80 languages ​​without any limitations. This means you can translate into any language. For large packages, you can also translate as many words as you want.
Translate your Google Merchant Center product feed: Google Shopping should be integrated with your Shopify product data feed, which will then become your Google Shopping feed. If you plan to sell your product to a specific country or want to expand your e-commerce development more broadly, you need to translate all the product details. The good news is that Linguise is connected to Google Merchant Center and will handle this automatically for you.
Shopify's translation rules: besides editing translations directly on the front page, Linguise also features custom translation rules or submits for Shopify stores. In this feature, you can create rules for conveying translations based on text, language, URL, and HTML tags.
Shopify Translate & Adapt

The next best app for translating Shopify is Shopify Translate & Adapt. Shopify Translate & Adapt is one of the applications available on Shopify for translating stores.
Even though this application is relatively new, namely only launched in August 2022, it has already received quite good reviews, namely around 4.3 from its users.
Shopify Translate & Adapt has a number of features such as.
Add, modify, and assess translations using the side-by-side editor manually.
Automatically translate content into two languages using Google Translate (cloud.google.com/translate).
Adjust content to accommodate spelling and messaging differences across different markets.
Perform localization directly within the theme editor or any resource page accessible in your admin panel.
Effortlessly oversee localized store content through your Shopify admin.
Some of these features allow shop owners to create and edit content manually in minutes. From the homepage to product details, you can now go to specific sections and customize automatic translations.
Even so, this application has advantages and disadvantages. Here are some of them.
Pros
Auto translate 2 languages ​​for free
the application interface and integration with the store are good
Provides more than 20+ languages
Metadata translation
Cons
Once a page is translated and then edited, the translation does not change automatically.
The languages ​​provided are free, only 2
The language still tends to cover global stores
There is no special term translation feature
When compared to Linguise, Shopify Translate & Adapt still has several shortcomings, namely the choice of languages ​​which is still less diverse, then there is no feature that provides translations for special terms, so the translation results are not automatically updated.
However, these two applications have several similarities, such as providing free languages ​​and being able to increase SEO visibility.
T Lab ‑ AI Language Translate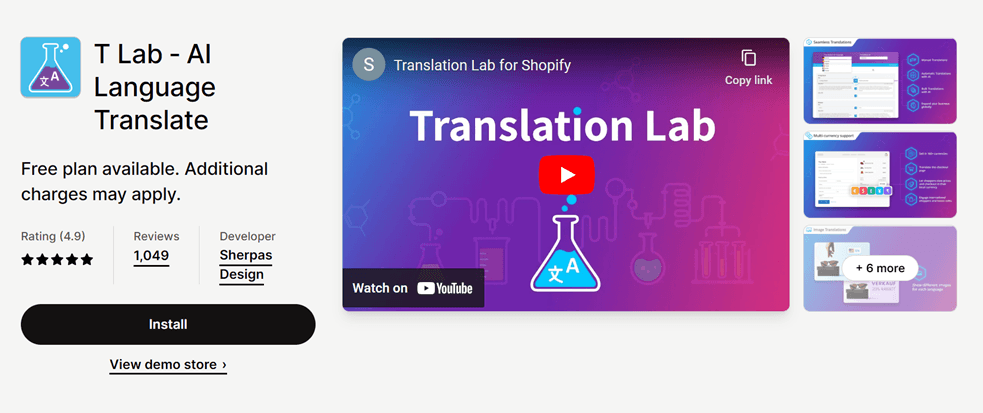 Next is T Lab – AI Language Translate which has currently received a rating of 4.9. This application provides tools and automation to translate your shop into various languages ​​and add various currencies easily, without any hassle.
You can translate your store into as many languages ​​as Shopify allows, and we impose no limits on the number of languages ​​you can use. The app connects seamlessly with your store, integrating with Shopify Markets.
Some of the main features of T Lab include.
Manual and automatic translations with Google's Neural Machine Translation (NMT) technology.
Translate images – display distinct images tailored to each language.
Personalized translations – translate external resources or third-party apps to match your needs.
Multi-currency support – enable customers to see prices and complete transactions in their preferred local currency.
Incorporate a language and currency switcher that seamlessly aligns with your store's design.
Apart from the main features that are interesting and useful for your Shopify store, T Lab also has a number of advantages and disadvantages, including:
Pros
Unlimited manual translations in any plan
All Shopify supported languages ​​and 160+ currencies
HTML Pre-processing
Import and export data in CSV format
Cons
The free version limits translation to automatic
Some traders complain that support is slow and inattentive
The free version only supports 1 language for AI translation
You can get T Lab – AI Language Translate for free or for a fee. For the smallest package, namely Pro, which you can get starting from just $9.99 / month with several conditions and the most expensive is $29.99 / month for the premium package.
From the review above, several things can be compared between T Lab and Linguise, starting from the language choices which are still limited to approximately only 20. Then, for a price of around $25 / month, at Linguise you can get free access to more than 80 languages ​​and translate up to 600,000 words, and free access to all Linguise features.
Meanwhile, at T Lab, at a price of $29, you only get 20 language choices and there is an additional price that needs to be paid if the amount requested is outside the provisions.
langify ‑ translate your store

Langify is one of the Translate Shopify applications which was launched in 2014, almost 10 years since this application appeared on the market, Langify has been used by many users and has received a rating of up to 4.7.
langify allows you to perform manual translation of content and also supports automatic translation. You can export and import your work, both to combine them and save them. You can offer local currency and direct to your customers.
Apart from that, langify also supports several third-party tools such as Cross-Sell, Store Pickup + Delivery, Boost Product Filter & Search, Yoast SEO ‑ SEO for Everyone, Appstle℠ Subscriptions, Searchanise. With this support and integration, it makes it easier for store owners to translate their Shopify store.
Some of Langify's main features include the following.
Manual translation
Exclusive switch configurator to suit your style
Unique feature to also translate third party applications
SEO optimized by subfolders and custom domain options
Apart from that, there are several advantages and disadvantages of Langify in translating Shopify.
Pros
Easy to use application
Import and export content in CSV and PO formats
Choice of up to 20 languages
Compatibility with native Shopify translation API
Cons
No automatic translations
The app may work slowly
Customer support is not attentive in some cases
Some traders face problems in managing all the features
To be able to use the Langify application, you can use the free trial for 7 days to experience all the features. After that, you need to subscribe for $17.50 / month.
If you want to add automatic translation words, you need to pay another $4.99 / 10,000 words.
When compared with Linguise, this price is certainly less economical. Because at Linguise at this price you get a free translation of 600 thousand words without any additional costs.
Additionally, Linguise provides a longer free trial offer of 30 days.
ETranslate: Language Translate

ETranslate (Language + Currency Translation) is a Shopify app that provides stores with 20 languages ​​and more than 150 currencies. You have two translation options in the ETranslate Shopify app. The first option is to use automatic AI translation, while the second option is to do it manually. The use of Google's Neural Machine Translation API ensures AI translations are fast, smooth and have minimal error rates.
Additionally, the app supports more than 150 currencies that can be converted automatically. You can set custom rules for certain currencies according to your customers' needs. Switching between currencies and languages ​​can be easily configured. Additionally, ETranslate has the ability to translate images and automatically update translations for newly added or modified content.
Here are some of the main features of ETranslate.
Translate your store's language with AI translator, enhancing the shopping experience
Automatic multi-currency converter. Convert prices to the customer's local currency
Language & currency switcher. Geo-based currency & language auto conversion
Pros
20+ languages ​​and 150+ currencies
Multilingual SEO
CSV import and export
Image translation
Automatic update of translations
Cons
Some users complained about incorrect currency conversion.
The level of complexity of the application is quite high for beginners
There are several things that can be compared with Linguise, namely the CPBA test which seems very short, namely only 3 days. In addition, in the trial feature, you will not get all the features of ETranslate, for example AI translation for 5 languages, Glossary, and SEO optimization.
This is different from Linguise, which still provides all its features even though customers are still using the trial.
Transcy: AI Language Translate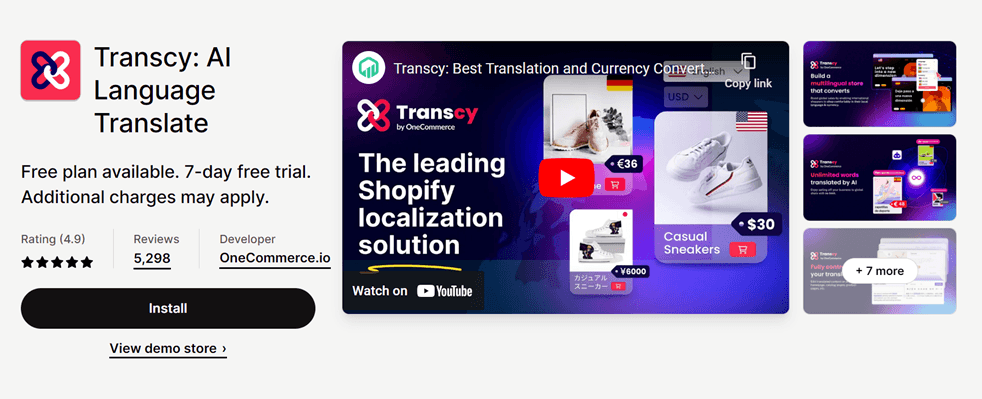 Transcy provides advanced tools and automation for translating your online store into various languages ​​and offers real-time currency conversion, making global expansion easier for you.
With a library of 111 languages, the AI ​​system will translate all pages of your store, including the homepage, product pages, checkout pages, and about us pages, while also supporting the translation of content from third-party apps. Interestingly, exchange rates are updated daily, and there is an option to manually edit exchange rates. Transcy can convert into 167 currencies.
Some of main features Transcy.
Automatic language translation and real-time multi-currency conversion: Translate your store into the local language limitlessly using AI.
Image translation: Display images in your customers' languages ​​to enhance the connection.
Translate your store into the local language manually, using AI, or with the assistance of experts.
Customizable language and currency switcher with an auto-detect system (Geolocation).
Pros
Automatic translation available
Easily manage translations from a single page
Ability to link images to specific languages
111 languages ​​and 167 currencies
Third party integration
Cons
Only 1 language choice on the free trial and 1 currency choice
The translation editing feature is only available on the GROWTH and PREMIUM packages which start from $29.90
From this review, it can be seen that the Transcy translate app does not provide complete features for free trial users.
How to consider when choosing best Shopify translation ?
Now that you know what Shopify translation options you can use, each application has its own features. So what factors do you need to consider when choosing a translation for Shopify? Following are the points.
Multilingual support: the first factor to pay attention to is multilingual support. If you plan to serve customers from various countries, make sure the application provides various languages.
High translation quality: next make sure the Translate app has high quality translation results. This includes accuracy, grammar, and technical terms.
Multilingual SEO: the third factor is SEO Friendly, once Shopify is translated ensure they support multilingual SEO, so that translated pages can appear in search engines. This makes it possible for consumers from various countries to find your shop.
Ease of use: Shopify store owners need apps that are easy to use, especially for beginners and users without programming skills. Easy use cannot save the time of the users.
Price and costs: consider your budget. Compare the cost of subscribing or using a translation service with the costs you have prepared.
Customer support: Make sure the translation provider offers good customer support, especially if you encounter any problems or have questions. Also make sure they are easy to contact either via email or live chat.
Ready to explore new markets? Try our automatic translation service for free with our 1-month risk-free trial. No credit card needed!
What is your favorite app to translate Shopify?
These are some of the best apps to translate Shopify that can be used so that your Shopify store can expand to international markets. Each of the apps above has advantages and disadvantages that can complement each other.
However, if you look at it as a whole, each application has convenience and good translation results. The basic difference only lies in the features and prices offered.
So, which is your favorite Shopify translation app to use? If you are still unsure about which one to use, you can try register Linguise's free trial for 1 month and enjoy all the best features now!