Are you looking for a Weglot alternative as a site translation service? Each service or plugin certainly has its own characteristics, advantages, and disadvantages, and so does Weglot.
Therefore, you have to look for other alternative services that have far more complete features at affordable prices, one of which is Linguise.
Linguise is an automatic web translation service that can be an alternative to Weglot. So, why is Linguise worth mentioning as an alternative? Come on, see the explanation below.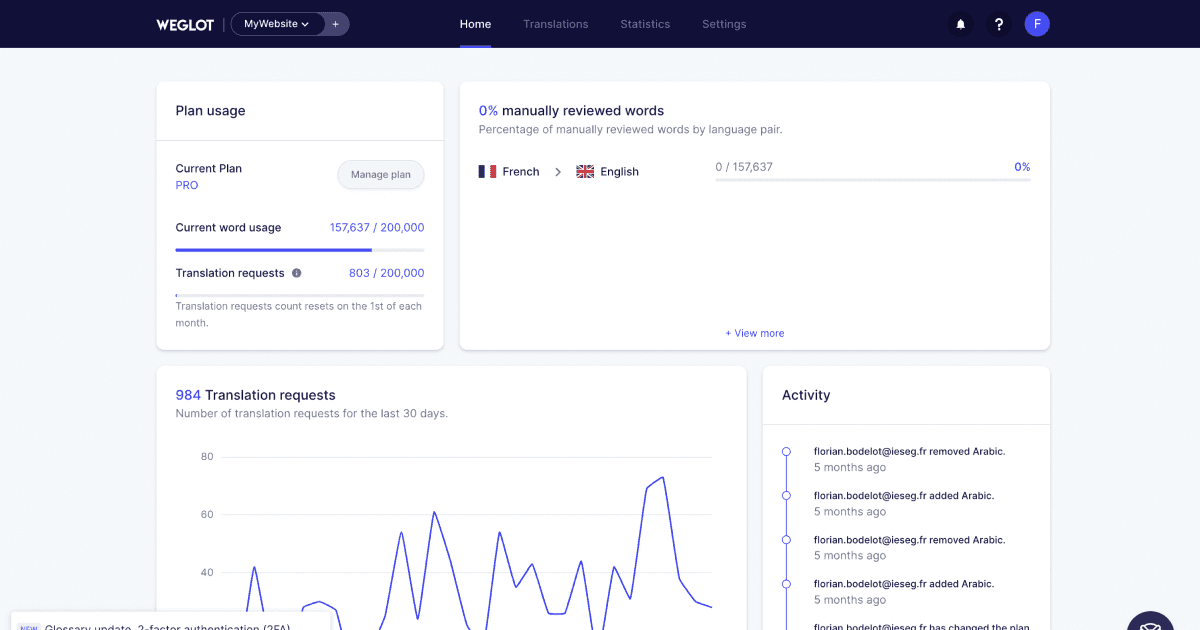 Weglot is a software-as-a-service (SaaS) platform that provides website translation services. It allows website owners to easily translate their website content into multiple languages without manually modifying the website's source code or managing translations separately. 
Weglot is designed to be simple and easy to use, with a user-friendly interface and a wide range of features to help businesses expand their online reach and global presence. 
The platform any languages, and its translations are automatically updated in real-time as the website's content changes. Additionally, Weglot offers SEO-friendly translations, customizable language switchers, and integration with various content management systems (CMS), e-commerce platforms, and website builders.
Like most other translation services, Weglot has many features that complement site translation.
Multilingual SEO:

Weglot ensures that your translated pages are optimized for search engines in each language, by generating separate URLs for each translated page.

Customizable language switcher:

You can customize the language switcher to match your website's design and branding.

Integration with CMS and e-commerce platforms:

Weglot can be integrated with popular CMS platforms such as WordPress, Shopify, Magento, and others, making it easy to manage translations directly from your website's admin dashboard.

Dashboard support:

Weglot provides a special dashboard that is friendly and makes it easy for users to set it up.

 
Even though it has many interesting features, there are still many features that are not offered on Weglot but are available on Linguise. What are these features? Check out the explanation below later.
Linguise offers automatic website translation services for various CMS, including WordPress with more than 80 language options. For the convenience of our users, we offer a specially designed Linguise plugin for WordPress, which can be installed and activated easily.
When using Linguise, users will have access to various features that allow them to control their translations, including a Linguise Dashboard and a WordPress plugin that allows language selection and the use of country flags. Ultimately, Linguise's advanced technology and user-friendly features make it an excellent choice for website translation needs.
Break Language Barriers
Say goodbye to language barriers and hello to limitless growth! Try our automatic translation service today.
Why is Linguise for Weglot alternative?
After understanding what the Linguise service is, then why can Linguise be an alternative to Weglot?
Similar to Weglot, Linguise also has features that make it easier for users to manage website translations. However, in some parts, Linguise has features that are superior to Weglot, one of which is the unlimited number of languages ​​and various other features.
That's what makes Linguise the best Weglot alternative.
So that you know more about the differences between the two services, below are some of the features that are not available on Weglot.
1 month trial of Linguise
Linguise offers a 1-month free trial service for those of you who want to try before subscribing. In this trial period, you only need to register an account.
After that, you are free to use whatever language you want to use with a word limit of up to 600.000 words. To register an account, you don't need to add credit card information, so don't worry.
If on Linguise, users can use 30 days for free. Even though both don't need a credit card, at Weglot, you can only use it for 10 days by only being allowed to use 1 language.
Not only that, but the number of words is also limited, which is only around 2000 words. This, of course, will greatly limit users from trying all Weglot features.
Unlimited number of languages with Linguise
After you subscribe to Linguise, you will get facilities in the form of an unlimited number of languages, you can indeed get this facility for the trial period.
You are free to use all the languages ​​that Linguise provides, that is, there are more than 80 languages.
This is different from Weglot, even though we have subscribed to a package, Weglot only provides the most use of 5 languages ​​for its PRO package.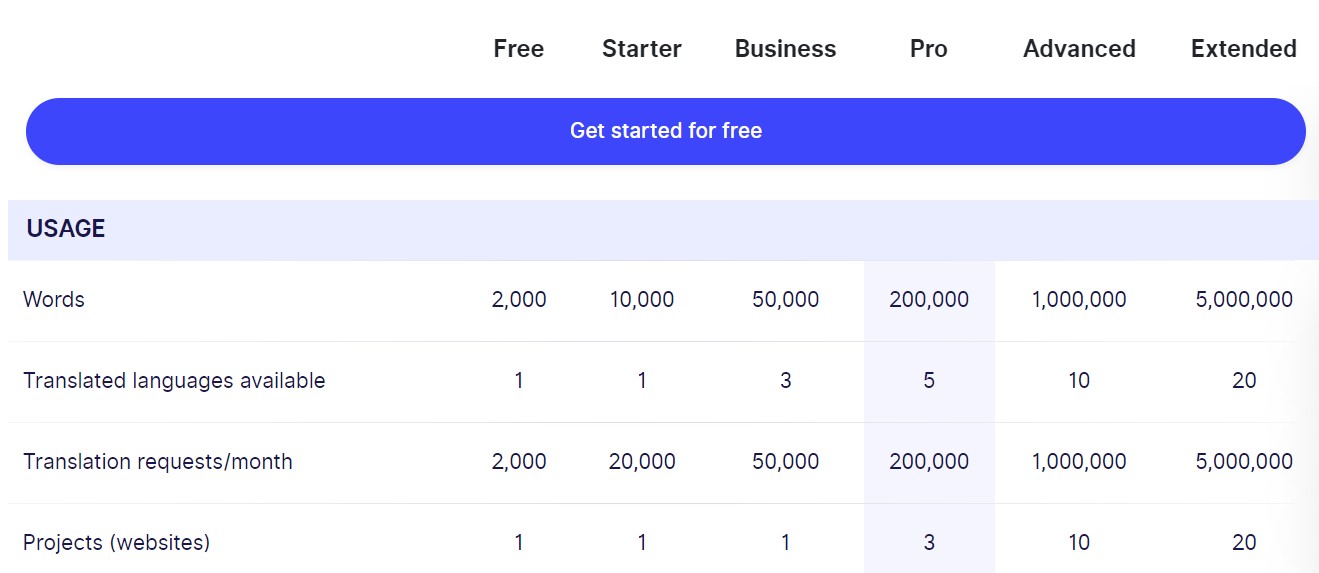 Whereas in Linguise, both the START, PRO, and LARGE packages provide freedom for the use of a number of languages.
Affordable prices Linguise
Linguise offers more affordable prices than Weglot. We will compare the two plans which have a word count of 200,000.
Linguise offers this on the START plan for $15/month with an unlimited number of languages ​​and unlimited translated page views.
START
INCLUDED IN 1st MONTH FREE TRIAL

200 000 translated words

Unlimited translated page views

Unlimited languages

1 website per plan with one month free
PRO
INCLUDED IN 1st MONTH FREE TRIAL

600 000 translated words

Unlimited translated page views

Unlimited languages

1 website per plan with one month free
LARGE
ACCESSIBLE WITH SUBSCRIPTION

UNLIMITED translated words

Unlimited

translated page views
Whereas on Weglot, a package with a total of 200,000 words is offered on the PRO package at a price 5x more expensive than Linguise, which is $79. Even then, it places a limit on the number of languages, which is only 5 languages.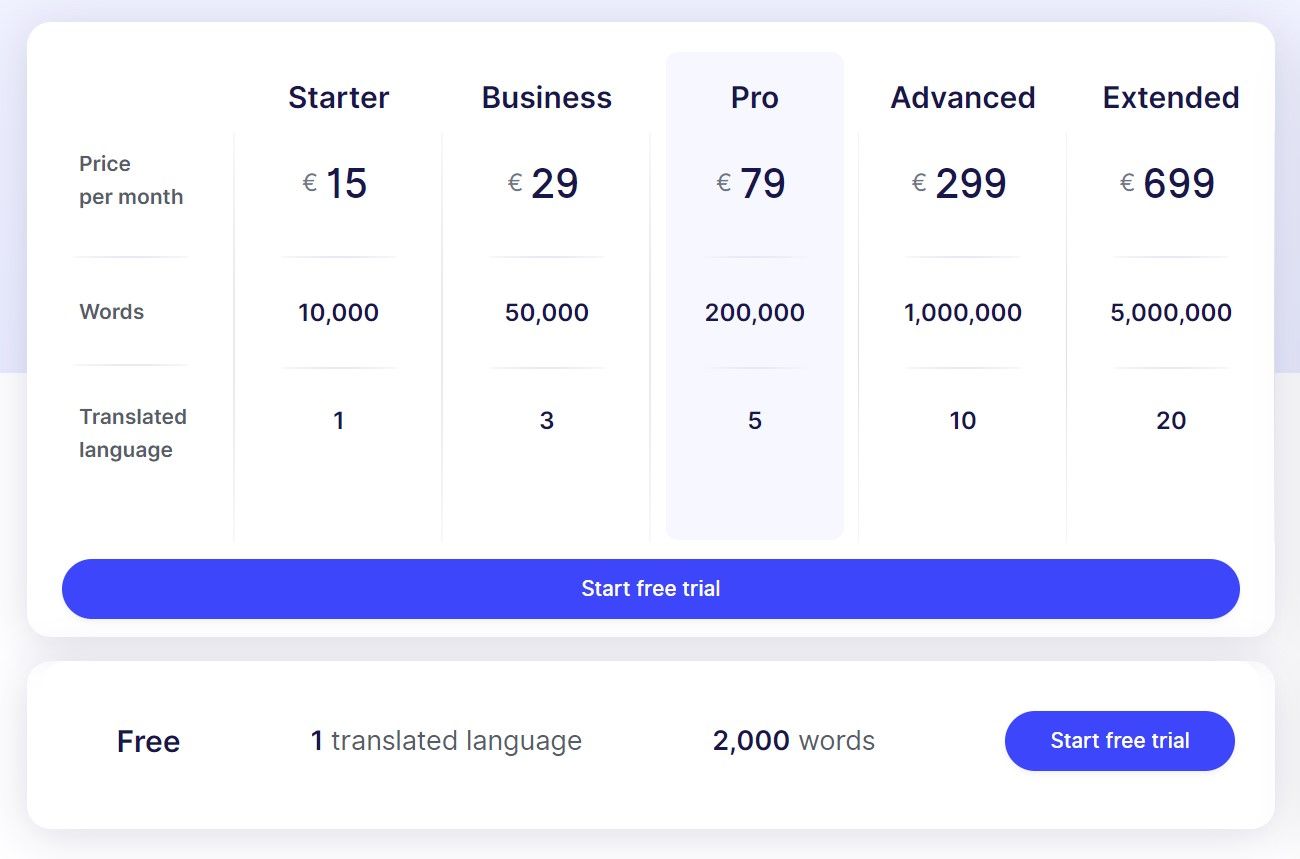 From here you can see that Linguise has a much more affordable price than Weglot.
Some users are often confused about how to do the installation. This can be overcome by using the free custom installation feature on Linguise.
Free installation is rarely found in various translation services, but with Linguise you can ask our team to install it on your site.
You can submit a request Linguise install by filling in the following fields. If the message has been received, the Linguise team will contact you shortly. After that, the Linguise team will contact you.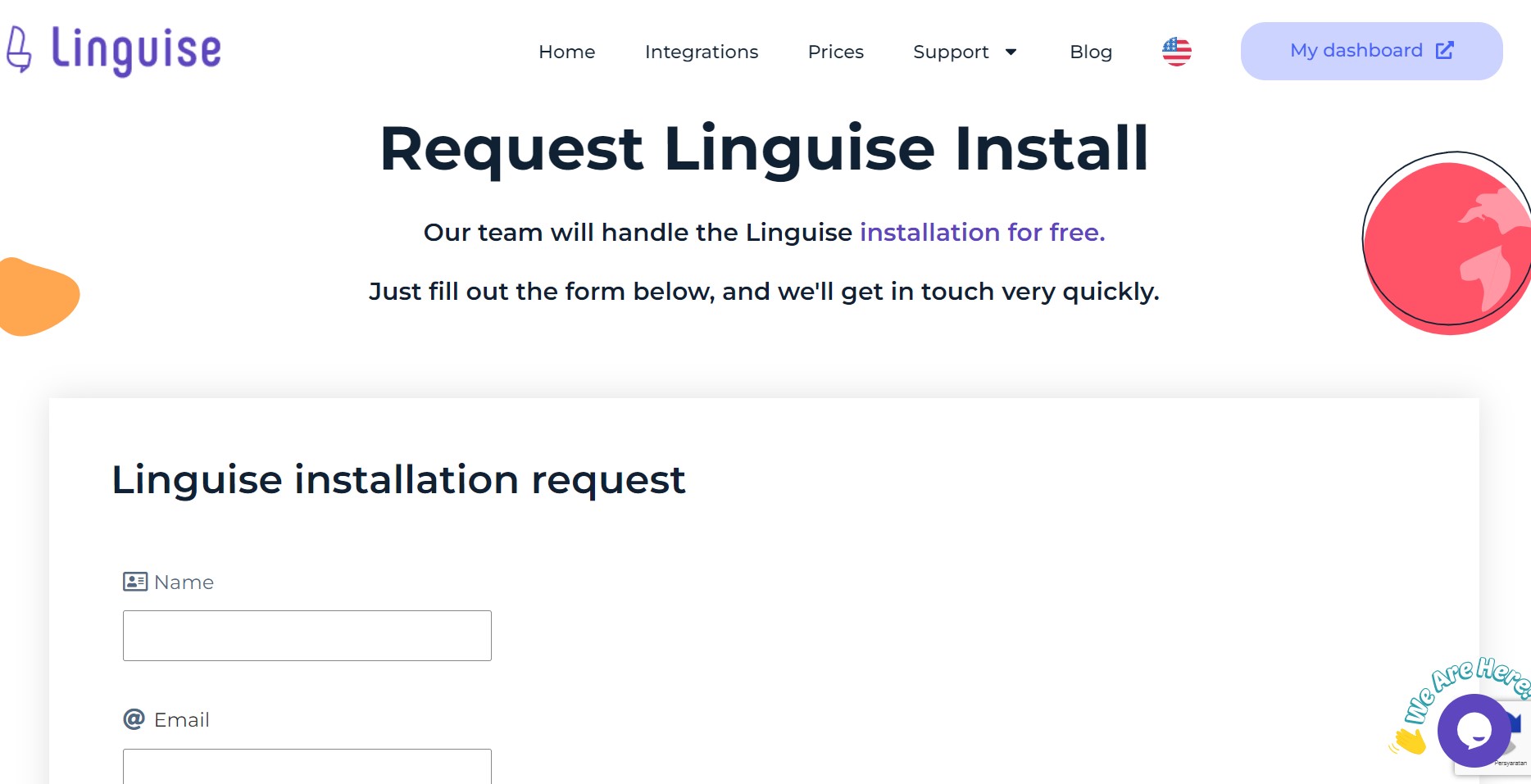 If it's already installed, you don't need to worry because we will help you operate Linguise.
High-quality neural translation
Finally, the translation service Linguise uses the best NMT model from Google to ensure you get the most accurate translation for your content. Models are continuously updated for 3 months, so you will be guaranteed better translation guarantees in multiple languages.
Even though it uses machine translation, the translation results are not inferior to human translation. As you can see in the table below.
| | | | |
| --- | --- | --- | --- |
| | NMT Translation | Human Translation | Quality |
| English-Spanish | 5,428 | 5,550 | 97% |
| English-French | 5,295 | 5,496 | 96% |
| English-Chinese | 4,594 | 4,987 | 92% |
| Spanish-English | 5,187 | 5,372 | 96% |
| French-English | 5,343 | 5,404 | 98% |
| Chinese-English | 4,263 | 4,636 | 92% |
How to migrate from Weglot to Linguise
How did you get interested in using Linguise as an alternative to Weglot? Then how to migrate from Weglot to Linguise.
When migrating from automatic translation, your website will immediately be re-translated based on the languages ​​you added earlier. Then, most URLs will have the same translation, but it is recommended to redirect to the URL that is most frequently visited and has high views so that the link can avoid the 404 error.
In addition, the site will use the latest translation API from Google with better quality.
That's what will happen when you migrate from automatic translation, so what about manual translation?
Actually, there is no manual translation migration, but with automatic translation, the website will be translated into more languages ​​that you can choose later.
In Linguise, manual translations in the live editor Linguise are not included in the word translation quota. So if you want to translate a large number of manuals directly via the front-end live editor, your word translation quota will be safe.
Ready to explore new markets? Try our automatic translation service for free with our 1-month risk-free trial. No credit card needed!
Linguise, the best Weglot alternative!
Weglot is a popular website translation solution, but it may not be the best fit for every user's needs. Linguise offers several advantages as a Weglot alternative, including advanced customization options, a free 1-month trial, and more affordable pricing. 
With an unlimited number of languages ​​allows you to add multiple languages ​​to the site translation. Come on, register for Linguise now, translate your website, and get bigger website traffic from all over the world!