Website localization plays an important role in reaching a global audience, by adapting content to suit various markets. The freelance translation platform connects developers with skilled translators for accurate and culturally appropriate translations. However, challenges remain: reliability, quality and consistency.
Dedicated platforms address this challenge. Here we will dig into the best freelance translation platforms, highlighting their advantages and features.
Let's discover how this platform improves website localization.
9 best freelance translation websites
Linguise will provide 9 recommendations of the best freelance translation sites that website owners can use to find freelance translation. Here are some of them.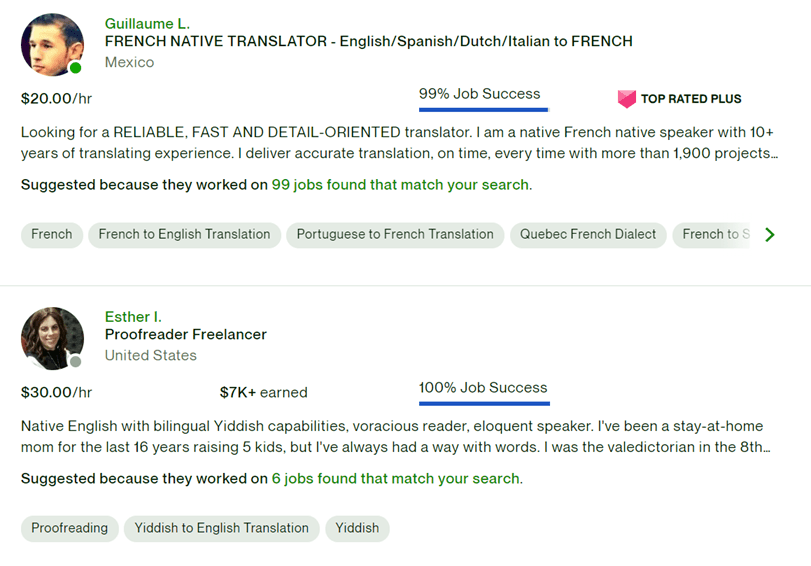 Upwork stands as a highly popular platform within the realm of freelance marketplaces.
Functioning as an open marketplace, Upwork encompasses an extensive array of services that extend beyond translation, encompassing tasks like copywriting, coding, data analysis, and an array of others.
Within this expansive marketplace, you can discover a multitude of translators proficient in various languages, catering to diverse language pairs and budget ranges.
Navigating the platform involves the option to either post job listings and receive applications or directly engage with freelancers by perusing talent listings. Once a selection is made, direct collaboration with the chosen translator on the project ensues.
To aid in evaluating the translator's suitability, you have the advantage of accessing client reviews and pertinent data such as job completion rates and cumulative earnings.
Upwork also applies a market fee of 5% on top of all payments you make to freelancers.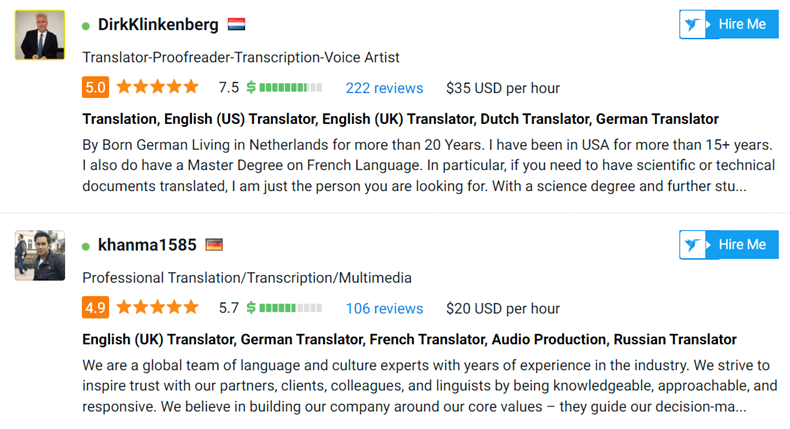 Similar to Upwork, Freelancer is another versatile freelance platform where you can discover a plethora of freelance translators, as well as professionals from various other fields.
One distinguishing aspect between Freelancer and Upwork, however, is that Freelancer appears to accommodate not only individual freelancers but also translation agencies, whereas Upwork predominantly features individual freelancers.
Depending on your objectives, this aspect could be seen as advantageous or disadvantageous. Nevertheless, even if you prefer to collaborate with independent freelancers rather than agency teams, Freelancer still offers a wide array of individual translators.
Just like Upwork, you have the option to either post your own job listing or directly engage with freelancers by exploring the talent listings.
Freelancer.com also charge you fees on top of what you pay freelancers. However, it is slightly lower than Upwork – you will pay 3%.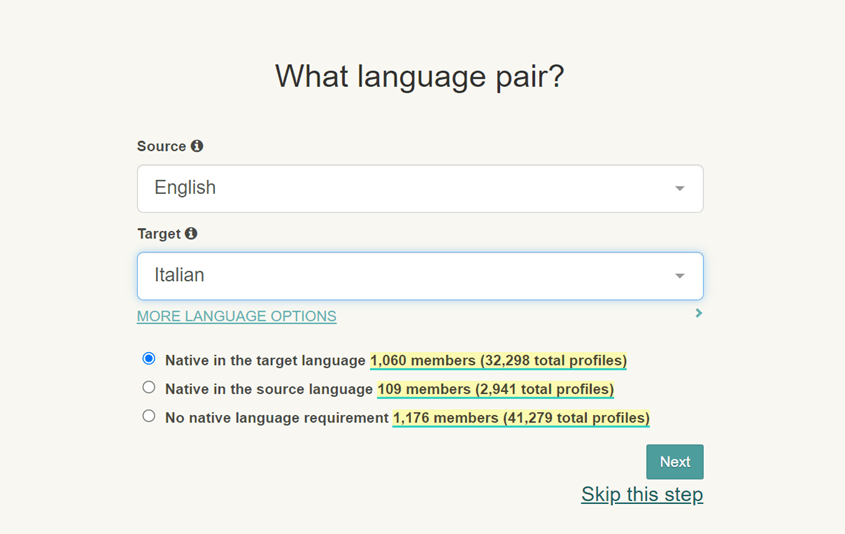 ProZ.com stands as an enduring online community catering to freelance translators and stands out as one of the most favored freelance translation platforms. Its inception dates back to 1999, granting it ample time to establish a reputable presence and accumulate a substantial network of translation professionals.
In its entirety, ProZ.com boasts a user base exceeding 960,000 across more than 200 countries worldwide. This inclusive community encompasses a spectrum of translation entities, spanning translation agencies and diverse freelance translators, including those engaged full-time or as part-time endeavors.
Should your preference be for top-tier freelancers, the platform offers a "screened professionals" filter, streamlining your search to vetted freelance translators.
Another noteworthy aspect of ProZ.com is the availability of various filters, such as:
Native proficiency in the target language.
Native proficiency in the source language.
No native language prerequisite.
Moreover, ProZ.com furnishes data regarding the number of qualified translators aligning with your chosen filters.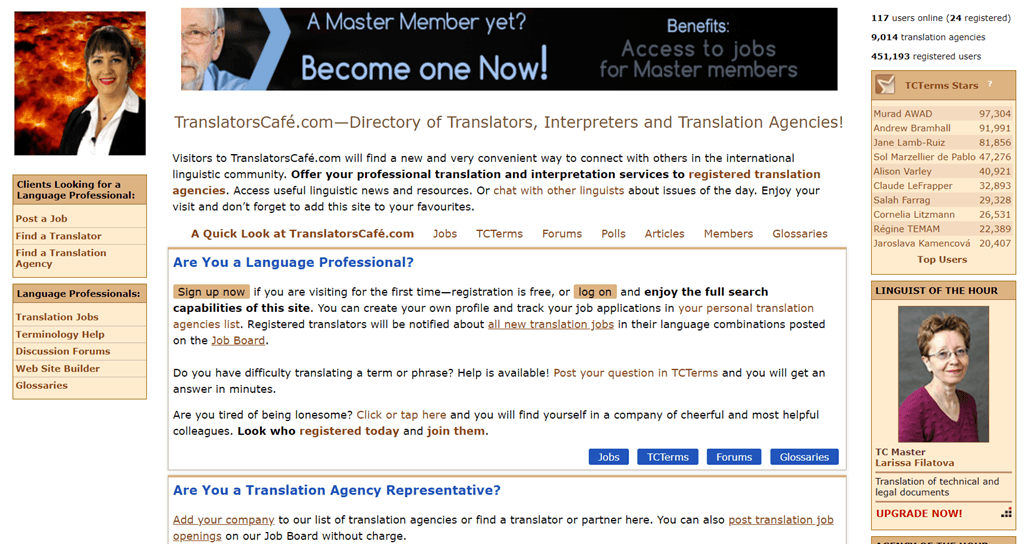 TranslatorsCafe is another dedicated platform for freelance translators, distinct from the broader spectrum of general freelance marketplaces.
While its interface might appear somewhat outdated, TranslatorsCafe has been in operation since 2002 and has cultivated a community comprising more than 439,000 registered users.
To establish connections with freelance translators, you have the option of either posting your own job listing or exploring the repository of registered freelance translators.
When it comes to searching for translators, the platform facilitates browsing based on language pairs and even the geographical location of the translator. Additionally, an advanced search feature enables you to seek out specialized skills. 
But the interface Translators.cafe.com appears somewhat outdated, and it might not always be the most intuitive website to navigate.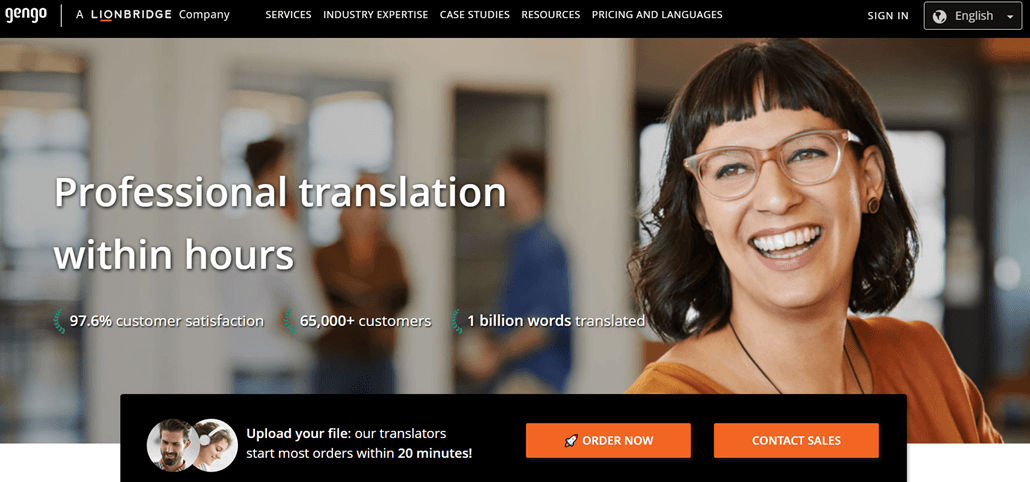 Gengo operates as a hybrid model, encompassing aspects of both a translation agency and a freelance translator marketplace.
It grants you access to a diverse pool of over 22,000 individual translators worldwide. However, unlike the majority of other freelance translation platforms, your interactions take place through the Gengo service, rather than establishing a direct rapport with the translator.
This approach also allows Gengo to offer fixed per-word rates, streamlining cost estimation.
You won't be engaging in direct collaboration with freelance translators, so Gengo is less suitable if you intend to establish a long-term personal connection.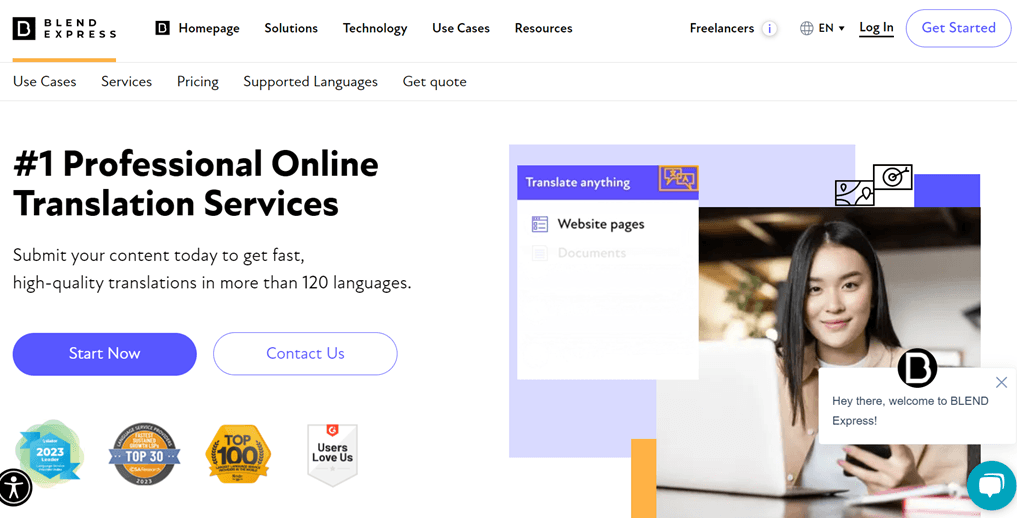 OneHourTranslation.com stands as one of the longest-standing and most accomplished online translation agencies, with a track record of success. However, its age is evident in its distinctively "2000s" website design, which might not resonate well with more modern-minded clients. 
On the positive side, OHT fosters a close collaboration with its freelancers through a gamified progression system, making professional growth engaging beyond just financial gains. Speaking of finances, unfortunately, the compensation isn't substantial, though it does improve to some extent in the higher "tiers".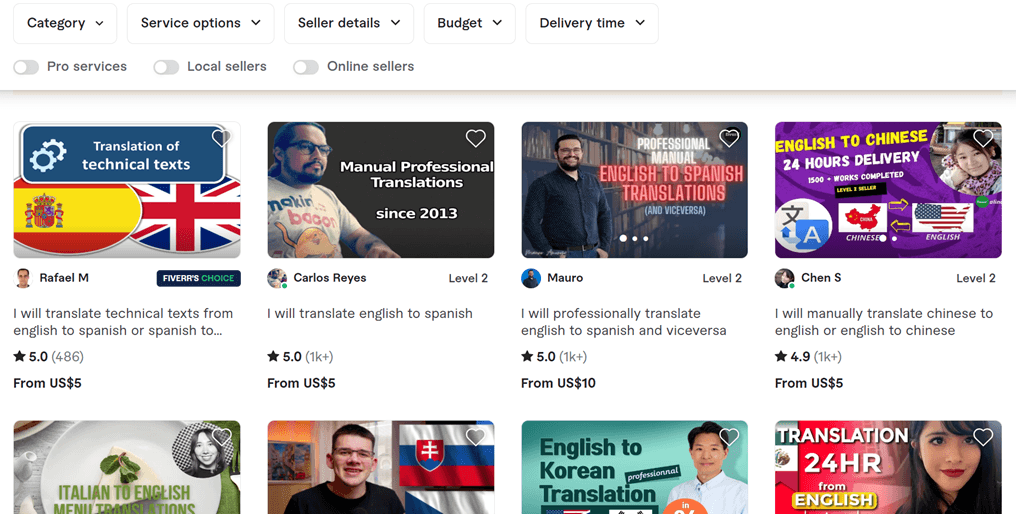 Fiverr functions as yet another broad freelance marketplace, akin to Upwork and Freelancer. Nonetheless, it features a substantial number of translators, rendering it a commendable alternative for those seeking freelance translator platforms.
Diverging from the approach of Upwork and Freelancer, Fiverr lacks the capability for users to post their own job listings and await proposals from freelancers.
Instead, freelance service providers present their offerings within the platform's marketplace, and you can engage their services directly through these listings.
You have the option to explore all available services to discover cost-effective choices, or you can activate the "Pro services" switch to explore a selection of premium, top-notch service providers.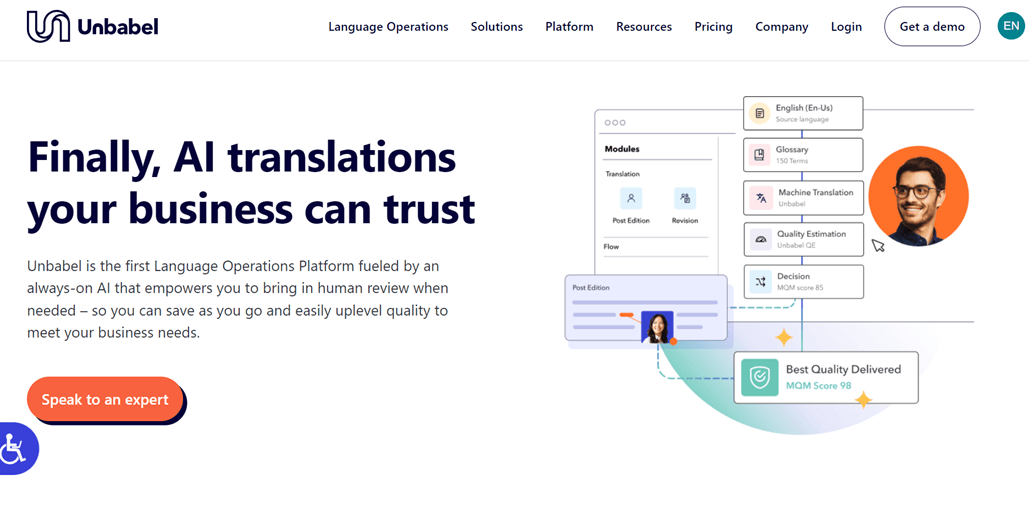 Unbabel stands out as a translation service that tends to evoke strong opinions. Operating solely on a machine translation post-editing process, it sparks delight among customers due to its affordability, while simultaneously causing apprehension among linguists due to the resultant quality.
For translators, the Unbabel experience is distinctive, driven partly by the typically straightforward content and partly by its unique approach of compensating based on hourly work rather than per-word rates. This approach comes with its own set of advantages and disadvantages. The rates span a spectrum, ranging from surprisingly low to relatively satisfactory, contingent on factors like language pairs and potentially other considerations.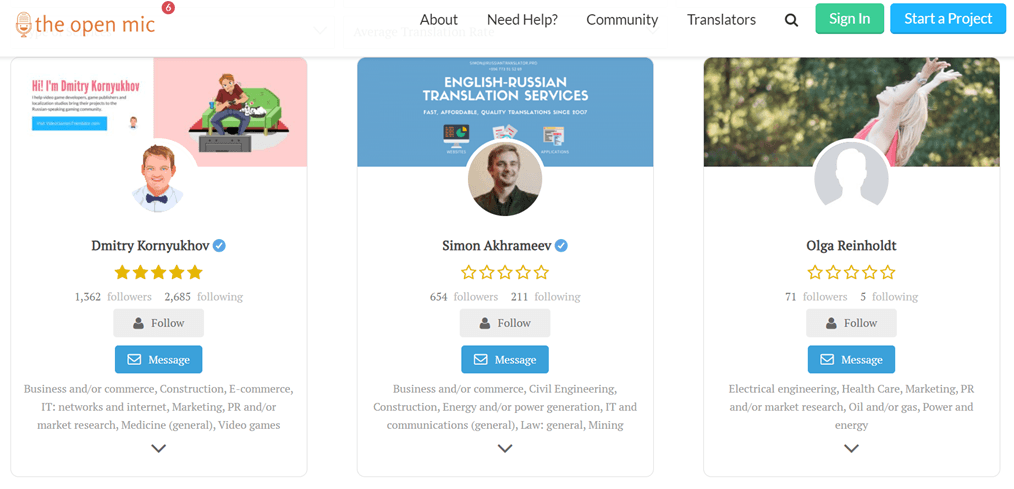 TheOpenMic stands as a refreshing departure. Created by Dmitry Kornyukhov, a recognized figure in the field of translation (if one could label it so), this venture is relatively new. Initially conceived as a conversational hub—akin to a Facebook for translators—the platform has since aimed to pivot towards attracting genuine clientele. The outcome of this shift remains to be seen, but the community aspect is bound to be a source of enjoyment for users regardless.
How to find the best freelance translation
Review their portfolio: ensure that the freelance translator presents a comprehensive portfolio showcasing their previous work. This gives you insight into their expertise and style.
Assess rates and reviews: take time to evaluate their pricing structure and read reviews from previous clients. This aids in gauging the quality of their work and client satisfaction.
Verify payment: opt for freelancers who offer secure and verified payment methods. This safeguards your financial transactions and ensures a transparent working relationship.
Confirm expertise: prioritize translators who possess substantial experience in their specific field. An expert in a particular subject matter can provide accurate and contextually appropriate translations.
By following these steps, you can increase your chances of finding a freelance translator who meets your quality, reliability, and professionalism expectations.
Why add freelancer translation to multilingual website
Adding freelancer translation to a multilingual website can offer several benefits, especially if you're looking to expand your online presence and cater to a wider audience. Here are some reasons why you might consider using freelancer translation for your multilingual website.
Cost-effectiveness: hiring freelancers for translation can often be more cost-effective than establishing an in-house translation team or using professional translation agencies. Freelancers tend to have lower overhead costs and can offer competitive rates.
Flexibility and scalability: freelancers offer flexibility in terms of project size and scope. Whether you need translations for a small section of your website or the entire content, you can hire freelancers based on your current needs. This scalability is especially helpful for businesses that might have varying translation requirements over time.
Diverse expertise: freelancers often specialize in different industries or niches. This means you can select translators with expertise in specific fields relevant to your website's content, ensuring accurate and contextually appropriate translations.
Quick turnaround: Freelancers can often work on tight timelines, which is crucial if you need to launch new content or updates quickly. This can be especially advantageous in the fast-paced digital landscape.
Language variety: Freelancers can provide translations in a wide range of languages, allowing you to cater to a diverse global audience. This is particularly important if your website's target audience speaks multiple languages.
Direct communication: Working directly with freelancers allows you to have clear communication about your requirements, preferences, and expectations. This can result in more accurate translations that align with your brand's voice and message.
Reduced overhead: Hiring freelancers eliminates the need to invest in recruitment, training, and providing benefits for in-house translators.
It's important to note that while freelancer translation offers many benefits, it also comes with certain challenges, such as managing multiple freelancers, ensuring consistent quality, and potential communication barriers. Proper selection, clear instructions, and ongoing communication with freelancers are crucial for successful multilingual website translation.
How to add a freelancer on Linguise to make translation revision?
After looking for freelancer services, then you can add the translation freelancer to become a part of your site, namely to become a translator.
Some site translation services allow users to add translators to their translation dashboard. This aims to make it easier for translators to translate or edit translation results directly on the site.
Not all services offer this feature, but you can get it on Linguise.
Linguise is a website translation service using neural network technology or NMT. This service provides more than 80 languages ​​to choose from as well as various other interesting features. Like adding a translator role, namely a freelancer. Immediately, here's how to add it.
The first step is to make sure you have followed the Linguise registration and installation steps on the website, be it WordPress, Joomla, Shopify, or something else.
After that you will get access to the Linguise dashboard. On this dashboard you can find various Linguise features such as:
Global translation exclusion
Filter translation 
Front-end live editor
Image and link translation
Invite a new member
In this add member feature, we will add freelancers. How to click Members on the top menu then select Invite a new member.
Here you need to enter the freelancer's email, the role, namely translator, the website that the freelancer will translate, and the language. If you have selected Invite.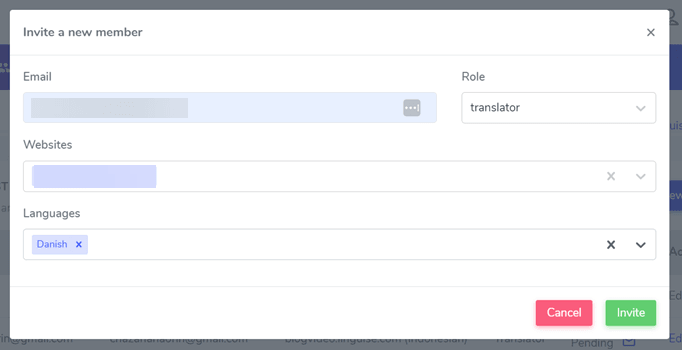 If so, the Linguise dashboard will appear as follows.

Then all you have to do is wait for the freelancer to accept the invitation. If the invitation has been received, then the freelancer will go through several verification steps to be able to gain access to the Linguise dashboard as a translator.
More or less like this dashboard view. Freelancers only have access rights based on the website and language that have been determined previously.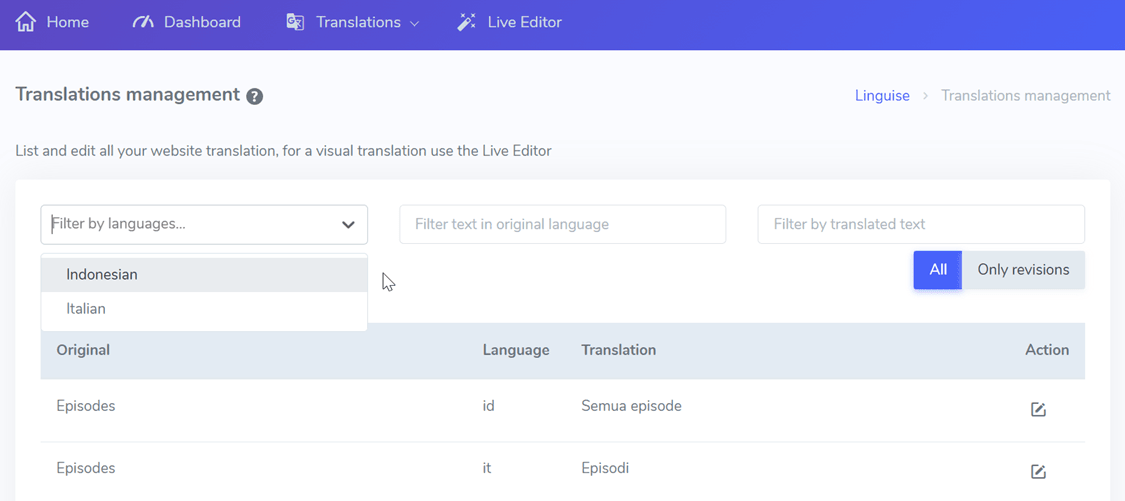 Up here, you already know better what are the best freelance translation websites that you can use. There are 9 website recommendations that you can try, make sure you understand the pros and cons of each of these sites so that you can adapt them to the needs of freelancers.
In addition, after getting a freelancer you can invite him to collaborate in editing the translation results. Linguise is one such service that allows you to do just that.
To be able to enjoy the add translator feature, make sure you have registered for free Linguise to try the free trial version for 1 month!