How to create a multilingual Squarespace website and edit the translation? For those of you who own a website on Squarespace and want to have a multilingual website, it is important to choose a web translation service that is superior and supports many features.
No need to be confused and worried, because in this article we will discuss how to create a multilingual Squarespace website and how to edit live translations.
Why turn your Squarespace website multilingual?
A multilingual website is a bold platform that presents content in more than one language, making it possible to reach a diverse audience with different language preferences.
Essentially, these are websites that offer information, products, or services in multiple languages, allowing users from different linguistic backgrounds to access and engage with the content more effectively.
Multilingual sites are important for web owners to create. Creating multilingual sites can be done on any CMS or web builder, one of which is Squarespace.
The main reason to translate your website into multiple languages ​​is to ensure that your content is accessible and understandable to a variety of audiences. By offering content in multiple languages, you can overcome language barriers and make your website user-friendly for people from different regions and language groups.
There are several advantages to having a multilingual site, including the following.
Increasing global reach: With a multilingual website, you can reach audiences in different countries and regions around the world, opening up opportunities to expand your customer base in international markets.
Gain a competitive edge: In an increasingly competitive global business environment, having a multilingual website can differentiate you from competitors, allowing you to attract customers from a variety of linguistic backgrounds.
Improve global SEO: By providing content in multiple languages, you can improve your SEO ranking in global search engines, making your website easier to find for users in different countries.
Optimize international sales potential: By providing content in a language that potential customers understand, you increase the likelihood of conversions and sales in international markets, significantly expanding your market share.
Those are the reasons and several advantages why you should make your Squarespace website multilingual.
What is the best method and tools for translating Squarespace?
Squarespace is a website creation platform that allows users to build and manage their own sites, this platform also integrates with various third-party plugins, allowing users to create functional sites.
Even though it is very helpful in creating sites, Squarespace still has limitations in creating multilingual websites, because it has to be done manually.
Apart from that, there are several Squarespace limitations in creating multilingual sites manually, including the following.
Squarespace websites can only display default text, such as on the checkout page, in one language. This also impacts custom metadata across the site, such as dates on blog pages.
Squarespace websites can only sell products in one currency at a time.
You are not allowed to have different domains or subdomains for different languages.
To cover all these limitations, you can use third-party translation plugin options that are able to translate sites automatically, one of which is Linguise.
With Linguise you can translate all Squarespace pages according to the language you choose. Don't forget also multilingual SEO support such as translation of metadata, URLs, images, and much more.
So how do you create a multilingual Squarespace website? Just take a look at the details below.
Break Language Barriers
Say goodbye to language barriers and hello to limitless growth! Try our automatic translation service today.
How to make a multilingual website Squarespace
Now we will try to create a multilingual Squarespace website and translate it using Linguise. Linguise is a website translation service that is integrated with many third parties, one of which is Squarespace integration.
Therefore, you can use Linguise as one of the multilingual translation services for the Squarespace website. However, before that there are several access requirements that you must have.
Access to the Squarespace admin dashboard.
Access your DNS domain modifications.
Following are the steps to create a multilingual Squarespace website.
Register Linguise account
The first step is to register a Linguise account for free, you can take advantage of the 1 month trial period to enjoy all the features. You only need to enter your email and password and you can have a Linguise account.
Register Squarespace domain
After successfully registering for Linguise, you will get access to the dashboard. If you want to register a Squarespace domain.
How to log in to the Linguise dashboard > Add domain > fill in the following columns.
Squarespace website URL
In Platforms, select Squarespace
In the Language section, select the site's default language, for example English.
In Translation Languages, select the languages ​​you want to add to your Squarespace website
If so, click Save.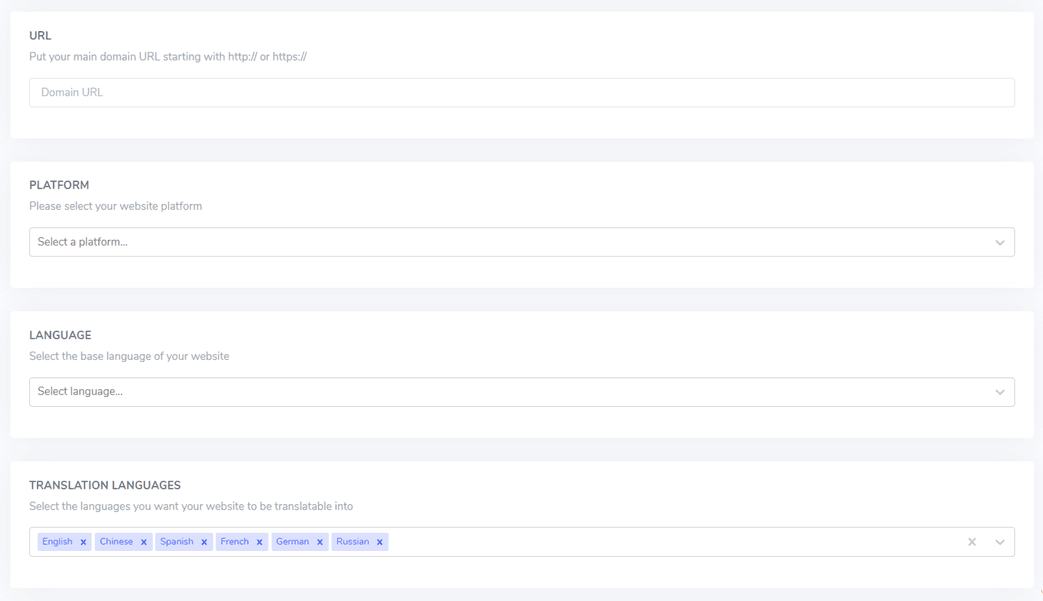 Then on the home page of the Linguise dashboard a display like the following appears, namely DNS Records, this is what you will need to enter into the DNS domain.

To copy DNS records, open your domain's DNS access then create several new records with the following conditions.
One TXT record is required for domain verification
One or more CNAME records depending on the number of languages ​​selected
Once the note has been created, this is what it will look like.

If a new record has been created and saved, the next step is to verify. DNS verification can be done via the Linguise dashboard by selecting Check DNS Configuration.
This step will usually take 30 minutes to 1 hour. If DNS is functioning successfully it will be marked with a green symbol on the right.

Add the language switcher to Squarespace website
Next, we will add a language switcher to make it easier for users to switch languages. The language switcher, which acts as a flag icon to change the language on your website, can be added to your website by pasting the code provided from the Linguise dashboard.
Just navigate to the dashboard, access Settings, scroll down, then copy the code to your clipboard.

After that, open the Squarespace dashboard, click on the website you want to make multilingual, scroll down, select Website Tools.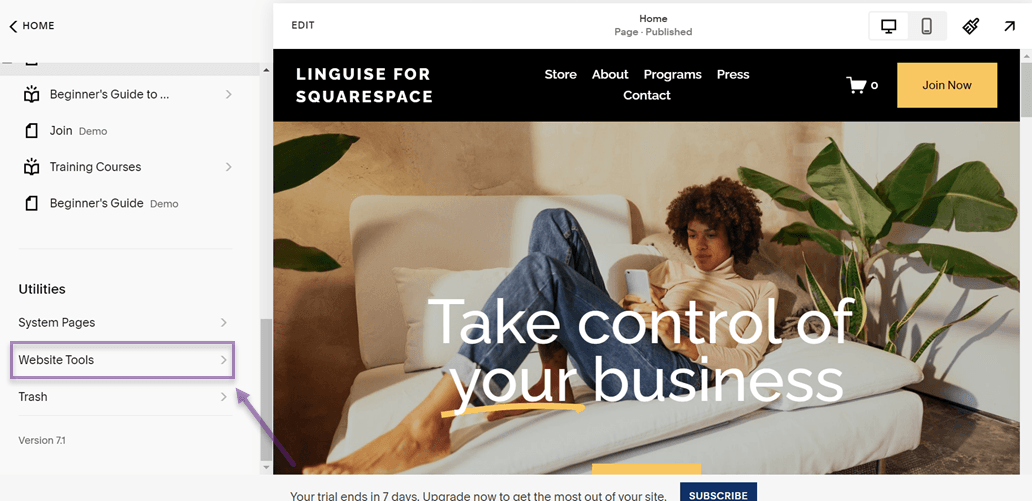 Then in Website Tools select Code Injection.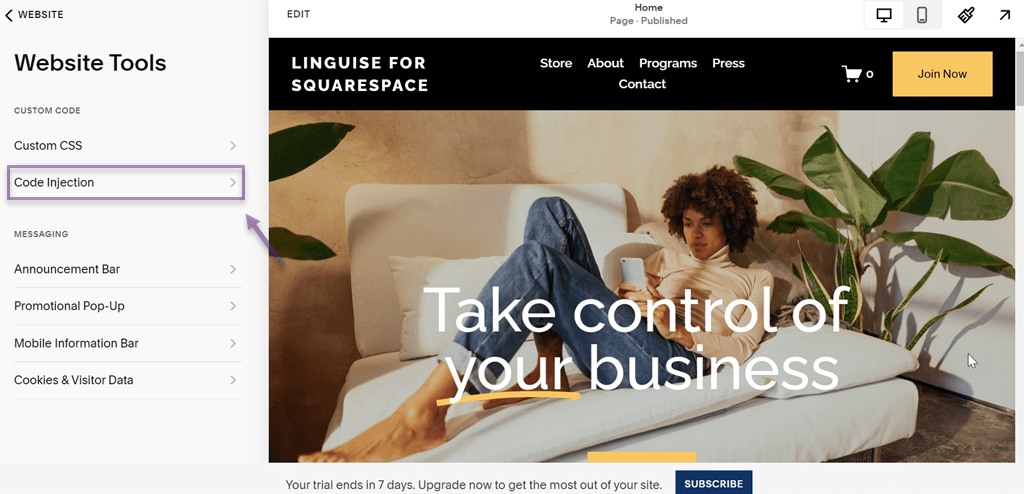 Next, on the Code Injection page there are 2 sections, namely Header and Footer. Enter the code that you copied previously into the header as shown in the following image.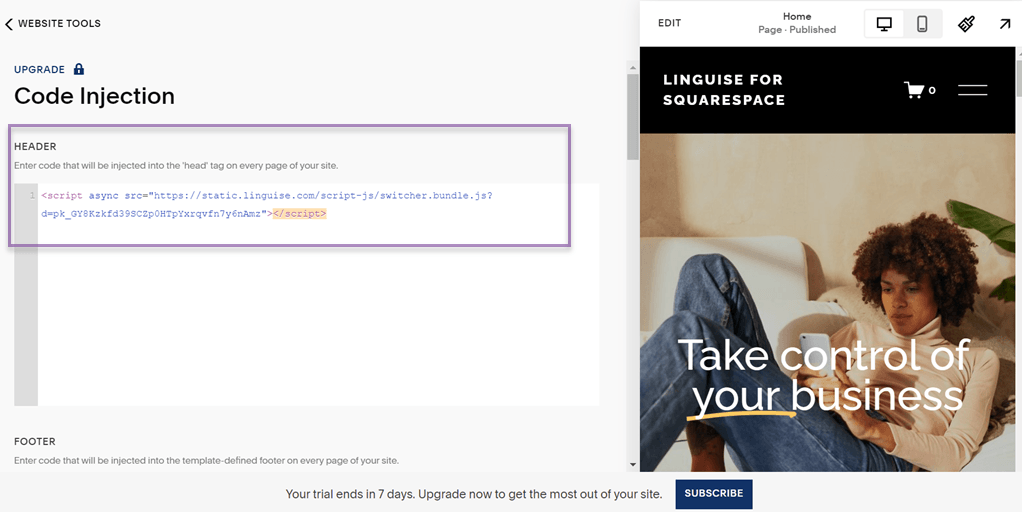 If so, select the Save button to save the changes.
Edit switcher design Squarespace
In the method above, you have successfully connected Linguise and Squarespace to translate the language. However, there is something you need to do again, namely editing the switcher design.
In Linguise you can flexibly adjust the shape of the switcher icon that will later be displayed on the Squarespace website.
How to open the Linguise dashboard > click Settings > Language flags display. Some of the parts that you can change are the position, icon shape, short name or full name language.
Then on the right there is a Language preview to see the switcher design that will be displayed on the website.

If all the sections are set, now is the time for you to try visiting the Squarespace website.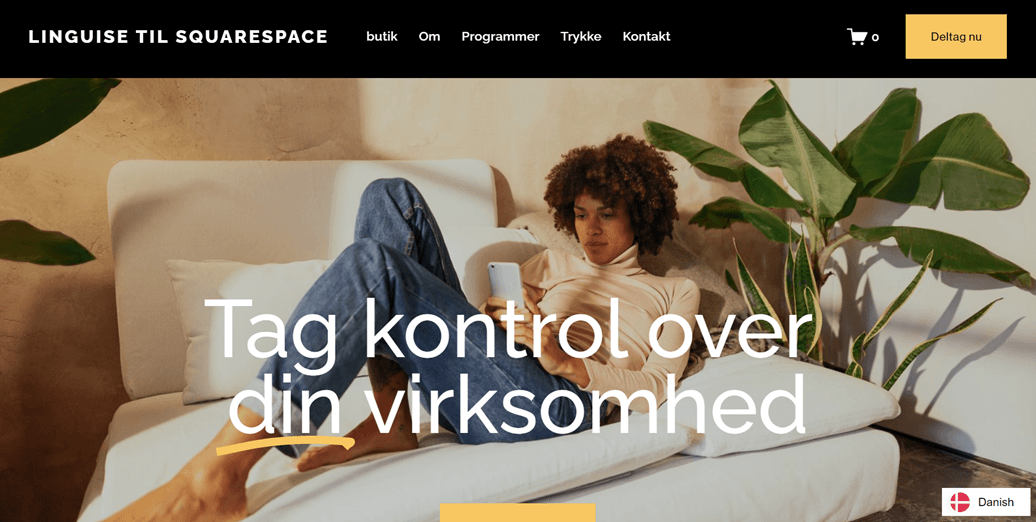 At the bottom right there is a language switch icon which, when clicked, will look like this.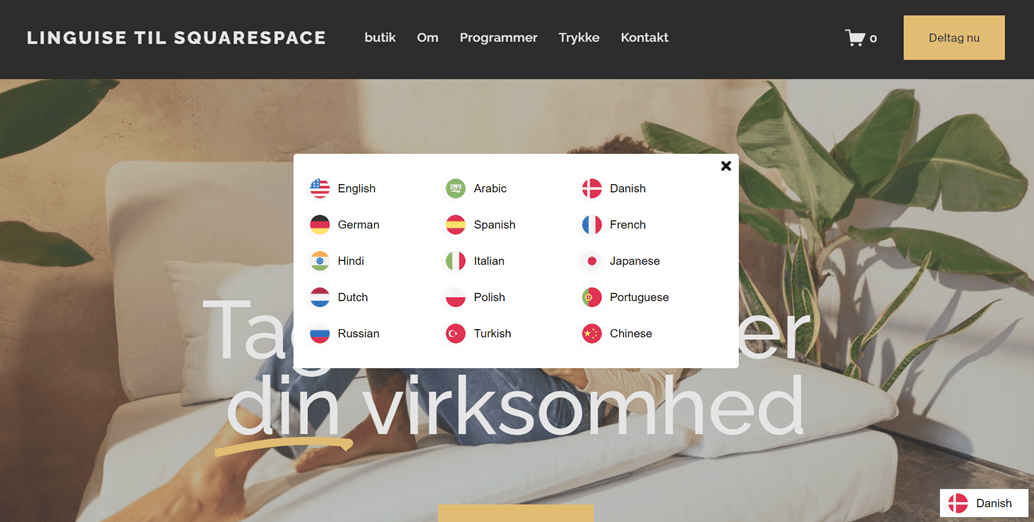 So far, you have successfully created a multilingual Squarespace website using Linguise, it's very easy, right? So, next we will discuss several advanced features that can support you in creating a multilingual Squarespace website.
Live editor Squarespace website
Linguise has an advanced feature for making your website multilingual, namely a live editor. The front end live editor allows you to edit the translation results produced by Linguise.
That way you can get translation results that are more precise, natural and according to what you want. The way to translate directly via Linguise is to open the Linguise dashboard > Live Editor > select language > Open Live Editor.
After that, display the editor page like the widget below. There are several sections, namely content in the original language and content in the language to be translated.
Ready to explore new markets? Try our automatic translation service for free with our 1-month risk-free trial. No credit card needed!
Linguise's advantages for translating Squarespace websites
At this point, you already know how to create a multilingual Squarespace website using Linguise. So, what are the advantages of Linguise that you can consider when translating a website, when compared to manual Squarespace translation? Following are the points.
Translates into many languages, more than 80 languages: Linguise provides more than 80 languages ​​including traditional languages ​​such as Chinese, with so many languages, users are free to add any language and any number. When you translate a website using Linguise, the entire page will automatically be translated into the selected language
Multilingual SEO support: after translating all pages, Linguise also doesn't forget to translate all supporting elements starting from metadata, URLs, sitemaps, as well as adding tags to support SEO such as hreflang tags, canonical URLs, and various other multilingual SEO optimizations.
Translate up to 600 thousand words: if Squarespace is integrated with a service that supports translation of up to 2,000 words, then Linguise is more than that, we provide free translation of up to 600 thousand words with a 1 month trial period, during this trial period you will get access to all features.
Free and easy installation: Linguise also offers free installation for all its users, apart from being free it also offers convenience, in just a few minutes you can automatically translate the web into various languages. However, if you are still having trouble, you can also send an install request to our team.
Make a multilingual website Squarespace and translate with Linguise!
Now you understand how to create a multilingual Squarespace website and edit the translation. For perfect quality translation and automatic translation assistance, a third party is needed to translate your Squarespace website.
Linguise is the right solution for those of you who want to translate a lot of words, supports multilingual SEO, and of course has many advanced features such as a live editor, global translation inclusion, and even allows adding translators.
What are you waiting for? Immediately register a Linguise account and install Linguise on Squarespace.