What is meant by meta tag information
Meta information is information that describes other information. This metadata is written in HTML (occasionally in XML) code and is not seen by the user. It is used to describe a webpage, images, videos, and other media. It is typically used to identify the author or publisher, provide a description of the content, and indicate its copyright status. Meta information helps search engines index and rank web pages so that they can be found more easily by users. Meta information includes content title tags, meta descriptions, meta tags, and keywords.
Meta information should be placed at the top of the page or at the bottom of a web page so that it will not get lost in all of the other content on a website.
The meta description should be short and concise but also informative enough to give readers an idea of what they will find when they click on your link.
Meta tags are a type of meta information that can be embedded in webpages to tell search engines about their contents. Meta keywords are the words and phrases that define your content and help searchers locate your content. They are not visible to people visiting a website, but they are read by search engine crawlers and spiders.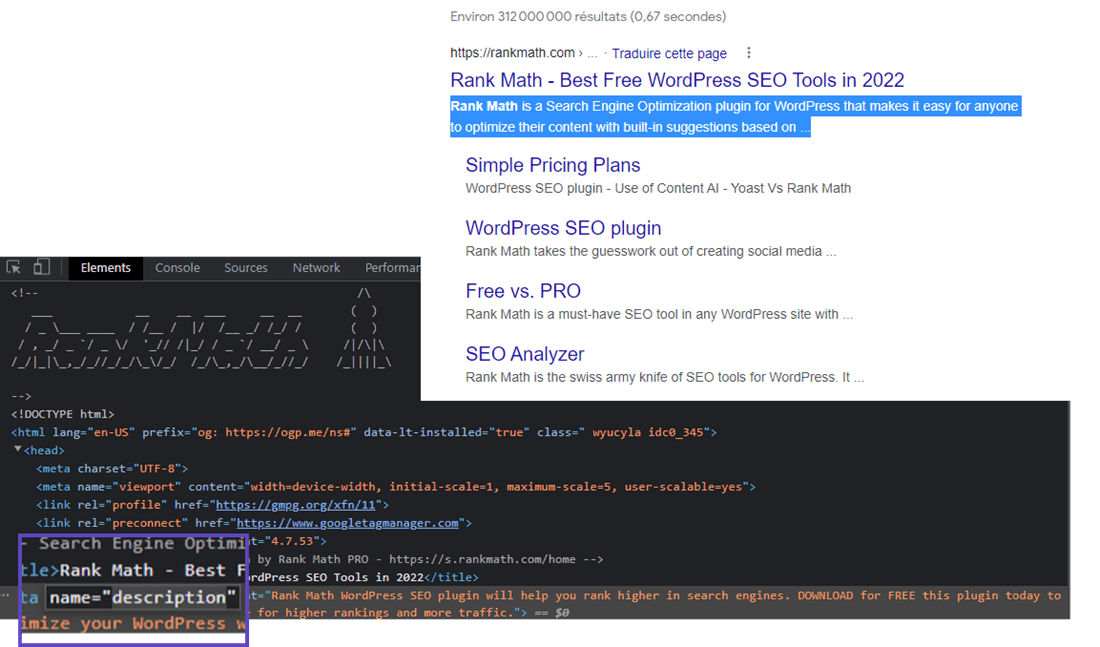 Why do we need meta information
Meta information helps connect your content with the right users. The meta-information includes the time and place it was written, who wrote it, and its purpose. It can help them understand how the text is relevant to them or what they should do with it in their day-to-day lives. Meta information is important because it informs both the search engine and the reader about the content.
Understanding the art of writing these HTML elements can strengthen your SEO game while making it a comfortable stay for the website visitor. The more relevant and alluring the metadata is, the more clicks you get.
Example of Meta Information in search results
In order to have a better understanding of how meta-information is used in search engines, it is important to understand the different types of meta-information that are used by Google. Here's a quick example of a properly filled title and meta description on the left (Linguise) and one on the right that is not, or does not fit the search expression but seems relevant to Google (Nicepage).

Title tags on WordPress with and without Rank Math
The page's title tag is the most important one because it is what people see when they search for your website on Google or other search engines. The title tag appears at the top of your browser window and tells you what website you are visiting. It should be short and concise but also descriptive enough to be informative to your potential visitors.
By default, WordPress uses the post or page as title and so will search engines. It's not ideal in some case as titles maybe too short or too long not to be cropped for example. With Rank Math, you can edit them to be more eye catchy and with the perfect length.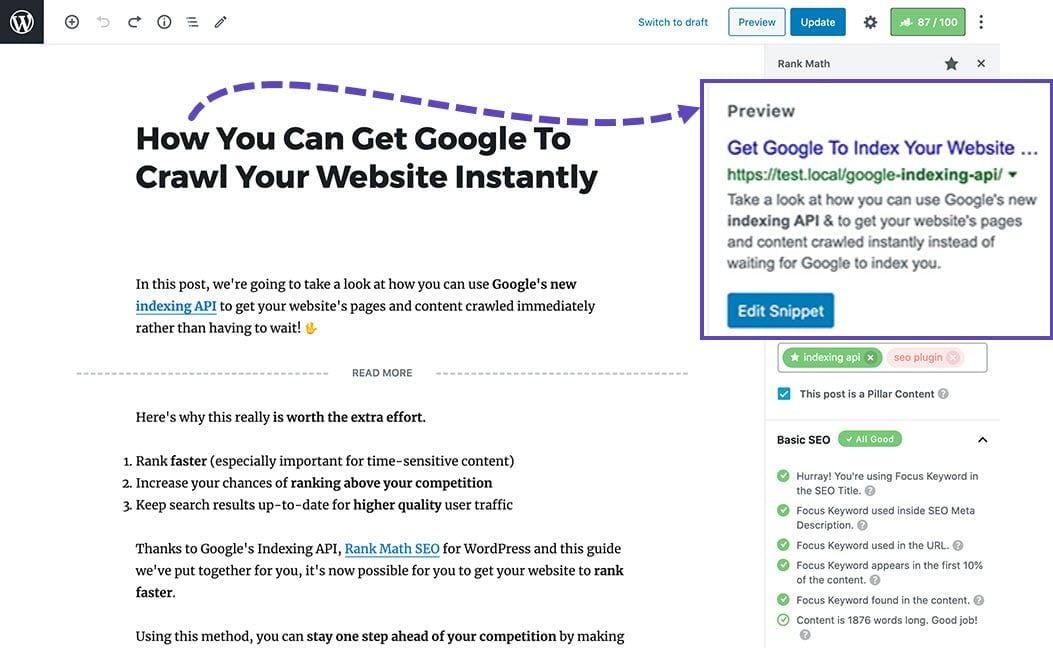 The second type of meta information is called the description tag, and this is what appears below the title tag on your browser window. The description tag contains a longer description of what your site page provides.
If the search engine finds it relevant to the search query, it'll be used in full.
The recommended length for a meta description is generally 150 to 160 characters, including spaces. However, it is important to note that Google will not strictly adhere to this limit and may display a longer meta description if it is deemed relevant to the user.
A meta description is a brief description that appears under the ad title in search results. It should be designed to give users an idea of what they will find on the destination page and encourage them to click on the ad.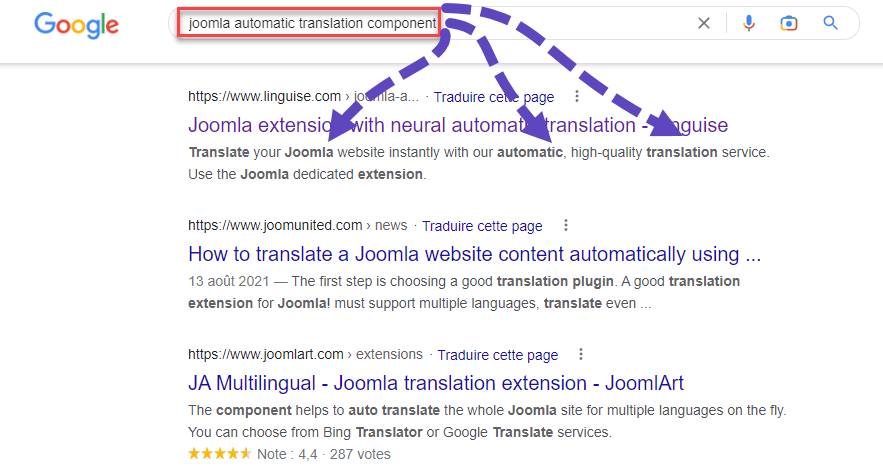 Keywords tags for multilingual websites
The meta keywords tag is an HTML tag that was used in the past to list a series of keywords that were relevant to the content of a webpage. The idea behind the meta keywords tag was that search engines would use these keywords to understand the content of the page and rank it accordingly in search results.
However, most major search engines, including Google, no longer use the meta keywords tag as a ranking factor. This means that including the meta keywords tag on your webpage will not directly affect your search engine rankings.
In general, it is not recommended to use the meta keywords tag in modern SEO practices. Instead, it is more important to focus on creating high-quality content that is relevant to your target audience and includes relevant keywords naturally within the text. But some research has highlighted that it may have indirect impact because some international search engines are still using them.
Here's an example of the meta keyword field that is native in Joomla CMS: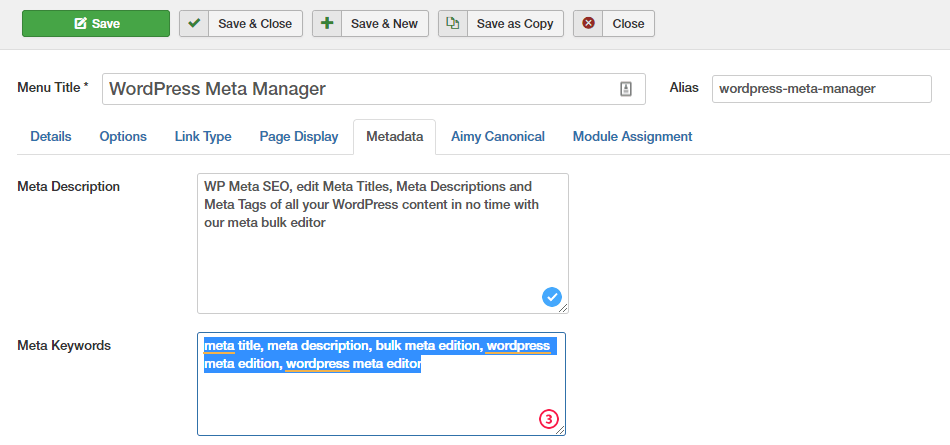 How to edit meta with Rank Math plugin?
If you have a website, you can use the Rank Math plugin to insert and manage the meta information of each of your pages.
Rank Math SEO is a ranking tool that relies on the math of the web and how it is connected. It is powerful and easy to use and can help you with the optimization of your blog posts. This Rank Math SEO tutorial is designed for beginners who want to learn how to edit their blog posts using this tool. You can easily learn how to edit your blog post title, meta description, keywords, content, tags, and more!
Rank Math SEO has been a go-to SEO tool for many bloggers and content marketers.
A few simple steps will help you get the most out of your SEO campaign. It allows you to edit your meta information in order to make sure that you are using the best keywords and phrases for your website. You can efficiently create an optimized meta title, URL, and description for any page on your site. You can also edit the meta keywords and descriptions for individual pages or posts.
To install Rank Math SEO plugin, hover your mouse over the plugin option on the left menu and choose the "Add New" option.
Search for "Rank Math" in the search bar on the top right and click "Install."

Activate the plugin under "Plugins" and "Installed Plugins." Now you can use Rank Math
Once activated, you'll find a section for Rank Math under each page you create or have already created. If you have a page builder such as Elementor or DIVI it maybe available in a sidebar (Elementor) or in a bottom menu (DIVI).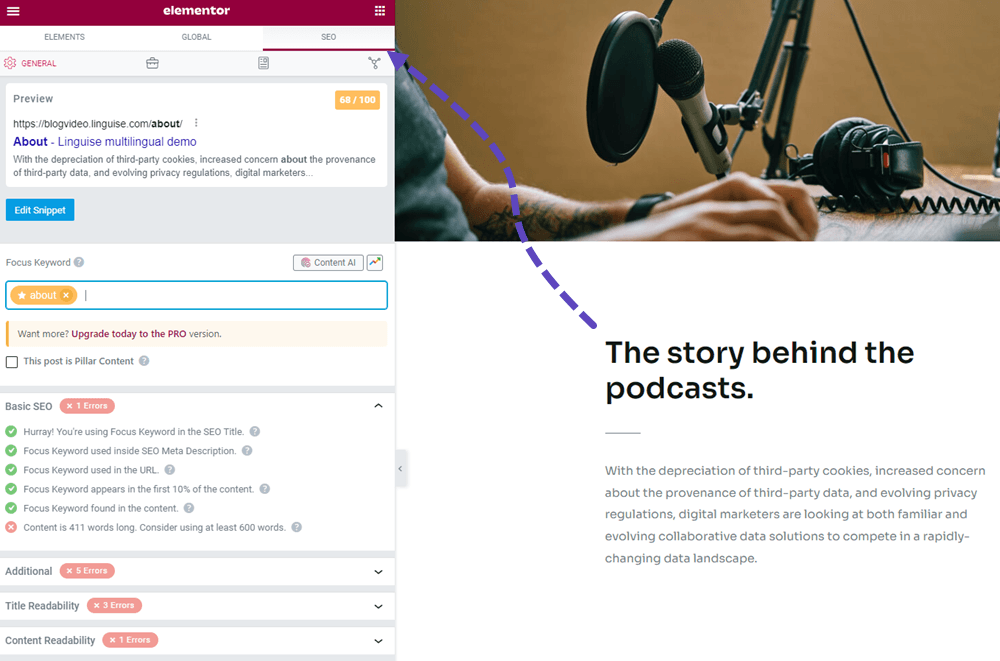 You can now add and edit all the meta information, including the titles and descriptions for the website and socials.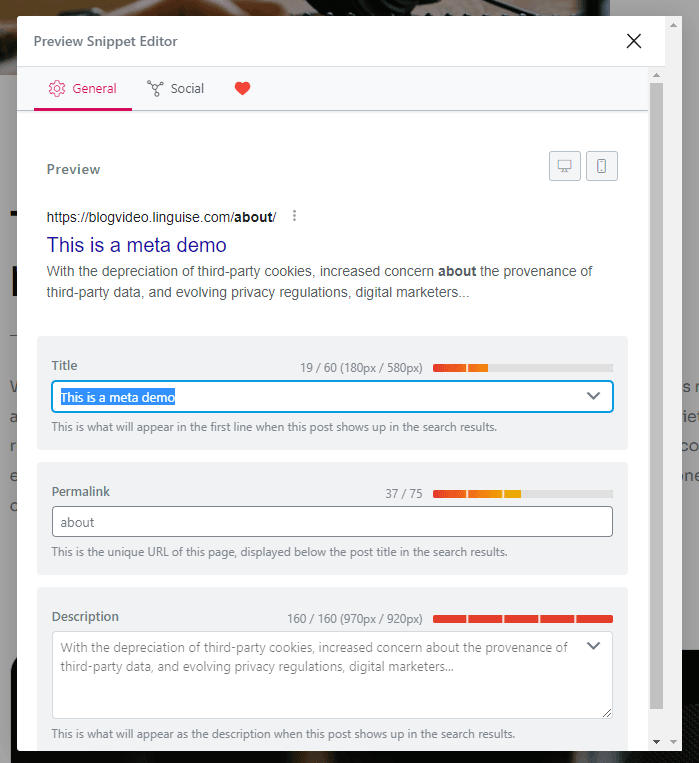 Break Language Barriers
Say goodbye to language barriers and hello to limitless growth! Try our automatic translation service today.
Rank Math meta Information are automatically translated by Linguise
If you want to reach a worldwide audience or even just a specific region where English isn't widely spoken, make your multilingual website. However, online translation services are known to be on the costly side and a bit too complicated for a lay user.
Linguise is the most user-friendly approach to translating your WordPress site from the front end, using a visual translation interface. This tool allows you to translate your website into more than 80 languages in an instant. With Linguise, you can increase Google traffic by 40%. When compared to other programs in this field, Linguine's machine translations have been shown to be incredibly accurate.
Once a page is translated in a language with Linguise and Rank Math meta are detected, they are also translated.

Contribution to the process of SEO professionals
When you have to consider translating Rank Math meta into Spanish, English, German, French, Japanese, or any other language, keep in mind that you should not limit yourself to simply translating the content. It is essential to have the intervention of SEO professionals, preferably before the translation process, to guarantee the best result.
Thus, translating a website involves identifying the keywords of the text in the source language. Then, three possible translations should be considered for each of those keywords. Google Analytics will be the one that marks which of the alternatives is the most suitable for your website.
It is not only simple but also quick, has no effect on your website's performance, and can be used with any theme or plugin. Most importantly, it is search engine friendly. While translating a page with Linguise, the plugins are detected and translated as well. It works in tandem with Rank Math SEO to generate a multilingual sitemap of all your content.
SEO-friendly translation implies improving the translation of your website's content to help it rank high in local searches. To achieve that, we must follow the same SEO methods on all the translated websites we used on the original website. This requires keyword research and keyword translation into the article or product pages, including all the meta information. This process is also often referred to as "SEO localization."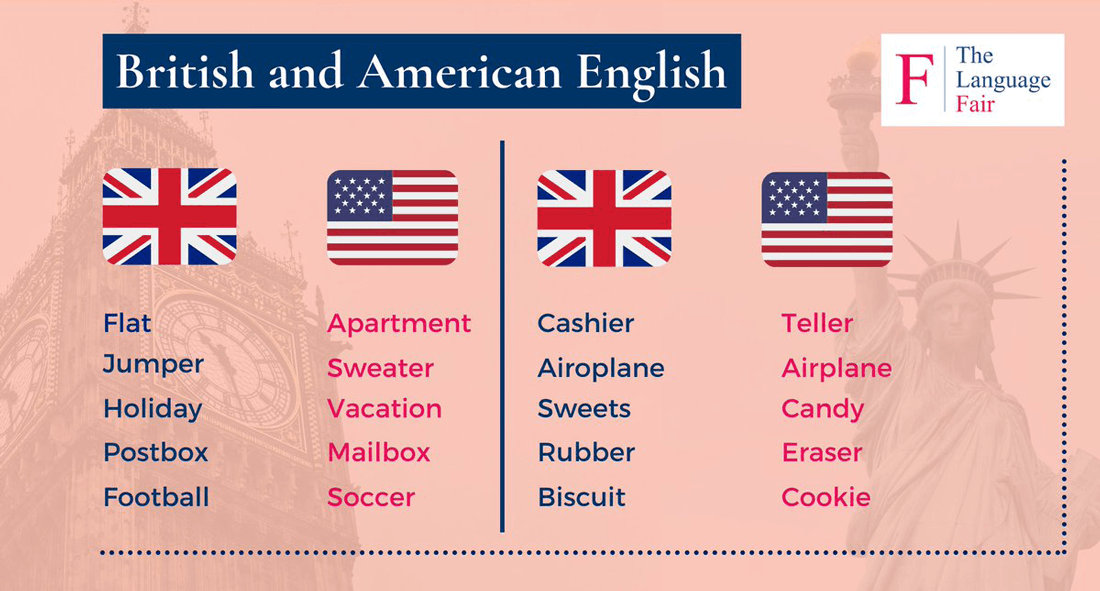 Websites that provide translation functionality are more likely to be promoted by Google search engines. However, translating your website does not only mean converting it into another language. SEO professionals are involved in the translation process to ensure the best SEO practices and the best results.
How to edit Rank Math meta from WordPress frontend?
After your website have been fully (or partially depending on your setup) automatically translated, all the Rank Math meta have also been translated in the same time.
Linguise comes with a front-end language editor tool, and you don't even need to go back to the WordPress or Rank Math admin.
From the linguise dashboard, you can edit your website's HTML meta content within a few clicks. Click on Open Live editor, select a language.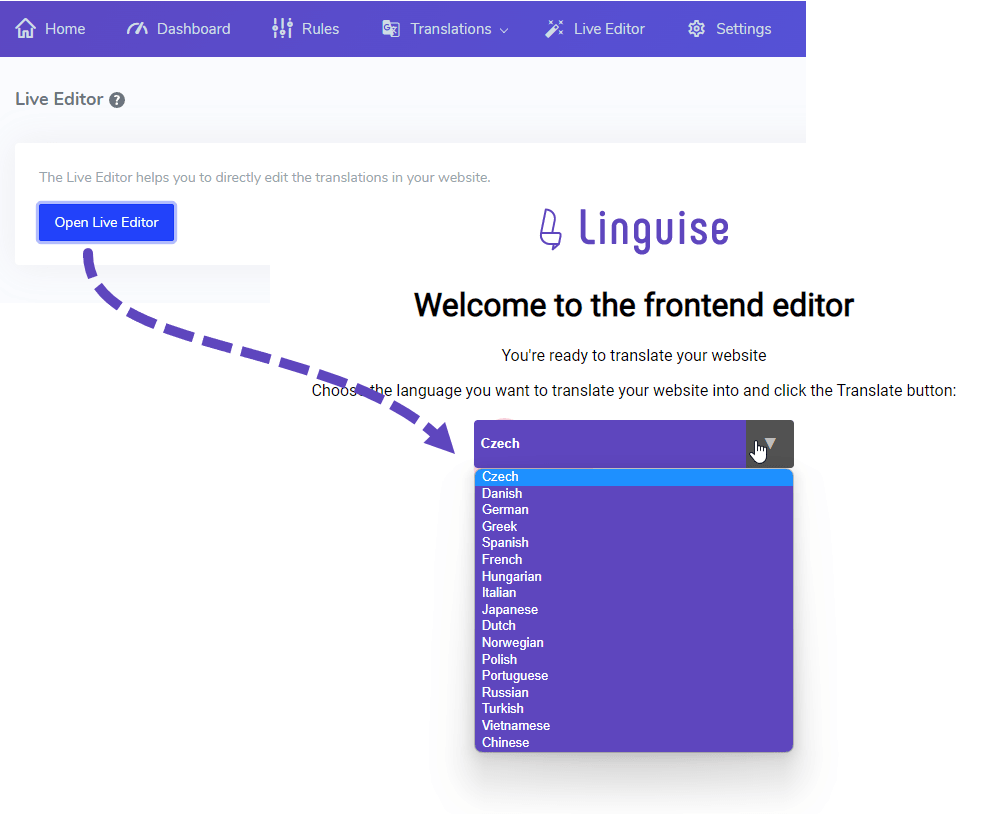 You'll be redirected to the website in the language selected with the top translation toolbar.
Just click on the code icon, and it's ready to edit. You can edit all the meta information for the posts from here. The user interface of the front-end editor has been enhanced with a full-width editor view, quick navigation, and better mobile and small-screen display.
Voilà! It's as simple as that.
And there's more! Linguise handles all the meta you can have on your website. For example, Rank Math allow the completion of social meta too, such as Twitter or Facebook. Social meta helps your website to get a better look when a page is shared on social network.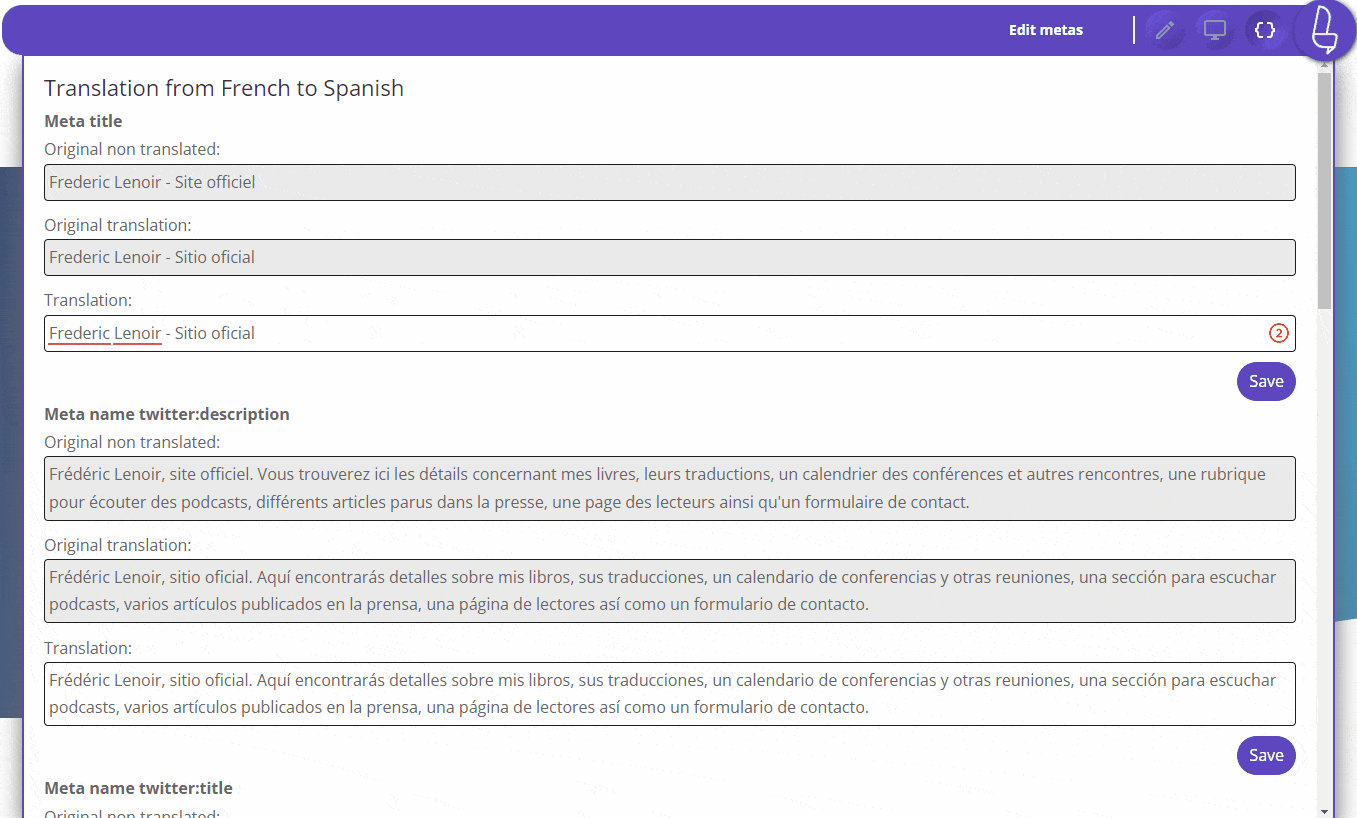 Ready to explore new markets? Try our automatic translation service for free with our 1-month risk-free trial. No credit card needed!
Get started with Rank Math meta translation on your website
Want to see how Linguise works on your website? Sign up now to try free services for one whole month. No credit card needed, check the monthly prices and yearly prices and get 1 additional 1-month free.