What are the meta Information?
Meta information is information about information. Meta tags are pieces of HTML code that provide essential information about your website. If used well, they can positively influence the positioning of your pages on search engines. These are read by search engines and help in positioning within the SERP.
If you have a website, Meta tags are a great tool to provide search engines with information about it. In addition to the management-information level, meta tags are essential for page indexing and positioning on search engines. So, the goal when running a website is to make the meta tags easily readable by search engines.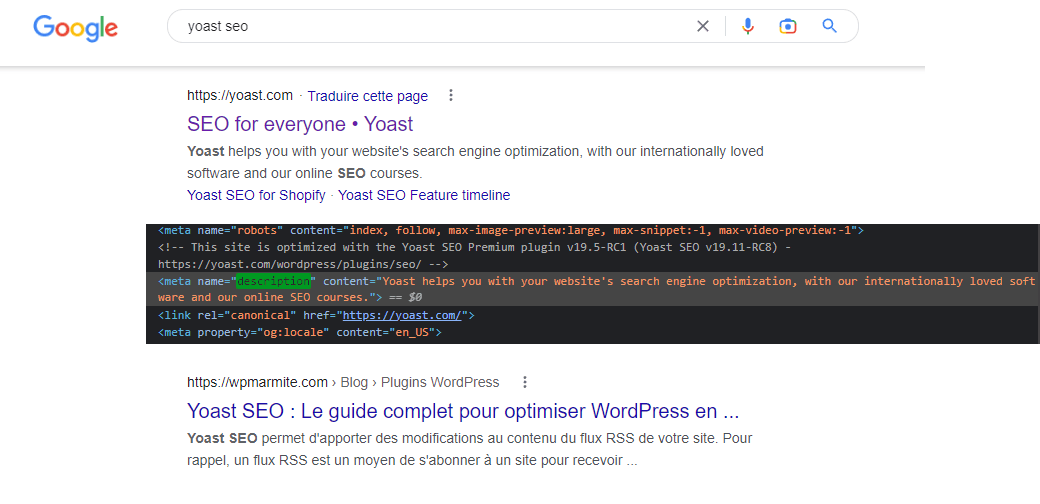 The most important meta tags
Here are the main meta tags you need to insert on the pages of your website.
Title tags
It is the title of the page that search engines display. The title tag does not necessarily correspond to the editorial title. It must have 50 and 70 characters. They should also contain the keyword and also the name of your brand.
Meta description
In this section, you can enter a brief description of the page content. It corresponds to the snippet or the portion of text visible in search engines.
Meta tags
The meta description influences users' clicks. It helps the public understand what that specific page is about. The description must be a maximum of 150 characters long and must prompt the user to visit your site. It is therefore recommended to insert a call to action.
Keywords
Keywords are unpopular because Google said few years ago that it stops using in direct page indexing. But that's not the case for all search engines, especially other than Google and US search engines and also specialized directories. We have many experiences in multilingual websites, and we found that keywords filled on your main webpages can still have an influence on international ranking.
Based on that, choosing the right keyword for the pages of your site is crucial for users to find you when they search online. For example, if you have a beauty products site, it will be essential to enter this phrase as a keyword so that the search engine will show you to users looking for these categories. However, avoid terms that are too generic or words in English that would make the search more difficult.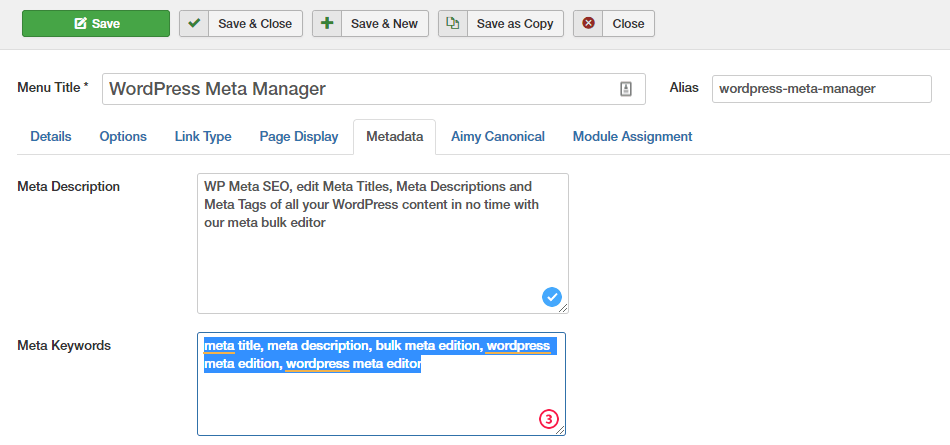 Why is meta information important?
Meta tags ensure that the information that a user is looking for on your site is immediately accessible and at hand to ensure a positive and satisfying user experience. They are the first connection between search engines and websites and are therefore considered to be significant for site indexing and mapping.
The more descriptive, attractive, and relevant a meta description is to searchers, the more likely it will be clicked. It is an HTML element, very useful to users when they need to have an idea of ​​what they will be able to view once they click on the appropriate link. Along with the title, tags, and images, the meta description is one of the main aspects to optimize. This means that the main keyword must always be entered.
Just take a look at the difference between a personalized meta information compared to search engine automatic generation, on which would you click?

Meta information in search results and translation
In the example below, we can see that the meta information in search results provides us with enough information to understand what content you may expect after clicking on the link. Here if the meta description fit the user search request, it'll be displayed in full by Google.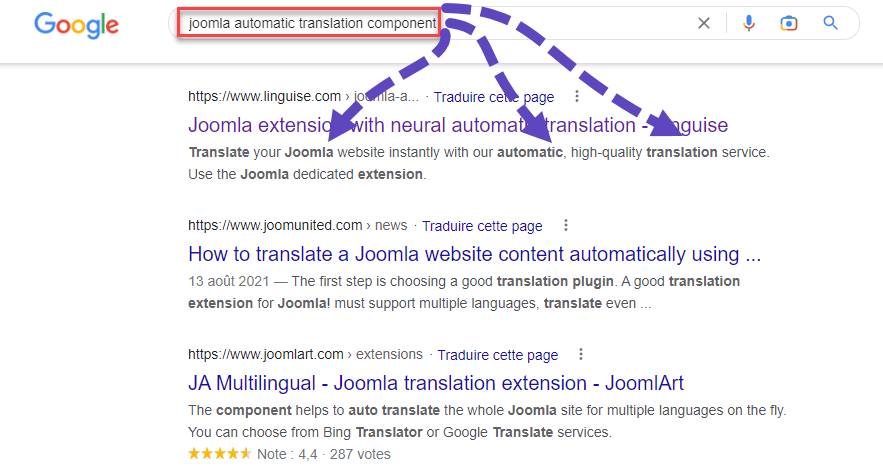 Please do note that search engine do not translate meta description or page titles automatically, you'll need to do it yourself with a manual or an automatic translation tool.
How to edit meta tags with Yoast SEO?
If you have a website, you can use the Yoast SEO plugin to insert and manage the meta information of each of your pages. An SEO consultant, a webmaster, or – more generally – anyone who has the ability to intervene on the pages of a site can modify these elements and optimize them.
Here is how you can edit the meta information with Yoast:
1- Download the Plugin. This plugin is already installed in your WordPress. If not, click "Plugins" in the left-hand sidebar and then "Add New." Search for "Yoast SEO" and download it.

2- Activate the plugin under "Plugins" and "Installed Plugins." Now you can use Yoast SEO.
3- Once activated, you'll find a section for Yoast SEO under each page you create or have already created. If you have a page builder such as Elementor or DIVI it maybe available in a sidebar (Elementor) or in a bottom menu (DIVI).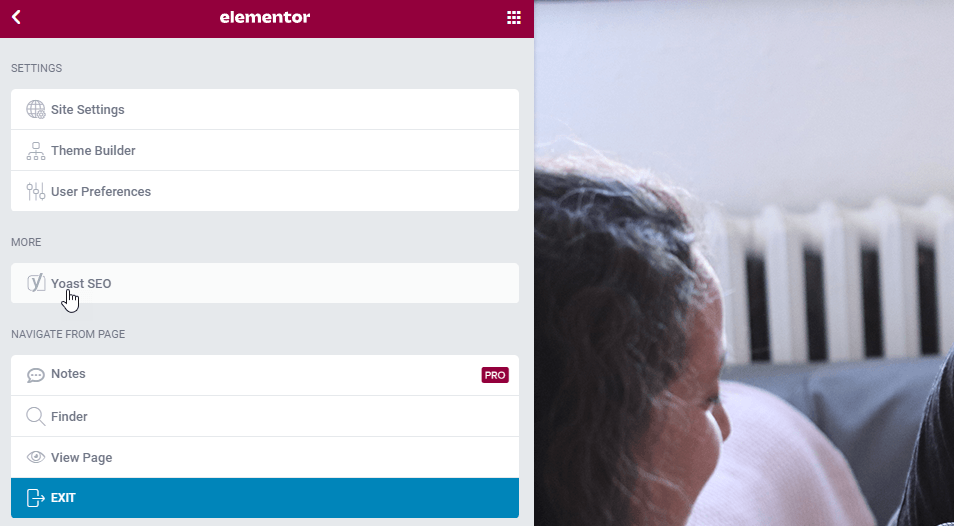 From there, you'll have access to the Yoast page SEO setup that includes the meta information. Just click on the Google preview to edit them.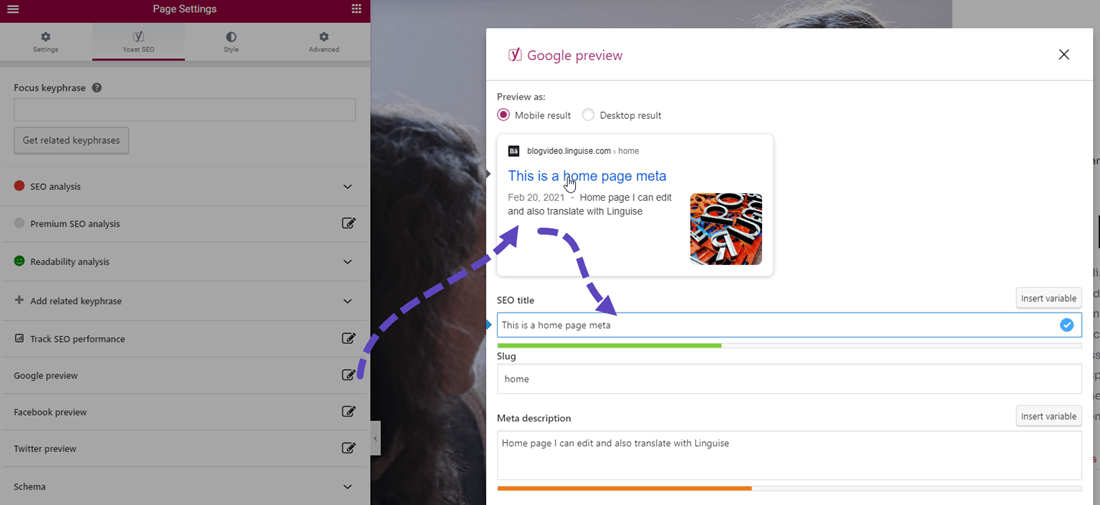 Break Language Barriers
Say goodbye to language barriers and hello to limitless growth! Try our automatic translation service today.
Yoast meta information automatically translation with Linguise
While hundreds of online translation services are available, they can be expensive, inaccurate, and complicated. Linguise lets you translate your website into 80 other languages in less than 10 minutes. It's intuitive and straightforward to use. It can be easily integrated into your website with Yoast SEO.
Since the website represents the primary means of communicating your offer globally, translating a web page is essential to ensure its adequacy according to the parameters of each cultural context you are targeting. While the free services translate the main content, they often ignore the SEO meta information. Therefore, it is essential to go beyond a simple machine translation process and rely on a professional website translator who also offers a localization service for the translation of the website page. The results of such translation go through an SEO review and optimization process which will ensure a well-positioned web page.
Translating websites is a rather complex and delicate job that requires attention and precision, even if the habit of relying on automatic translators or Google browser translation continues to be widespread. Often it is limited to inserting an automatic translation plugin for the site's categories. Machine translation has made significant progress and can handle vast amounts of web pages quickly.
Once a page is translated in a language with Linguise and Yoast meta are detected, they are also translated.

Contribution to the process of SEO professionals
When you have to consider translating Yoast meta into Spanish, English, German, French, Japanese, or any other language, keep in mind that you should not limit yourself to simply translating the content. It is essential to have the intervention of SEO professionals, preferably before the translation process, to guarantee the best result.
Thus, translating a website involves identifying the keywords of the text in the source language. Then, three possible translations should be considered for each of those keywords. Google Analytics will be the one that marks which of the alternatives is the most suitable for your website.
Index your translated content in internationals search engines
Localizing your website is beneficial for SEO and your business because it helps you attract visitors, increase profitability, and expand business opportunities. It will also help you stand out from the crowd by improving the SEO of your source website. When localizing a website, however, it's essential to tailor it for search results to appear at the top of search rankings for all languages, not just English.
SEO-based localization is significant for your businesses because it makes your websites more user-friendly and provides the best possible user experience.  Localizing a website is tricky, but it can quickly become a nightmare when you add SEO into the mix, especially if you need to familiarize yourself with the rules.
If the data is in another language, the organization needs to learn how to optimize it. On the other hand, data quality is the most critical factor in determining the website's competitiveness in new markets. Most companies think of localization as just translation, ignoring the importance of website optimization. However, it can help them list higher in search results, increasing the website's popularity.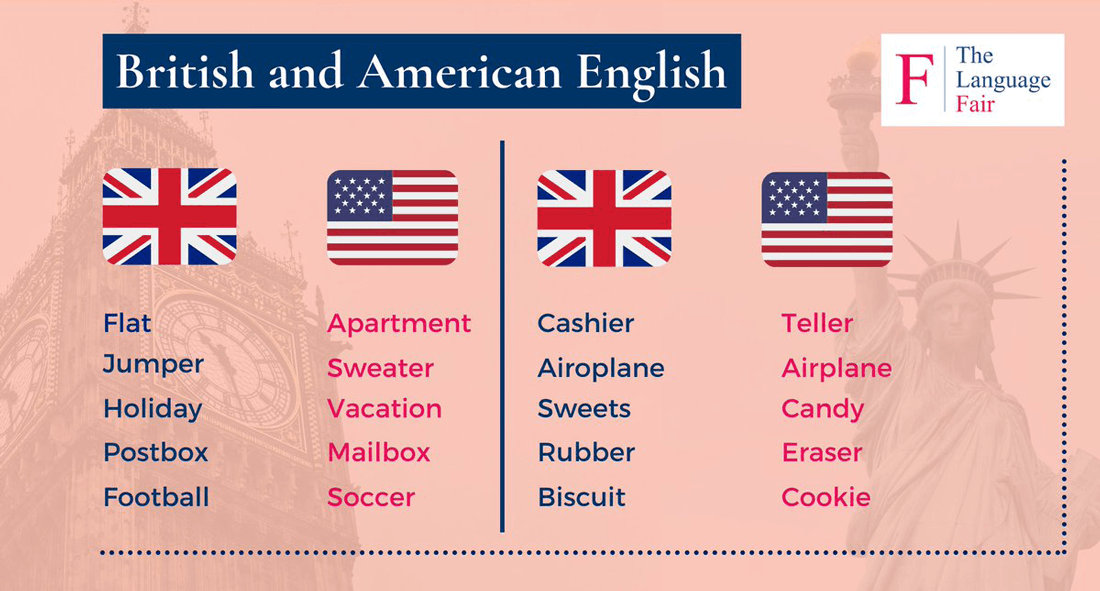 Importance of SEO Translation and Localization
Websites that use Linguise translation services have experienced a 40% increase in their traffic from Google, Baidu, or Yandex search engines. Based on this study, a glossary of keywords will be created in the target language that the expert translator should use in the most convenient way in the final text. In this way, a good translation is combined with a correct SEO orientation. A bad website translation will give your customers a bad image. Translation errors can be funny in some cases, but certain types of texts can be quite dangerous. Imagine the damage a poorly translated safety manual or a poorly done medical translation could do.
The actual translation of any text, as long as it is done by experts in the subject with the required specific knowledge, is the result of passing a message from one text to another as faithfully as possible. It is an acceptable option for the user, but it may fall short in terms of SEO positioning.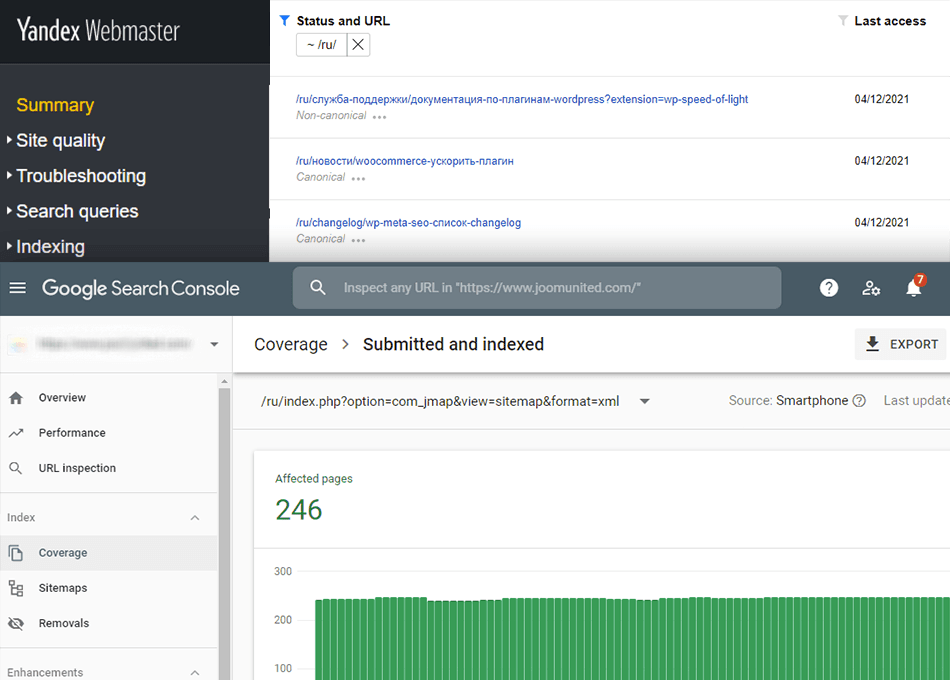 How to Edit Yoast Meta From WordPress Frontend?
After your website have been fully (or partially depending on your setup) automatically translated, all the Yoast meta have also been translated in the same time.
Linguise comes with a front-end language editor tool and you don't even need to go back to the WordPress or Yoast admin.
From the linguise dashboard, you can edit your website's HTML meta content within a few clicks. Click on Open Live editor, select a language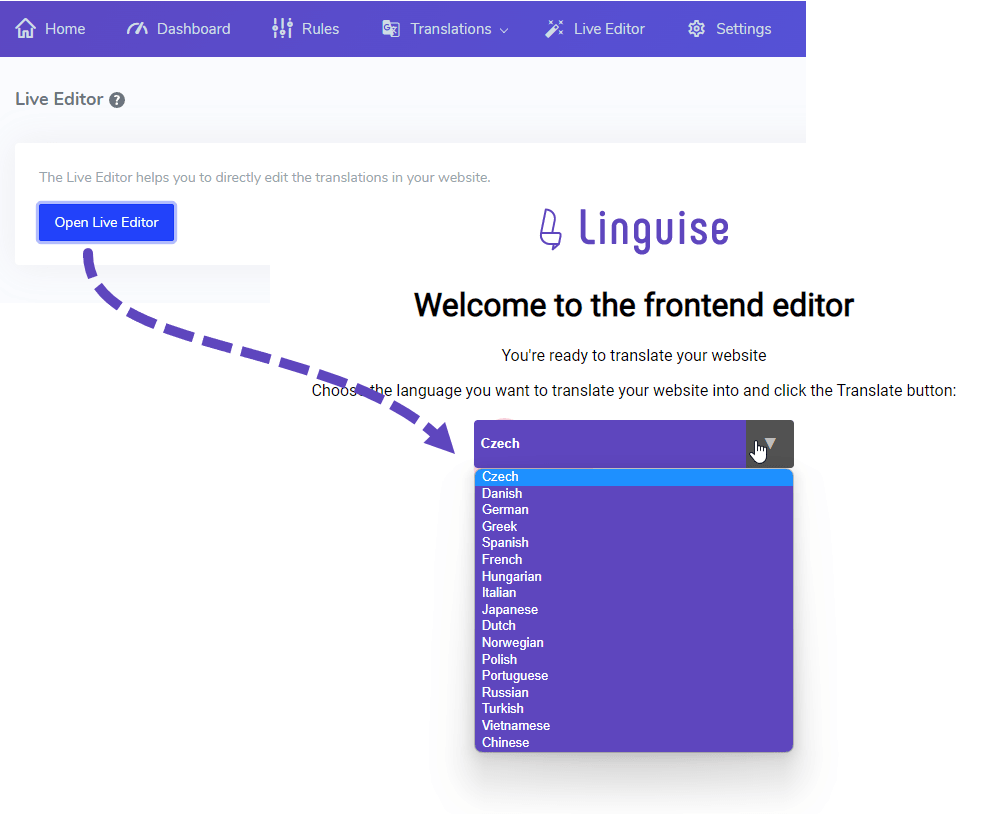 You'll be redirected to the website in the language selected with the top translation toolbar.
Just click on the code icon, and it's ready to edit. You can edit all the meta information for the posts from here. The user interface of the front-end editor has been enhanced with a full-width editor view, quick navigation, and better mobile and small-screen display.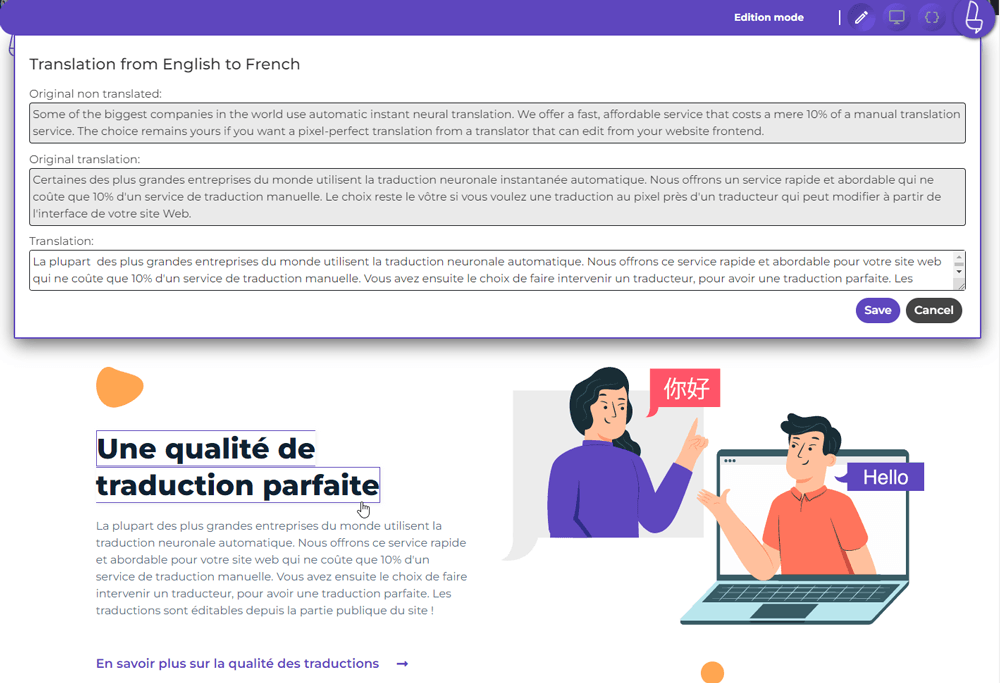 Voilà! It's as simple as that.
And there's more! Linguise handles all the meta you can have on your website. For example, Yoast allow the completion of social meta too, such as Twitter or Facebook. Social meta helps your website to get a better look when a page is shared on social network.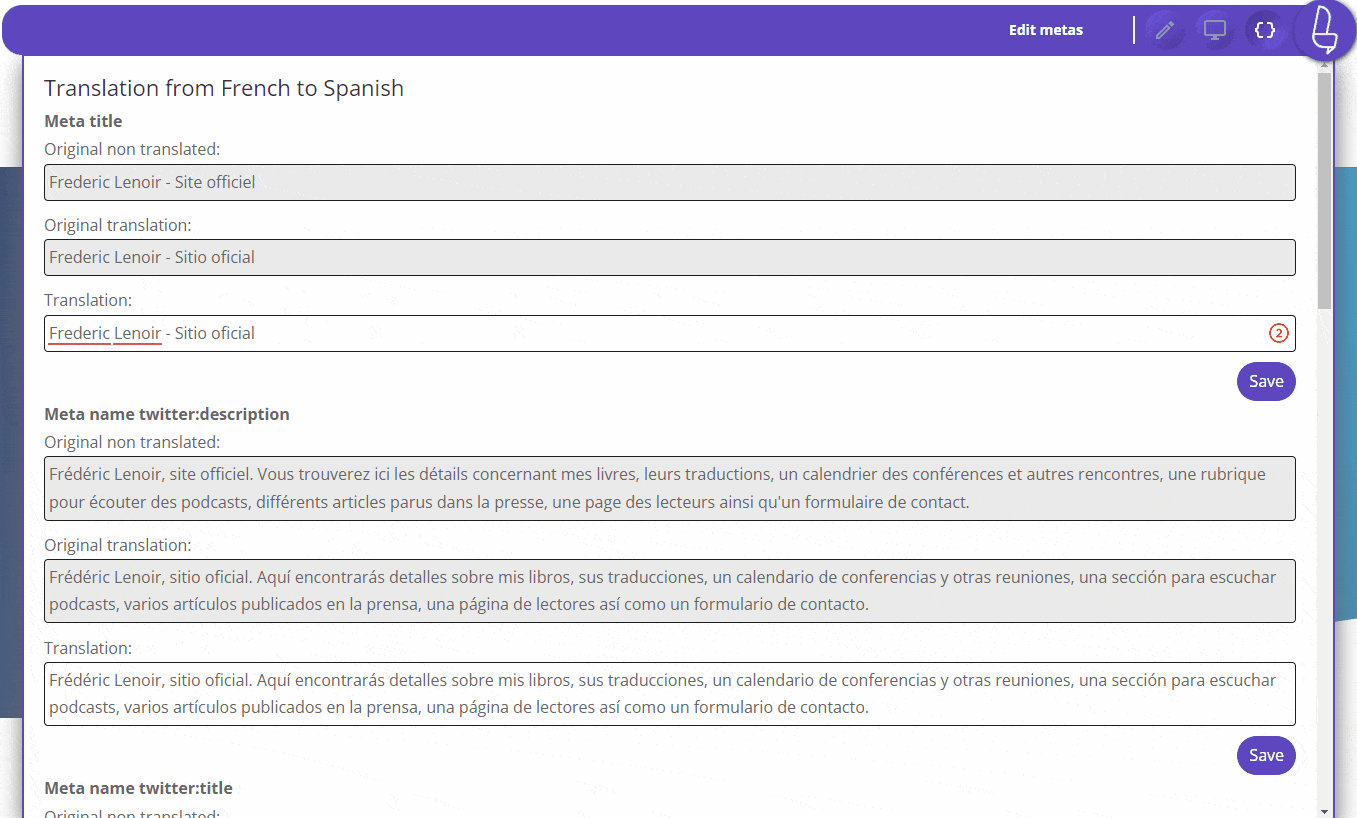 Ready to explore new markets? Try our automatic translation service for free with our 1-month risk-free trial. No credit card needed!
Get started with Yoast meta translation on your wesbite
Want to see how Linguise works on your website? Sign up now to try free services for one whole month. No credit card needed, check the monthly prices and yearly prices and get 1 additional 1-month free.