Quality translation is not an expression that should be taken lightly. Imagine this, you need a legal translation – one with precision, for there may come dire consequences if it isn't correctly done. Even the tiniest error in translation can lead to colossal financial losses! For example, in the United States English language, decimals are separated from integers by a decimal point and commas separate thousands. Conversely, the Russian language uses commas to distinguish between decimals and whole numbers with spaces used for separating thousands as standard practice.
Although this is a straightforward example, many complexities can arise when translating between languages due to cultural and linguistic distinctions. For those who don't know the language of the target audience, it's not easy to trust a translation service provider and commit to their services. I understand what clients are facing in such cases.
In this article, I am pleased to share some tactics on how you can acquire an excellent translation from English to Vietnamese thanks to Linguise.
Access to the Vietnamese market with translations
Vietnam is a country located in Southeast Asia, with an area of approximately 311,699 square kilometers and a population of about 96 million people. It shares borders with China, Laos, and Cambodia, and has maritime borders with Thailand, the Philippines, Indonesia, and Malaysia. Its capital is Hanoi and its largest city is Ho Chi Minh City, also known as Saigon. Vietnam is the sixteenth most populous country in the world. It is formerly known as the Socialist Republic of Vietnam.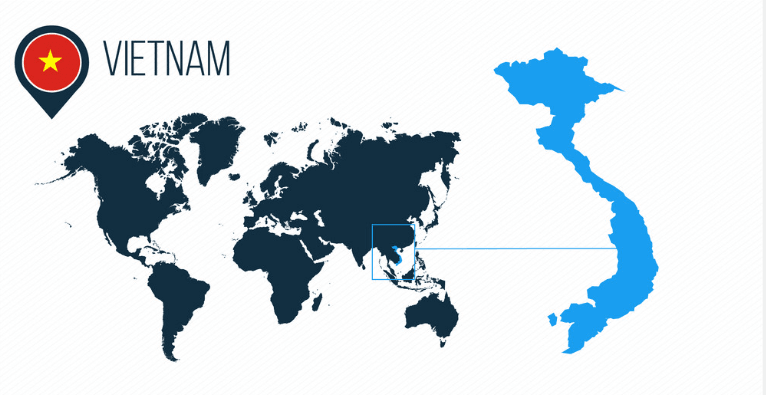 Vietnamese population and language
The primary language spoken in Vietnam is Vietnamese, which is a tonal language belonging to the Austroasiatic language family. This is the only one to focus on when translating to target Vietnamese market
Other languages spoken in Vietnam include Tày, Mường, Cham, Khmer, Chinese, Nùng, and Hmong. The Montagnard people living in the Central Highlands region have their own languages, some of which are from the Austroasiatic language family and others from the Malayo-Polynesian language family. Additionally, there have been instances of sign languages developing in major cities in Vietnam.
The population is still on the rise comparing to other Asian countries and with a population of 96 million, it's the world's sixteenth-most populous country. Therefore, the Vietnamese translation of your website is a serious option to consider.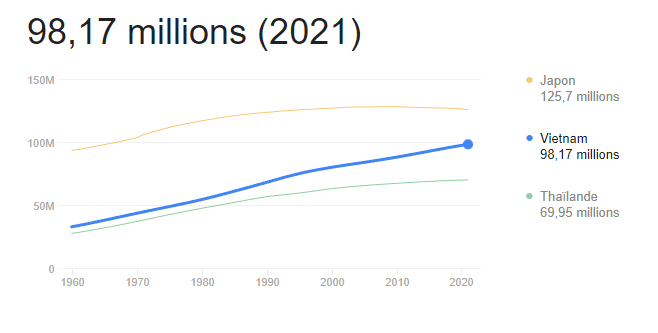 Different options for translating a website into vietnamese
If you're translating your website into Vietnamese, traditional solutions are available to help. These include employing a human translator, using browser translation services or relying on automatic translation software.
From English to Vietnamese with human translation only
For a website with zero linguistic errors, you should consider hiring either a native Vietnamese speaker or an experienced translator. A professional translator ensures that your website is accurately translated into the Vietnamese language so as to reach its full potential in terms of communication and engagement.
By enlisting a Vietnamese translator, you can ensure that your message is communicated accurately in language and terminology recognized by the local audience. And because you're working with a human being, it's possible to include cultural context as well as choose whether to employ an indirect or direct manner when speaking with customers. With the utilization of a Vietnamese translator, your translation will be smooth-flowing and accurate.
Nonetheless, there are some subtle disadvantages to using human translators. If you're looking for a cost-effective solution to translating your website into Vietnamese, automated translators are the way to go. Unlike hiring an expensive translator who only translates existing content and doesn't create anything new, this option is much more budget friendly while still being reliable.

Vietnamese translation prices are in the average of the market as you can see on the image above with freelancers.
Using Google Translate public tool for Vietnamese translation
Google Translator is an effortless method of transforming text into any language. Combining the power of artificial intelligence, it has become a breeze to translate one language into another in no time! This public tool can be used for multiple purposes and makes translating quick & easy. Google Translator is absolutely free, so you don't need to be concerned about the financial strain associated with website translation. Furthermore, Google's advanced tools integrate into both Chrome and Android devices for instantaneous website translations that are available at a moment's notice.
There are 2 usages of automatic translation tool such as Google Translate:
1- Copy your website content into the tool, make the translation, paste the content into your website. The problem with this method is that the automatic translation does not handle all the HTML content of a webpage such as images or video and does not use a translation model (as in neural machine translation) to produce translation. Translation quality result will be medium.

2- The second method is to rely on the browser automatic translation extension.
Google Translate provides an easy way to get a live translation of your webpage into Vietnamese – simply click the Translation Option in the toolbar. However, please note that this is only a real-time page conversion and this is not a real Vietnamese content page with its URL; thus, it won't be indexed on search engines.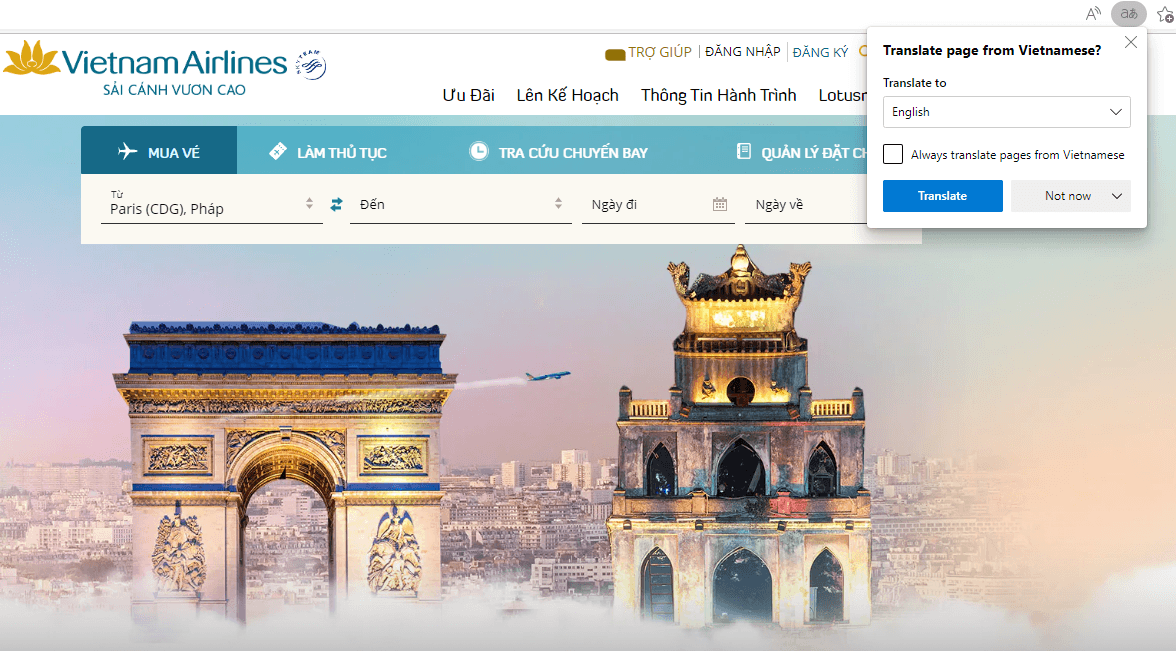 Using neural machine translation for Vietnamese
Neural machine translation (NMT) is a cutting-edge, end-to-end form of machine learning that utilizes AI to provide accurate and effortless translations between languages. This method offers unprecedented accuracy in terms of text conversion while being faster than ever before. By utilizing a massive set of rules, machine translation eliminates the need for human involvement. Additionally, some neural machines take advantage of statistical models to evaluate preexisting translations and generate new ones that embody similar language patterns. By encoding such statistics into its programming, the machine is able to accurately translate text with remarkable precision and speed.
With its continually growing database and linguistic statistics, the neural machine produces outstanding accuracy when translating between any languages. Its versatility allows for integration into other applications via APIs or SDKs as well. As the demand for accurate translations grows, so does the need for accessible and affordable services. Though human translations are of a more superior quality, they do come at an elevated price tag. That's why neural machine translation is becoming increasingly popular: it offers high accuracy in translating your text into Vietnamese all while keeping costs low!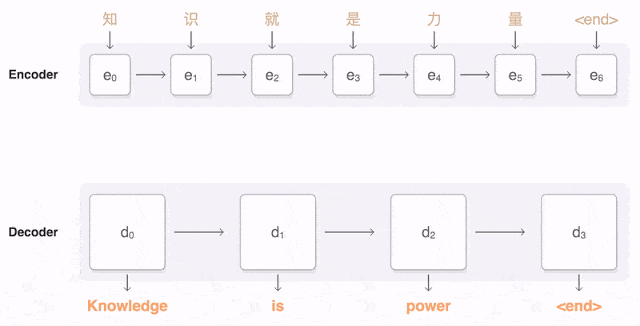 Break Language Barriers
Say goodbye to language barriers and hello to limitless growth! Try our automatic translation service today.
Automatic high-quality Vietnamese translation with Linguise
Overcoming the costs associated with translating blogs and other websites can be a major challenge. Fortunately, Linguise eliminates many of these roadblocks by providing an efficient, economical solution that reduces both time and financial investment.
In a mere fifteen minutes, you can deploy your website in more than 80 languages available – Vietnamese, Italian, Spanish, and beyond! Linguise makes it easier than ever before: within those 15 minutes you'll have taken care of all the translations associated with your project.
Vietnamese translation with Linguise benefits
Achieving optimal organic search engine rankings through translation service
To boost your website's Search Engine Optimization ranking, the Linguise multilingual translation is just what you need. This comprehensive tool offers a speedy cache server and several other features such as creating unique URLs and generating alternate URL for every language. Get ready to achieve remarkable visibility with this powerful asset!
Certifiably tested on all prominent search engine platforms
With Linguise, your multilingual content can be indexed and ranked quickly by the biggest search engines. Activate your website translation to take advantage of tools like Google Search Console, Baidu Search resource, and Yandex webmaster for a swift page index process that dramatically improves visibility in all major search engines.
Here are some examples of indexed pages you can get in major search engine webmaster tools.
With a simple click, you can quickly and easily transform one page into multiple pages!
When it concerns SEO, content reigns supreme; this necessitates that your webpages possess both quality and quantity. To facilitate these requirements, Neural Machine Translation comes in to conveniently produce multilingual versions of your new page with the touch of a button! 10 new pages multiplied by 20 languages will result in 200 indexed pages – an astounding demonstration of how Neural Machine Translation can supercharge website development.
Perfect for ecommerce stores and expansive websites
ECommerce sites tend to maintain a high number of products, as well as continuous updates. For example, if one product is edited, its multilingual versions must also be modified accordingly. This translates into increased content on the website at frequent intervals – providing great SEO opportunities. The same strategy is applicable for other types of websites such as forums and product catalogs too!
Quickly create and manage localized sitemaps for your website
Boosting your website's performance and SEO rankings starts with a properly configured sitemap. That's why Linguise has created its groundbreaking translation tool, which automatically produces an XML sitemap based on the existing main website version. Furthermore, it will dynamically update when bots crawl and index new multilingual content!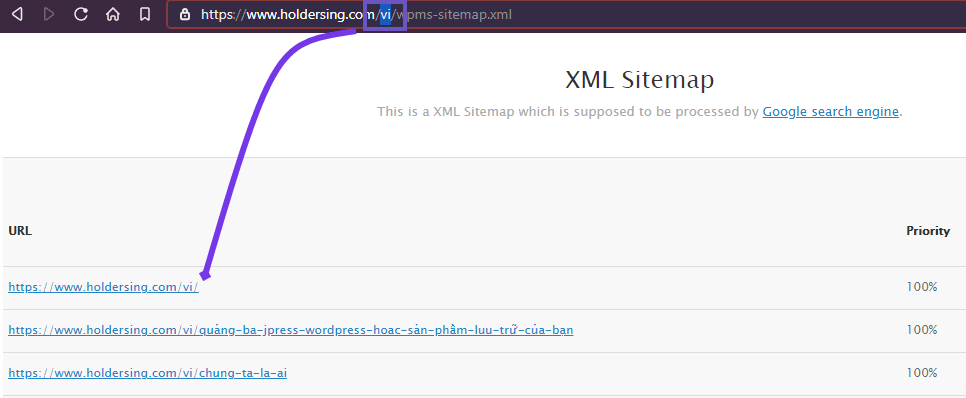 Multilingual and optimized for Google AMP
By transforming your pages with Google's Accelerated Mobile Pages (AMP) technology, Linguise ensures that you won't miss out on any traffic from the translated versions of your webpages. With its full compatibility to AMP, you can rest assured that optimized mobile content is just a few clicks away!
Quickly edit page titles and meta information from the user-friendly front-end
Translators can edit content in the blink of an eye with our front-end editor. Not only does it give you the chance to modify your page title, but you can also tinker around with all sorts of SEO factors that help boost visibility and ranking–including Meta descriptions and social media posts!
Achieve error-free vietnamese translations with linguise
Linguise is a revolutionary language-translation toolkit that will give you accurate and reliable translations of any text in the blink of an eye. It uses sophisticated neural machine technology to guarantee impeccable results, while still being budget friendly enough for even small business owners or startups! Now anyone can access powerful translation services without breaking the bank – thanks to Linguise's amazing capabilities.
Transform your website into Vietnamese or any other language in just a few simple steps!
Step 1: Linguise registration to get an API key
First you need to register an account to get an API key. The first month is totally, no credit card is required, so you can test with any risks.
Get started with no risk by registering an account and obtaining your API key – the first month is totally free, so you don't need to provide a credit card! Test out the platform without worries of financial repercussions.

After you have connected to your Linguise dashboard, the following step is to configure a new domain and obtain an API key for it. To accurately assess which language is enabled and to facilitate the neural translation process for your pages, you must obtain an API key. Secure it now so that you can call upon it whenever necessary!

Step 2: Add the Vietnamese language to your list
Now that you've registered and add website domain URL, choose the native language of your website and the languages you want to translate to.  Here we'll choose our base language English to target language Vietnamese (plus many others).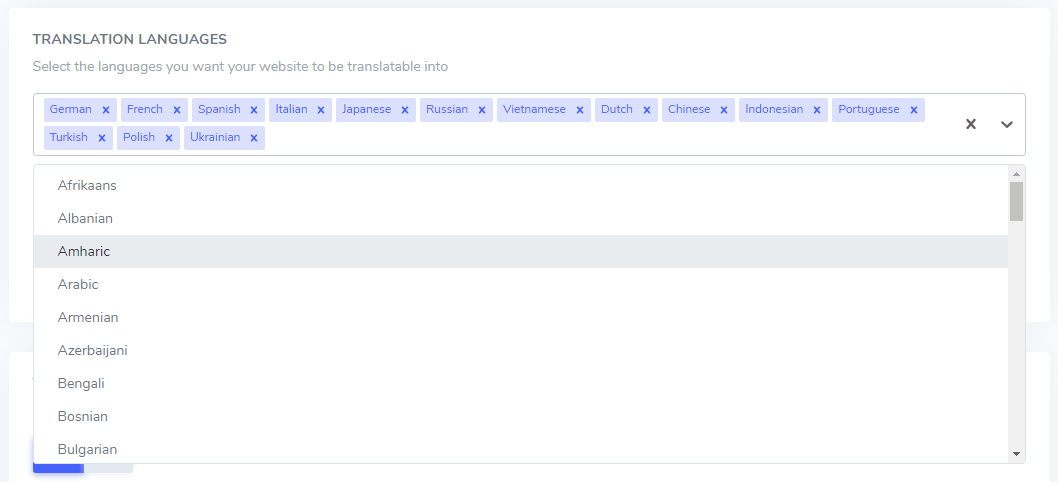 Step 3: install and configure the Linguise plugin
To move to the next step, install the WordPress plugin from the WordPress repository and activate your language switcher. This is easy – you can upload it directly to your website or download and upload it manually, but even easier would be using our auto-installer!
From the WordPress repository install it as you normally install any WordPress plugin by uploading it to your site, by downloading and uploading the plugin or just by using the auto installer.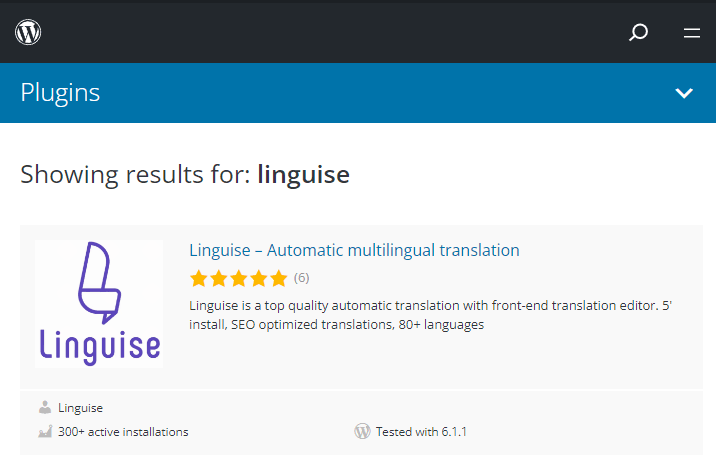 After you have successfully installed the WordPress plugin, simply add your API key for activation. If you happen to choose a Vietnamese language during domain registration, not to worry! This will be synchronized automatically!
From this point, note that 100% of your website is already translated in Vietnamese.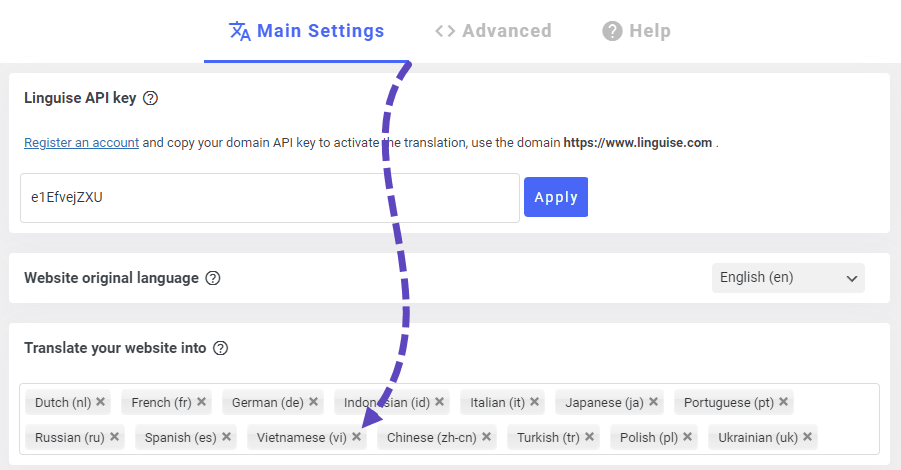 Step 4: Language switcher example with Vietnamese flag
This plugin is packed with language flags and name display options, allowing you to embed the flag into your website effortlessly. Use a short code on any page or post, add it directly to your menu, alternatively- make use of a PHP snippet for effortless integration.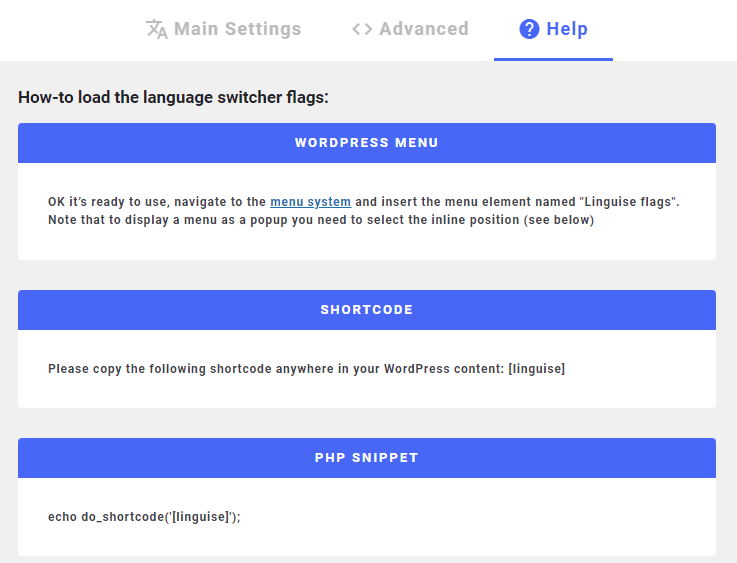 There are also literally tons of design setup for the flag language switcher. For example, you can setup the Vietnamese flag to be squared, with border radius or totally round like below.
When you have finalized all the design and function configurations, click Save Settings and Linguise to take care of the rest.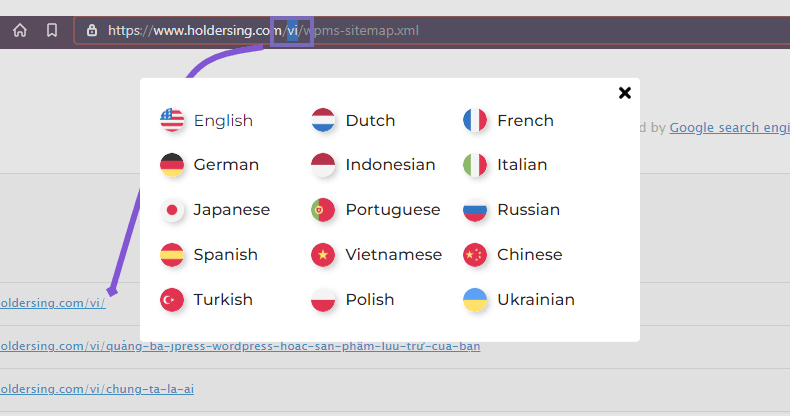 Break Language Barriers
Say goodbye to language barriers and hello to limitless growth! Try our automatic translation service today.
All the Vietnamese automatic translated pages are editable
Invest in the Linguise automatic translation for Vietnamese and experience incredible quality. Plus, you have complete customization capabilities with editing features that allow you to personalize all translated content. All the language edition can be made by you or a professional translator because you can create a dedicated translator account per language, and everything is editable from the public side of the website.

Linguise is a translation tool that allows you to easily translate your WordPress website into any language. It includes intuitive editing interfaces that give you full control over your translations, ensuring their accuracy and precision.
The Visual Editor allows you to preview your website in real time as you make modifications to translations. With the language editor bar, you can quickly locate and edit translations or other material. 
Linguise also offers the option to connect with professional translation services within the web application. Simply choose which pages of your website should be professionally translated, and you're ready to go.
Here's an example of the frontend live editor with the main controls, it's not a Vietnamese language translation, but it works exactly in the same way in all the languages.
Linguise pricing for Vietnamese website translations
You can use Linguise free version with one-month period, with up to 600 000 words translated, and you have one month free for each new domain! (no credit card is required to register).
If you've planned to translate your website only in Vietnamese language, that would represent 600 pages of 1000 words for a cost of $25/month or $275 per year. There's also a smaller plan for smaller websites plus an unlimited translation plan for considerable websites. Here's a direct registration link in case you want to try it now for free
START
INCLUDED IN 1st MONTH FREE TRIAL

200 000 translated words

Unlimited translated page views

Unlimited languages

1 website per plan with one month free
PRO
INCLUDED IN 1st MONTH FREE TRIAL

600 000 translated words

Unlimited translated page views

Unlimited languages

1 website per plan with one month free
LARGE
ACCESSIBLE WITH SUBSCRIPTION

UNLIMITED translated words

Unlimited

translated page views
In order to create a connection with global customers, it is essential that you offer them an adapted version of your website. A human translator or digital translation services are both reliable options for this task.
Free automatic translation is not recommended because it is often inaccurate and can make your website inaccessible to native Vietnamese speakers. Human translation can be expensive, especially for a complex language like Vietnamese. A high-quality translation tool like Linguise, with a proofreading option, is a good alternative that provides accurate and cost-effective translation.