Regardless of which ecommerce CMS you're using, it is crucial to accurately translate all of your site's content if you intend to sell internationally. On paper, it looks easy to sell to other regions because virtually anyone can access the internet; but that never is the case, is it? In the international regions you intend to sell to, there are established online shops, for which the customers have preference. It can be near impossible to compete against these players. What makes these shops established in these regions is:

All the website content has been translated into the customers' preferred language.
They accept payments in the payment systems preferred by the customers.
Their websites are indexable by search engines (SEO)
Meeting these requirements will guarantee you some success in an international market, and here's why.
According to a study conducted by Alexika 40% of global customers will not purchase goods presented to them in a foreign language. Additionally, 66% of these customers use online machine translations while purchasing, while 65% prefer content in their languages. This is why having a translation service is important when you want to sell internationally.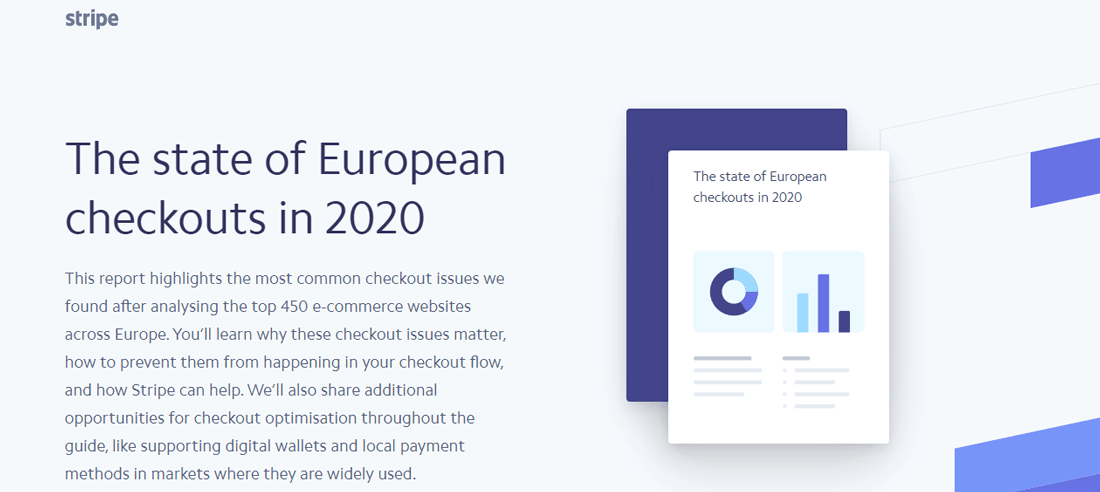 We've already established that you cannot rely on website translations to get the job done. Even when you outsource translation to 3rd party software, there are some important parts of your shop that they are likely to miss out on or make mistakes. There is some content that needs to be translated which is often overlooked by these services. With that in mind, let's have a look at what these are and why it is important to translate them.
In this article we're going to look at which parts of your ecommerce website need to be translated, specifically focusing on the checkout process, and why it is important to translate them. We'll also look at how you can automate translation for the checkout page and how you can edit this page and the products page.
What do you need to translate on your eCommerce website?
One of the most important aspects that dictate your success in an international market is the localization of your website. There are elements of good practice associated with localization, but of importance to us today is the need to translate everything on your website (and I mean everything). There are some parts which bear a lot of importance that are often overlooked that could result in a high bounce rate of customers on your website. This means that, you might be getting a lot of clicks, but only a small portion of those clicks is translated into sales. Hence, the ROI will be low.
Keeping in mind that you may have numerous pages with numerous products to be translated, this process can look hectic. So let's have a look at what you must accurately translate on your ecommerce websites.
The Product Title
This is probably the most important one. The product title is what the customers search for. For this reason, it should be accurately translated, error-free. You also have to make sure that the Breadcrumbs accompanying the title are accurately translated. If you deal with simple products that do not have attributes within the title, it is relatively easy.

This process becomes a little complicated when there are attributes alongside the title.
For example: Women's Waterproof Air Max Multi-colored sneakers
In this case, you need to make sure that the whole title is translated according to the word order of attributes of that language.
Product Descriptions
Product description need to be perfectly translated into the native languages of the customers because they function to advertise your product to your customers. Here you also have to consider SEO. Conduct research on which terms these customers regularly used to search specific products and incorporate them into the descriptions.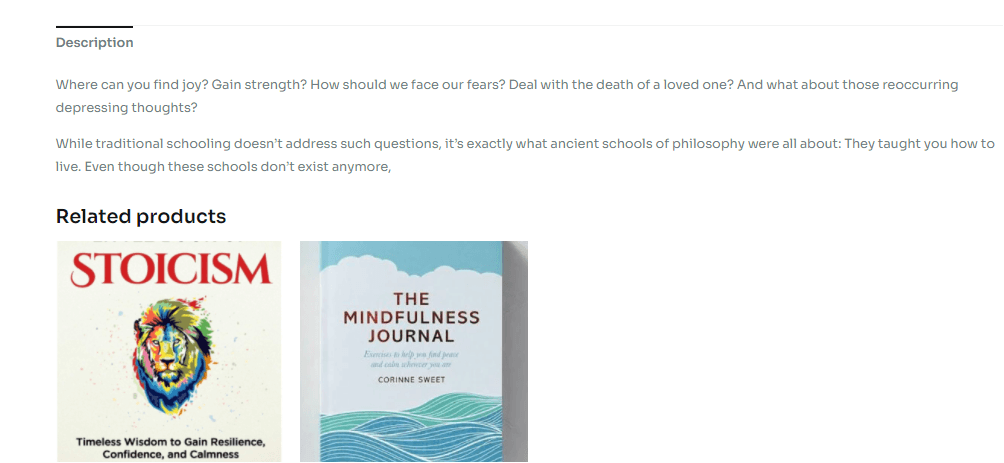 FAQs
When customers encounter problems with your site, they will naturally navigate to the FAQ section for direction. What happens if this section is not translated to their languages? They will obviously leave your site and go to seek alternatives. This is the bounce rate I was talking about earlier.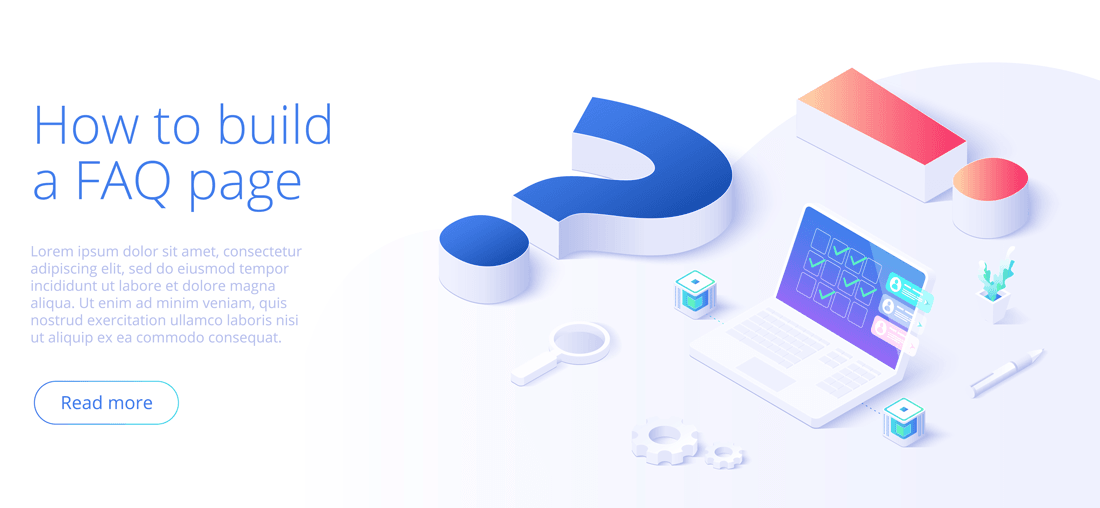 It is important that this part is accurately translated to provide your customers with a seamless experience with your website.
Third-Party Plugins
We can never praise plugins too much for the work they do for our website. Third-party plugins for optimized (or customized) search bars, sticky headers, page builders, products reviews, etc. are common for ecommerce websites. It can be really scruffy if any of these plugins, say the product reviews plugin, is still in the original language while the rest of the website isn't. So you need to pay attention to this too.
Metadata
Although the customer never gets to interact with your store's metadata, you as the owner must not overlook it. Metadata plays a critical role in SEO, hence how your customers will find you.
The Checkout Process
Now, to our main focus today, the checkout process. Every part of the checkout process needs to be understandable. Why is this part so important?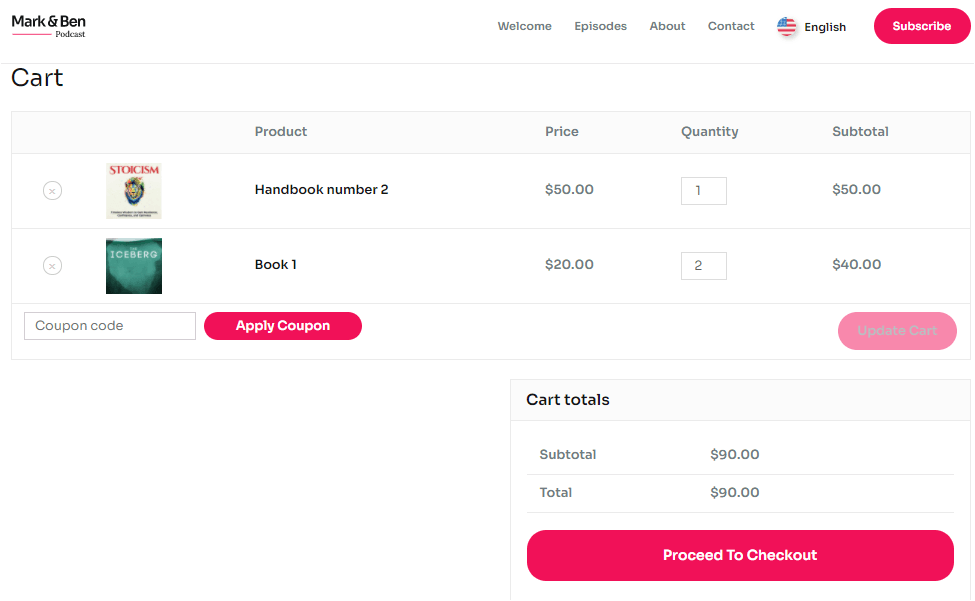 Let's do not forget the multilingual SEO basics
Why is it important to accurately translate the checkout process?
As an ecommerce merchant, the checkout is probably the most important part of your shop to you. This is where you get paid (returns on investment); money changes hands here. If a customer visits your page without going through checkout, that impression is not useful to you at all.
According to Start it up, 70% of carts on ecommerce shops are abandoned in the earlier stages. Half of the remaining 30% are abandoned during checkout. This is a very alarming statistic for an ecommerce merchant venturing in a new international market. Stripe also conducted a similar study across Europe and found that 58% of stores in this region had basic errors in their checkout processes, inaccurate translations was one of these errors. 
I want you to picture this. Say you have a physical store and customers go around picking items and putting them in carts. As soon they get to the cashier, they leave those carts there and leave your store without purchasing anything. This is just how bad not checking out is. Even if we factor in those that are just window shopping, it is still not ideal.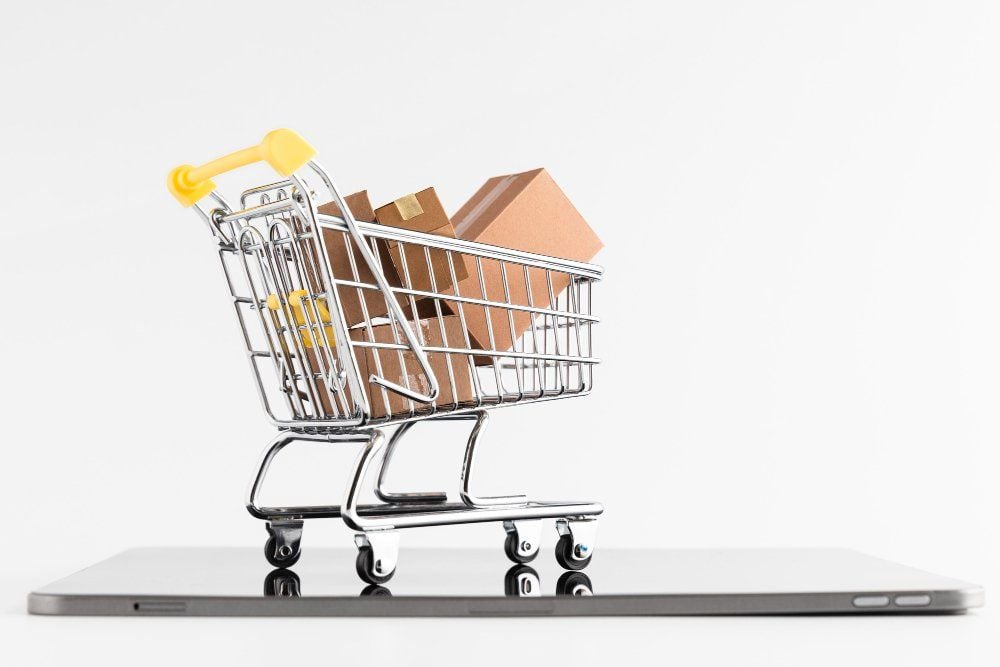 Ecommerce stores today spend a lot of resources in generating traffic into their website without making the website easily usable in the traffic that they are attracting. The end result is that you incur losses, characterized by low to no returns at all. So, it is imperative that you accurately translate every part of the checkout process in the native languages of your customers in the international market.
Linguise offers a solution for this problem by automating translation of your shop's checkout process. How does it do this?
Break Language Barriers
Say goodbye to language barriers and hello to limitless growth! Try our automatic translation service today.
How is translation of checkout process automated in Linguise?
Installing Linguise and setting it up correctly automatically translates all of your website including the checkout page. You can set up Linguise in your WordPress website by following these simple steps.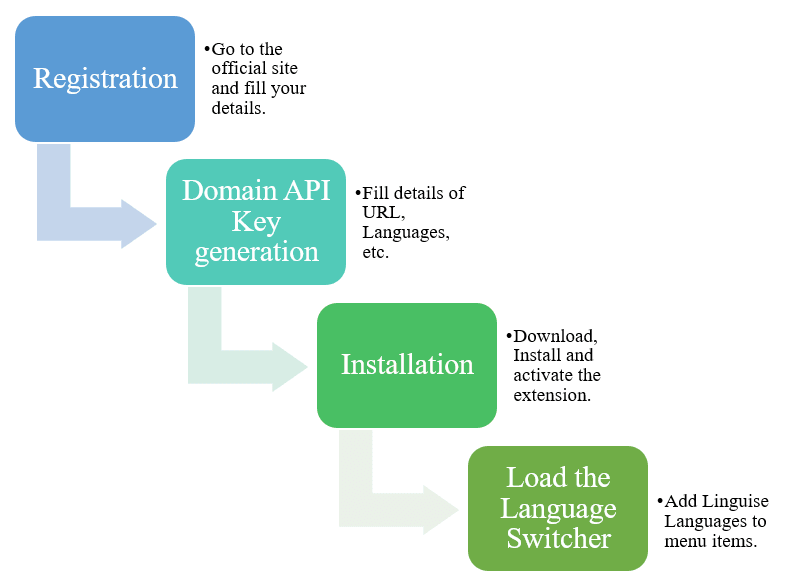 This SaaS, creeps into your website, translating each component. This includes all that we have mentioned above (product titles, descriptions third-party plugins, etc.). It also translates the sections relevant for SEO such as metadata, among others. The parts of your website that the end user will not interact with but affect the way your page is rendered, such as inline HTML elements, are also automatically translated.
The checkout page is no exception. Everything on this page is translated. This includes:
The actual product
Content in buttons, for example, "Add Coupon" and "Place Order".
Billing details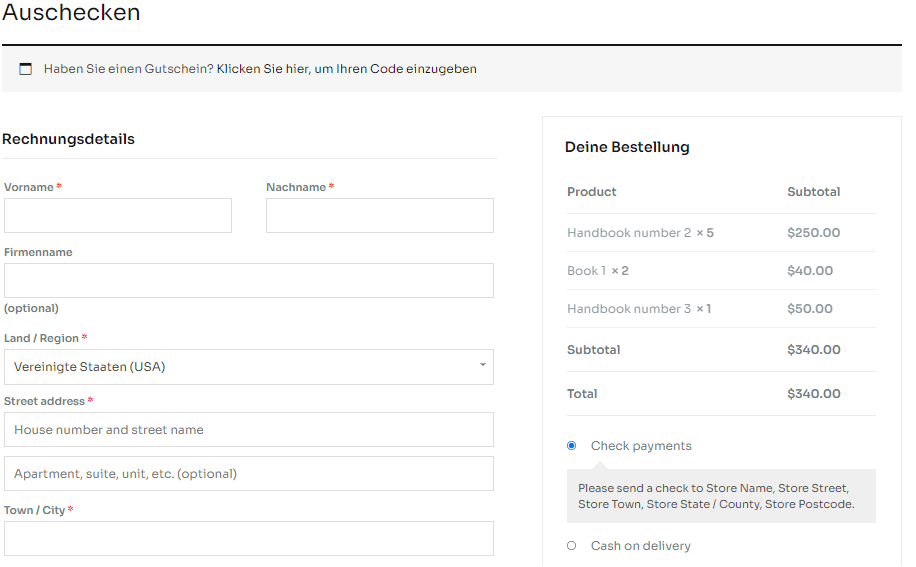 Disclaimer: The currency values will not change to the preferred language region unless you make those settings under your Eshop platform settings
Being a machine translation service, Linguise will not give you a 100% translation accuracy. For the checkout page, there are some parts which tend to retain the original language. Worry not, we've got you covered.
Linguise provides you with an opportunity to edit translations on the front end. For the languages you don't speak, this service allows you to invite experts to edit those translations. That's not all, you can manage their access to these translations by defining their access roles.
Checkout Page Translation Editing
The Live editor is one of the best features of Linguise. Here's how you can use it to ensure the checkout page is accurately translated.
1. On your Linguise account dashboard, click on the Live Editor tab. On the next page click on the Open Live Editor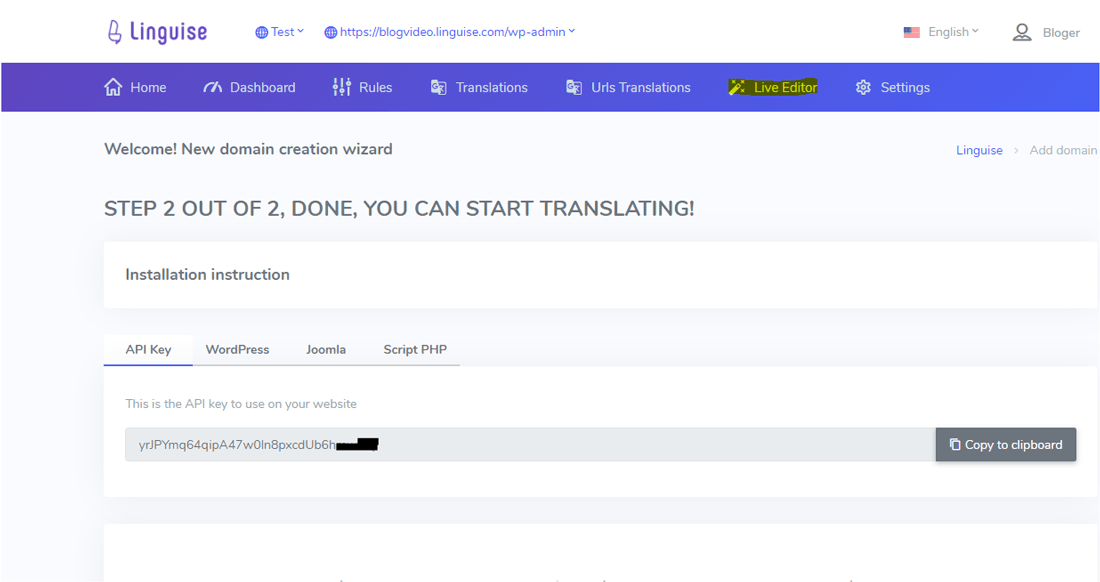 2. Select the language you want to edit to and click Translate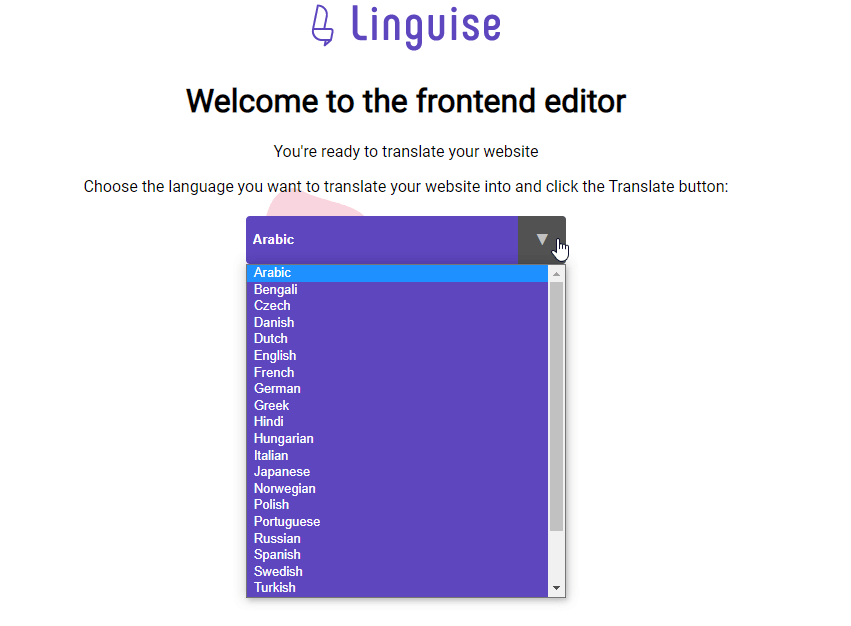 3. Switch on edition mode by clicking on the Navigation/Edition button on the top right corner

Before you switch to edition mode, navigate through the process a customer would follow when purchasing products from your store. This entails selecting a product> adding to the cart> view cart> proceed to checkout.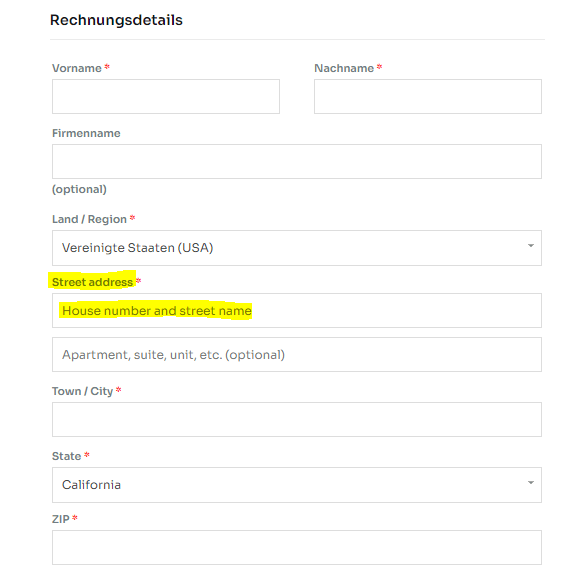 As you can see, part of this checkout page is still in English despite being translated into German. This is why translation editing is also important.
4. Click on the text you want to edit and make your changes on the Translation Save the changes, and you're done.

Ready to explore new markets? Try our automatic translation service for free with our 1-month risk-free trial. No credit card needed!
How do you edit product translations?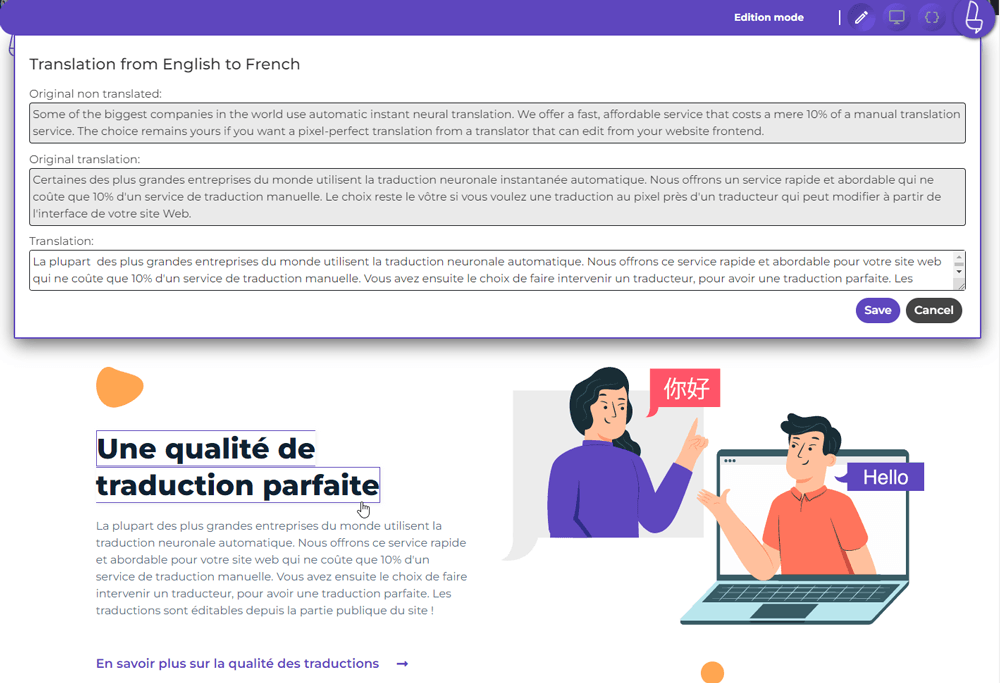 The product page bears a lot of importance from the customer's perspective. Here's where they will see the product's attributes and make the first decision to proceed to buy it. So it is also important to get this page right.
By now you already know how to work the Liver Editor and that is the most important step. You just need to follow the same procedure while maintaining navigation mode. Head over to your shop and select a product.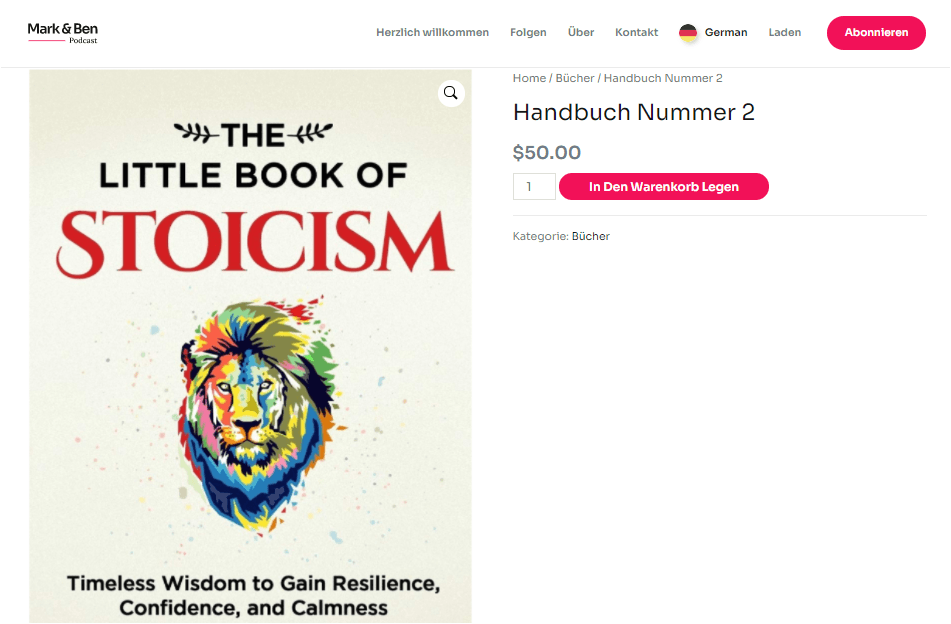 Here's when you switch on the edition mode. Edit the text that has errors, click on save and that's it. For languages, you don't speak, you can invite an expert and walk them through this simple procedure, and they will make the necessary changes for you.
Linguise is a very potent tool to have on your ecommerce CMS (WooCommerce). Its flexibility extends to offering translations in over 80 languages. It has a translation quota for the first 400,000 words. So sign up and start translating.  
Learn how to translate automatically all WooCommerce in video