With the standards of user experience for websites rising higher with time, making a website internationally usable has become a necessity rather than a luxury. Translation is at the heart of this process. Search engine services (such as Google, Bing, etc.) have taken responsibility to offer free basic translations for website content based on geographic locations. However, this basic translation is simply not enough to realize success in an international audience because:
These regions already have established websites who have
Localized their content to fit the preference of this audience

There are a number of parameters that must accompany basic translation to guarantee some level of success. These are:
Search Engine Optimization (SEO),
Content Localization,
Accuracy & Efficiency
Linguise is a neural network translation service well-crafted to ensure effectively target your international audience. It is equipped with features that cater for the above parameters and so much more, giving it advantages over browser translations. What advantages are these?
In this post we're going to discuss the advantages Linguise translation has over basic browser translations.
Translation quality gap
Without a high quality, the ability of international translations to generate a desirable ROI for your services is severely impeded. A good quality translation is important in conveying competence to a new audience. The international audience is likely to more attention to your website, and it will be perceived as reliable. Quality is especially important for online stores, as customers value competence and reliability.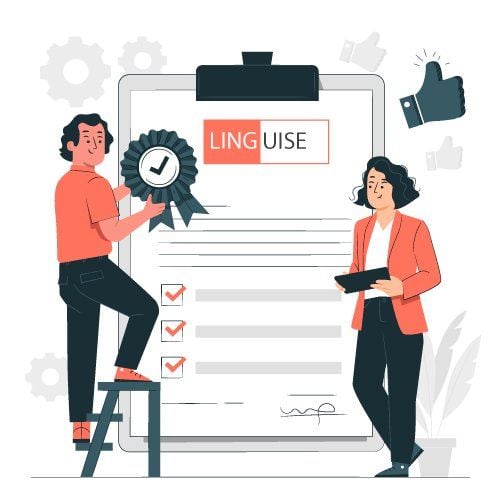 Browser translation services, such as Google Translate, are extremely helpful. They are capable of detecting numerous languages, and suggesting translations basing on your IP address.
However, their translation quality is not up to the standard of guaranteeing your success in an international audience. Linguise translations on the other are of a high quality and the service also offers opportunities to further optimize the translations. How does it do this?  
Break Language Barriers
Say goodbye to language barriers and hello to limitless growth! Try our automatic translation service today.
Linguise is using a neural network for translations
Being a neural network, Linguise incorporates some aspects of AI such as machine learning. After a few demonstrations of the output criteria, Linguise will automatically incorporate this into the basic configuration. You won't have to re-configure the service each time you want a specific output. This is very useful in translation editing. Linguise will include current suggestions, if done repeatedly, into future translations. This can help you manage the cost of translation editing.
When you repeatedly use technical terms, characteristic of a given profession such as law, the service will incorporate these terms subsequently without your intervention.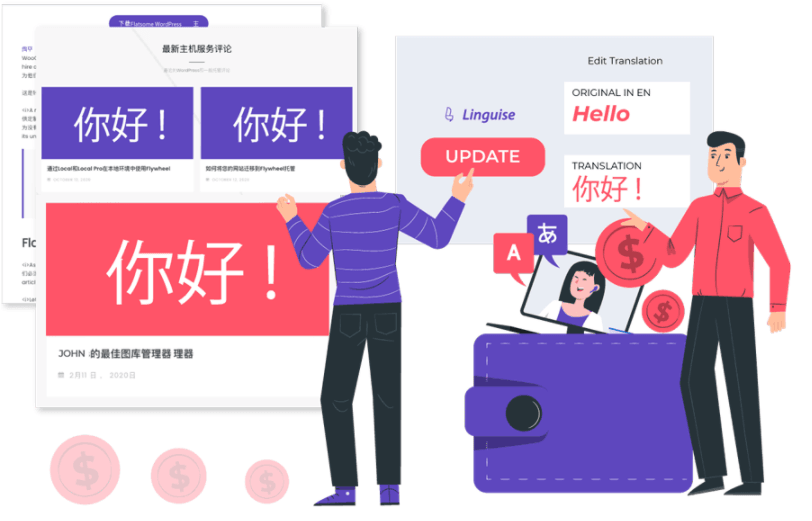 Browser translations services lack this feature, in fact, these services do not permit you to edit the translations. Poor quality translation that potentially take away the context of your content preventing users from fully understanding the translation. I'm quite sure you've come across situations when a translation by Google Translate makes no sense at all. This leads us to the next
Translation of Inline HTML and CSS elements
Automated translations systems including Browser translation services find it difficult to accurately translate inline HTML elements and CSS code because, this code is split into different components which are assembled differently across different languages.
A special system customized for each language to articulate these parts correctly is required. Linguise has this kind of system, a customized system designed to accurately translate HTML inline content alongside any other metadata on your website that are relevant for SEO (such as titles and descriptions – we'll get into SEO later). Linguise has special rules to handle HTML inline content to raise the quality of your translations. All of this is automated as soon as you set up Linguise on WordPress. 

You can optimize the quality of Linguise translations
As a website owner, you always want to be controlling your content, ensuring that the right information has been put out there. Machines are not perfect; therefore, they cannot generate a 100% translation accuracy. Certain sections of your content can be elusive to the machine translator. If these sections are incorrectly presented to the audience, there is a high likelihood of misinterpretation of the message. These could be:
Puns,
Cultural references,
Long sentences with complex structures,
Local slang and so much more
While both Linguise and Browser automated translation can make mistakes on the above, only Linguise provides you with an opportunity to rectify the mistakes it has made. You can edit translations personally or invite experts to do the same at the front-end.
Front-end live translation editing
If you're familiar with the Elementor, the WordPress page builder, then you will really appreciate this feature. Just like Elementor, Linguise' Live Editor allows you to make changes to translations and update the changes live from the front-end of your website in 4 simple steps.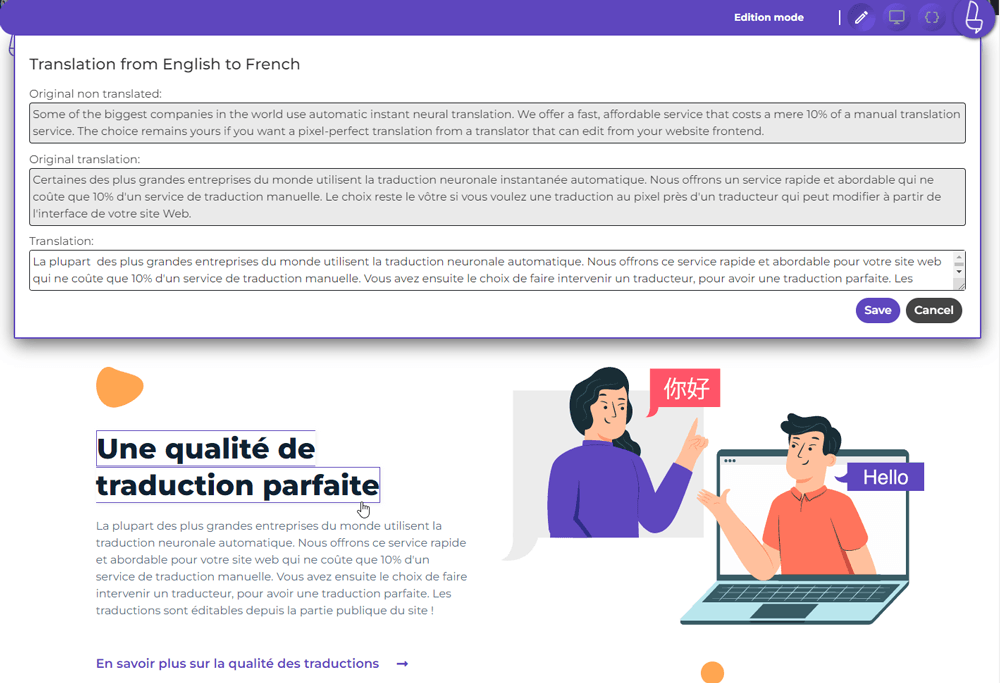 All you have to do is open the live editor, select the text you want to edit, make your changes, and save the changes.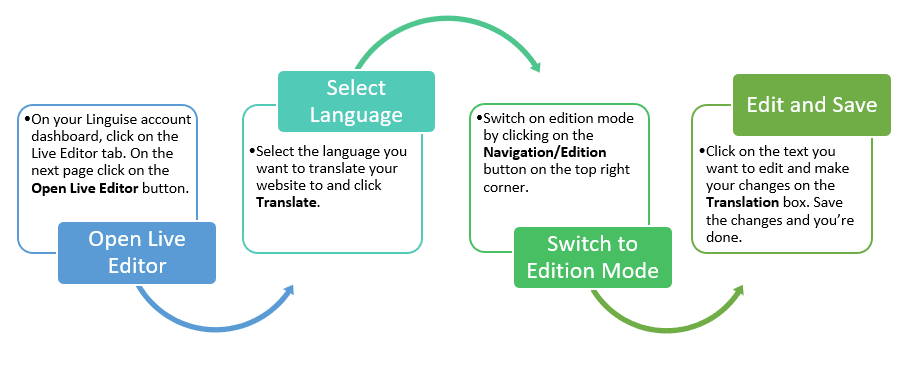 You don't have to go through complicated backend processes. You'll be able to edit the languages you are fluent in to incorporate puns, technical terms, cultural references, etc. What about the languages you don't speak?
You can invite experts to edit your content to improve the accuracy
Needless to say, Linguise will not translate your content with 100% accuracy. It becomes particularly challenging for the languages you don't speak because:
You wouldn't know if the tool made a mistake and
You wouldn't know how to fix it, either.
Linguise offers a handy solution to this by allowing you to invite experts to edit various languages while managing their access to these languages. All you have to do is go to the member's tab on your Linguise dashboard and add the email addresses of those you wish to invite. You are also required to define their access roles alongside the languages they will be handling, for example manager or translator. Managers have access to multiple languages, while translators are limited to a single one.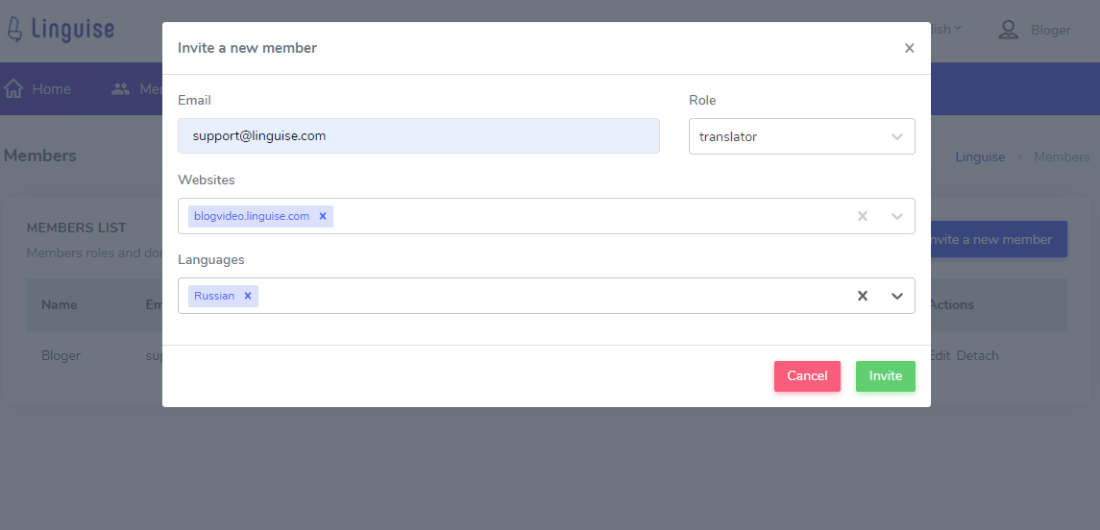 Translation editing plays a critical role in SEO and localizing your services. Your international audience is likely to search in localized languages. Having editors on board is a good way to make your website compatible with these versions of the language. This further enhances the quality of your translations.
With browser automated translations, you have no control over how your content is translated. Suppose translation mistakes happen, there will be no way to correct them. Additionally, there is no way to edit the translations to serve a given region.
Linguise translations are search engine optimized
SEO is one of the most important factors to consider while going international. You need to make sure that your website ranks highly among search engines, so that when your international audience make a search for services that your website offers, they can easily find it.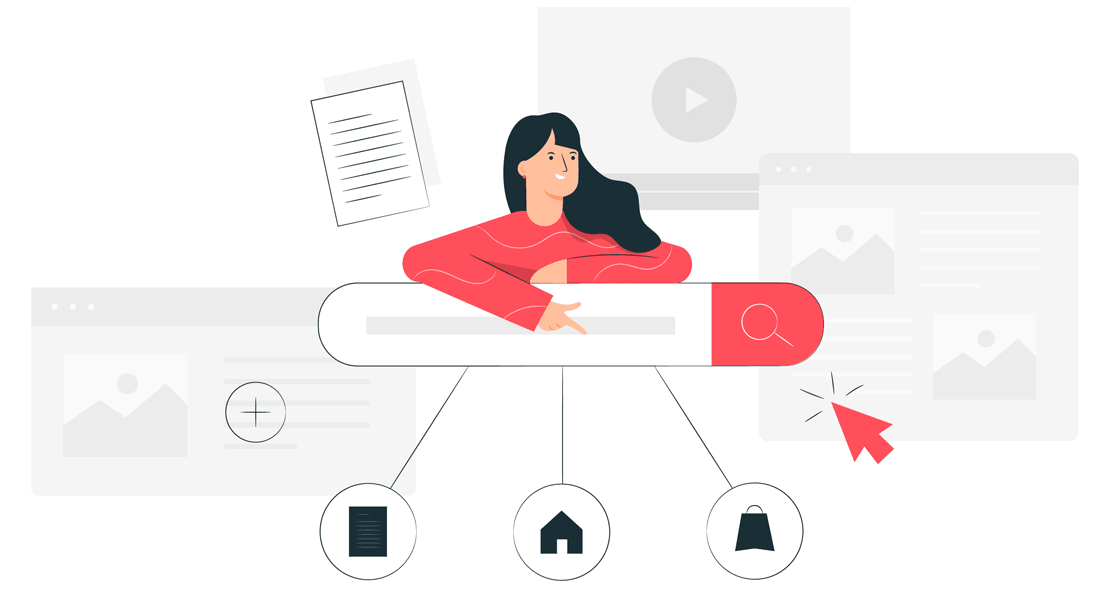 Search engines, such as Google, need to be informed that there are international versions of your website. These search engines use bots to extract this information from components of your website. How do you provide this information? Through implementing Hreflang URLs mainly.
You can translate your XML sitemaps
The Hreflang is one of the most challenging concepts of SEO but when done right it can do wonders for your targeting. It allows you to not only target regions, but also speakers of a given language within that region. For example, English speakers in Canada and French speakers in the same country.
For languages with different versions, such as English, this attribute will also permit you to target specific versions using language codes. For example: English – US and English – UK.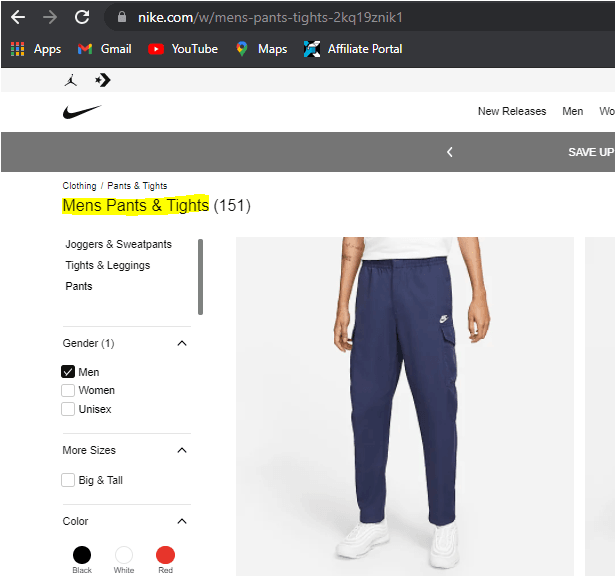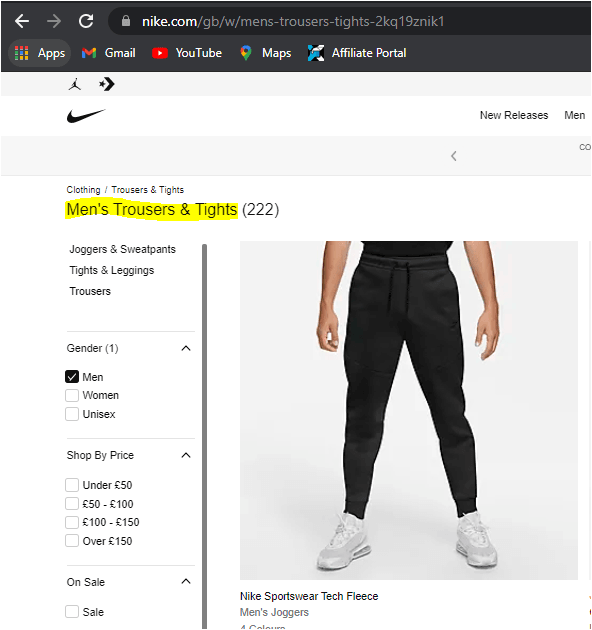 It is a tag attribute that informs search engines of the availability of international pages of your website and the specific language is being used on those pages. Here is a sample of what hreflang looks like.
link rel="alternate" href="http://example.com" hreflang="en-uk"
There are 3 ways to implement hreflang:
HTML head
XML sitemap
HTTP header
Using href lang URLs in the head of your page is arguably the most effective way to implement hreflang; "arguably" because there is still a lot of debate surrounding this. Implementing this attribute manually is extremely complicated, and you may even need third-party software.
You can create a real international page with its own URL
With Linguise, implementing hreflang using XML sitemaps is extremely easy. All you have to do is add a language code ("en-us") to your website's URL and a new complete page in that language will be created. Search engine bots won't detect that page as a translated page, rather as an original page in a different language.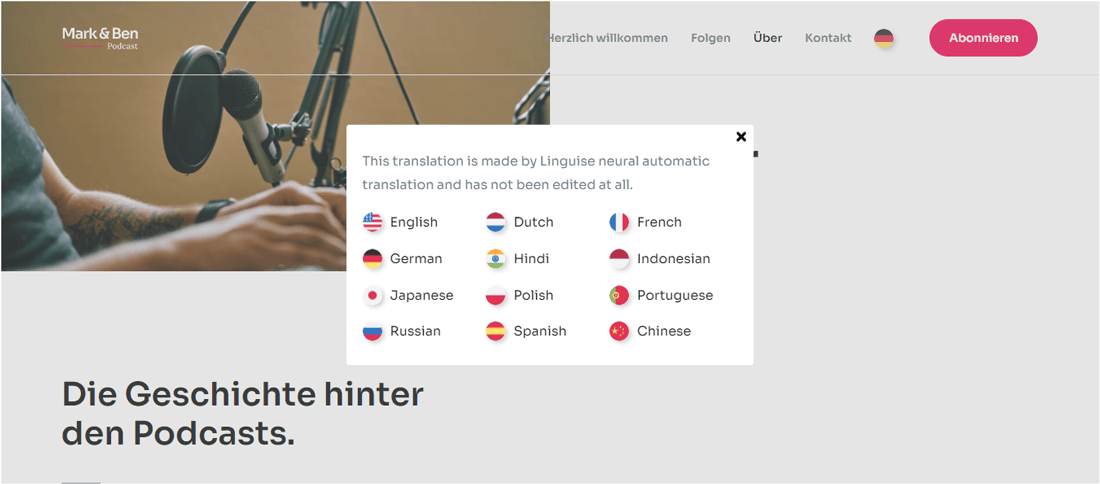 Linguise offers flexibility in design and a better user experience
As a website owner, your identity, which comes from your website's design, is critical. Adding a language selector to the UI has the potential to distort this design. Linguise has a practical solution for this. The language selector has a customizable design and positioning to be synonymous with your website's design.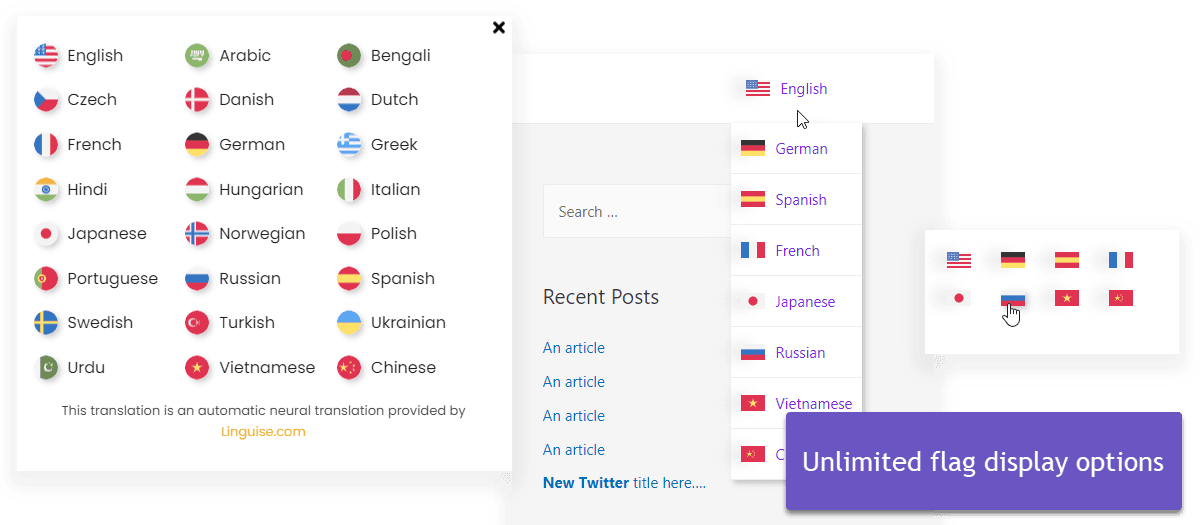 Linguise has a custom CSS field where you can define the design of the language selector using short code. This will help you to maintain your website's identity. There's as well many flag display options to load and customize your language switcher.
Linguise offers a better user experience for both you as the website owner and the end users. As the owner, this service provides you with statistics the pages views per language in a sleek dashboard. It also presents charts of the same. This information can be helpful in deciding your targeting strategy, etc.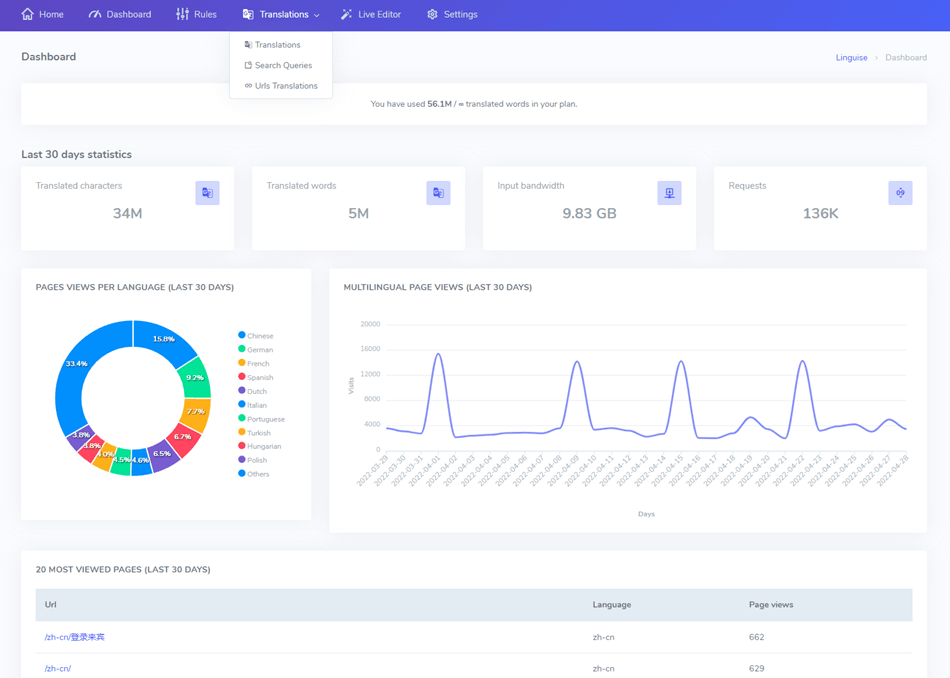 Ready to explore new markets? Try our automatic translation service for free with our 1-month risk-free trial. No credit card needed!
Search engines generally categorize pop ups as bad for user experience. This is the tool utilized by search engines to suggest a language change depending on your IP address. This will affect your website's ranking by SEO. It is also bad for user experience. Linguise on the other hand does not use pop ups, just a language switcher button for which the customer can use when they're interested. 
Linguise is a highly flexible and potent solution capable of supporting translations in over 80 languages. It grants you total control over how you want your content to be translated. It also offers opportunities to improve the translations to hit the 100% accuracy mark. Furthermore, it allows you to present translated pages as original with their own URLs. The service offers a 400,000-word free translation for new sign users. So, sign up and automate the translation of your website's content.