The need for an e-commerce platform that supports translation and locality is very important, as this will help business growth and product sales.
Reported in a Harvard Business Review article, 42% said they never buy products and services in another language and 72.4% of consumers said they tend to buy products that provide information in their native language.
Therefore, it is important for those of you who have eCommerce on OpenCart to translate it into various languages. In this article, we will explore the best translation modules for OpenCart.
What makes a great module for OpenCart?
The following are several factors that make an OpenCart module good and suitable for making a multilingual website.
Accurate translation quality: An outstanding module should excel in delivering accurate and high-quality translations. By utilizing advanced translation technology, the module can ensure that translations reflect the intended meaning precisely and naturally. High-quality translation results enhance the professionalism and credibility of the website, providing a better user experience, especially when dealing with complex or industry-specific content.
SEO-Friendly features: The module should support SEO best practices, enabling users to easily optimize product pages, URLs, and metadata. This ensures increased visibility on search engines and attracts organic traffic.
Easy translation editor: The presence of an easy-to-use translation editor is an added value. A good module should provide a translation editor with an intuitive interface, allowing users to edit and adjust translated text easily. This feature gives users greater control over translated content, enhancing the ability to convey messages with accuracy and desired style.
Automatic functionality: Automation is key to efficiency. A good module should automate processes as much as possible, reducing manual efforts and simplifying tasks such as translation, updates, or inventory management.
User-friendly interface: User-friendliness involves an easy installation and configuration process. The module should have an intuitive interface, clear instructions, and a minimal learning curve, making it accessible to users with varying levels of technical expertise.
Multilingual support: Supporting various languages is crucial for reaching a global audience. The module should handle translations for multiple languages seamlessly, allowing businesses to reach customers from diverse linguistic backgrounds.
Compatibility with themes and extensions: A good module should integrate well with various OpenCart themes and extensions. This ensures that users can enhance their online store with additional features without worrying about compatibility issues.
Installation support: An outstanding module should also come with robust installation support. This support includes clear and understandable installation guides, as well as resources to help users overcome potential obstacles during the installation of the module. With good installation support, users can ensure a smooth and efficient installation of the module on their OpenCart platform.
Considering these points will help businesses choose modules for OpenCart that not only meet their current needs, but also contribute to the long-term success and growth of their online presence. Let's immediately discuss several OpenCart translation modules.
Explore translation and localization module for OpenCart
After understanding what benefits you will get, this time we will discuss several OpenCart modules that you can use to translate, here are some of them.
OpenCart default localization
The first module is the default module that you will definitely get when using OpenCart. This module is free and allows users to add various languages ​​by importing, you can first get these languages ​​from Crowdin.
Key features
Import language pack
Language editor
SEO URL
Muliticurrency
Manually add unlimited languages
Disadvantages of OpenCart default localization
Add languages ​​manually: to add new languages, you have to import the files you get from Crowdin yourself. After that, you have to adjust it by entering the language name, code, status whether active or not. Adding languages ​​manually has a high risk of errors, so this is not recommended.
Can only add regular users, not translators: OpenCart allows users to add members or users, but as admin users as usual. They do not have the feature of adding translators and their special access rights. In fact, adding a translator to the OpenCart dashboard can help users measure translation results, making them more accurate.
No translation feature exception: absence of translation feature in OpenCart default module. The feature of sending translations can help users who want to load content such as brand names or technical terms. This feature should be in a module because it can make it easier for users to read content in different languages.
Manually SEO URL: OpenCart supports SEO URL but again it has to be done manually, meaning you have to enter the URL translation manually into the dashboard. This can also increase the risk of human error and have fatal consequences for the website URL.
Quite complicated language editor: the language editor in OpenCart, although functional, is considered quite complicated. Users may find the process of editing and managing language-related elements more complex than expected, which may require additional time and effort to navigate effectively.
OpenCart Google Translate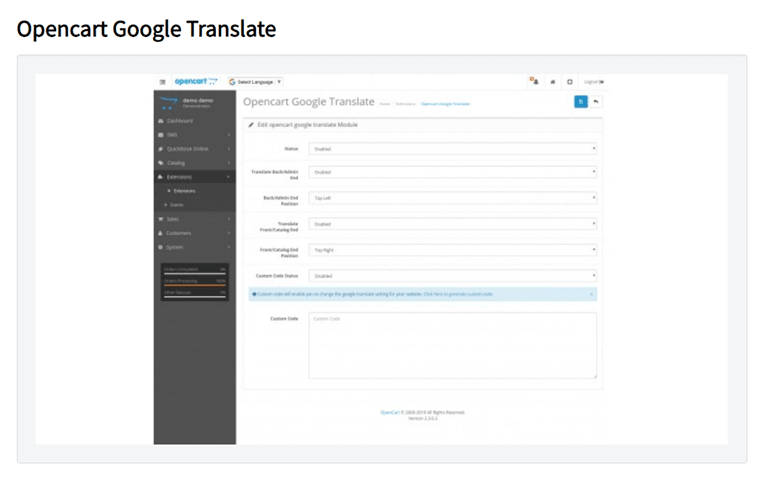 OpenCart Google Translate is also a free module that allows casting your website into multiple languages, giving administrators and customers the ability to view the site in their preferred language. Users can choose a language from dozens of available languages. This module also comes with various features which are explained below.
Key features
Translate your website into various available languages.
The use of translation is available for both admins and customers.
Admin has full control to enable or disable modules at any time.
Admins can manage the use of Google Translate separately for both parties.
Translator placement can be adjusted by the admin.
Display sites with custom layouts using custom code.
Set the default language for websites.
Select the language for the translator desired by the admin.
Set the display mode to vertical, horizontal, or drop down.
Disadvantages of OpenCart Google Translate
No language flags: although it offers many languages, this module does not provide language tags for every language displayed. In fact, having a flag for each language can make it easier for users when they want to switch to another language, because sometimes the visual appearance and colors are more striking than just the language name text alone.
There is no direct translation editor: this module based on Google Translate does not provide an editor for translation results. This editor is usually used by users if the translation results are less accurate or the phrases are less natural. Therefore, it is important to choose a module that has a live editor feature, so that you don't just rely on machine translation results.
Cannot load translation: OpenCart Google Translate also does not allow users to accommodate their translated content, even though usually users want to load content such as brand names or special terms so that they are not translated and left in the original.
Cannot add translators to the dashboard: just like the previous module, this module also cannot add translators. Although he can only add as a normal user and does not have special access rights as a translator, for example access to the live editor. Even though a translator can convert the translation to make it more accurate.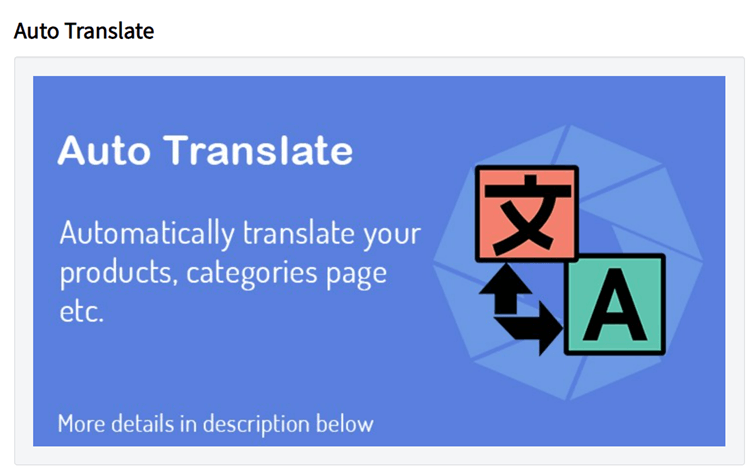 Auto Translate is a paid translation module that utilizes Microsoft's translation API. Even though it is paid, this module provides support for 1 year to help you translate OpenCart. Before using it, you need to register an account first with Microsoft. Immediately, here are some of the Auto Translate features.
Key features
Automatically mass translate your product
Integrates with API Microsoft Translation
Adds quick translate button 
Translate your website over 40 languages
Machine translation and preserves your styles and formatting
Disadvantages of Auto Translate
Manually translate content in the dashboard: even though they say that automatically translated is not actually 100% automatic, the user still has to do it manually in the dashboard, namely selecting the Translate button for each element to be translated, only after that the module will process the translation. For an eCommerce that has a lot of content elements, of course this will be quite troublesome, especially if you add quite a lot of target languages.
No translation exceptions: OpenCart's Auto Translate module does not provide the feature of sending translations. In fact, users need this feature so they can get lucky based on content, URL, line, or something else. So that forced content will not be translated and will be left original.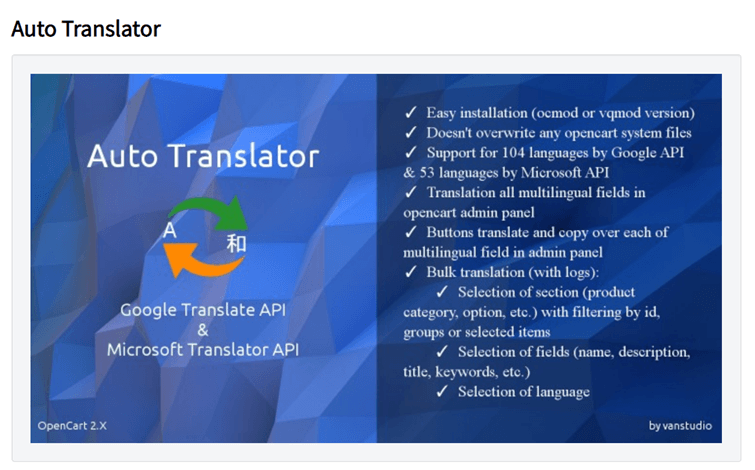 The Auto Translator module enables translation of all multilingual fields in the OpenCart admin panel by default. Administrators have the flexibility to translate various fields such as name, description, title, meta title, keywords, etc., either one by one on the edit page or using the convenient automatic translation mode in the module settings for bulk translation.
To translate all of that, you have to pay for every million characters you translate.
Key features
Support for 104 languages ​​by Google API & 53 languages ​​by Microsoft API
Translate all multilingual fields in opencart admin panel
Translate and copy buttons for individual multilingual fields in the admin panel
Translate by section (product category, options, etc.) with filtering by id, group or selected item
Translate based on field selection (name, description, title, keywords, etc.)
Translate based on language selection
Easy installation
Does not overwrite any OpenCart system files
Disadvantages of Auto Translator
Character-based content translation limitations: content sent to the Google Translate API is provided in the form of text strings, with cost and usage depending on the number of characters. All characters sent including whitespace, count towards this character limit. The more content you create per day, the more characters you use, this will of course require quite a large amount of money. Apart from that, the character limit per month is around 20 million characters.
Click manually to translate to another language: manually here means that before the translation results appear on the front page of the OpenCart website, you have to manually select the Translate button on the dashboard for each word or sentence for each language. This is certainly different from most automatic translations where you only need to select the target language on the front page.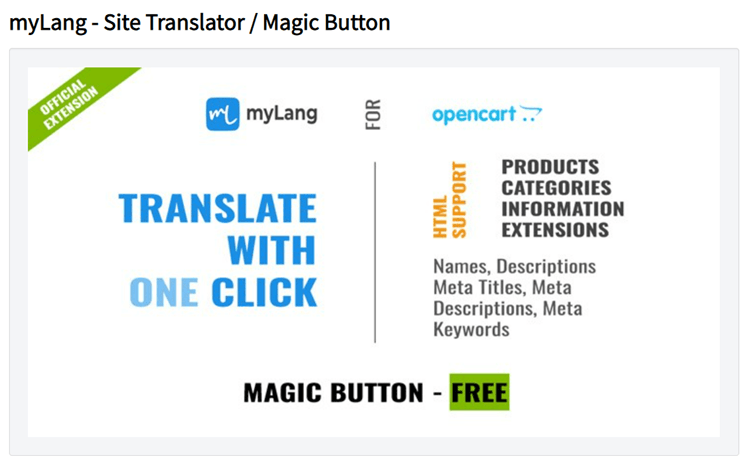 The last module we will discuss is myLang – Site Translator, you have the ability to translate your site into 90 languages. Select the products, categories, or extensions you want to translate individually into multiple languages, or use the automatic option to translate new entries, even for the entire site simultaneously.
Key features
Translate your site automatically
Generate your URL
Use your own Glossary
Translate a single page or an entire site
Disadvantages of myLang – Site Translator
Manual URL translation: myLang allows users to translate website URLs, but you have to check the language tabs on the dashboard one by one to ensure whether the URL has been translated into that language or not, after that you can check it via the front page of the OpenCart site.
Manual method for translating to another language: just like URLs, content on OpenCart is the same, first you need to create content in the default language, for example English, then click on each other language tab so that the previous content is also translated into the destination language. This is certainly quite troublesome because you have to check one by one. It's different if you use other automatic translation services which require you to only create original content and then the system will translate it automatically.
These are some of the OpenCart translation modules that you can use, actually there are many other modules that you can explore yourself on the official OpenCart website. However, many of the modules above still do not have complete support features.
Therefore we have a service solution that includes all the features and is of course easy to use and has a free trial. What do you think this service is? Let's look at the explanation below.
Break Language Barriers
Say goodbye to language barriers and hello to limitless growth! Try our automatic translation service today.
Discover why Linguise is the best translation module for OpenCart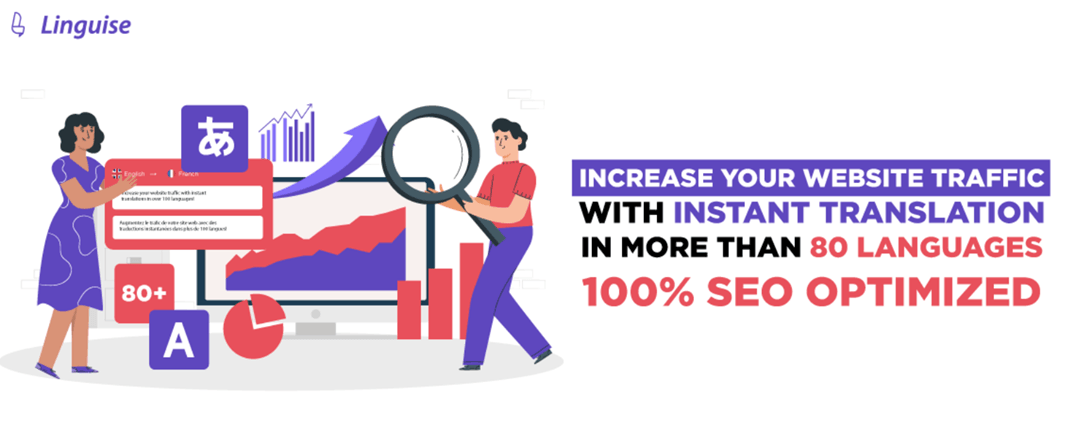 Linguise automatic translation is an alternative option among the modules above. Linguise is an automatic translation service that integrates with more than 40 CMS, as well as OpenCart translation modules.
With neural translation technology and assistance from the AI ​​Translation cloud, Linguise is able to produce translation quality that is perfect, natural, and similar to translations from professional translators.
However, to improve translation results, we also provide superior features such as a live editor on the frontend or continue translation for those of you who don't want to translate some content.
So why is Linguise the best OpenCart translation module? Of course, because this service has all the features needed, including the following.
Linguise provides a language flag feature that will be displayed next to the destination language. So that what appears in the language switcher is not only the name of the language but also the flag.
This can certainly make it easier for users when switching languages, because the language flag is more prominent than if it were just text. You can find this setting on the Linguise OpenCart dashboard, select Settings > Language flags display. You can set the position and choose whether to use the short name or the full language name.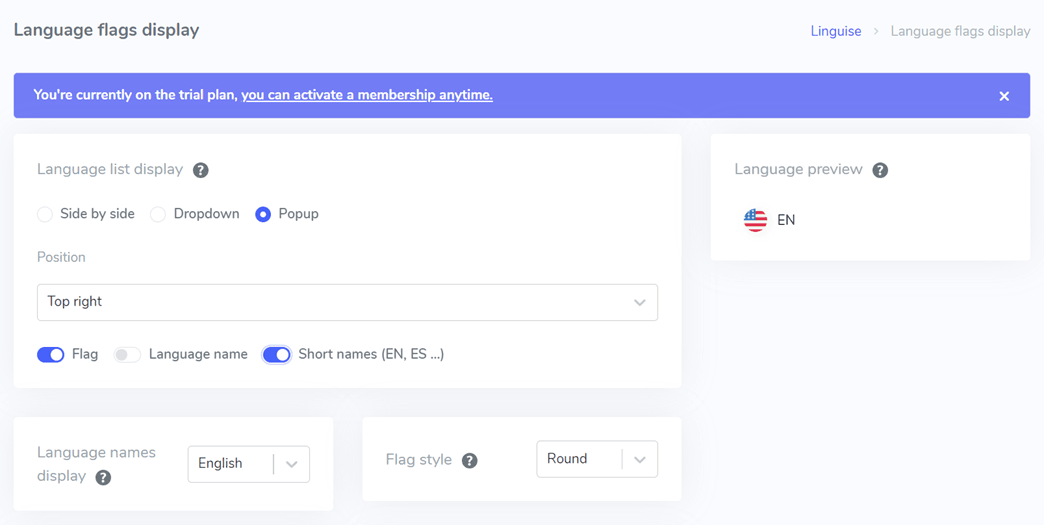 Even though the module above also provides a front end live editor feature, there are differences that may lie in the appearance aspect. Linguise offers an inspiring interface, creating comfort for users, even those who are beginners.
As seen in the widget below, there are two main sections: the original text and the translation, which can be adjusted directly to the translation results. Users only need to select the part they want to translate. The translation process can be accessed via the Linguise dashboard by selecting the language first.
Various types of global translation exlusion
In addition, we have translation rules. Linguise provides several rules that can be applied:
Text ignore: ignores text from being translated
Text replace: replace text
Content exclusion: contains certain content from being translated
Exclusion based on URL: loads translations based on URL
Ignore inline: Loads content so that it is not translated by line
So, if there's content that needs to happen from the translation process, you can configure it as needed, whether it's for text only, text replacement, requiring one full piece of content, based on a URL, or a specific inline.
Below is what it looks like when you create a translation rule in Linguise.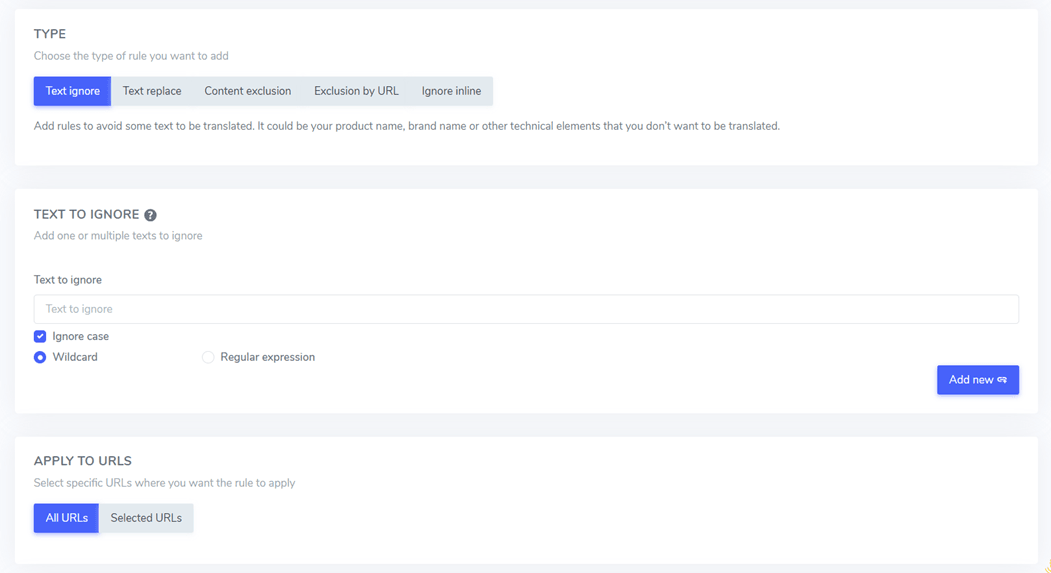 Possibility to add translator on dashboard website
Linguise provides the option for users to add or setup professional translators into their Linguise dashboard. Users can manage access rights, languages, and even the websites they want to help translate.
Users can add any number of translators they want via the Linguise dashboard. Apart from that, there is no limit to the number of translators you can add.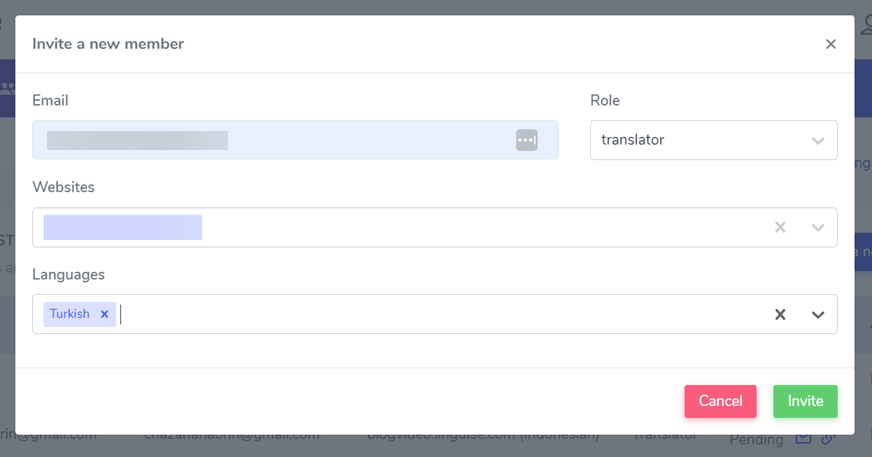 Automatically URL translation
Next is URL Translation, after you install Linguise on an OpenCart website, all URLs on the site will be automatically translated into various languages, complete with hreflang code. This is because SEO URL translation is one of the important elements of multilingual SEO, showing its importance for website performance.
If there is a URL translation that is not suitable, you can also edit it via the dashboard in the URL translation menu.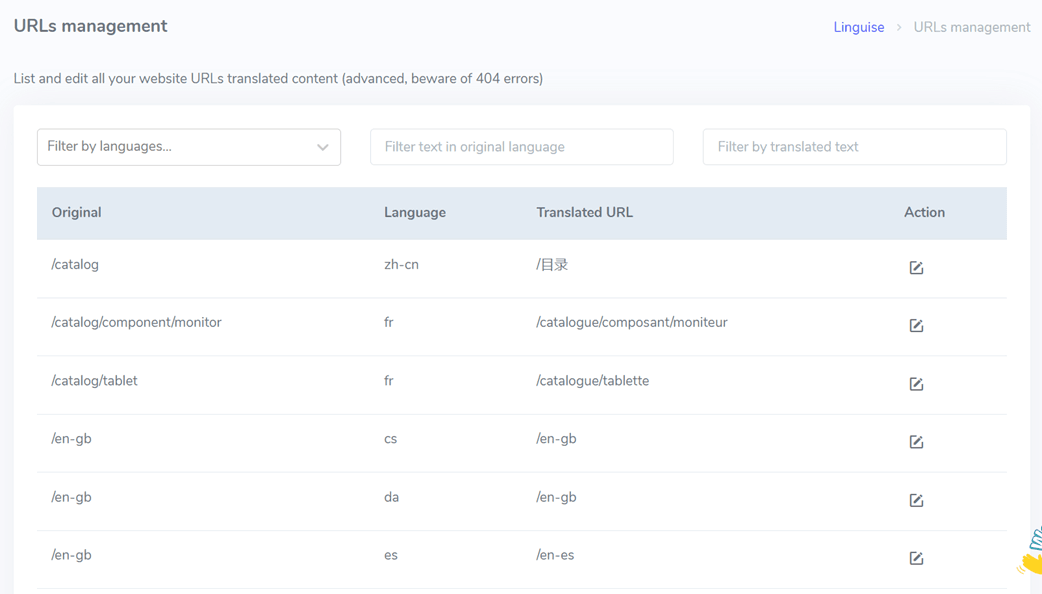 Unlimited number of languages
Linguise provides more than 80 languages, when using the free or paid trial version of Linguise, you can add as many languages ​​as you want and need.
There are no language restrictions on the OpenCart website, so you don't need to worry. Apart from that, translations in Linguise are not calculated per character like one of the modules above, but are calculated per word.
Easy to add new languages
Still continuing the previous explanation, to add a language in Linguise you only need to select the language via the dashboard. You don't need to import a language pack first or configure the language name and hreflang code, because all of that will be done automatically in the backend by the system.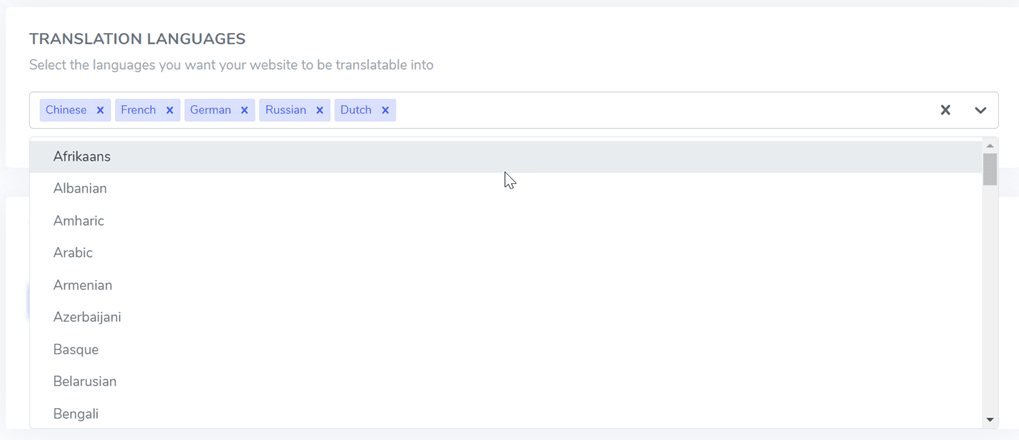 Ready to explore new markets? Try our automatic translation service for free with our 1-month risk-free trial. No credit card needed!
Translate your OpenCart using Linguise with 1 month free trial!