For you website owners, it is important to make your site multilingual because in today's digital era, serving a global audience has become important for businesses that aim to expand their reach. Multilingual SEO is one of the best tools to achieve this.
Multilingual SEO practices allow expanding your international audience reach and driving increased sales for your business.
In this guide, we will provide some multilingual SEO tips to increase your visibility.
What's multilingual SEO, and when should you use it?
Multilingual SEO is optimizing your website for different languages so people can easily find them in new markets through organic search. The SEO experts describe the act of optimizing the sites in native languages in countries other than your own as multilingual SEO. Since English is the third most widely spoken language worldwide, it pays to reach the significantly higher English market. However, even if your target audience is in the United States, you'll see that not all visitors to your website are native English speakers.
That's when utilizing multilingual SEO helps interact with an enormous number of customers worldwide. Google Translate can be tempting in the above scenario if you wish to find the easy way out – as these platforms are already integrated with language translation solutions. But, if you want a superior and seamless performance of translated content and SEO, go for a hybrid multilingual SEO strategy instead (high quality automatic translation + human revision).
What is multilingual SEO?
Multilingual SEO refers to the practice of optimizing website content to serve multiple languages, allowing users to find a website in their preferred language through organic search results.
This strategy includes implementing various techniques to ensure the website ranks well in search engine results searched across languages ​​and regions.
Multilingual SEO aims to increase the visibility of a website in a variety of language-specific search queries, ultimately expanding its reach to a global audience.
Well, there are several elements of quick start multilingual SEO that need to be implemented on a website. Therefore, keep reading this article until the end, but before that we will discuss why multilingual SEO can increase your SEO visibility?
Why multilingual SEO can boost your SEO visibility?
Multilingual SEO can increase your SEO visibility for several reasons.
Wider audience reach: By serving users in multiple language regions, you can expand your potential audience base and reach new, previously inaccessible markets.
Increased organic traffic: Optimizing your website for multiple languages ​​can improve search engine rankings across language-specific searches, thereby increasing organic traffic.
Competitive advantage in global markets: Implementing a multilingual SEO strategy helps you stay ahead of competitors in international markets, allowing you to strengthen your foothold in various regions.
Increased conversions: By providing content tailored to users' language preferences, you can increase the likelihood of conversion among international audiences, leading to increased sales and conversions in different markets.
Improved user experience: Providing content in users' native language improves their overall experience, encourages longer site visits, reduces rejection rates, and improves engagement metrics.
Build trust and credibility: Providing multilingual content shows your commitment to hosting diverse audiences, leading to greater trust and credibility among international users.
Break Language Barriers
Say goodbye to language barriers and hello to limitless growth! Try our automatic translation service today.
12 tips to improve your multilingual SEO
For those of you who have just built a multilingual website and are just starting out with multilingual SEO, we have more than 12 tips that you can apply to your website.
1. Translated URLs (slugs)
The first tip is to translate the site URL to all existing pages. Translated URLs play an important role in improving multilingual SEO.
For example, if you intend to translate the 'about' page with the original URL 'blogvideo.linguise.com/contact/', then want to translate the page into French, then 'contact', here will be translated as 'blogvideo.linguise.com/contacto/'.
If you use a website translation service or multilingual plugin, translating URL slugs like this will usually be done automatically, this will certainly save you one less work.
You can also translate URLs or edit existing URLs in one of Linguise's features, namely URL Translation. You can choose by filtering by language, original language, or translated text.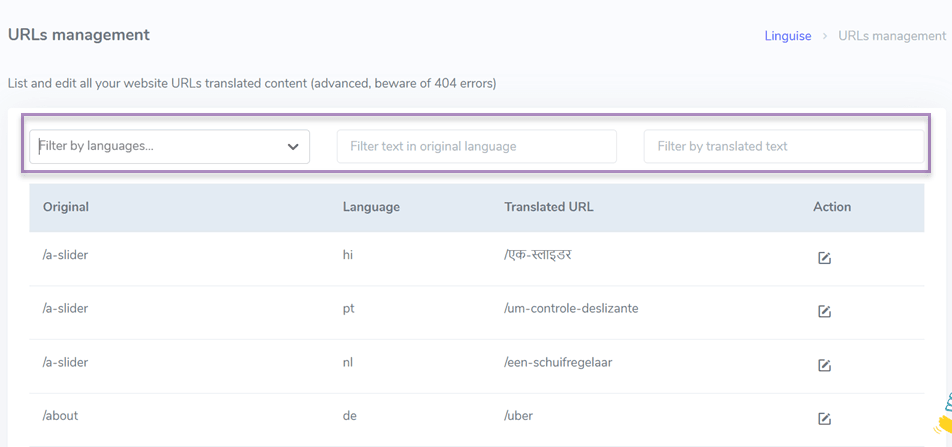 After that, you can enter the translation results in the URL Translation column then click Save.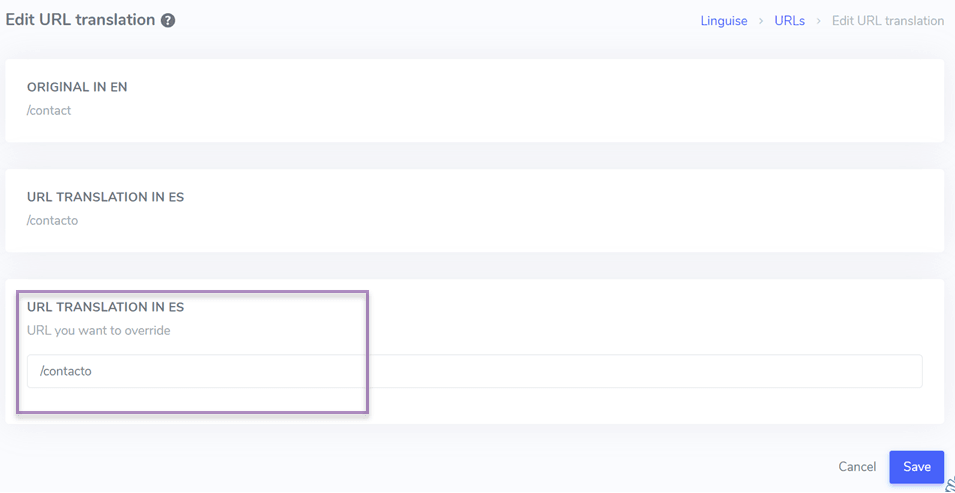 2. Decide your URL structure
In the context of a website that has multiple languages, it is necessary to use URLs adapted for each language version and country.
This is useful for Google in indexing your site correctly, namely by storing it in a database that covers various web pages. So it can display appropriate results to users who search in a particular language.
There are several options when choosing a URL structure, each option has its own advantages and disadvantages.
Separate domains: examples of separate domains are www.amazon.es or www.amazon.fr. Maybe you are also familiar with top level domains according to their country. So that when they access your site, they feel like they are on a platform that suits their location.
Subfolders: Using subfolders is also a commonly chosen option for websites that support multiple languages. Examples include: https://blogvideo.linguise.com/fr or https://blogvideo.linguise.com/id. Subdomains: Subdomains are another option worth considering. for example, es.example.com or fr.example.com. However, the disadvantage of using subdomains is that they are complicated to set up and technically difficult to maintain.
URL parameters: The third option is URL parameters, but Google does not allow this use in the context of multilingual SEO. For example www.example.com?loc=es. It is recommended to avoid using this kind of option as it tends to confuse search engines. This can make it difficult for search engines to understand and display the correct language version to users.
For example, in the URL structure used on this website, when the page has not been translated or defaults to English, the URL will appear like this.

After being translated into one of the languages, for example into Spanish, the structure will change, namely there is an additional 'es' behind 'linguise.com', which is the language code for Spanish.
Additionally, the URL slug will also be translated into Spanish and this example uses a subfolder URL structure type.

After translating your website content and performing on-page optimization, the next step is to implement hreflang attributes on your multilingual website.
HReflang is an HTML attribute that is used to tell search engines about the location and geographic targeting of a web page.
In simple words, use of hreflang helps Google to serve the appropriate language version of your page in search results.
An example of a hreflang tag is as follows
Be sure to use the appropriate ISO 639-1 language codes for any pages that have been translated into multiple languages. Remember to apply it consistently throughout the translation page.
4. Use keyword in URL slugs
Not only translating URL slugs, you also need to provide keywords in the URL slugs. Incorporating relevant keywords into the URL slug helps increase the visibility of your web page in search results. Utilizing local keywords in the URL slug helps attract the attention of the target audience and increases the chances of ranking higher in search engines.
Below is an example of inserting keywords in URL slugs where the keyword is a multilingual Squarespace website. This way, the content or article can be more easily crawled by Google.

5. Translate your metadata
Metadata is an important part that will help you rank better for the new countries you target.
Translating metadata word by word will certainly take a lot of time, therefore some translation plugins will often automatically translate the metadata for each of your content or articles.
Apart from that, you can also manually edit content that has not been published, here is an example if you use Elementor editor. Make sure the meta description is a maximum of 160 characters.
Make sure you insert the targeted keyword, in this case for example the keyword translating the Shopify XML sitemap.

The image above is just an example, the rest you need to adapt it to your target language.
6. Submit multilingual sitemap
XML sitemaps are a recommended SEO practice to help Google find your entire site's content. Creating a sitemap for one language is a fairly easy basic step, especially with the help of an SEO plugin that can automatically create one for you.
You just need to generate and submit a multilingual sitemap in Google Search Console and add language tags in the URLs, like the following image, and you're done!
Below is an example of a mutlilingual sitemap from Shopify that was successfully submitted to Search Console. This appearance will be the same when you use another CMS such as WordPress, Joomla, or others.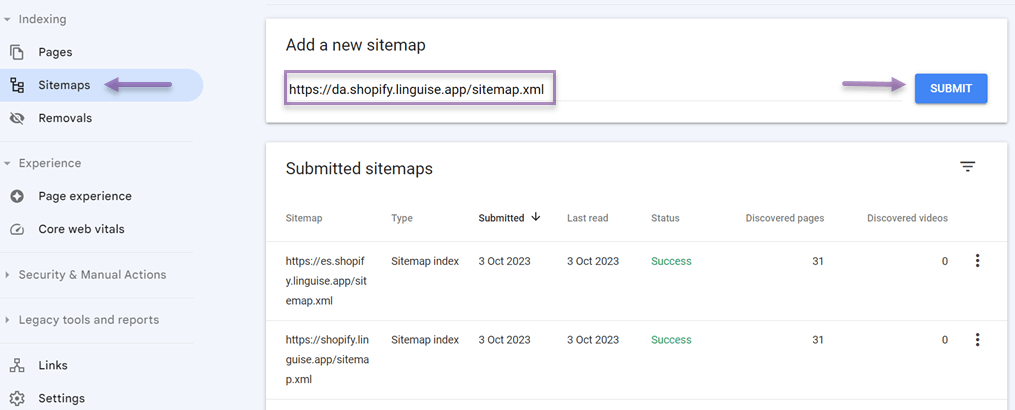 Canonical URL is the main version of a web page that is used to avoid duplicate content on the internet. In the context of SEO, canonical URLs direct search engines to recognize supposedly original versions of similar content. This helps prevent potential penalties from search engines for duplicate content.
Suppose you have a product page that is available in several variants, for example:
yourwebsite.com/product/123
yourwebsite.com/product/en/123
yourwebsite.com/product/id/123
In this case, you can set yourwebsite.com/product/123 as the canonical URL to direct search engines to the main version of the product page, thereby preventing duplicate content and consolidating SEO credit to the main version of the product page.
To check whether your site uses canonical or not, you can see it by selecting right click then Inspect Element on the web page you want to check. After that, in the Head section, look for the canonical link as follows.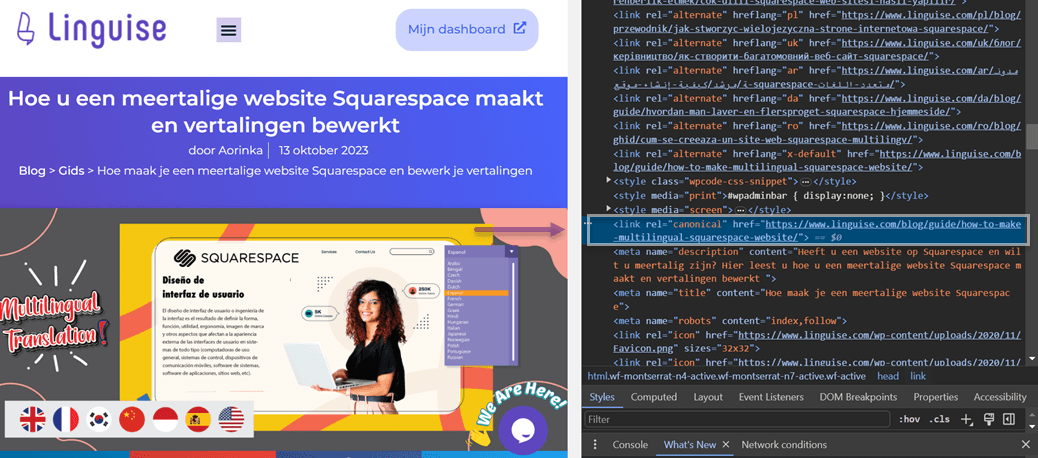 Apart from this method, if you use the Yoast SEO plugin on WordPress, you can add a canonical URL every time you upload content, namely click as shown in the following image.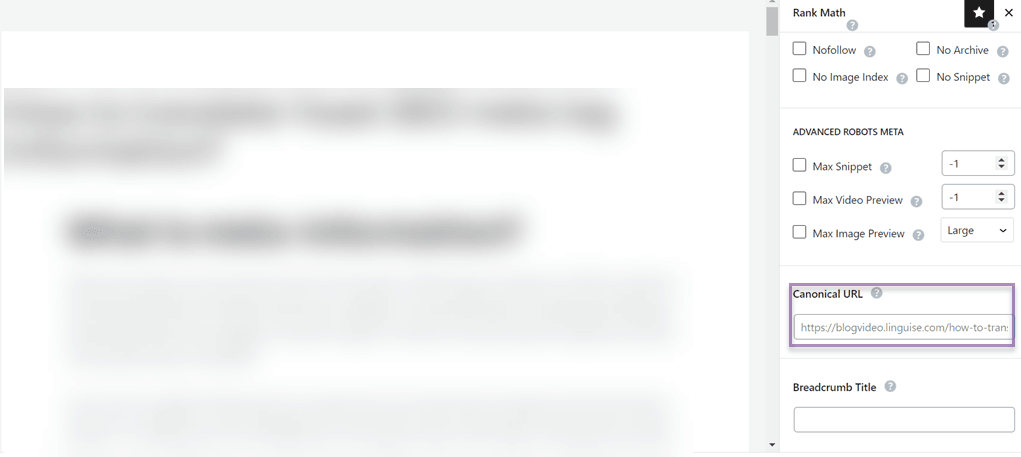 Optimizing titles and meta tags is an important aspect of improving your website's search engine visibility and overall performance.
Make sure to insert relevant keywords in the title and meta data to make it easier for search engines to search. Crafting compelling and concise titles and meta descriptions that accurately reflect your content not only increases your website's relevance in search results, but also entices users to click through and explore your website further.
To optimize the title, you can do this while editing the content in the CMS before publishing. This is an example if you use Elementor, some sections require you to enter a title and meta as follows.
Make sure the article title is no more than 60 characters.

Optimizing your pages can critically improve search engine visibility and user experience.
To optimize website pages, there are several things you can optimize, namely:
Internal linking
Keyword in subheading
URL slug
Meta description
Title tag
Images that are relevant to the topic / keyword
ALT image
Apart from that, you can also optimize page load speed and responsiveness. With these actions, you can improve the quality and performance of your website pages, optimize search engine visibility, and improve the overall user experience.
As in the example image below, there is a page snippet of content that already contains several page optimization elements, such as keywords in the subheading, images that are relevant to the topic (in this case the sitemap topic), then internal links that lead to other pages.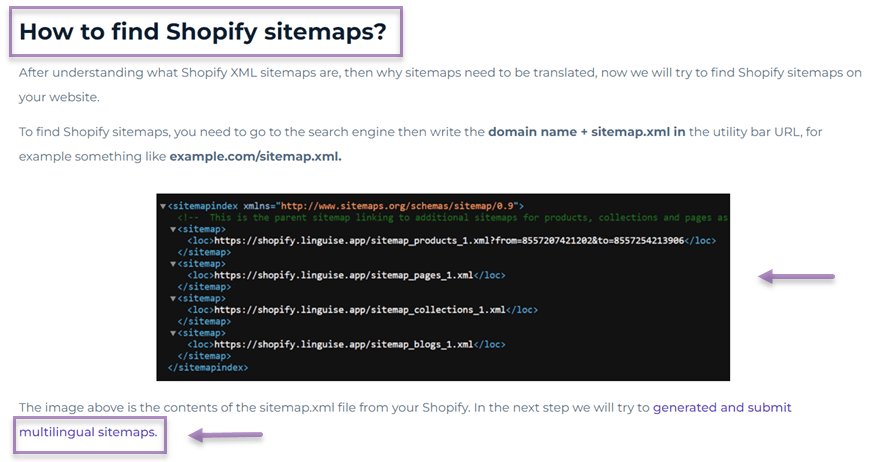 10. Install plugin multilingual
By using multilingual plugins, you can easily translate and curate content in multiple languages, creating an inclusive and more relevant experience for international audiences.
Additionally, the plugin can help manage technical aspects related to multilingual SEO, such as setting hreflang tags and managing optimized URLs for different languages.
Make sure to choose a multilingual plugin that has high translation quality, offers interesting features, supports SEO optimization, and other advanced features such as a live editor, exclusive translation, and various other interesting features.
In the CMS you use, you can search for and add multilingual plugins to your website, after which various recommendations like this will appear.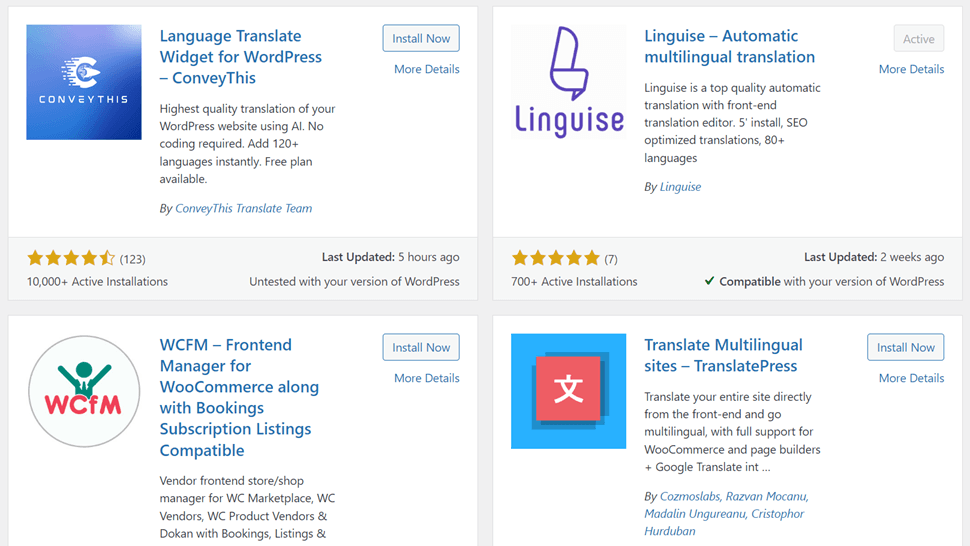 11. Use high quality automatic tanslation
While taking advantage of ready-made automatic translations can be an adequate option, if you want to improve your content rankings, you should set aside time to review the translations you want to use.
Linguise has perfect translation quality up to almost 97% perfect as human translation, so to achieve 100% perfect translation, it is recommended to edit no more than 3% of the entire content.
Alongside with Linguise, you can use the visual translation editor to manually prepare translated content and have native speakers review it.
| | | | |
| --- | --- | --- | --- |
| | NMT Translation | Human Translation | Quality |
| English-Spanish | 5,428 | 5,550 | 97% |
| English-French | 5,295 | 5,496 | 96% |
| English-Chinese | 4,594 | 4,987 | 92% |
| Spanish-English | 5,187 | 5,372 | 96% |
| French-English | 5,343 | 5,404 | 98% |
| Chinese-English | 4,263 | 4,636 | 92% |
12. Research popular keywords in other languages
After organizing some technical translations, I forgot to do research on popular keywords in other languages ​​which is a crucial step to expand the reach of your content in the international market.
By understanding popular keyword trends in different languages, you can optimize a more effective SEO strategy, adapt your content to suit local search needs, and appeal to your target audience more precisely.
There are several tools that you can use, including Google Keyword Planner, SEMrush, Ubersuggest, and many other tools. For example, like the following keyword research, you can determine the target country, language and keywords.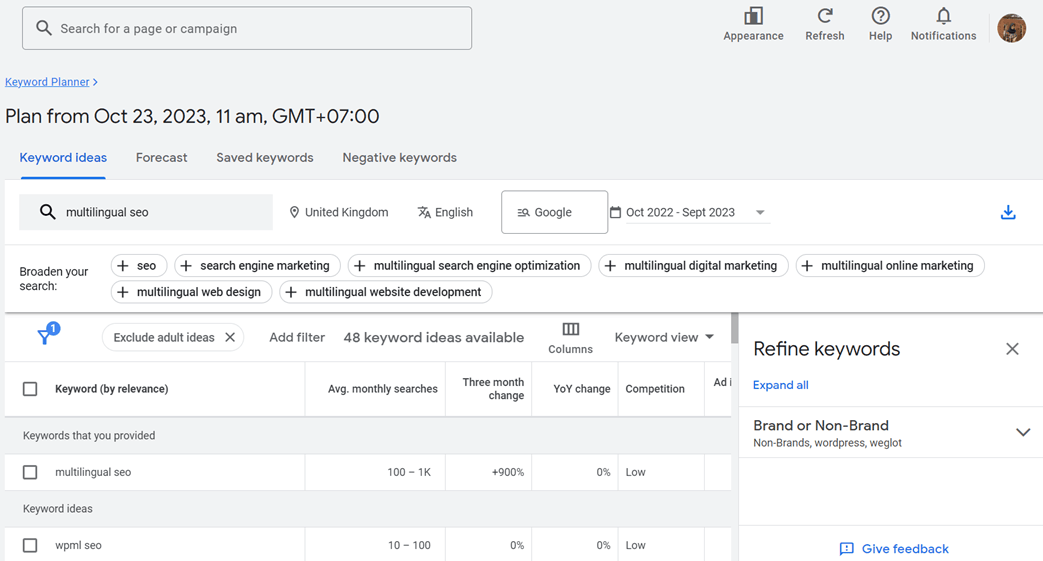 Ready to explore new markets? Try our automatic translation service for free with our 1-month risk-free trial. No credit card needed!
Improve your multilingual SEO for your visibility!
At this point, you already know what multilingual SEO tips are to increase the visibility of a multilingual website. Apart from that, you also understand what multilingual SEO is and the reasons why it can increase your visibility.
The tips above can be done more easily if you use a website translation service or multilingual automatic translation plugin with complete and adequate features.
Linguise is a service that offers various supporting features such as 100% SEO friendly, namely being able to automatically translate metadata, sitemaps, automatic hreflang implementation, and automatic URL translation.
In addition to multilingual SEO optimization support, we also support advanced features such as front end live editor, translation exclusion rules, media and external links, and allow you to add translators and multiple members.
What are you waiting for? Instantly increase your visibility with the help of Linguise's automatic translations now!