To make your website more appealing to the potential customers in the target market, website localization can be an effective tool. This tool tailors your digital content and ensures it suits different languages, customs, and cultures. By leveraging this feature, you can build a stronger relationship with your readers and foster a deeper connection. You can instantly observe enhanced customer engagement if you run an online business.
Translating your website is the most crucial step to kick-start the localization process of your website. For instance, if you want to attract an audience from countries like the Netherlands, Belgium, and Suriname, you should translate the whole content of your website into Dutch.
Due to cultural and linguistic distinctions, many complexities may arise during translation. Low-quality translation can not only misguide your website visitors but may also jeopardize your business due to the low reliability of the content.
Fortunately, there are a number of options available which you can choose to translate your website seamlessly into the Dutch language regardless of the original language. Before delving into how you can translate your website, let's explore the importance of the Dutch language.
The Dutch market and population
There are more than 23 million native speakers of Dutch worldwide. It is the official language of Curaçao, Aruba, and St Maarten. It is also widely spoken in the Netherlands, Suriname, and Belgium (Flanders). More than 5 million people in the European Union speak Dutch as their second language.
What are the languages and why should I translate?
Dutch is the official language of the Netherlands. Besides that, English, French, and German are also widely spoken.
When targeting the Dutch language (Netherlands), a Dutch translation is highly recommended. Do you wonder why, because the Dutch speak an excellent English?
It's because in the Netherlands, websites are usually translated, and so this is some kind of good web browsing habit.
A few essential ways to translate your website into Dutch
There are two essential ways to translate your website into Dutch. One uses human translation, and the other uses machine translation. Both these methods have their pros and cons. Whatever choice you make, your ultimate goal should be to have an error-free translation of your web content available for visitors. The Dutch people should be able to understand what's written clearly and effectively.
The human-only translation limits
Human-only translation might be feasible if you have a small website with limited content. Many professional translators are willing to provide their services on freelance websites. They are able to deliver results that machine translations cannot replicate. You can find freelancers at different rates depending on their experience.
When hiring a Dutch native, you don't have to worry about the content's context, structure, and linguistic subtleties. However, once you receive the translated content from humans, checking it for mistakes and grammatical issues is difficult. Also, you need to be extra careful when searching for experts. Sometimes, you can pay for the translation and get a substandard product.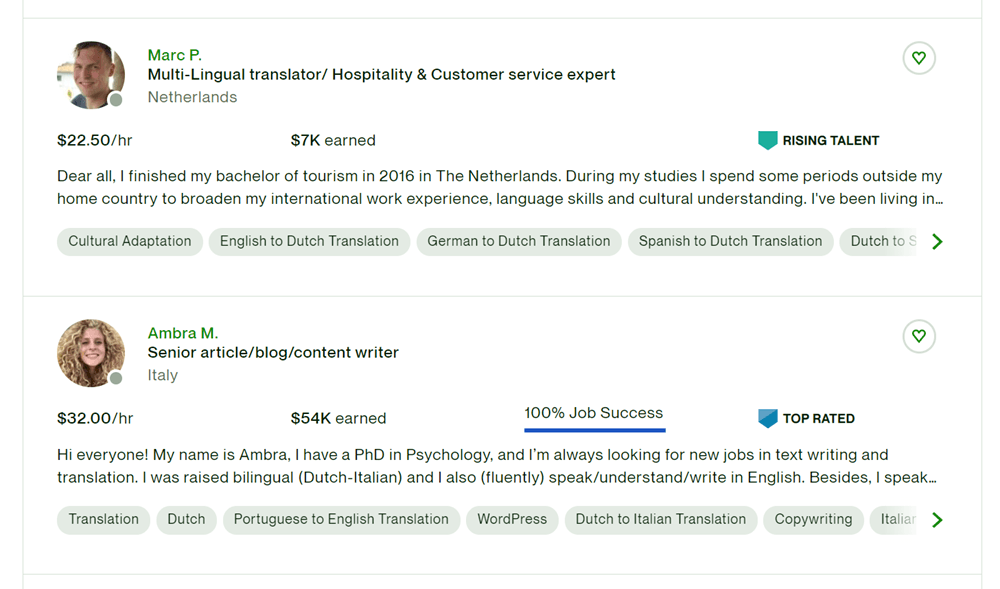 The Dutch translation machine-only translation limits
Thanks to the advances in artificial intelligence, natural language processing, and computing power, machines can now accurately translate content from one language to another. That, too, in a matter of seconds.
Machine translation doesn't require human input to carry out translation tasks. Google Translate is one of the best examples of machine translation engines. Before Google Translate, developers used statistical databases of languages to enable translation capabilities in machines.
However, a lot of manual labor was involved in running those engines. In 2016, Google tested neural learning models to enable constant improvement in the quality of translation. This new model proved to be much faster and more effective as compared to the previous models. Therefore, it was adopted as their primary development model for translation.

It completely eliminates the need for human involvement by utilizing a massive set of rules. Following Google's path, Amazon and Microsoft adopted this model in their translation services. Another tool called DeepL specifically focuses on European languages.
One of the biggest disadvantages of machine-only translation tools is that they are specifically made to translate text into another language. At times, terms or phrases may be left untranslated due to complexity.
The free versions of these tools fail to comprehend the context of the text input. This makes the translated content inaccurate and unreliable. A medical text may require a different translation model as compared to legal content.
Another disadvantage is that you can't translate your website's images or URL. For that, you'll have to use manual labor, which may be very expensive and time-consuming.
Break Language Barriers
Say goodbye to language barriers and hello to limitless growth! Try our automatic translation service today.
How to translate into Dutch and edit translations with Linguise?
Looking for professional translators, getting the work checked for quality, paying them fees, and manually changing the language on the website are some major challenges you might face during website localization. Linguise is a top-rated automation translation tool that can save you time and costs by providing an efficient and economical solution. This tool only takes 15 minutes to translate your website into up to 80 diverse languages and prepare it for deployment.
Unlike machine learning translation, Linguine also optimizes the main SEO components of your website. These components include page titles, meta info, and multilingual sitemaps. This ensures that your website achieves the optimal organic search engine ranking. For every translated blog, an alternate translated URL is generated.
This ensures that all major search engines quickly index and rank your blogs. The neural network-powered translations are capable of providing high-quality translations instantaneously. That too with an accessible cost. Another feature that distinguishes Linguise from other machine-only translation tools is the live editor feature.
Using Linguise, you can also generate translated XML sitemaps and submit them to popular search engines. This ensures that the bots crawl and index the dynamically updated content quickly. You can rest assured that the translated content is optimized for Google's Accelerated Mobile Pages (AMP), thus ensuring that you don't miss out on any traffic on your website. You can take full control of the SEO activities using the front-end editor.
Finally, for SEO specialists, it's integrated with all the major search engine webmaster tools, like the Google Search Console or Yandex.
Linguise's translation editor and dashboard
Linguise's dashboard is a one-stop page to control how you edit your blog's translations. It also displays the statistics regarding the number of languages currently used on your website and the number of views each translated page gets. You don't need to create translated blogs manually.

Instead, you can simply click on any translation from the dashboard, which will do the job for you. In a recent update by Linguise, you can now translate links and images on your website through the front-end editor. This feature is very useful if you have a home page with non-editable text over it. Below, we will discuss the steps involved in installing and configuring the Linguise plugin.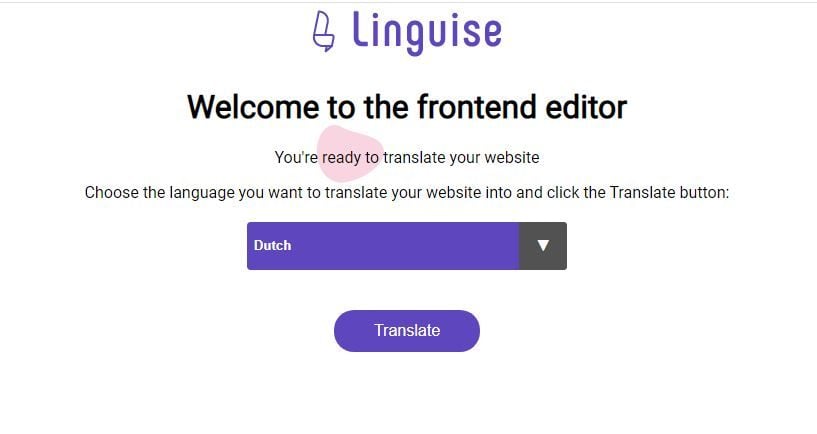 Step 1: Registration to get an API key to activate Dutch translation
You need to install and configure the Linguise plugin to start using the automatic multilingual translations on your website. It is compatible with Joomla, WordPress, and many other popular content management systems (CMS). To get any API key, you need to register an account with Linguise.

No credit card is required for this step; therefore, you can install the plugin anytime. The next step is to set up your new domain. Once you enter all the required details, you'll get the API key. This key helps the neural translation model translate the content on your website.

Step 2: Add the Dutch language to your list
Once your domain URL is registered, you must set the language instructions for your website. For instance, if you want to translate your website content into Dutch, select "Dutch" under the Translation Languages option. Since your website's original content is in English, select "English" as your base language.
It could also be the opposite, your base language can be Dutch and your translation languages English, French, German…

Step 3: Install and configure the Linguise plugin
Now that you've entered the domain and language details, it's time to install and configure the Linguise plugin. You can install the Joomla extension, WordPress plugin, or PHP script based on your requirements. You can either use the auto-installer present on the website or manually download and upload the plugin.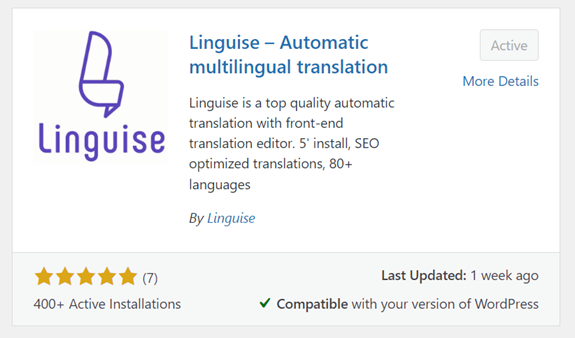 In the case of auto-installer, you can copy-paste the API key into your website content management system's plugin configuration settings. Your website will be instantly connected to the Linguise dashboard. From here, you can start the translation process. Within a few clicks, your website will be translated into Dutch.

Step 4: Linguise language switcher with Dutch flag
Make sure to press the Save button once you're done with the changes. At this point, you'll be able to see a language switcher widget on your website. Using this button, visitors can instantly translate the page contents with just one click.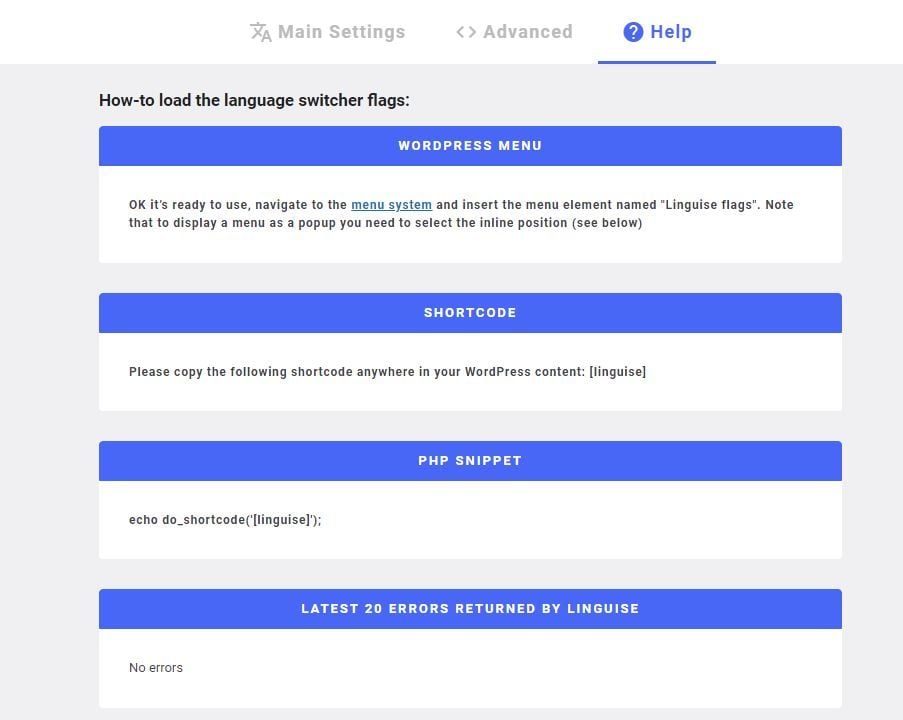 You also have the option to change the design configurations for the flag language switcher. For example, you can adjust the flag design to be round, squared, or have a border radius. Once the functions configurations and design are finalized, click Save Setting.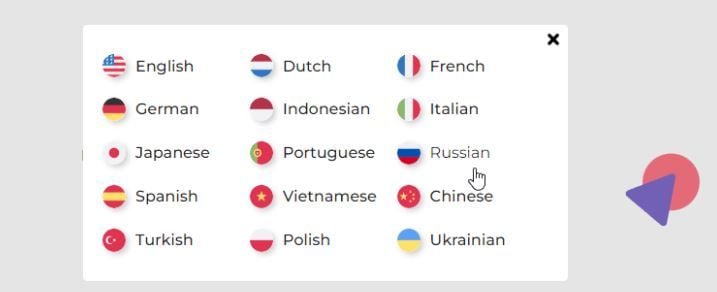 The translated content is also editable to give you more control over your content. You can change the translated content using the Live Editor from Linguise. This function allows you to navigate the front end of your website. Real-time changes can be made to website content and its metadata. Below is a screenshot of how the live editor works. For this example, we have used French.
Ready to explore new markets? Try our automatic translation service for free with our 1-month risk-free trial. No credit card needed!
Why use Linguise to translate from to Dutch?
Linguine is a fast, efficient, and cost-effective translation solution for your website that allows you to reach a wider audience through website localization. It is compatible with all the popular content management systems and is very easy to install and configure. Anyone with even basic CMS knowledge can install the plugins on their own. 
You can translate the content of your website into any language of your choice within a matter of seconds. You can use the intuitive editing interfaces built into this tool to ensure precision and accuracy.
To let you see the modifications in real-time, the Visual Editor feature gives you an instant preview of your WordPress website. This allows you to make quick adjustments to design and context. Using the Rules option, you can manage your translations, content exclusions, and replacement all over your website. 
For instance, you can avoid some text, such as your brand name, being translated. Some other options under the rule feature include Text Ignore, Text Replace, Content exclusion, Exclusion by URL, and Ignore inline. Using the "Apply to HTML content" button, you can apply rules all over your content or select a specific CSS selector.
If you're using professional translation services, you can add the professionals to your Linguise dashboard. By assigning them the translator role, you can provide them access to your content right from the web application. You also have the option to choose the specific pages that need to be translated by professionals.
Linguise pricing for Dutch website translations
No credit card is required for the initial registration on Linguise. You can translate 600,000 words within a one-month period, all for free! Once satisfied with the services, you can start paying monthly prices according to your desired plan. There are 3 plans available, namely START, PRO, and LARGE.
The plan prices are based on the number of translated words. For instance, the START plan includes 200,000, the PRO plan includes 600,000, and the LARGE plan includes unlimited translated words. All plans support unlimited languages and unlimited translated page views. 1 website can be used in a single plan. While the START and PRO features are included in the 1st month's free trial, the LARGE plan is accessible only with a subscription.
START
INCLUDED IN 1st MONTH FREE TRIAL

200 000 translated words

Unlimited translated page views

Unlimited languages

1 website per plan with one month free
PRO
INCLUDED IN 1st MONTH FREE TRIAL

600 000 translated words

Unlimited translated page views

Unlimited languages

1 website per plan with one month free
LARGE
ACCESSIBLE WITH SUBSCRIPTION

UNLIMITED translated words

Unlimited

translated page views
Final words on Dutch translations
Website localization can increase sales by allowing you to grow into previously untapped markets. You can build better connections with global customers by offering people an adapted version of your website. Because Dutch is a complex language, you may spend too much time looking for experts and ending up have a costly translation when you publish many new contents. Also, free online translation services are not recommended since they are often inaccurate.
In such a case, neural network-powered translation services like Linguise seem to be your ideal solution. The service is designed to be budget-friendly while guaranteeing impeccable results through its revolutionary language-translation services. You can enjoy complete control over how your website content is translated within a few clicks.