Translating a website is an important process for increasing global reach and user engagement. With advances in technology, there are now simple ways to translate your website into a variety of languages, allowing you to reach a wider audience without experiencing language barriers.
In this article we will explore a series of easy steps you can follow to translate your website efficiently and effectively. Keep reading until the end.
Why Translate your Entire Website?
Before discussing how to translate a website the easy way, we will first discuss why site owners should translate their websites into various languages. The following is the explanation.
Translating your entire website allows you to reach a wider audience in different countries and regions. This helps you penetrate new markets and demographics that speak different languages.
Increased sales and conversions
When users can access information about your products or services in their own language, they are more likely to feel comfortable and confident making a purchase. This can lead to increased conversion rates and sales.
Access to new opportunities
By expanding your reach into international markets, you open up the possibility of partnerships, collaborations, and business opportunities that may not be accessible through a single-language website. This can help you develop a wider business network and gain new opportunities that may not have been available before.
Option to Translate a Website
After understanding the reasons for translating a website, next we will enter the website translation option. There are two options to choose from according to your preferences.
Below is a detailed explanation of the options for how to translate it.
Manual (human translation)
Manual translation involves the use of human translators who directly translate website content into the target language. This process allows for deeper content translation and a better understanding of relevant cultural nuances.
Human translators tend to be able to adjust sentences, idioms, and expressions to keep them relevant and meaningful in the target language. However, this process takes longer and costs more than an automatic translator. Additionally, human error is possible, although the likelihood tends to be lower compared to automatic translators.
Automatic translation involves the use of software or algorithms that automatically translate content from one language to another. This method produces translations quickly and can speed up the website localization process.
But automatic translation may not be able to capture subtle language nuances or specific context that is important in some contexts. Additionally, automatic translation algorithms still require human monitoring to ensure translation quality and accuracy.
Therefore in deciding between manual and automatic translation, it is important to consider the complexity of your website content, target audience and global goals.
Apart from that, for those of you who have decided to use automatic translation, make sure you choose a high quality automatic translation service that is able to provide translation quality similar to human translation.
Break Language Barriers
Say goodbye to language barriers and hello to limitless growth! Try our automatic translation service today.
How to Translate a Website using Automatic Translation Linguise
Now that you know what options you can choose, to save time, money and reduce human errors, automatic translation is the best choice.

Linguise is an automatic translation service that has perfect translation quality of up to 93%, meaning you only need to perfect the balance, 3% using the live editor feature that we have.
With over 40+ CMS platform integrations, you can translate your website from any CMS platform so it can reach an international audience. Apart from that, we offer various advanced features that can support the translation of your website, including:
Human translation, possibility to add Translator.
Global translation exception.
Possibility to add multiple members to the dashboard
URL translation.
Media and external links, other.
So how do you translate a website using Linguise? Here are the easy steps.
Step 1: Registration Linguise
The first step is to sign up for Linguise for free, Linguise has a 1 month free trial package that can translate up to 600 thousand words. Even though it is a free plan, Linguise allows you to use all its features starting from multilingual SEO optimization, global translation exclusion, and various other unlimited features.
Step 2: Add a website domain & copy API key
After successfully registering an account, you will then get access to the Linguise dashboard and in it you need to add a website domain. To do this, select Add domain then fill in the following columns:
Account
URLs
Platforms/CMS
Language
Translation language
Translate URLs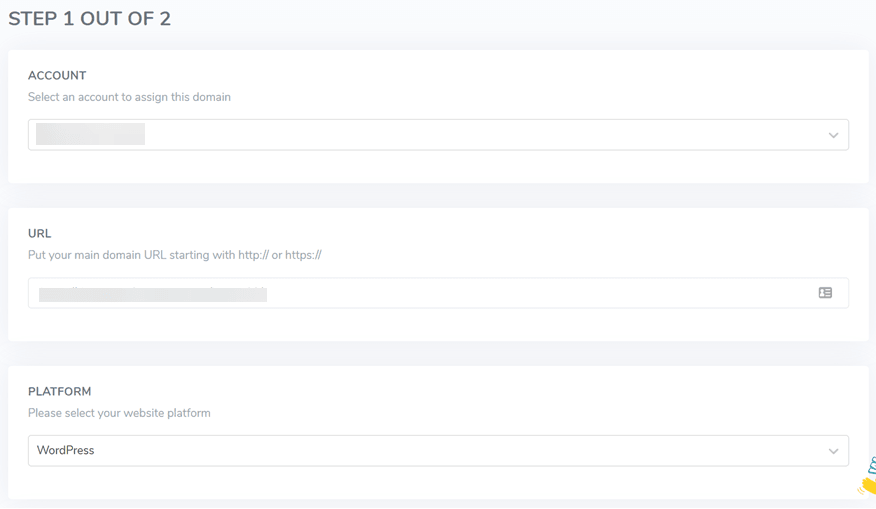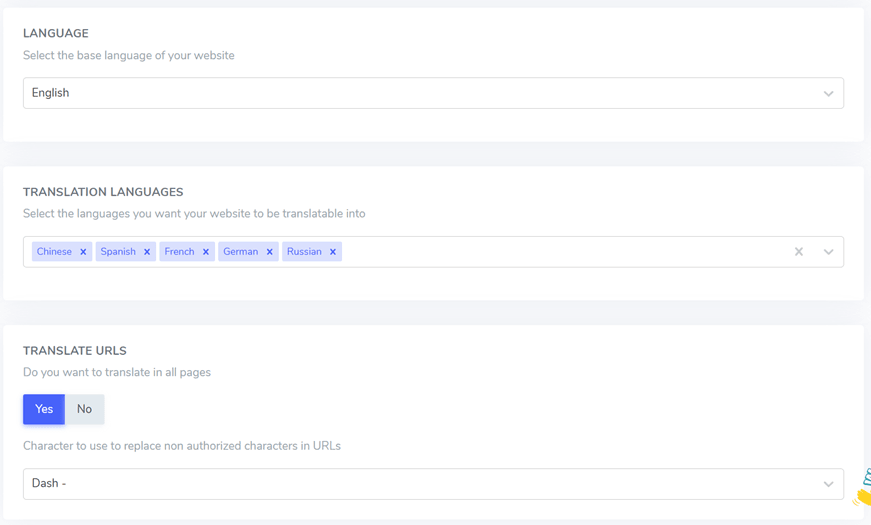 After that, select the domain that has been added and then you will get an API key which later needs to be pasted on the platform or CMS, click copy to clipboard.

Step 3: Install Linguise plugin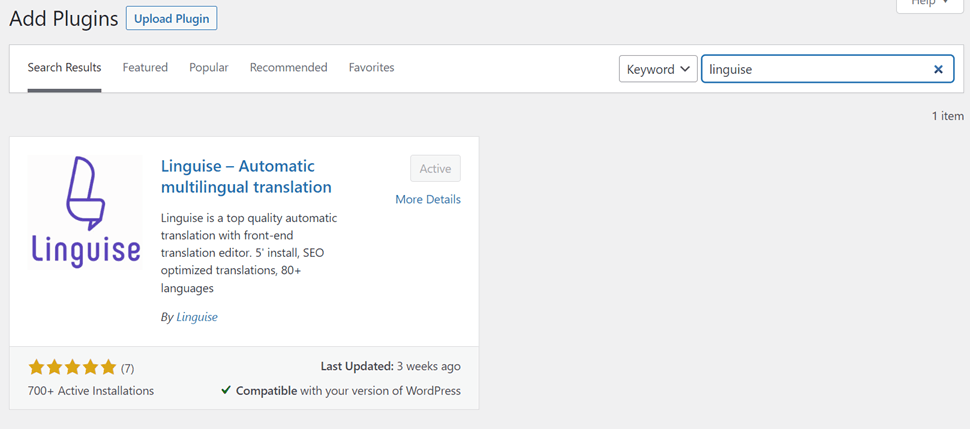 After that, open the installed Linguise plugin, in the Linguise API Key section, paste the API key that you copied previously then click Apply.

Step 5: Setup language switcher
If the API key is connected, now it's your turn to set the language switcher that will appear on your web page to make it easier for visitors to navigate. You can set it in the CMS directly or in the Linguise dashboard.
This time we will try it on the dashboard, how to select Settings > Language flags display.

Step 6: Translate a Website using Linguise
If the language switcher is set and the API key is connected, it should start appearing on the website. Now we will try to translate the website from the default language English to another language.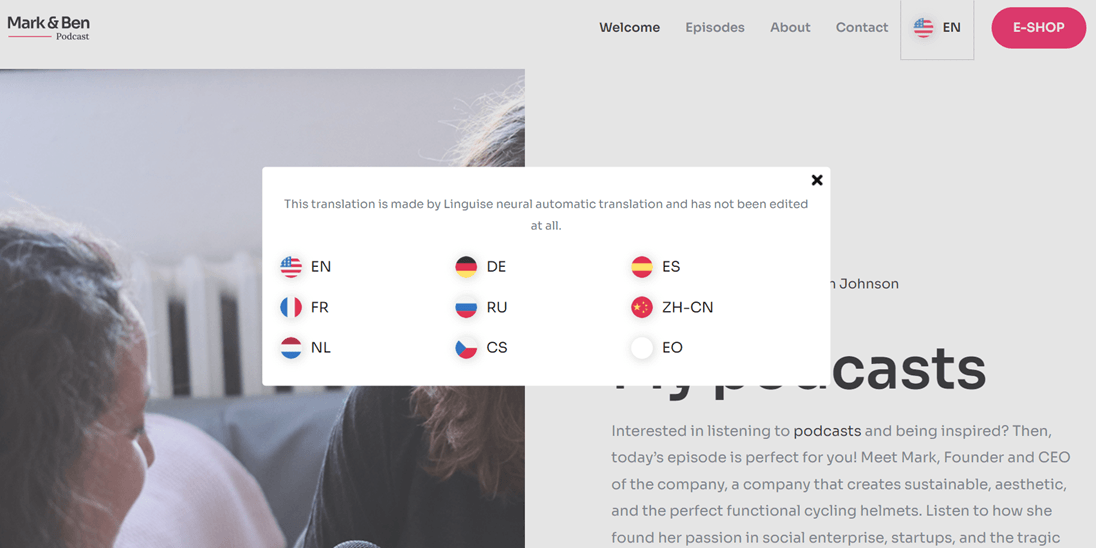 It is a pop up display that has been set in the previous language flag display. Now we will try to translate it into Spanish.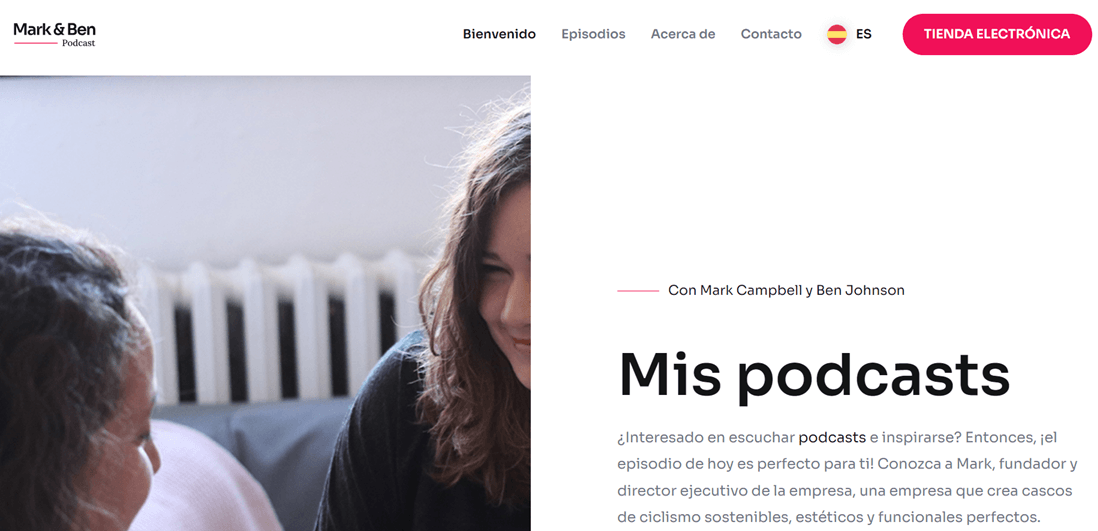 Well, now the website has been successfully translated automatically into another language with just one click on the language switcher.
Step 7: Edit translation with live editor
If you still feel that the results of the automatic translation are not optimal, or maybe there are parts that are still not correct for the target language, you can edit them using the front-end live editor feature.
The live editor allows users to select the target language and choose which parts will be translated directly, so that the translation results of your website are more professional.
Not only that, you can also add Translators to the dashboard if needed, you are free to add any number of Translators to help correct translations.
Ready to explore new markets? Try our automatic translation service for free with our 1-month risk-free trial. No credit card needed!
Translate Website for Visitor (via Browser)
For you web visitors, if the website you are visiting does not provide a translation or language switch button,  dont worry.
Most popular browsers have a built-in translation feature. In this explanation, we will guide you in translating websites directly in Chrome, Firefox and Safari browsers.
How to Translate a Website in Google Chrome
Chrome is a browser that is widely used by internet users. When you find content that doesn't match your language preferences, click the Translate icon at the top right then select a language.
If the language is not listed, click the three-dot icon then select another language. After that, the page will be translated into the selected language as shown in the following image.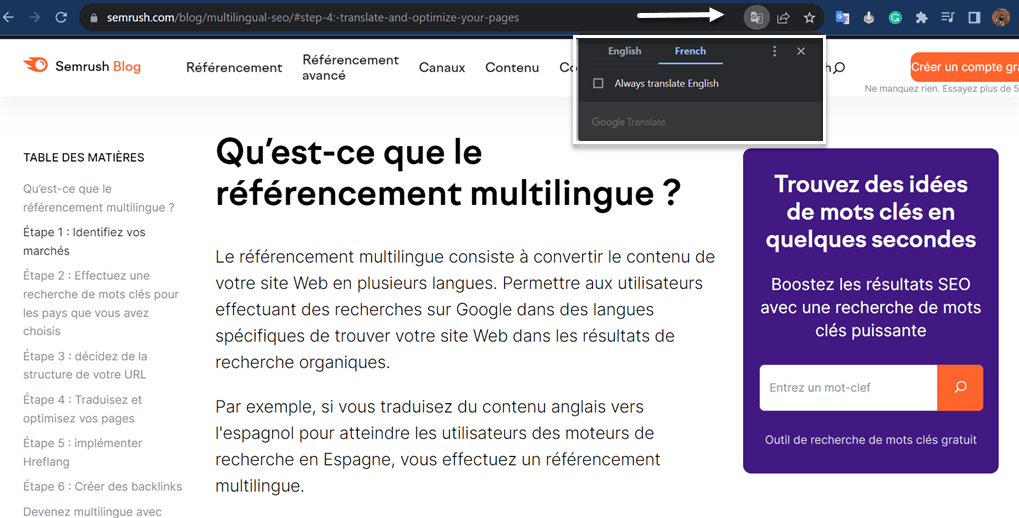 Apart from that, you can also choose to right click then Translate.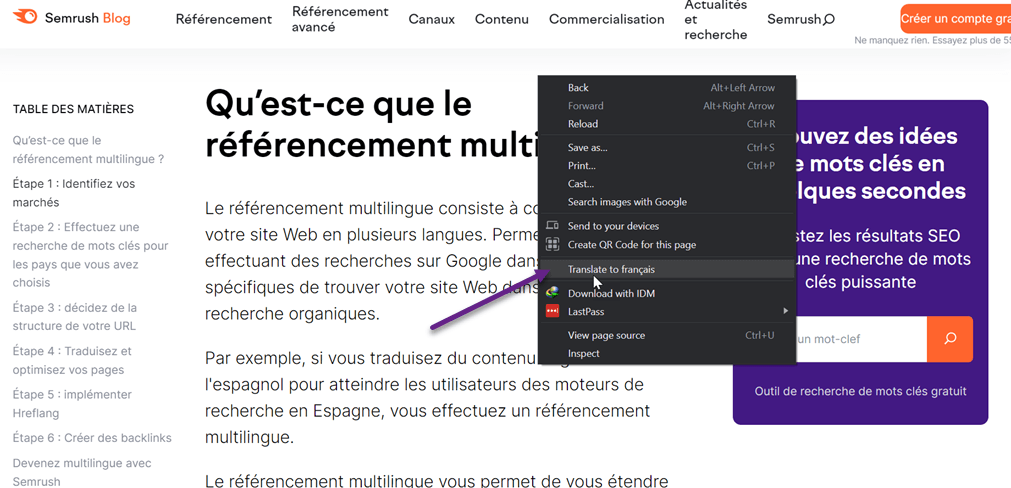 How to Translate a Website in Firefox
The Firefox browser does not have built-in translation, therefore you need to add an extension first. How to do this is by opening Settings on the browser page > Extensions & Themes > Google Translate.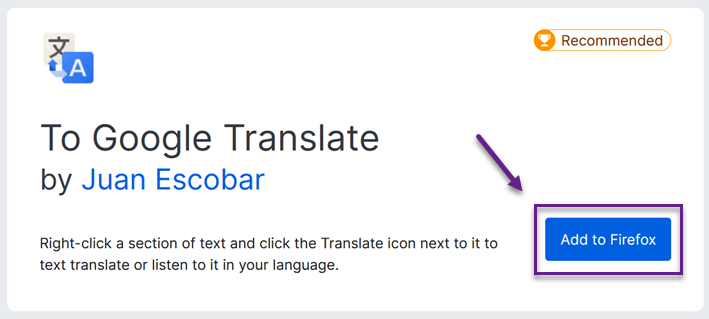 If the add ons have been installed, open the page you want to translate, right click then select Translate this page.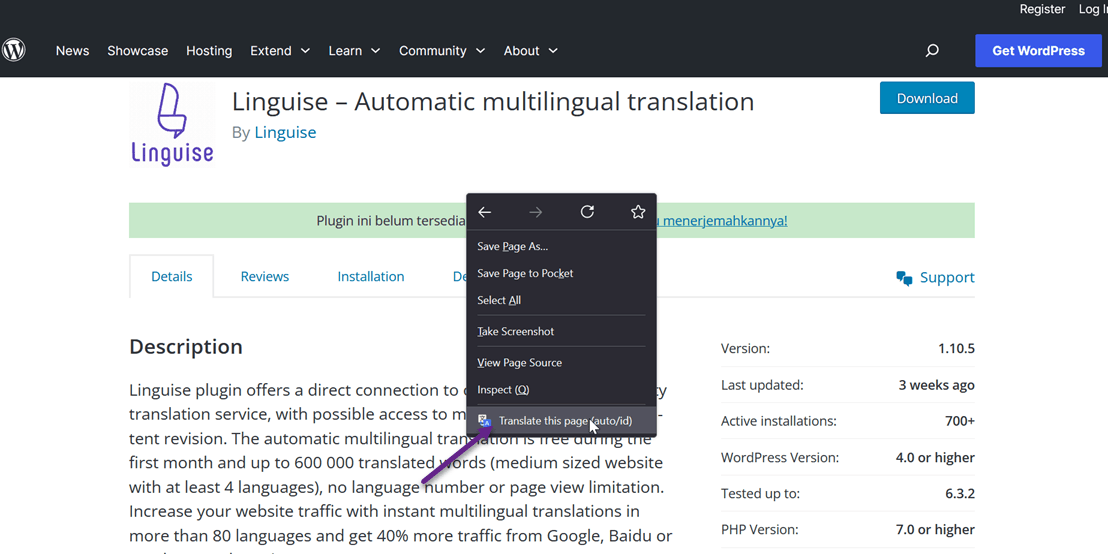 How to Translate a Website in Safari
Safari's translation feature is currently in beta, and there aren't as many languages ​​available as on some other browsers. However, you can still translate a large number of web pages that you visit.
Safari can translate a web page for you, it will display a Translate button in the Search field. Since this feature is still in beta, you have the option to use the same translation menu to report any problems you encounter to Apple.

Conclusion: Translate your Website to Expand your Reach!
At this point, you already know how to translate websites, starting from the reasons why you should translate websites, options for translating websites, to how to translate websites using Linguise and from several browsers such as Chrome, Firefox, and Safari.
Translating a website with an automatic translation option can be the right choice to reduce human error, produce high-quality translations and provide time effectiveness.
For those of you who are interested in using Linguise as a translation, immediately register your Linguise account and enjoy its interesting features!