User experience has the power to make or break your website. Customers hold user experience to a very high standard. They expect to be easily able to navigate to where they need to go to in your website regardless of the page they land in. For this reason, it is imperative to have a compelling but easy-to-use navigation menu.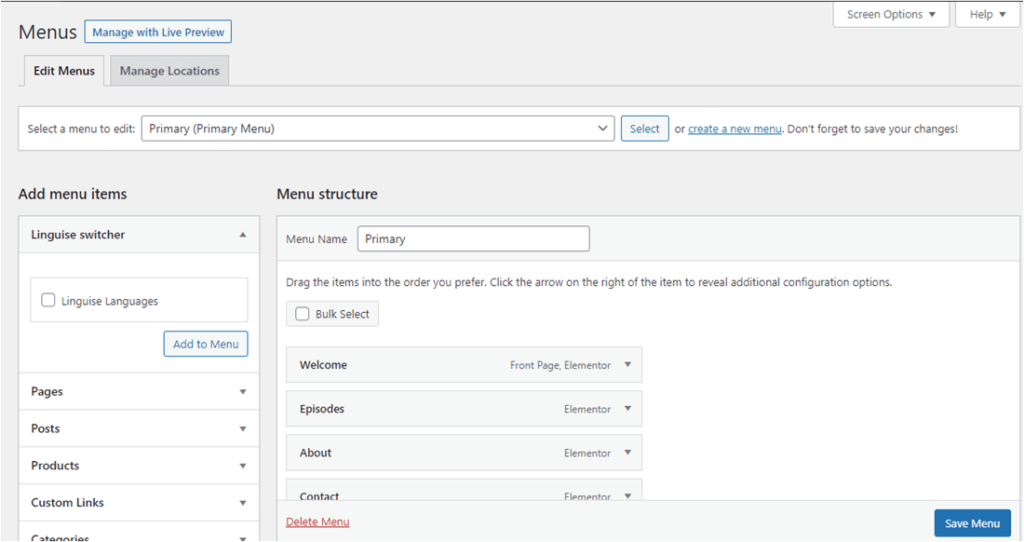 With most websites opting to explore international markets, it gets quite challenging to make sure that the translations of menu items accurately match the original. It if they don't it can be a disaster for your website. Even if you generate a considerable amount of traffic, your website will have a high bounce rate because this click will not be converted. It could get worse and lead you to fall below SEO rankings.

Knowing this, how can you ensure that your menu items are accurately translated to guarantee your users a seamless experience? Is there a way to edit menu item translations when the software commits errors? Yes, there is. Linguise is a neural network translation service, fully integrated with WordPress and Joomla, which enables you to do this and so much more.
In this piece, we will look at how you can set up Linguise to accurately translate your WordPress menu items and how you can edit these translations to perfection.
Why is it important to accurately translate your menu items?
When users land on your page, the navigation menu is the first thing they look at. They take a very short time here, approximately 6 seconds.
In fact, as much as 94% of customers expect to have a seamless navigation in your website via your menu items.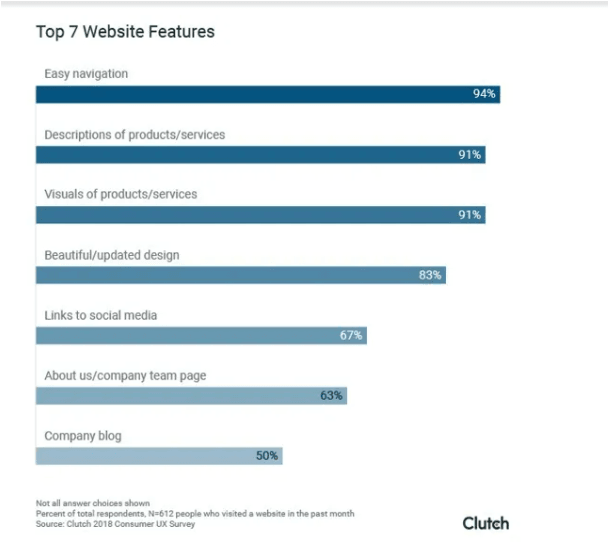 (Image credits: Small Business Trends)
Your menu items function as your website's first impression, because users may not always land on your homepage; but they will always see your menu items. It is always important to make a good first impression.
Website translations can be a great way to expand to international regions for more ROI. Your translation partner could fail to provide your website with the good first impression to your new customers it desperately requires when:
The length of translated words tampers with your website's design,
The menu items and the URL do not match, and
Some words are incorrectly translated or some of them remain in the original language.
These instances turn your customers away from you because they will not be able to use your services effectively. Most users will simply not have the patience to try to piece together the translations. Is there a service that can solve this for you?
Break Language Barriers
Say goodbye to language barriers and hello to limitless growth! Try our automatic translation service today.
Linguise: the ultimate tool to translate your WordPress menu items
Linguise is well-equipped to ensure your menu items are accurately translated. It is compatible with all WordPress themes and plugins. It has special tools to handle inline HTML and CSS code and can also translate dynamic elements.
One of its finest features is the live editor that permits you to edit translations on the front end, as you watch the changes unfold live. Suppose the software commits an error in translating your menu items, you can always use the live editor to rectify.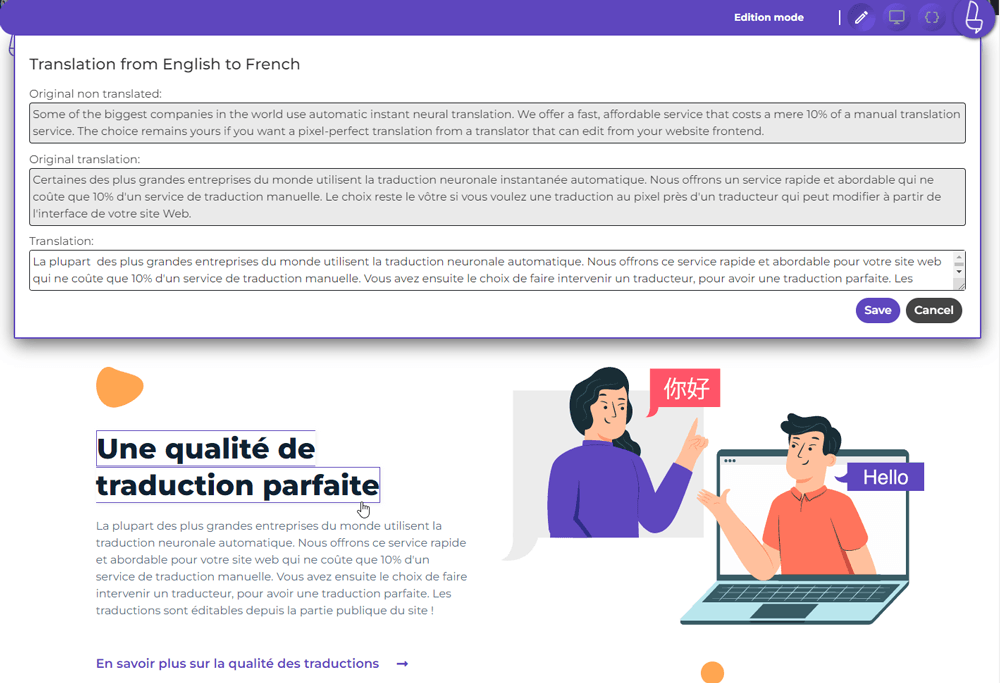 Now let's look at how you can translate your menu items using Linguise.
How can you translate your menu items using Linguise?
Setting up Linguise to automatically translate all parts of your website takes less than 15 minutes. There are  4 main steps involved:
Getting started with WordPress translations
Start by going to the official website, on the registration page here linguise.com, and registering. Provide your website's email and enter your preferred password.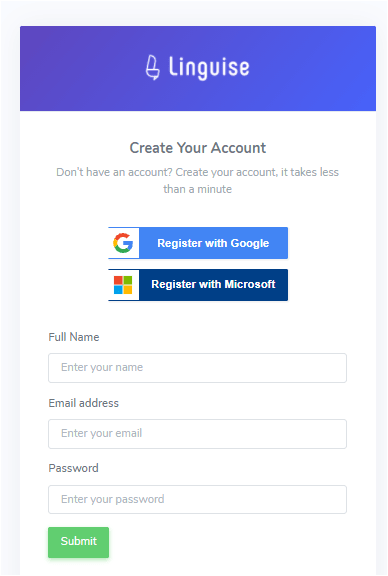 API key generation for menu translation
Next head over to your website and copy the URL. On the Linguise dashboard page, click on the Add domain button and paste your website's URL. On the same page, select your source language along with the languages of the regions you intend to target (you have over 80 options to select from!). Click on next at the bottom of the page to generate your API key on the next page.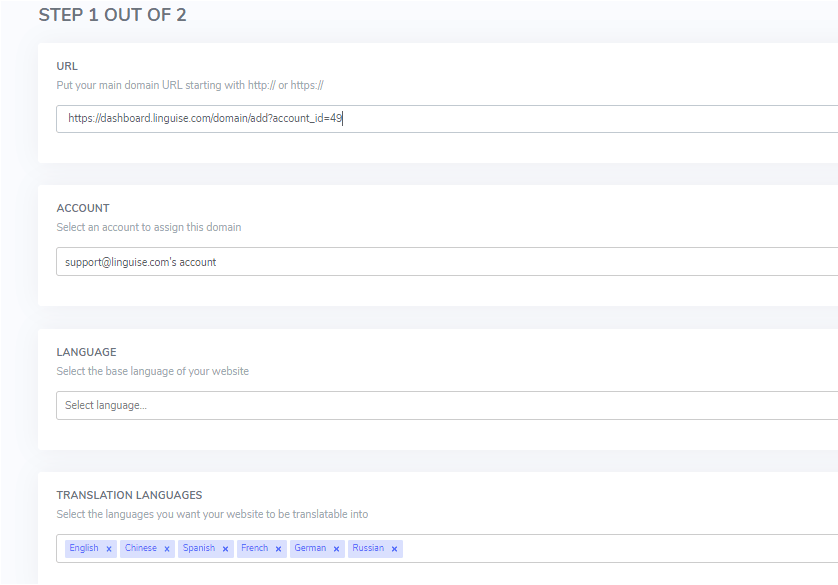 After you have created your account you get one month free trial, no credit card requested, to get a sense of the quality of service you will be receiving. Next, copy the cryptographically generated key to your clipboard, this is your API key which you will use to activate the service.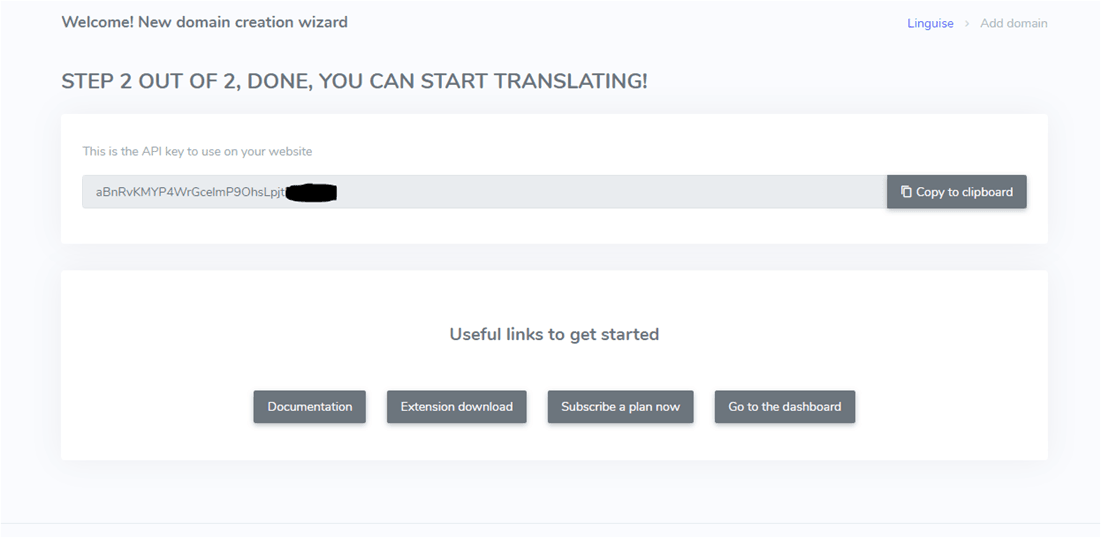 Installing the WordPress plugin
Click on the extension download link to download a zip file of the plugin. Go back to your website's dashboard and under Plugins, select Add New > Upload > Choose File. Select the extension zip file and click Install now > Activate.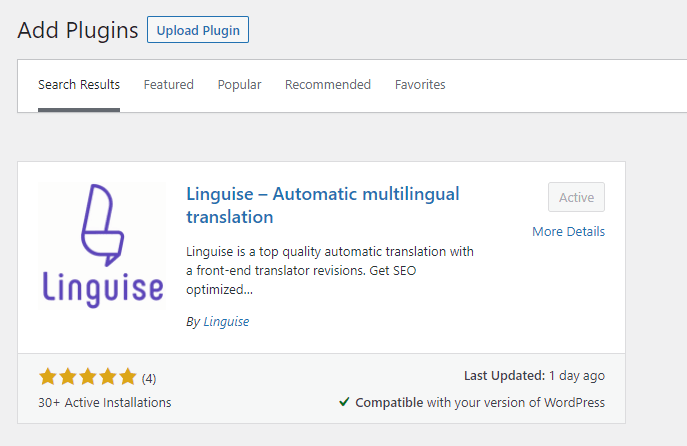 Now that Linguise is installed, click on it among the left side menu items and paste your domain API key to retrieve the configuration you had previously set in the Linguise dashboard.
Displaying the language switcher
On the left sidebar go to Appearance >Menu. Check the box that says Linguise Languages> Add to Menu and then save changes.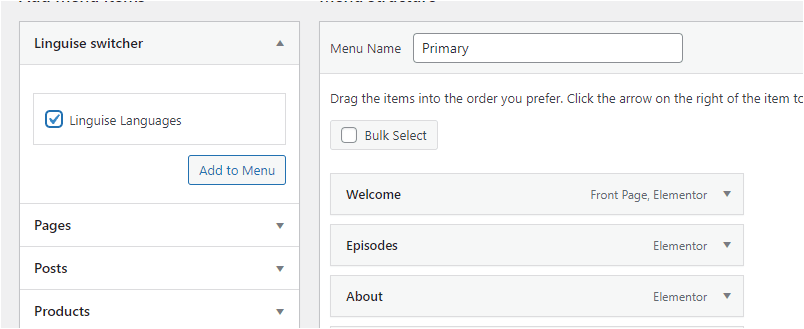 And you're done. Once you set up Linguise, translation becomes instant. All you/your customer has to do is click on the language switcher and select the language they with the menu items are translated to.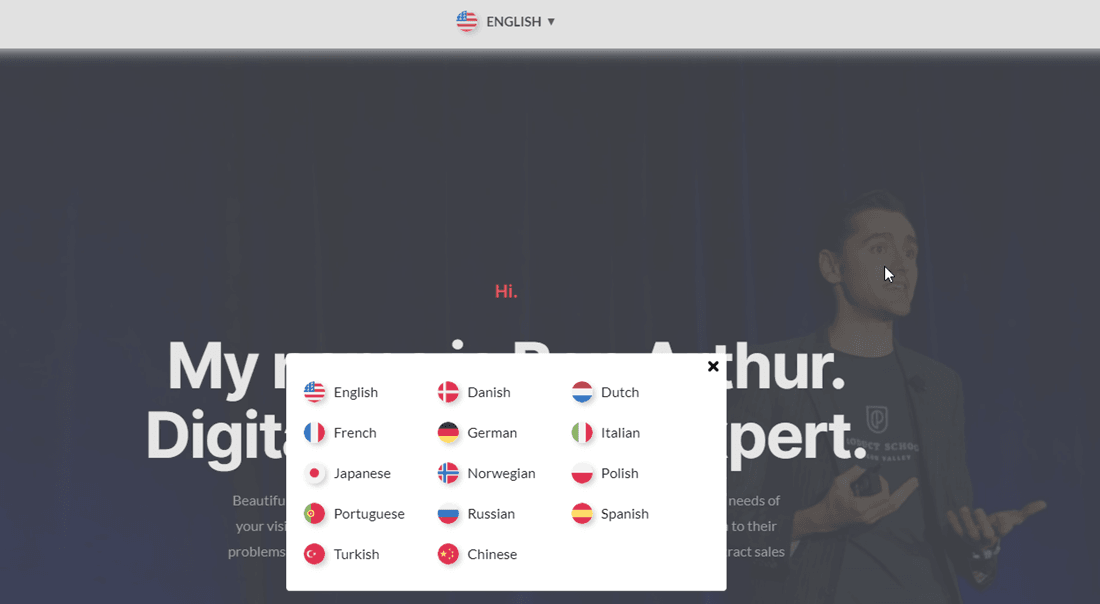 You must be thinking "What if the software makes a mistake?" Yes, there is a way to resolve this.
Ready to explore new markets? Try our automatic translation service for free with our 1-month risk-free trial. No credit card needed!
How do you edit menu item translations made by Linguise?
Machine translations do not offer a 100% translation accuracy. Some terms/phrases are bound to elude them. If these terms happen to be on the menu items, it would be disastrous if you're unable to rectify them. Linguise offers a front end live editor that permits you to do exactly this. Let's see how.
On your Linguise account dashboard, click on the Live Editor tab. On the next page click on the Open Live Editor button.
Select the language you want to translate your website to and click Translate.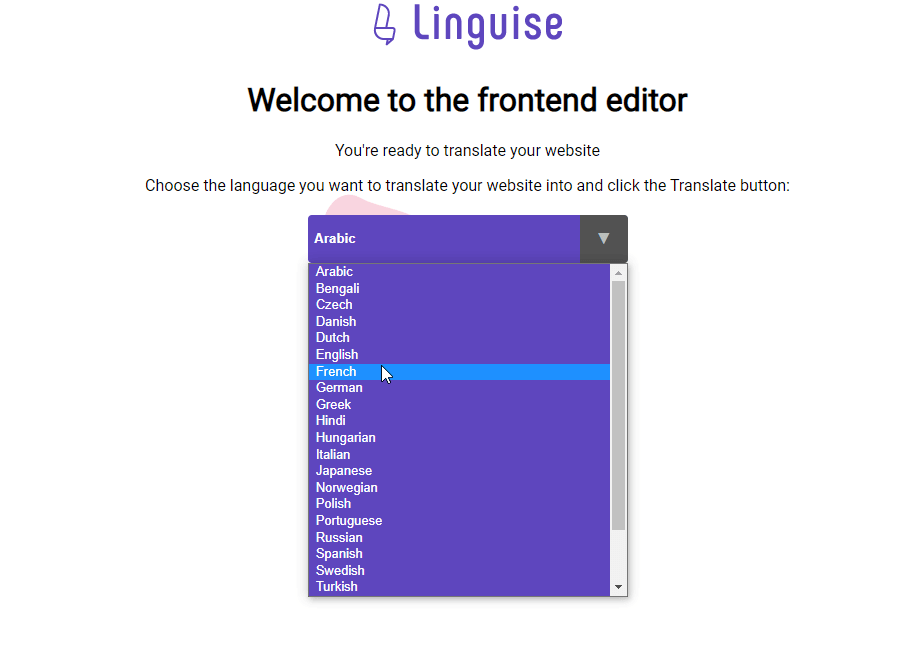 Switch on edition mode by clicking on the Navigation/Edition button in the top-right corner.

Click on the menu item you want to edit and make your changes on the Translation box. Save the changes and you're done.

For the languages you don't speak, this service allows you to invite experts to edit your content. How do you do this?
Go to the members tab and select invite a new member. Add the email of these members, select their roles (admin, manager or translator), the websites they are tasked to manage and the languages they are responsible for managing. Managers have access to all languages and rules while translators are limited to specific languages at the front end.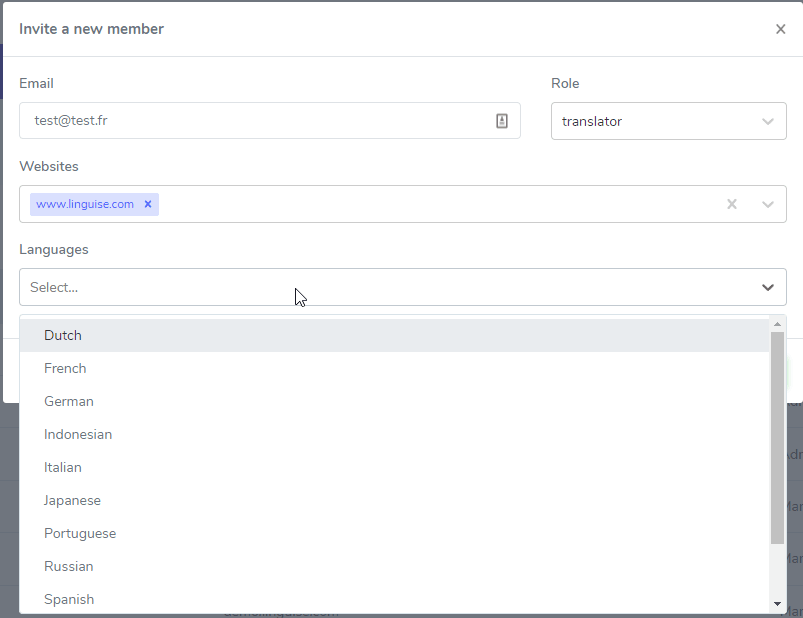 Linguise is a mighty tool to have on your side when taking your website global. It enables you to accurately translate your menu items and edit those that the software does not accurately translate. It costs only a fraction of what human translations costs, with even greater efficiency.