The reason you are reading this is that you have written content to reach a larger, international audience or connect with potential customers who speak another language. You might be thinking about expanding your company or going global at some point, or you may just want to increase customer involvement and sales. If any of this speaks to you, then you will need to be able to craft translated web content that is consistent, relevant, and effective for the local language in the foreign market you're targeting.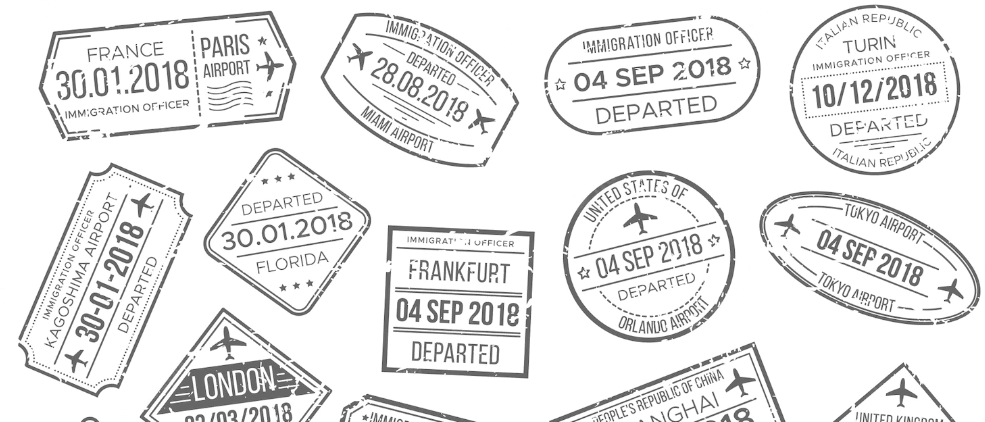 Definition of Transcreation
Transcreation is a combination of the words "translation" and "creation." Copywriting is the process of rewriting source text to make it more coherent, relevant, and effective in a new language.

Transcreation, also known as "creative translation," is the act of taking a message originally created in one language and translating it to another while keeping its original intention and voice. The content isn't translated verbatim, but the meaning stays faithful to the original text. This often means that words must be adapted, idioms added, and figures of speech adjusted to fit the transcreation process.
Because transcreation must account for meaning in addition to interpretation, it is more complex than a word-for-word translation. A transcreation professional ensures that the meaning and value of your content are translated correctly not just the words. They need to have writing skills that are both excellent and creative. Accordingly, it's not unheard of for copywriters and translators to collaborate on transcreation projects together.
Biggest Example, McDonald's
McDonald's was very clever with its transcreation approach. McDonald's changed their tagline "I'm loving it" to "I just like it" in China because they realized that the Chinese find public displays of affection offensive.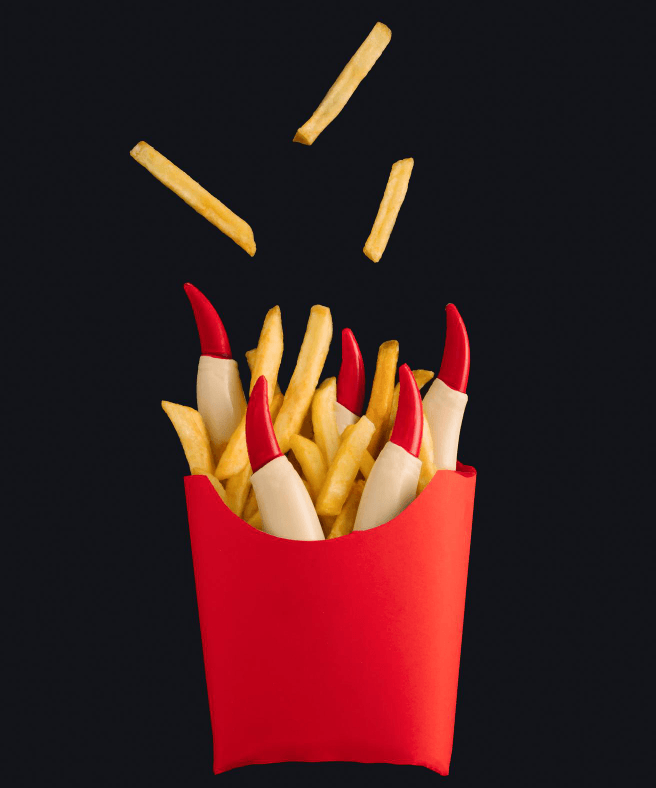 Translation vs Transcreation
While translation involves replacing words in one language with another, transcreation is more concerned with preserving the message and concept. Transcreation allows translators to tap into their creativity and understanding of different cultures to produce content that will resonate with new readers. Unsure of how transcreation differs from translation? Here are 7 ways to tell them apart.
Expert Writer
Transcreation services are usually performed by copywriters who language instead of translators. Translations and copywriting are usually two different services, even though some translators may offer both. People who offer translation services don't always socialize with or join the same professional associations as copywriters.
Creative Brief in your Target Language
Rather than starting with a source text like translation, transcreation starts with a creative brief in your target language, similar to how you would approach other creative projects. Transcreation will require a detailed explanation of the project, similar to what a copywriter would need. Most translators don't usually receive a brief, even though it would be useful. Translators are typically given the text and asked to translate it accurately. They explore on their own to figure out what this magic is about.
Don't just give your transcreation provider text-tell them the creative concept and desired action you want the copy to communicate.
Transcreation can be Time Consuming
The demand for creativity will require more time from the transcreator. Transcreation projects generally require more time than your average translation, therefore costing more.

The Process of Transcreation can be Costly
The standard way to bill for translation services is by the word, but with transcreation, you may be charged per hour or per project. A transcreator is not only a qualified, professional translator but also a trained copywriter. Their rate will be competitive with that of a specialist translator. The quality of a good transcreator is worth the price – they understand how to utilize things like SEO which will in turn make your company more money.
Reediting, recreating, and reworking your brand's messaging is a lot more laborious than simply translating it to equal language. Transcreation is a service that helps businesses create content in multiple languages that resonate with their target audiences.
Transcreation can Result in the Development of New Messaging
Messaging that was not written with your target segment or audience in mind will likely fall flat. The key difference between transcreation and translation is that with the former, you end up with brand-new messaging that is specific to your target audience, whereas with the latter, you simply get the same message translated into another language.
When translating website or app content, a good translator will stay true to the original text's meaning instead of being too literal. However, some parts of the message can be lost in translation.
Creative and Marketing-Focused Copy
Marketing texts are more effective when they're transcreated instead of translated because the former is designed to get readers to act.
Transcreation also Encompasses Advising on the Look and Feel
Providers of transcreation services not only advise customers on how to make a creative asset or campaign but also ensure that it will be accepted and resonate in the target market.
Essentially, transcreation is the process of developing new copy that accurately reflects the voice and message of a brand in another language. We don't simply translate your text, but rather tailor it to a specific culture so that it captures the essence of what you're trying to say.
Break Language Barriers
Say goodbye to language barriers and hello to limitless growth! Try our automatic translation service today.
Choosing the Right Tool for Website Transcreation
If you want to make the transcreation process more straightforward, you need the appropriate software. This is where Linguise comes to your aid.
Linguise offers a neural machine translation to streamline the translation process. The benefits of automated translation (such as Linguise) include:
Localization and transcreation that is catered specifically to the context as opposed to using Google Translate in your browser. All translations are editable (for transcreation)
It helps you to translate documents quickly and easily
It changes your message to be more appropriate for the target audience while still keeping the same overall tone and voice
As I said, Linguise not only provides translation services, but we also go a step further. Yes, we use machine translation as a foundation, but you always have the option of improving your translation by hiring professional translators through our user-friendly dashboard.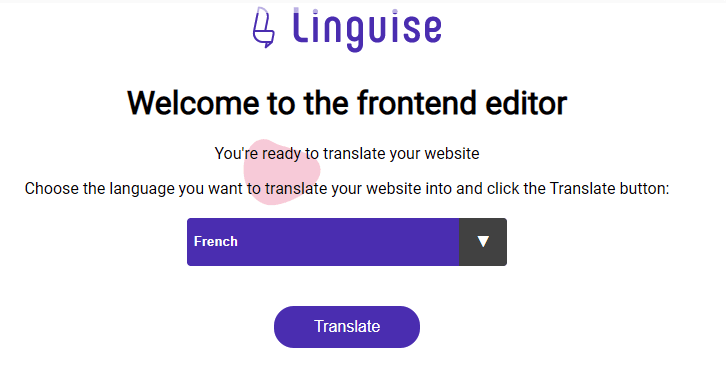 With Linguise, you can easily collaborate with professional transcreators to ensure that all of your written content is high-quality and polished. Don't wait any longer to start translating your website. With Linguise, you can start your free trial today and have a multilingual website up in no time.
We use brand-new neural linguistic translation models.
Keep your website's content legible for everyone by translating it into 84 languages.
You can edit all the translations from your Linguise dashboard or directly on your website front end by clicking and editing the translated text.
By utilizing neural translation for your website, you can decrease translator customization service fees by up to 90%.
Linguise not only focuses on URL and alternate link optimization, but we also help you rank highly in other types of search engines as well.
Linguise is an instant language translator for your website. Once you add a new page to your site, Linguise will automatically translate it into 20 different languages, and begin the indexing process immediately.
Our advanced caching system provides users with translated content instantaneously.
With Linguise, you don't need to worry about whether the features fit your website size or if you can afford it–there is a trial period with full access and no credit card is required.
Most Economical Pricing Plans
Linguise is an excellent website translation tool that can help you reach new audiences quickly, and it costs a fraction of what other similar tools charge.
Linguise is a SaaS translation tool that automatically translates website content. No matter what kind of website you have that uses PHP, Linguise will be able to integrate with it seamlessly. These include but are not limited to WordPress, Drupal, Magento, and OpenCart. Linguise is quick and easy to set up, and it provides instant translations in more than 80 languages.
Not only do you get a user-friendly WordPress plugin, but this tool will also help you quickly translate your website's coding and content. The tool easily integrates with any plugin or theme because it translates from frontend HTML code rendring.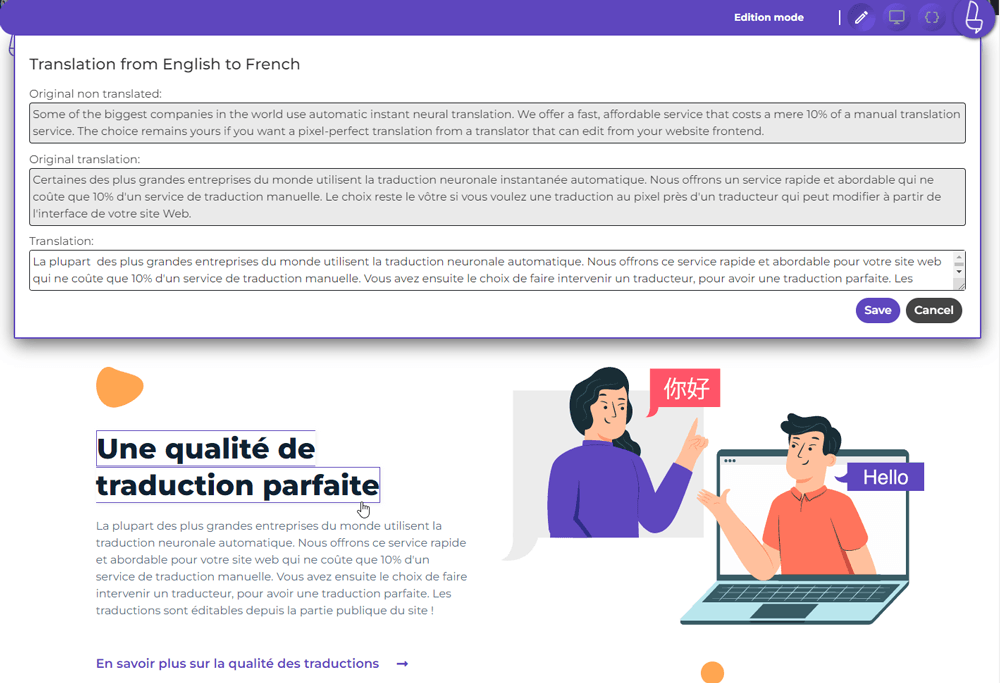 Linguise is a software-as-a-service (SaaS) platform that offers different subscription pricing models depending on whether you want to pay monthly or yearly. Most WordPress plugins require a subscription to use the service instead of a one-time fee. The cost per month significantly varies based on the number of words translated, starting at $15 and reaching as high as $45.
The price you pay for Linguise services is dependent on how many words need to be translated. If your website needs under 200,000 words translated, you can use the Start plan for $15 monthly or $165 yearly.
If your website has more than 600,000 words that need to be translated into multiple languages, it will cost $25 per month or $275 per year. The Large plan offers unlimited translated words for $45 per month or $495 per year.
By ordering an annual plan, you will receive one free month of the service.
START
INCLUDED IN 1st MONTH FREE TRIAL

200 000 translated words

Unlimited translated page views

Unlimited languages

10% OFF compared to monthly prices

1 website per plan with one month free
PRO
INCLUDED IN 1st MONTH FREE TRIAL

600 000 translated words

Unlimited translated page views

Unlimited languages

10% OFF compared to monthly prices

1 website per plan with one month free
LARGE
UNLIMITED translated words

Unlimited translated page views

Unlimited languages

10% OFF compared to monthly prices

1 website per plan with one month free
Ready to explore new markets? Try our automatic translation service for free with our 1-month risk-free trial. No credit card needed!
Linguise allows for quick and easy collaboration with transcreators to help preserve the meaning of your message in other languages. Come experience how effortless transcreation can be by signing up for a free trial today!