Ensuring that your website is accessible to a diverse audience is critical to capturing international markets and driving customer engagement.
Therefore, it is important to know the best way to translate a Squarespace eCommerce store. This article will discuss best practices for translating Squarespace shop using third-party translation services.
Benefit of translate Squarespace eCommerce shop
Translating your Squarespace eCommerce shop into various languages ​​can provide a number of benefits for your site and business, including the following.
Expanded market reach: Translation allows you to reach a wider audience across various linguistic backgrounds, enabling you to tap into new markets and customer segments.
Increased sales and conversions: By removing language barriers, you can potentially increase sales and conversions, as customers are more likely to make purchases when they can fully comprehend the product information.
Enhanced brand credibility: A professionally translated website instills trust and credibility among international customers, demonstrating your commitment to catering to their needs and preferences.
Improved SEO and visibility: Translating your eCommerce shop can improve your search engine visibility in different language markets, potentially leading to increased organic traffic and higher rankings in international search results.
Cultural relevance: Adapting your content to different languages and cultural nuances shows respect for diversity, helping to build stronger connections with your international audience.
How do you translate Squarespace eCommerce shop?
Translating a Squarespace eCommerce shop is something that must be done, especially for those of you who target audiences from foreign countries. To get a good user experience, you need to translate according to their language.
There are two ways to translate Squarespace eCommerce, manually and automatically which we will discuss one by one below.
Manually translate a Squarespace eCommerce shop
The first method you can use is to translate Squarespace manually. Manually means you have to translate each sentence or content into the target language, meaning you need to create a different version for each language.
Apart from that, you can also take advantage of free translation services such as Google Translate, DeepL, Microsoft Translator, and others.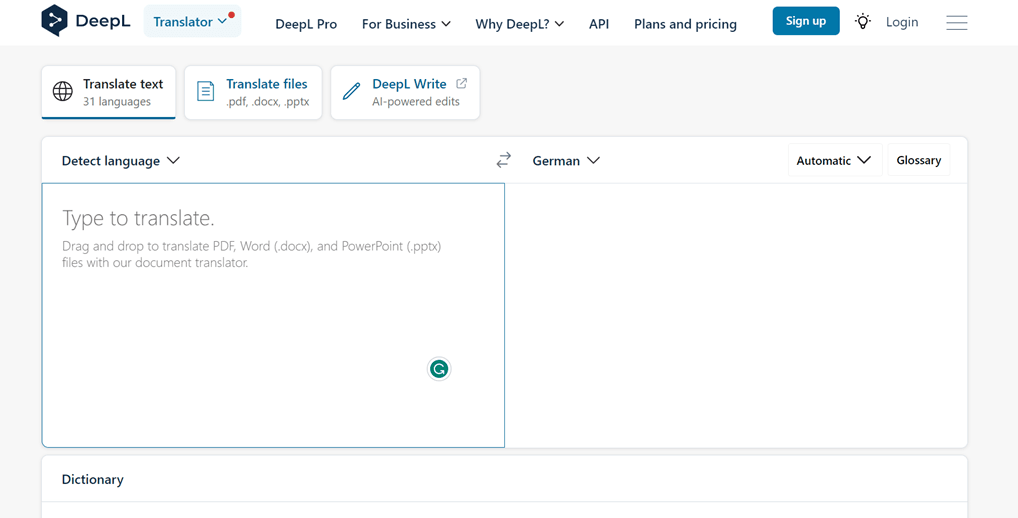 Translating manually certainly has its own advantages and disadvantages, including the following.
Pros:
Ability to customize translations according to specific language nuances.
More accurate and precise translation quality according to content needs.
The potential to express brand messages more powerfully through customized translations.
Cons:
Requires significant time and human resources, especially for projects with large volumes of content.
Higher costs are associated with using professional translators or in-house resources.
Slower process in dealing with continuous changes or additions to content.
Even though it offers many advantages, translating manually is still not appropriate for translating Squarespace eCommerce shops, because it is less flexible and cannot automatically adapt to changes in content. Therefore, the automatic translation option appears. To find out more about automatic translation, see the explanation below.
Automatically translate a Squarespace eCommerce shop
Automatic translation is the process of translating words from one language to another language automatically using technology or computer algorithms without any human intervention. Compared to manual translation, automatic translation can save more time, however there are still several advantages and disadvantages of automatic translation.
Pros:
Speed ​​and efficiency in translating large volumes of content.
Lower costs than hiring a professional translator.
Ease of managing and updating content translations automatically.
Cons:
Possibility of limited accuracy and fluency of translation.
Unable to deeply adapt translations to cultural or brand contexts.
The risk of inaccurate translation which can reduce the professional impression and reduce the attractiveness of the content.
Automatic translation tools can be translation plugins or multilingual, every web builder or CMS is usually integrated with a plugin or translation service, such as Squarespace which has integrated with Weglot.
Weglot integrates directly into Squarespace stores with several features to offer. However, there are limitations, for example.
The trial period is relatively short, only 10 days with a limit of 1 language and 2,000 words
The trial package does not automatically translate URLs
Some Weglot plans do not allow users to add members or translators.
There are no advanced translation features
With some of the limitations above, Weglot is still not the right solution for translating Squarespace stores. Therefore you need to look for another solution, so let's move on to another solution, with Linguise.
Linguise can be the best Weglot alternative for translating Squarespace. In another article we have covered the details of Weglot vs Linguse that you can consider. Don't worry we are compatible with all your plugins and have an easy and fast installation method.
Break Language Barriers
Say goodbye to language barriers and hello to limitless growth! Try our automatic translation service today.
Translate Squarespace eCommerce shop with Linguise
Linguise is an automatic translation website service that is integrated with many CMS and web builders, one of which is integrated with Squarespace.
The Linguise service offers a solution that is able to complement several of the Weglot features above that are still lacking in creating a multilingual Squarespace website. Below are several Linguise features that you can use.
If Weglot only offers a 10 day trial, then Linguise offers 3x longer, namely 30 days. During the trial period you will get a translation feature of up to 600 thousand words with no language choice limits.
This offer is certainly much bigger than the Weglot trial period. If you are interested, you can start registering a Linguise account for free without a credit card.
Unlimited number of languages
More than 80 languages ​​are available, so you are free to add any of these languages ​​to your Squarespace eCommerce store. There is no limit on adding languages, either on trial packages or other subscription packages.
Unlimited translated words
While Weglot's largest package can only translate up to 5 million words, this is different from Linguise which has no word translation limit. This means that you can translate any number of words in your eCommerce store without any additional costs, which is more economical, right?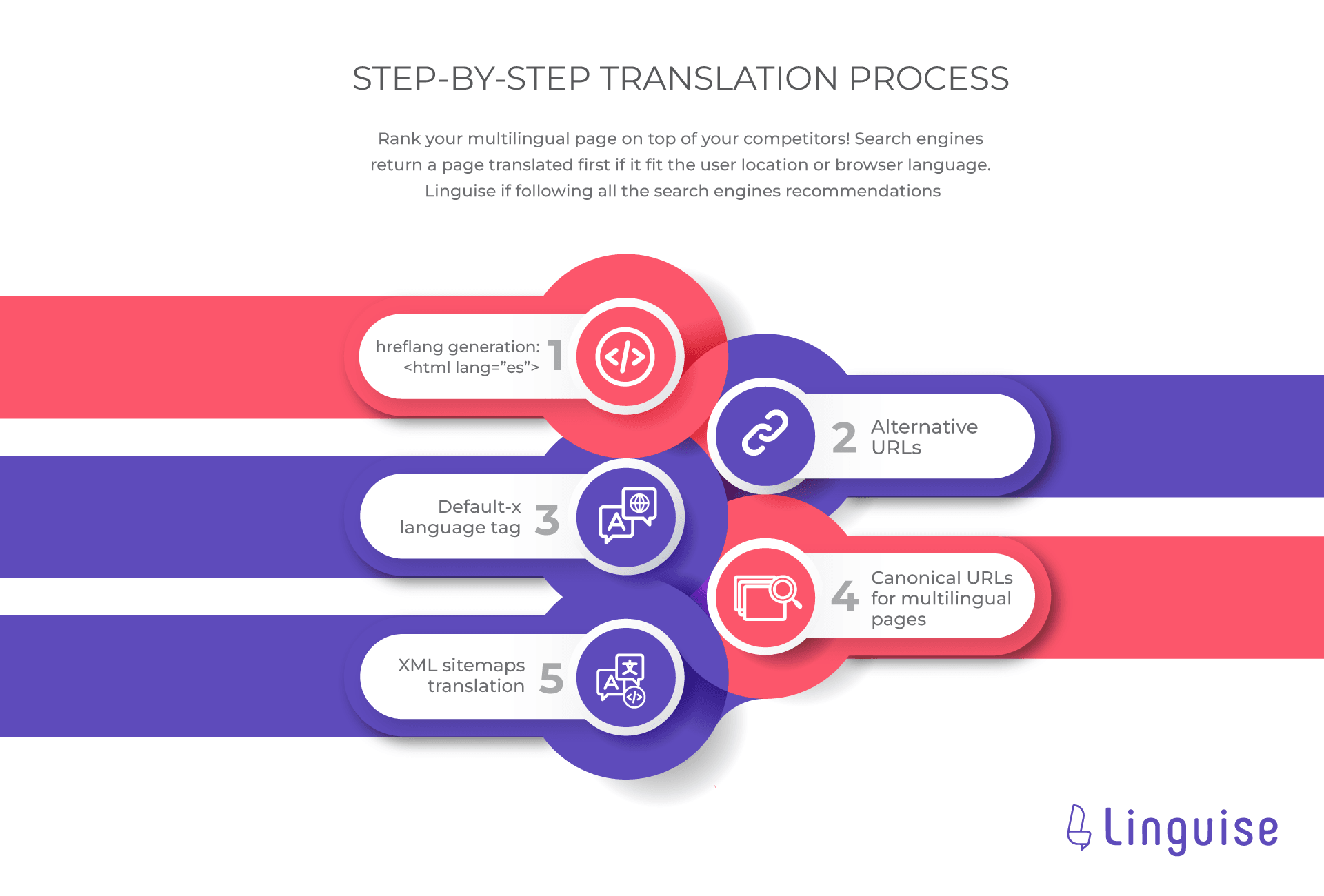 All Linguise packages starting from the free, start, pro and large packages include SEO & URLs Translation. Linguise really supports multilingual SEO which includes hreflang tags, metadata translation, URL translation, and multilingual sitemaps.
That way, your website can be indexed more easily in every country and your audience can easily find it.
Similar to the Weglot feature, they also provide multilingual SEO for all packages, but the Translated URLs feature is only available on some packages.
So if you use a package that does not have the Translated URLs feature, all URLs on the site will not be translated into all languages.
Unlimited add members & translators
Like Weglot, Linguise also allows you to add new members on the dashboard. You can add any number to the Linguise dashboard. Apart from that, you can also choose existing roles, namely admin, manager, or translator.
On Weglot, the trial feature cannot add translators or order professional translators from outside agencies. Meanwhile, on Linguise, all packages allow you to add members and any number of translators.
This is what an example of adding a new member or translator looks like.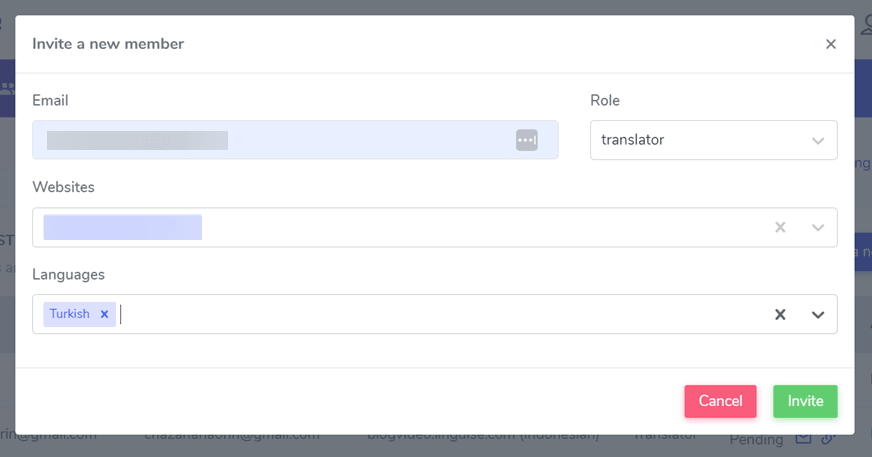 Advanced translation exclusion rules
Next is the translation exclusion rules feature. This feature allows you to load sentences or content on the web so that they are not translated. Linguise provides this feature in 3 different types as in the following image.
Exception text
Text replacement
Content exclusion
Exceptions based on URL
Exclude by line

In this way, you can leave the content or sentences untranslated or leave them as they are in the original.
This feature does not yet exist on Weglot, therefore Linguise is the right solution for those of you who need to load text such as brand names, technical content or others.
Just like Weglot which has an editing control feature, Linguise also has an excellent feature that helps users edit translation results to make them more perfect, namely the front end live editor.
With the live editor front end, you can edit the translation results in any language, you only need to go to the Linguise dashboard then select the Live Editor menu, after that you will be directed to the advanced translation page.
This is what the front end of the editor looks like when translating.
Ready to explore new markets? Try our automatic translation service for free with our 1-month risk-free trial. No credit card needed!
Tips when creating a multilingual Squarespace eCommerce
After understanding how to translate Squarespace eCommerce and several Linguise features that can help you, now is the time for you to know tips when creating multilingual Squarespace eCommerce.
There are several tips that you can follow to produce an attractive multilingual site that appears in various destination countries.
Consider Your Fonts Carefully
Make sure your font choice is easy to read in all the languages ​​you support and has all the required characters. Choose an encoding based on Unicode such as UTF-8, as it supports multiple languages ​​and can adapt pages to a wide mix of languages.
Also note that some fonts may require different line spacing. For example, Chinese characters are visually more complex than Latin characters, so they may require more space for readability.
Keep Local Formats in Mind
You need to customize the following units based on region and user preferences:
Dates: Date formats can vary by country, so it is important to understand the numeric calendar format used in a particular country.
Measurement: Pay attention to the measurement system used in each country. Users in the United States typically expect measurements in the imperial system (pounds, inches, and feet), while users in Europe expect measurements in the metric system (grams and meters).
Phone number: The country code and number of digits in a phone number vary depending on the country.
Currency: Choosing the right currency is very important, especially for e-commerce apps and sites. When users view an item, they want the price in their native currency. When users see foreign currency, they need to convert it into their own currency.
Social media buttons: People around the world use different social media services.
Take care of your SEO multilingual
Implementing an effective multilingual SEO strategy is critical to increasing the visibility and ranking of your Squarespace eCommerce site in multiple language markets.
This involves comprehensive keyword research tailored to multiple languages, allowing you to identify relevant search terms and optimize your content accordingly. By creating language-specific metadata, including meta titles, descriptions, and tags, it allows search engines to accurately recognize and index your multilingual content.
Integrating multilingual sitemaps and hreflang tags can also signal search engines about the language and geographic targeting of specific pages, thereby improving the overall SEO performance of your site across different language versions.
Visible and clear language switcher
It is important to integrate a language switcher that is clearly visible and user-friendly.
Place selector language clearly, ideally in the header or footer, ensuring that the selector stands out and is easy to spot. Use clear, easily recognizable language icons or text to represent each language option, and implement insightful design elements, such as dropdown menus or flags representing specific languages, to increase user accessibility and provide a seamless browsing experience.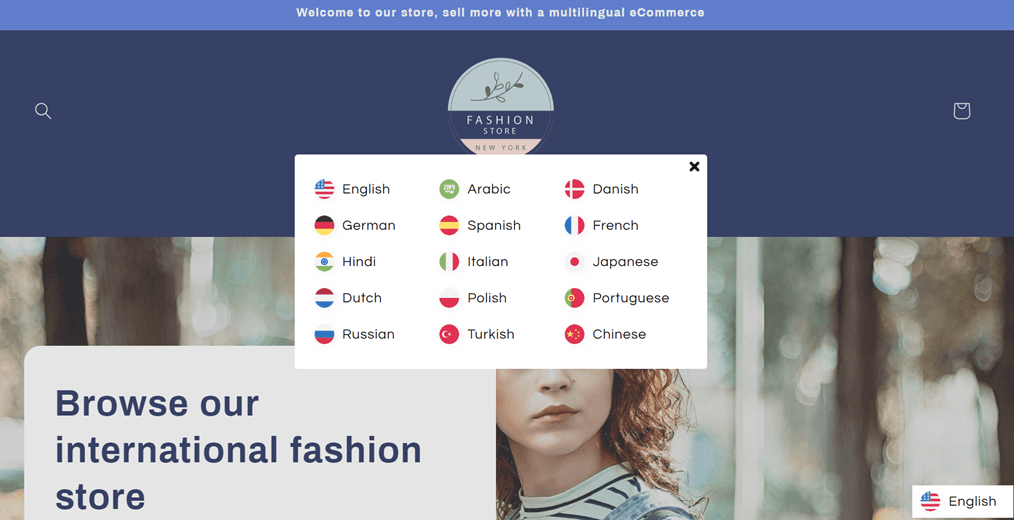 Ensure that the language selector remains consistent across all pages, allowing users to switch languages ​​easily and encouraging a sense of inclusivity and accessibility for a diverse global audience.
To maintain optimal readability and improve the overall user experience, it is important to avoid using long sentences in your content.
Instead, prioritize using concise and clear language, making sure your message is easy to understand through various language translations. By using short sentences, you can make it easier for users to understand, regardless of their language skills, allowing them to quickly and easily understand the essence of your content.
Those are some tips when you create a Squarespace multilingual eCommerce store.
If you follow the tips above, your shop will be more user friendly, attractive, and have good SEO visibility.
Linguise is the best way to Translate a Squarespace eCommerce shop
At this point, do you understand the differences between the two Weglot and Linguise services? The Weglot translation service certainly provides features that are more solution and effective than some of the Weglot features which are still not available in all packages.
From the explanation above we can see that Linguise is the best way to translate a Squarespace eCommerce store. With Linguise you can easily translate your entire site into multiple languages ​​– from product pages to checkout. What are you waiting for, let's install Linguise automatic translation in Squarespace.