Do you know what is behind tourism website translation?
Last December was that particular time of the year when everyone is trying to make plans for the holidays. We are all looking for some well-deserved vacations to spend with the family or maybe with friends. Because of that, I've been thinking about how the internet has been transforming the tourism and travel industry but also how online holiday booking has outnumbered more old-style booking approaches.
It is also important to mention that despite the increased number of users who don't speak English and the current globalization we are experiencing, many websites that are dedicated to tourism are not translated at all and if they are, the translation is not good enough.
 The translation of a website is normally underestimated by most ventures related to tourism, even when those translations are in some ways responsible for their failure or success.
That is the reason why we will explain how website translation is so vital for the traveling and tourism industry, and we will give you relevant info on how to evaluate the quality of those types of translations.
Before explaining everything that you need to know about the importance of website translation, it is necessary to expand a little bit on what tourism website translation truly is and how to implement it successfully.
This type of translation will allow tour operators, hotels, travel agencies and other types of businesses to be able to reach many potential customers around the world.
From magazine advertisements to websites and brochures, there are many ways for businesses that are directly related to tourism to promote themselves and their services.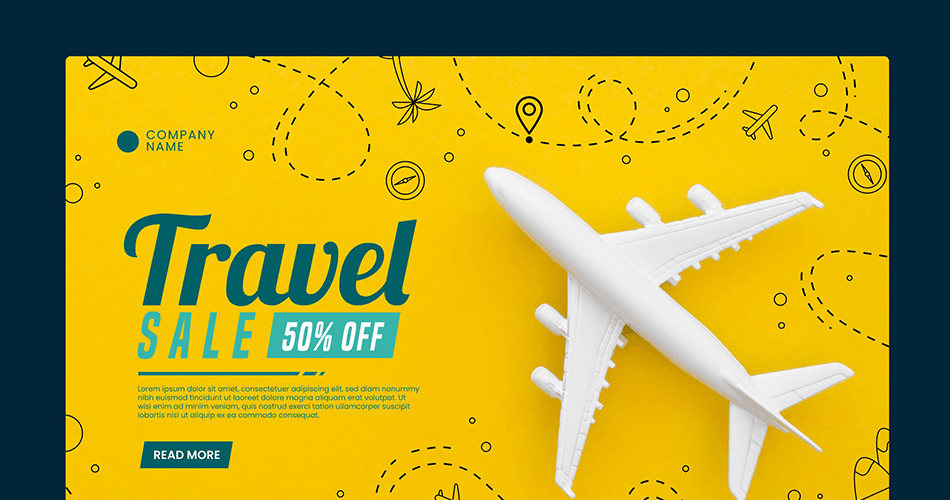 Web content is an entirely new genre
Long gone are the days when websites would be perceived as the digital version of a traditional brochure are long gone. Nowadays, they are considered as a new macro-genre including different sub-genres of all kinds of web documents such as company websites, blogs, and discussion forums.
The reason why this is happening is that website content challenges the traditional linearity of text. There's no such thing as a beginning and an end, but there are entry and exit pages which are going to depend only on the reader's choice and obviously, they have to be coherent.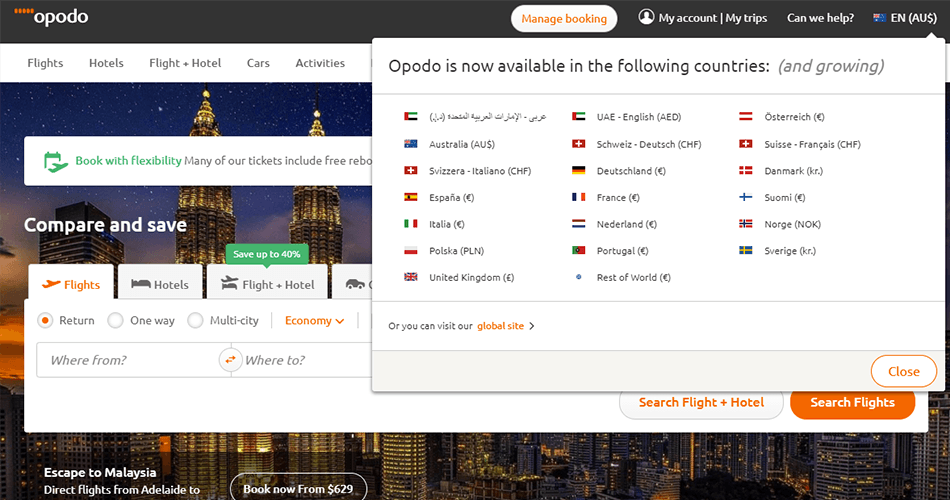 There are some characteristics that any website must have to be able to get the best results. For example, being automatically adjustable to the preferences of the readers but also being dynamic, optimized, and interactive. One example of being adjustable to the readers is the multilingual websites offering content in a specific language, but, most importantly, they must SELL!! So now, let's take a look at how a translation will help you achieve these goals.
Promotional language in the tourist websites
Something that happens often is that visitors are going to arrive at a tourism website, and they are going to build their own virtual path through all the key phrases and keywords. Then, their wishes and dreams most be kindly packaged and sold back to them, this is one of the reasons why it's normal to find some language techniques that are meant to seduce and persuade all these potential travelers. They use the imperative mode, emphatic languages, call-to-action messages, and other tools and techniques.
Because of the space devoted to describing the different products that are offered has limited space, the persuasive language you are going to use needs to go hand in hand with the lexical conciseness. Accomplishing conciseness may be easy for languages such English because of the possibility you have of using pre modification as a way of reducing relative clauses, however, it might be challenging for other languages like Spanish because they have to resort to relative clauses, prepositional phrases, and adjectives among other solutions.
There are many nuances and specific translation issues that are going to prove to be a challenge. Most of the time, a translation is only going to be able to convey the core of a message, but the details and the true meaning of anything that is written in one language is going to require a proper translation to have the same meaning.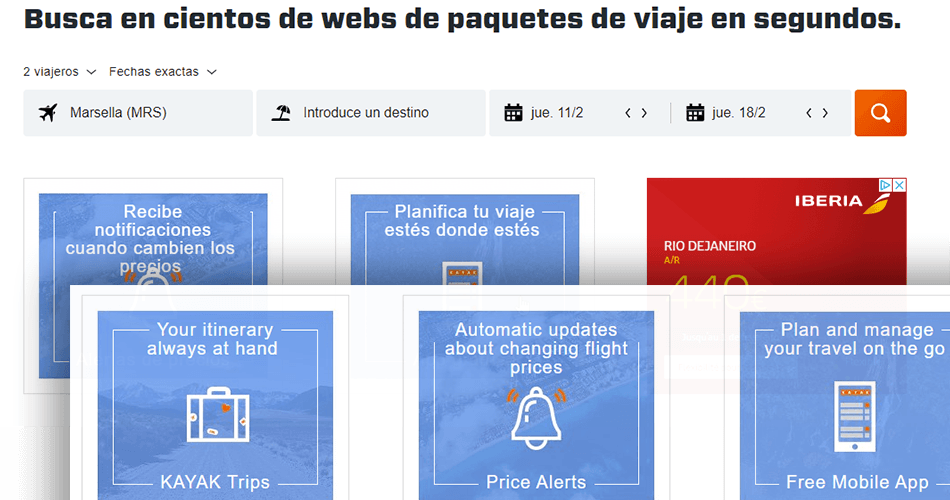 With the Neural Machine translation, all the translations you'll have all your website translated instantly. Most the paragraph that describes your content won't need much modification as neural translation has a lot of context. In the titles, however, the translation will be good, but it may be interesting to make a revision with a native language speaker to improve tone and keywords!
The importance of the Keywords
What we just explained, is merely the tip of the iceberg for anyone who is interested in translating websites that are promoting tourism. However, it's very important to understand that online visibility is going to depend not only on translations, but also in a lot of other relevant factors.
A web translation needs to be capable of providing optimized content in the keywords. If those keywords that a potential customer will produce naturally and that are expected to be found aren't there, the translation would not be able to fulfill its purpose and function. We can understand how important the keywords are when we realize that some tourism-related texts are almost solely made up just for them.
If we talk about the message, we must determine if it is repetitive and includes some phrases with the same meaning. The whole point here is to ensure that every variant of a search phrase is going to be present in the text in the consumer's language and this is going to be crucial for optimal engagement.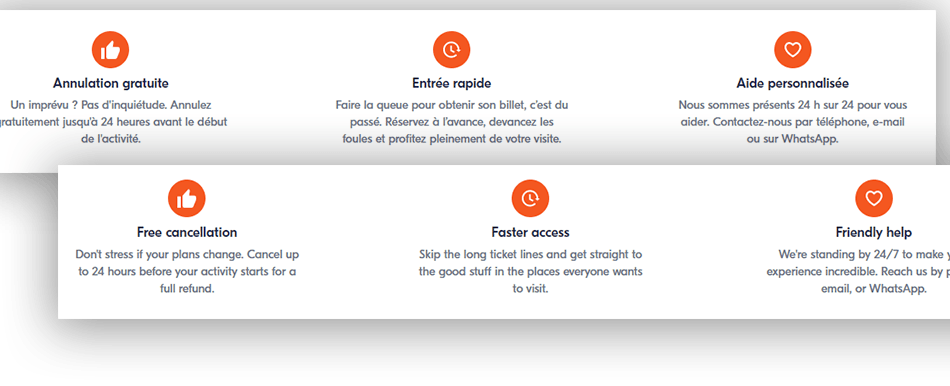 If you want to search for equivalent key terms, the translation is going to need to use keyword popularity tools, one of them is Google Ads, and what they do is check if the translated terms are going to do the job that they were intended to do in the first place. In addition, it's important to emphasize that the place keywords occupy inside the text is also going to have an effect on engagement.
Most of the time, they are concentrated at the beginning of any page, and they are essential in active links, title bars, meta-descriptions and titles. This is that way because website users are inclined to scan, rather than read, and normally, they just don't go beyond than the first paragraph.
Is the tourism website translation some type of specialized translation?
If we take into consideration that tourism-related expressions in English language are way less than the ones we use when we are communicating every day. This exactly what makes the tourism promotional English another kind of specialized discourse that will require special skills at many levels from the translator.
If we speak about the linguistic level, they need to deal with the promotional texts, but also with the technicalities of any particular tourism's language. When we are referring to the technical level, they must handle all the requirements that are imposed due to the need that arises to optimize the web content, so it will appear high in the rank with the search engine results.
The Tourism website translators are also "all-in-one" language services providers
It's important to understand that the translation for the tourism/travel industry is not a simple task, in fact, it is quite complex, especially because it will require translators to develop some skills that originally were not part of their professional profile.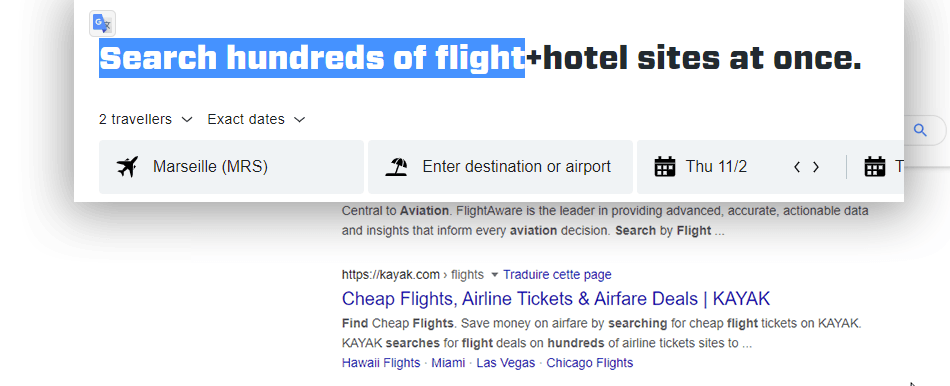 Why is important for companies to translate their content?
As we explained before, there are a number of reasons why any tourism company should translate all its texts. We just talked about some of them, but we are going to finish this article by mentioning other important reasons why tourism companies should translate their content.
Customers never trust poorly translated pages: This isn't only something that applies for tourism companies, but for any business that wants to have access to markets in different languages. Around 80% of internet users say that they would think twice about buying something if the website is poorly translated.
Because it helps with SEO: Please keep in mind that your SEO strategy should be entirely different for each language, and this isn't something that we decide, in fact, it's all about how Google decides to classify your content. If any tourism company has nothing but their native language available, it will be difficult for them to rank in searches in any other language.
SEO again: search engines, mostly Google, returns in first positions the pages that are translated in the user language (his browser language to be more precise)
Because it is a faster way to expand your market reach: Translating your page to another language is not the only thing you need to do to reach possible customers in others, but it is definitely a huge step in the right direction. It will help you to climb your way through the search engine, and it will help you be ahead of the competition.
Break Language Barriers
Say goodbye to language barriers and hello to limitless growth! Try our automatic translation service today.
Here's a short illustration of the SEO benefits you can get from a high-quality translation like Linguise.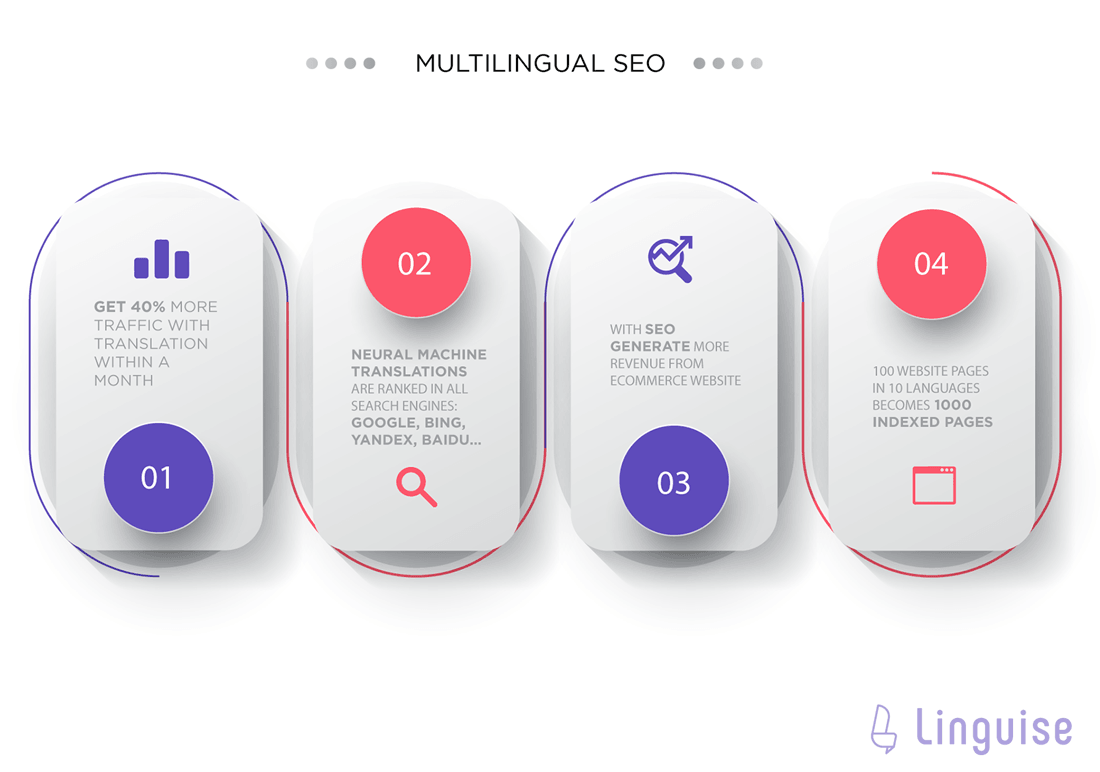 Ready to explore new markets? Try our automatic translation service for free with our 1-month risk-free trial. No credit card needed!
In conclusion…
In conclusion, the good news for translators is that there are many tools, especially technological, that are accessible to facilitate all the tasks of web content translations for SEO. We're talking about Linguise here, we do offer affordable Neural automatic translation that plays well with tourism websites. However, on the other hand, as far as tourism website translations are concerned, it's relevant for translators to keep in mind that web content isn't only an online version of traditional promotional material, it is so much more than that.
This is the main reason why the creation of professional translations is going to prove to be so essential for success in the modern world. Every website that wants to be actively engaging their target audience is going to require a proper translation to as many relevant languages as possible.