In today's technology-dominated world, it is easier for companies to attain customers from all over the world. As the global e-commerce market sales reach up to 4.9 trillion U.S. dollars, an online company can make huge profits by spreading their services on the international level. However, you need to translate your website to cater to customers from different countries, cultures, and continents.
Even though English is one of the most spoken languages in the world, not everyone can read or understand it. If you want to spread your business in Asia, you need to target the Indian e-commerce market. To successfully do that, you must translate your website into Hindi and other common languages of India. This way, you can connect with your audience on a personal level and set up your online business without a hitch.
The common languages in India
India is the seventh-largest country in the world and a home to people belonging to different religions and cultures. As a result, you will find people in India who speak other languages apart from Hindi. Currently, the most widely used languages in India are:
Hindi – 615 million speakers
Bengali – 265 million speakers
Urdu – 170 million speakers
Punjabi – 126 million speakers
Marathi – 95 million speakers
Telugu – 93 million speakers
Tamil – 81 million speakers
Gujarati – 61 million speakers
Kannada – 56 million speakers
Odia – 38 million speakers
Sanskrit – 5 million speakers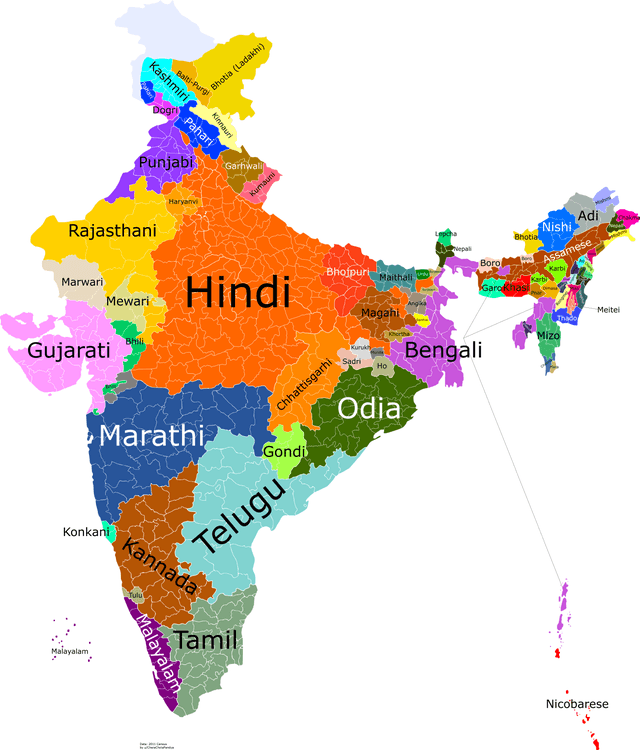 Why translate your website in Hindi?
Most Indian people speak or understand English in some form. Then why should you create new web pages that are specifically designed in Hindi or other languages of India? Well, having a multilingual website will not only help you connect with your target audience, but also boost your SEO ranking. Google and other search engines are more likely to suggest your website in India if it is created in Hindi.
Moreover, you want to appear accessible to connect with your audience by using their language. People are more likely to buy from your store when they create a connection with your brand. Using a Hindi-translated website will also give you an edge over your competitors. Most global brands operating in India use an English website. By providing a Hindi-translated website to customers, you set your service apart and gain market share faster than your competitors.
Importance of Hindi translation for your website
In today's global marketplace, businesses must reach customers in their native language to maximize their reach and influence. Hindi is in 3rd place with more than 600 million Hindi speakers worldwide. Translating your website into Hindi can be an important step in growing your business and reaching a wide Hindi-speaking audience.
Here are some reasons why Hindi translation for your website is important:
Better user experience:

A website available in Hindi will provide a better user experience for Hindi-speaking visitors. They will be able to navigate your website easily, read your content in their native language and engage with your brand more effectively.

Increased engagement:

Visitors who speak Hindi are more likely to engage with your website if it is available in their native language. They will spend more time on your website, read more content, and are more likely to become customers of your business.

Higher conversion rate:

By providing your website in Hindi, you can increase the conversion rate among visitors who speak Hindi. They will feel more comfortable and confident doing business with you if they can read and understand your content in their native language.

Competitive advantage:

Providing a website in Hindi can give you a competitive advantage over other businesses that do not serve Hindi-speaking visitors. By providing a website tailored to their needs, you can build stronger relationships with your Hindi-speaking customers and gain a competitive advantage.

Improved SEO:

By translating your website into Hindi, you can improve search engine rankings in Hindi-speaking regions. This will make it easier for potential customers to find your website when searching for a product or service in Hindi.
Hindi translation for your website can help you reach a broad Hindi-speaking audience, improve user experience, increase engagement and conversion rates, gain a competitive advantage, and improve your SEO. This is an important step for businesses looking to expand their reach and influence in today's global marketplace.

Prepare your website for Hindi translation
Before you start translating your website into Hindi, there are a few things you need to worry about. Below are some important steps that you must follow:
Identify your target audience:

The first step is identifying your target audience. You should also consider the demographics and preferences of your target audience to ensure that your content translation resonates with them.

Prepare your content:

Once you have identified your target audience, you need to prepare the content for translation. In this preparation, you will need to identify the specific pages and sections of your website that need translation, as well as any image or multimedia content that requires translation or localization.

Choose a translation method:

You can choose from a variety of translation methods, such as machine translation, human translation, or a combination of the two. You are free to use the services of a professional translator or use translation software or plugins. Depends on your deal and terms.

Use Unicode fonts:

Hindi has fonts with special characters displayed, therefore to ensure proper Hindi text on your website you need to use Unicode fonts. These fonts all support characters used in Hindi and will ensure your translated content is readable and accessible to your target audience.

Test and review:

Once you have translated your content into Hindi, it is important to thoroughly test and review your website to make sure it is working properly and looking good. To test this, you need to provide your translation to native Hindi speakers and get feedback from them to ensure your translated content is accurate and culturally appropriate.
By following these steps, you can prepare your website for Hindi translation and ensure that your translated content meets the needs and preferences of your target audience.
Different options for translating a website into Hindi
You can use traditional solutions for translating your website into Hindi. Those options are, using a human translator, browser translation, or automatic translation.
Using human Hindi translation
You can hire a native Hindi speaker or a professional translator to make a Hindi-translated website. Using a Hindi translator will guarantee that your website has zero lingual mistakes. A Hindi translator will use precise language and use locally recognized words to connect with the audience. Additionally, using a human translator allows you to include cultural context and take a direct or indirect approach to customers.
A Hindi translator will ensure that the translation is not full of meaningless words and has a nice flow. However, using a human translator has its drawbacks. Hiring a Hindi translator is very expensive especially when they are only translating the already written content and not adding anything new to the website. So, it is better to use an option that is more budget-friendly such as an automated Hindi translator.
Using Google Translate public tool for Hindi translation

Google Translator public tool (not the API for online projects) is a quick option for translating text into any language. Google Translator uses artificial intelligence to translate one language into another. Using Google Translator is totally free of cost, allowing you to translate your website without worrying about the budget. Moreover, Google's translation tools integrate with Google Chrome and Android devices to offer quick website translation that is accessible within seconds.
You can translate your website pages into Hindi by following these simple steps:
Write "Google Translator" in the search engine
Open the link and copy-paste your website address in the left text box
Select "Hindi" from the language translation options
Press the translation button
The translated text will appear in the right text box, and you can copy-paste it into your website layout.
Another way to use Google Translate is to click on the translation option in the toolbar. It will turn your webpage into Hindi instantly. However, it is only a live translation of the English page and not a translated webpage on its own. Due to this reason, it will not be indexed on the search engine.
The major downside of using Google Translator is compromising on translation quality and accuracy. Google Translator makes major mistakes such as ignoring grammar and syntax, out-of-context words, and lack of idioms. As someone who is not a Hindi native speaker, you will be unable to pick these mistakes and correct them. Your customers will have difficulty understanding text riddled with so many mistakes and will think you are not a good brand to shop from. This can damage your brand reputation and decrease sales.
Another issue with Google Translator is the error in translating text and numbers accurately. Some glitches in Google Translator's format can alter and increase the product's quantity during the checkout process. No customer wants to receive and pay for an item quantity they have not even ordered. Google Translator can also inaccurately change the prices in translation, showing low or high item prices.
Using Neural Machine Hindi translation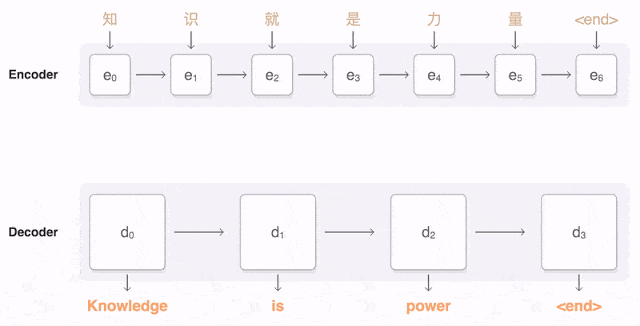 Neural machine translation is a form of end-to-end machine learning that automatically translates text from one language to another. Neural machine translations are more accurate as they use artificial intelligence (AI). The machine uses a large set of rules during translation which eliminates the need for human input. Some neural translation machines also use statistical models to analyze existing translations. After analyzing them, the machine encodes the statistical pattern and later uses it to translate text into a similar language.
As the neural machine keeps renewing its database and language statistical pattern, you get high accuracy translation in every language. Moreover, you can integrate the neural machine with any software using APIs or SDKs. One of the main reasons' machine translation is gaining popularity is because of low costs. Human translations are high in accuracy and quality, but they are very pricey. So, using the neural machine you can accurately translate your text into Hindi but at a low cost.
Break Language Barriers
Say goodbye to language barriers and hello to limitless growth! Try our automatic translation service today.
Automatic high-quality Hindi translation with Linguise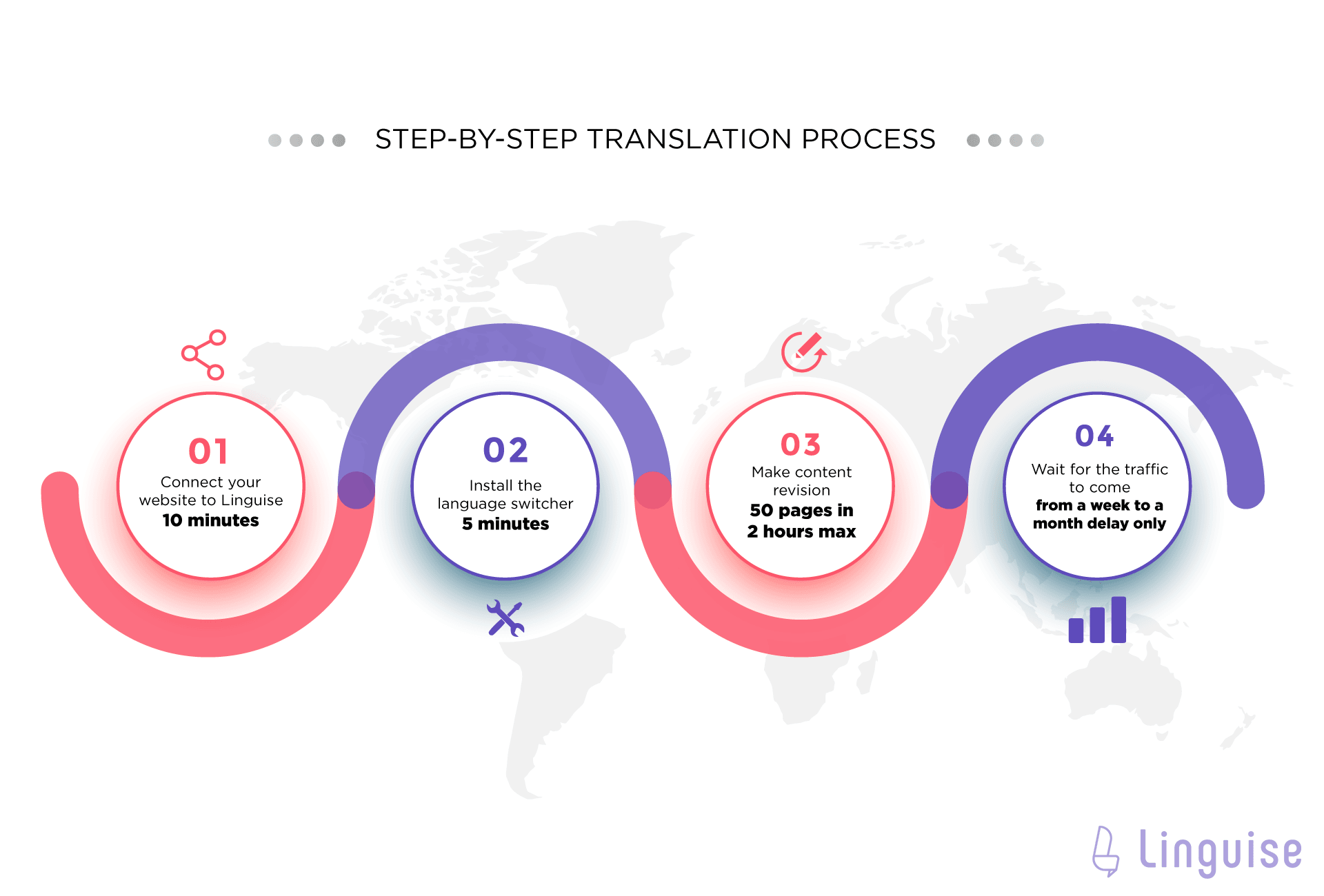 Linguise is an automatic language-translation tool kit that can translate any language. Linguise translates text by using the neural machine. Therefore, its translated results are always of the best quality. The best part about Linguise is that it is quite pocket-friendly, so even startups and small business owners can also use it.
You can quickly translate your website into Hindi or another Indian language by using these simple steps:
Log in to your Linguise account
Connect your website to Linguise
Step 1: Linguise registration to get an API key​
First you need to register an account to get an API key. The first month is totally, no credit card is required, so you can test with any risks.
Once you connect to your Linguise dashboard, the next step is to set up your new domain and get the API key.
The API key is required to check which language is activated and help the neural translation model translate the pages. Get the API key and save it for later use.

Step 2: Select the Hindi language (among others)
The language selection has to be made from the Linguise dashboard, so later the plugin will automatically synchronize the configuration!

Step 3: Install the Linguise plugin
The next step is to install the WordPress plugin from the WordPress repository to activate the language switcher. Install it as you normally install any WordPress plugin by uploading it to your site, by downloading and uploading the plugin or just by using the auto installer.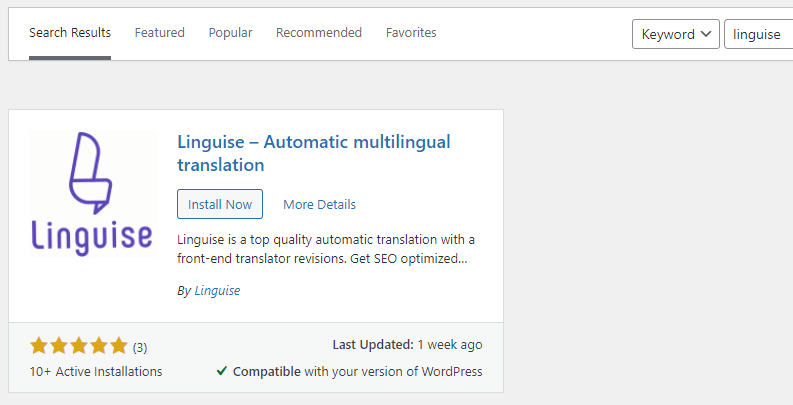 When you are done with the WordPress plugin install, just add you API key and save. If you've included the Hindi language and translated language for your website, that'll be automatic.

Step 4: Language display setup
The plugin includes many language flags and names display option. You can load a language flag using a shortcode, a menu or even a PHP snippet.

Once you've added the flag list, you can setup the styling. First the way the language list opens:
As a popup
As a dropdown list
Side by side
Here's an example of the Hindi language flag + language name as a dropdown (you've got a preview on the right side).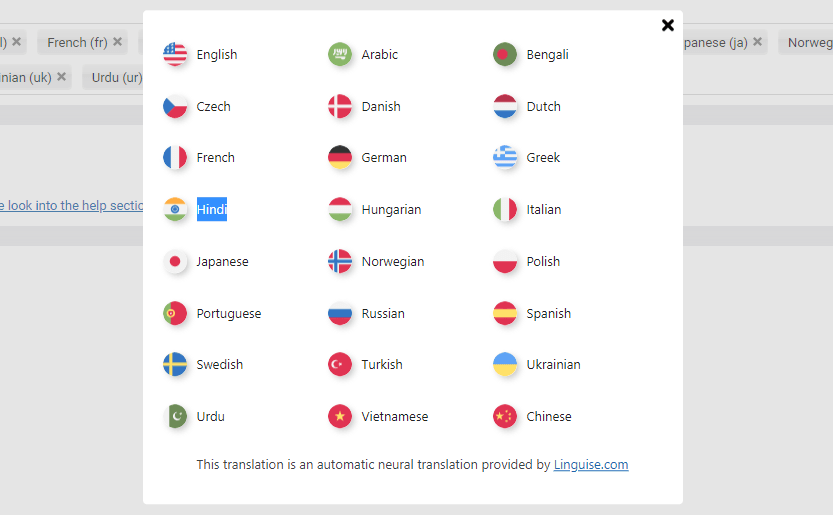 The display options include the possibility to display only the flag or only the language names or both. For example, the Hindi flag + the language "Hindi" is selected here.
Ready to explore new markets? Try our automatic translation service for free with our 1-month risk-free trial. No credit card needed!
Your website is already fully translated in Hindi
The Linguise automatic translation in Hindi has really wonderful quality (you can also edit all the translated content if you want). Here I've added the Linguise flags successfully as a menu, and you can view the Linguise language switcher icon with flags on the main menu.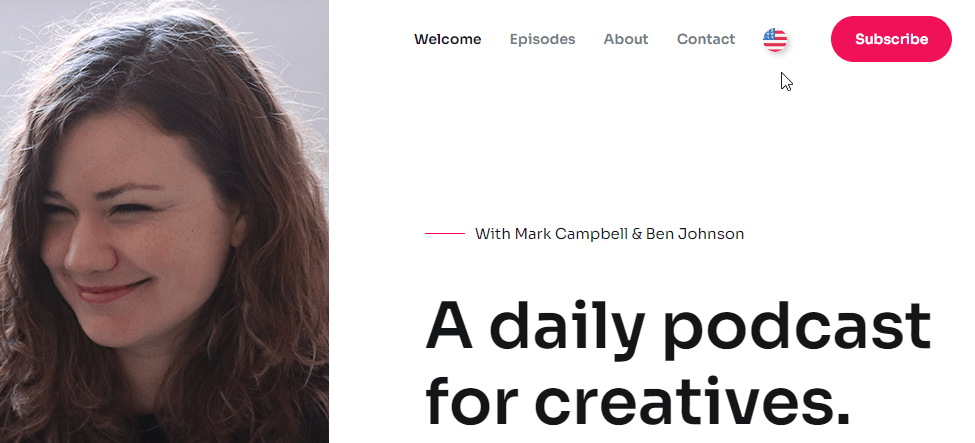 Click on the original language, open the language list.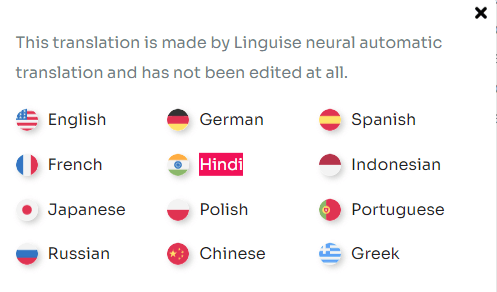 Here are the results, translated from English to Hindi in no time.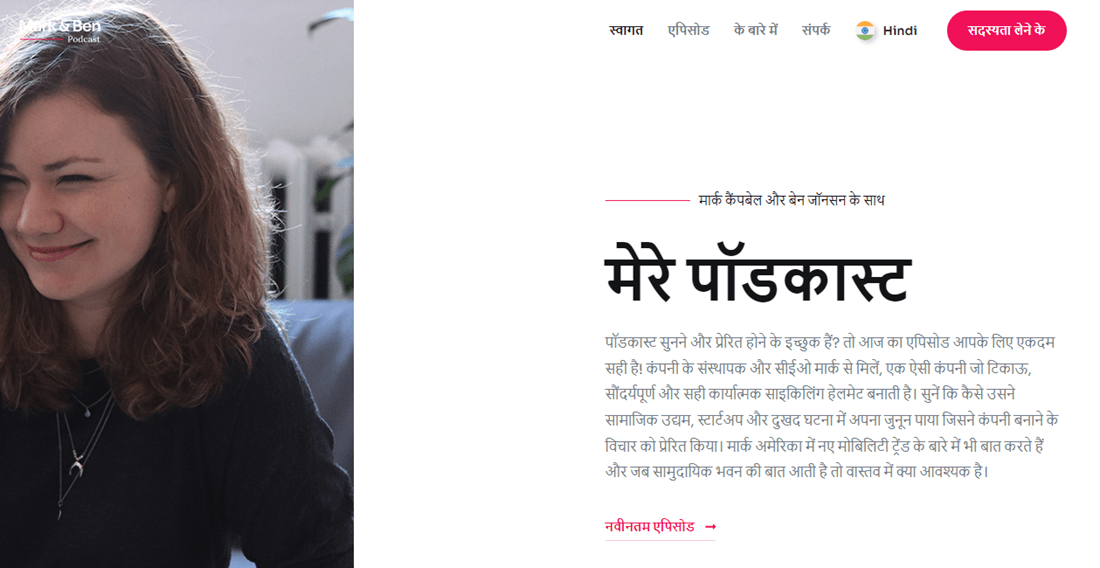 Best practices for Hindi website localization
Hindi website localization involves customizing your website to meet the linguistic, cultural, and technical requirements of your Hindi-speaking audience. To ensure the successful localization of your website, below are some best practices that you can follow:
Choose the right translation method:

there are many choices for site translation, starting from human translation, machine translation, or a combination of the two. Hindi is quite a complex language, therefore you can combine both methods, namely translating with an automatic translation service and then reviewing it with the help of a professional Hindi translator.

Cultural nuances:

Hindi language and culture has unique nuances and expressions which may not have direct equivalents in other languages. It is very important to consider these nuances when translating your content to ensure that your website resonates with the Hindi-speaking audience.

Obey local laws and regulations:

When localizing your website for Hindi-speaking visitors, it is important to comply with local laws and regulations. This includes compliance with data privacy laws, labeling requirements, and consumer protection laws.

Test and review:

the final tip is to thoroughly test and review the translation. Make sure that the word-for-word is translated correctly and that the Unicode font that is used can appear on the web page, without anything being left out.
By following these best practices, you can ensure that the localization of your Hindi website is successful.
What kind of website you want to translate?
Before you decide to translate a website into Hindi, there are a few things you need to understand about the website you want to translate. The following questions can help you identify requirements and appropriate approaches:
Type of website to be translated: First of all, understand the type of website you are going to translate. Is it an online store, news site, blog, company site, or another type of website? This will influence the required translation style and context.
Volume of new content: Does this website frequently update its content with new posts every day or week? Knowing how often new content is uploaded will help you determine the frequency of translation updates.
Content page length: How much content is contained in the main pages or key pages of the website? Are these pages relatively short or long? This will affect the estimated time and effort required to translate each page.
Technical content: Are there any words or technical content that require special translation. Focus attention on these pages in the translation process.
Target audience: Who is the target audience of this website in India who speak Hindi? Knowing this audience will help you tailor your translation to suit their preferences and needs.
Once you have a better understanding of the website you want to translate, you can plan the translation process more efficiently and ensure that your translation meets the website's goals and needs.
Indian translator job and translation market
Here's the continuation of insights related to Indian translator jobs and the translation market:
Growing demand for Indian language translators: The demand for Indian language translators is on the rise due to globalization and the expansion of businesses. This demand extends beyond just English translation. Many international companies are looking for translators who can translate content from Indian languages like Hindi, Marathi, Gujarati, and Bengali into various languages. This is particularly valuable for businesses looking to tap into the Indian market or communicate effectively with Indian audiences.
Rise of freelance translators: The freelance model has gained popularity among Indian translators. Platforms like Upwork, Fiverr, and Freelancer have made it easier for translators to offer their services to clients worldwide. Freelancing provides flexibility and control over work hours, allowing translators to work with clients from different regions and industries.
Remote work opportunities: The advancement of technology has made remote work more accessible than ever. Indian translators can now work from anywhere with an internet connection. This has opened up opportunities for them to collaborate with clients and agencies from different parts of the world, expanding their client base and exposure.
Specialization in niche areas: To excel in the competitive translation market, many Indian translators are specializing in niche areas. These areas may include legal translation, medical translation, technical translation, financial translation, and more. Specialization allows them to offer expertise in specific industries, attracting clients who require highly specialized knowledge.
Increased use of translation tools: Translation memory tools like Computer-Assisted Translation (CAT) tools and Machine Translation (MT) are gaining popularity among Indian translators. These tools help streamline the translation process, improve efficiency, reduce costs, and ensure consistent and high-quality translations. Translators are leveraging technology to enhance their services.
Growing demand for video remote interpreting: The rise of virtual events, webinars, and video conferencing has led to an increased demand for video remote interpreting services. Indian translators who offer this service can assist clients in effective communication across language barriers during virtual events and meetings, catering to a global audience.
Need for localization: As businesses expand globally, there is a growing need for localization services. Indian translators who understand the cultural nuances and language variations of different regions can help businesses tailor their content and products to resonate with local markets. Localization is crucial for maintaining cultural sensitivity and relevance.
Increased focus on quality: In a competitive translation market, quality is paramount. Translators and agencies are placing a strong emphasis on delivering high-quality translations that accurately convey the intended message. Quality assurance practices, proofreading, and editing have become integral to the translation process.
These insights highlight the evolving landscape of the translation industry in India, with opportunities for specialization, remote work, and the use of technology playing a significant role in the success of Indian translators and language professionals.
How to setup Linguise SEO for Indian pages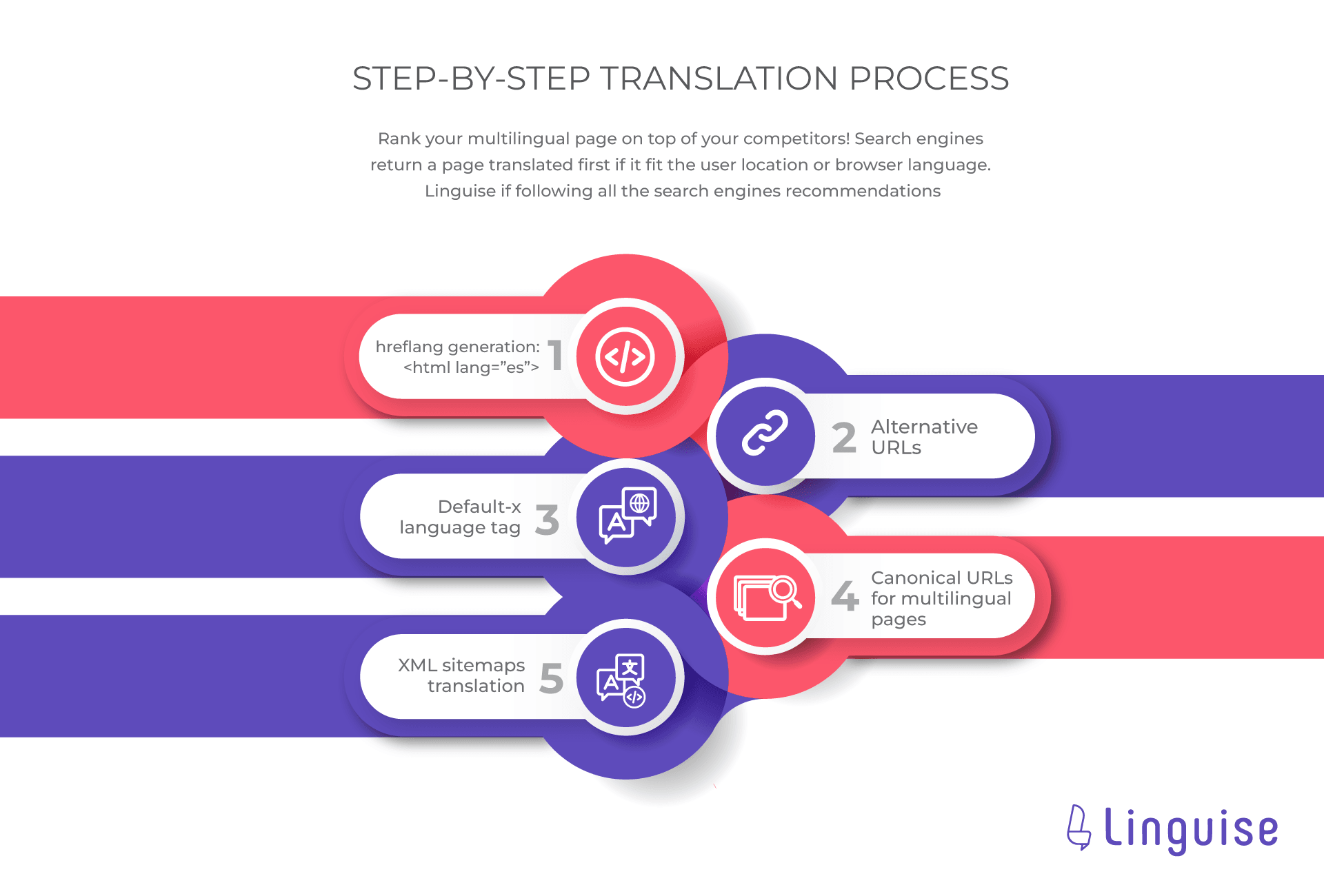 Setting up Linguise SEO for Indian pages:
Keyword research:

Start by doing keyword research for the Indian market. Identify the keywords and phrases that your target audience uses when searching for services or products related to your freelance market. Tools like Google Keyword Planner can help with this.

URL structure: Make sure your URLs are SEO friendly. Include relevant keywords in the URL, but keep it concise and descriptive.
URL translation and hreflang tags: ensure that the URL of the content or web page is translated into Indian languages ​​and comes with special tags, for example hi for Hindi.
Meta tags: Optimize meta tags (title tags and meta descriptions) for each page. Include relevant keywords and make sure they accurately describe the content of the page.
XML sitemap translation: so that the translated pages can also be indexed by search engines.
Canonical URL for multilingual pages: to tell Google that there are several versions of a web page that have similar content and differ only in language. This will prevent the web from being penalized and ranking down which is detrimental to SEO.
Alternate URL: A URL that can be used as an alternative to accessing the same web page. The combination of canonical and URL alternatives can be an effective SEO strategy.
Monitoring and analytics: Regularly monitor the performance of your India pages in search results using tools like Google Search Console and Google Analytics. Make necessary adjustments based on the data you collect.
Remember that SEO is an ongoing process. It may take some time to see significant results, but with consistent effort and adherence to best practices, your translated Indian pages can rank well and attract a substantial audience.
Linguise pricing for Hindi website translations
You can use Linguise free version with one-month period, with up to 600 000 words translated, and you have one month free for each new domain!
If you've planned to translate your website only in Hindi language, that would represent 600 pages of 1000 words for a cost of $25/month or $275 per year. There's also a smaller plan for smaller websites plus an unlimited translation plan for very large websites.
START
INCLUDED IN 1st MONTH FREE TRIAL

200 000 translated words

Unlimited translated page views

Unlimited languages

1 website per plan with one month free
PRO
INCLUDED IN 1st MONTH FREE TRIAL

600 000 translated words

Unlimited translated page views

Unlimited languages

1 website per plan with one month free
LARGE
ACCESSIBLE WITH SUBSCRIPTION

UNLIMITED translated words

Unlimited

translated page views
Using a translated version of your website is important for making a connection with international customers. If you are launching your brand in the Indian e-commerce market, you need to translate your website into Hindi and other widely spoken languages of India. You can use a human translator or online translation services.
However, one is pretty expensive and the other creates highly inaccurate results. Therefore, the perfect solution is to use Linguise neural machine translation which provides low-price subscription plans and more than 95% accurate translation.