In today's globalized world, businesses and organizations progressively operate internationally and focus on multiple audiences. Businesses must cater to audiences from all over the globe. Linguise believes that user experience can make or break your website.
Localizing website media is essential for successfully engaging global audiences as it helps adapt website content to their cultural and linguistic preferences. Such content can help businesses improve their website's user experience, retain visitors, and sell more.
According to research, the majority of consumers prefer to buy from websites available in their native language. Considering that website media localization helps increase your online presence and brings in more visitors, it should be an essential element of your localization strategy. To keep it simple, website media localization refers to adapting a website's content to make it more accessible and suitable for target audiences.
Think about it, if someone who speaks Portuguese comes to your website and it's in English, they probably aren't going to stick around for long. Also, having text in the native language but images in another language doesn't add up. It can lead to poor user experience and, ultimately, a drop in website performance. But that's not all there is to it. Localizing website media is crucial for a number of reasons, some of which include the following:
Increased Interaction – users are more likely to stay on a website, interact with the content, and take action when they can obtain information in their native language.

Enhanced User Experience – if someone visiting your website can go through in their native language, they'll have a better experience.

Increased Conversations – visitors are more likely to buy what you're selling when they can easily access and comprehend your website content.

Competitive Advantage – users having access to content in their native language allow them to resonate with a business at a deeper level resulting in both competitive advantage and loyalty. 

Enhanced Brand Image – localizing website media shows a dedication to giving target audiences a top-notch user experience. It allows businesses to build credibility and earn the trust of their customers. 

What type of media and image requires translation?
A web page is composed of different types of content. This includes text, images, videos, gifs, and sliders. Before diving into how you can translate website media, it's important to learn about the different media types that require translation. This will ensure that your website is perfectly optimized in multiple languages. So, an image on your website can be broken down into four parts, each of which needs to be translated. These parts include:
File name –  when using different versions of an image, it's important to translate the file name of each version as it can help improve search engine optimization (SEO). 

Text on the image – the text on the image is what the visitors are going to read, and it must be localized. 

Alt-text – translating the alt-text of the image can help you increase the visibility of your content as it can improve SEO. 

Image link – it links back to another page on your website and should be translated into the user's local language
Break Language Barriers
Say goodbye to language barriers and hello to limitless growth! Try our automatic translation service today.
Translate images from content
Translating images can be a major step towards localizing website media, however, it often comes with many challenges, such as creating multiple versions of the image and more. Linguise, with its updated feature, now allows you to translate your website's media in no time. You can use the live Linguise admin dashboard or the live editor when doing so. Before that, make sure that Linguise is already integrated into your website through the WordPress automatic translation plugin.
To ensure that the website load time is not affected by duplicating images, the automatic translation solution offered by Linguise uses a cache system. The other alternatives present in the market use the WPML function, which ends up creating duplicates of content and hence negatively impacting the website's performance.
Translation from the live editor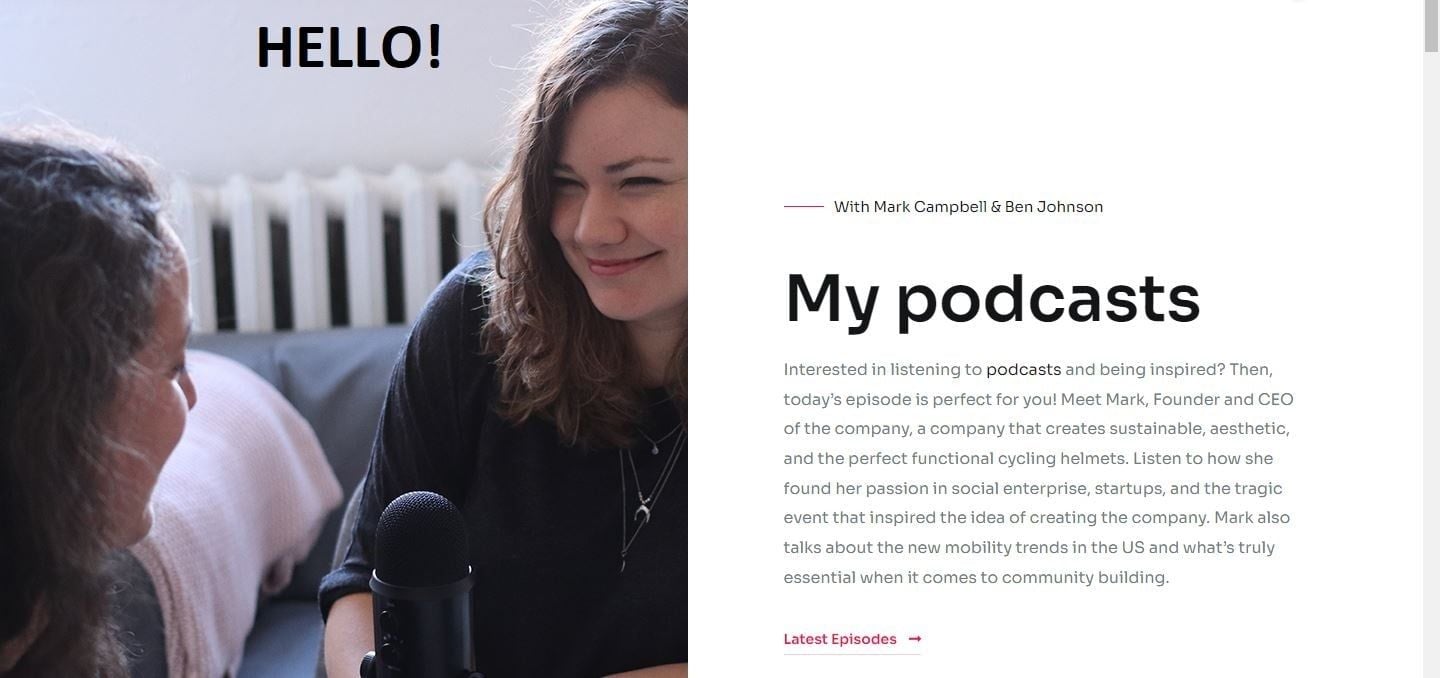 Let's assume that you want this page translated into the Dutch language. To access the live editor, log in to your Linguise account and access the dashboard. Once logged in, click the website that you want to translate. Select "Live Editor" from the top menu and select your preferred language for translation.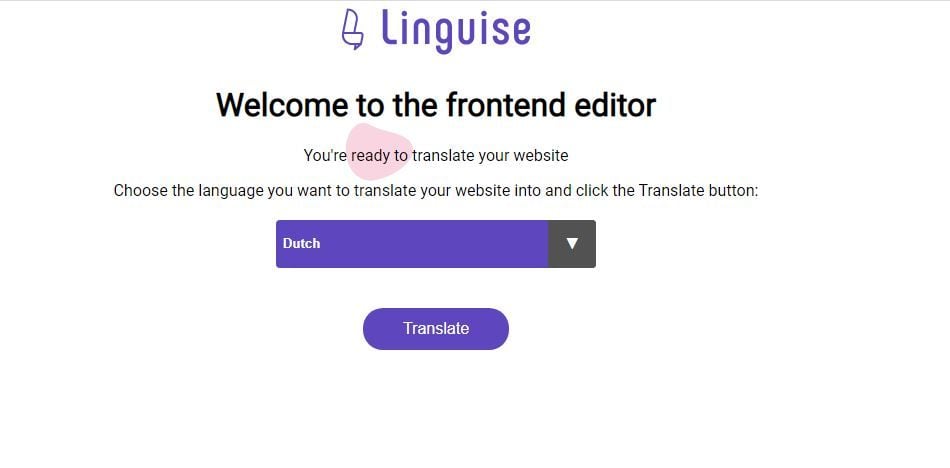 Click the "Translate" button, and you'll be instantly redirected to the translated page of your website. Click the purple button on the top right to access the Navigation Mode or Edition Mode. Here, you can edit the translated content. You can also edit all meta information and page titles.
You can even edit the dynamic content in real-time by scrolling through different pages of your website. As you can see in the image, the text on the image isn't translated yet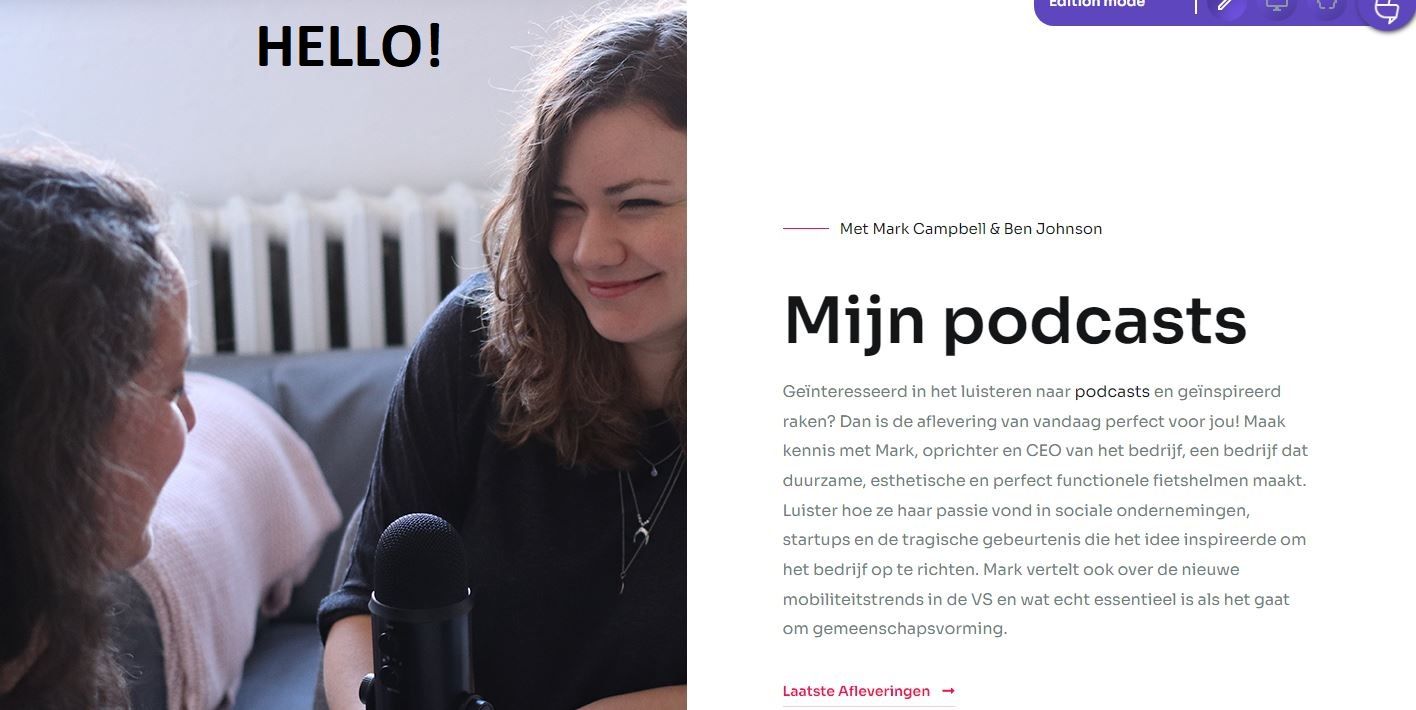 To translate this text as well, we will click on the image in the Edition Mode.
As you can see in the screenshot, the translation link will be generated in the selected language. Once you click save, you can see that the text on the image has been translated as well.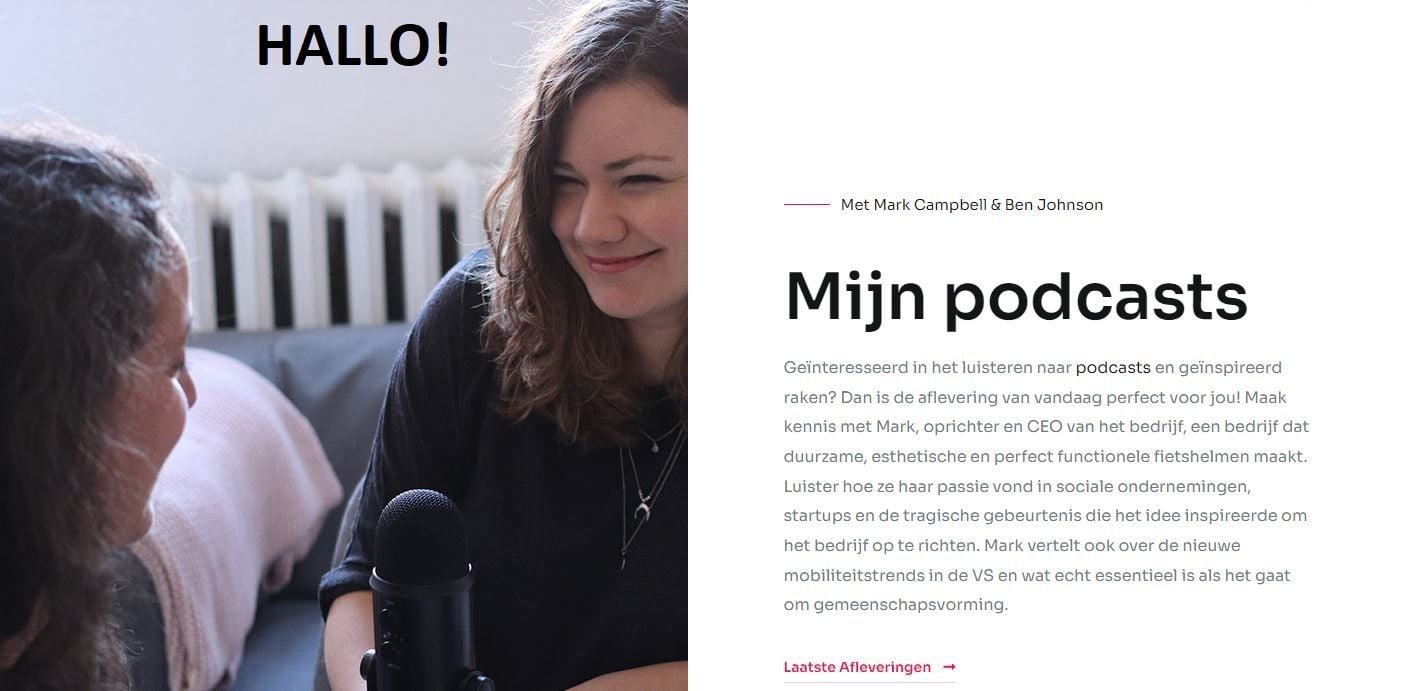 Translation from the admin dashboard
You also have the option to translate the image content from the Linguise admin dashboard. Select the website and click the "Translations" button in the top menu. Select the "Media and external links" option.
Here, you can generate links for different media elements present on your webpage. As you can see in the image below, links have been generated in different languages for a single image.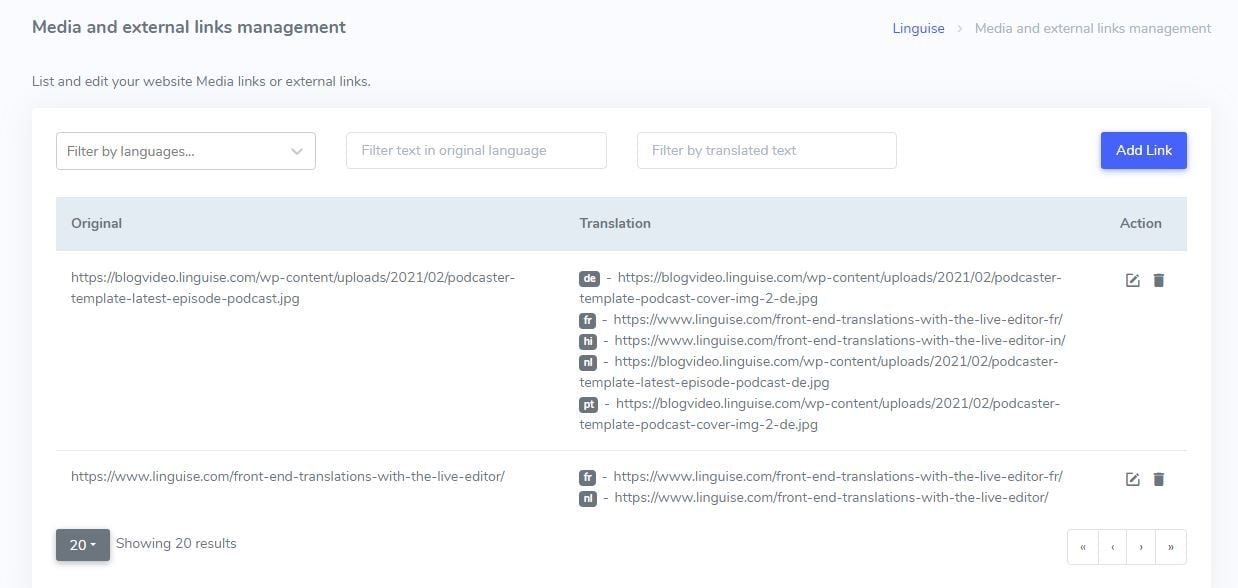 Translate links from content
Linguise also allows you to edit the links present in your web content. Once you create different URLs for multiple languages, they will be listed separately in your translation dashboard.
Translation of links, from the live editor
Once you enter the frontend editor after selecting the language, you'll see the translated website. However, the website links in the hyperlinks will be the same websites as before. Fortunately, Linguine allows you to edit the website to its translated version as well.
Let's see how. Suppose you're translating the following page.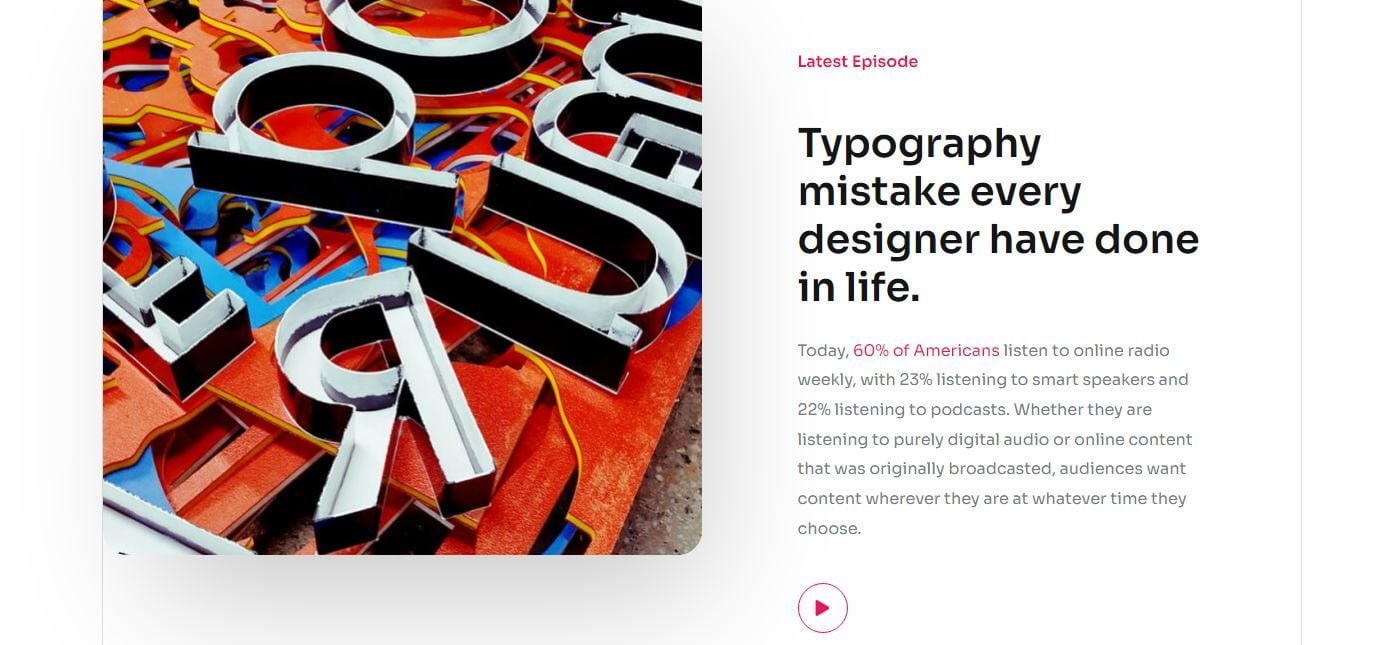 Once translated into German language, this is how the website will look like.

To redirect the link to the German version of the website, go to the live editor through your admin dashboard and select the Edition Mode. Once activated, click on the link and edit the website.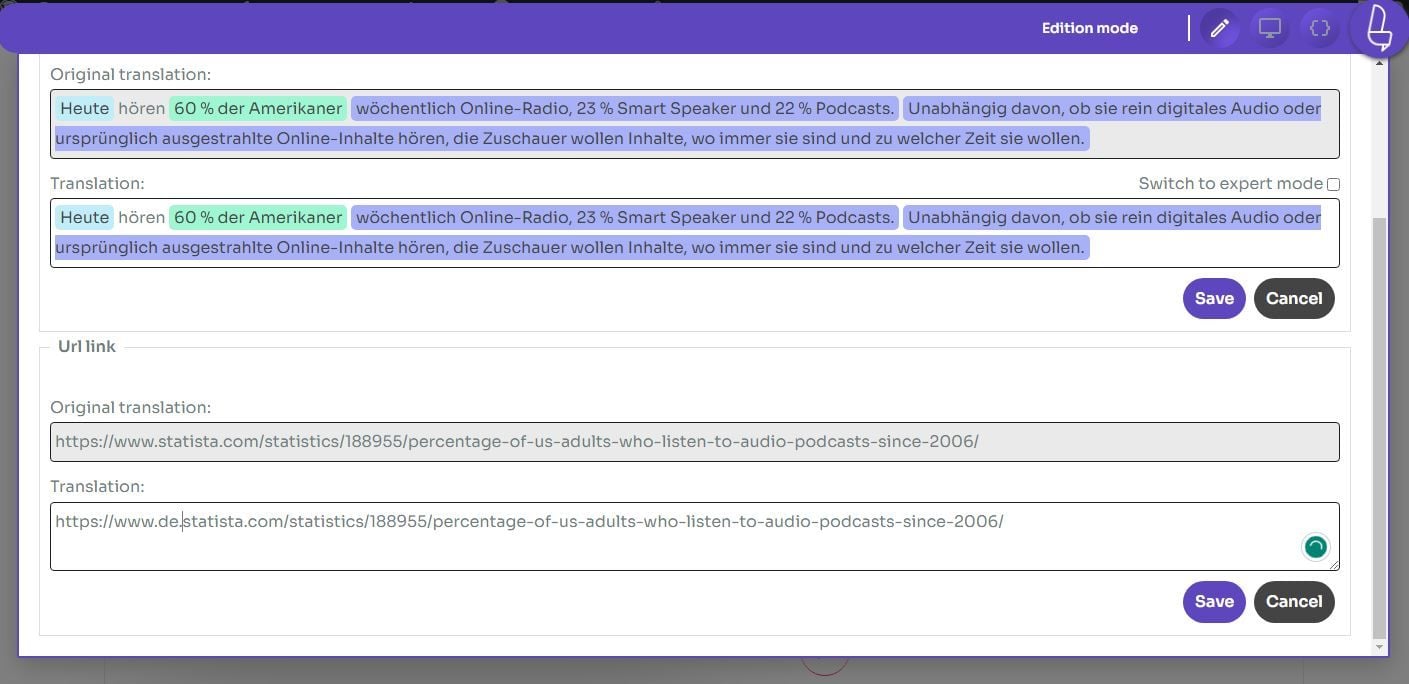 Translation of links, from the admin dashboard
Links can only be translated from the front end. To translate from the admin dashboard. Once signed in, click "Translation" in the top menu bar and select the "Media and external links management" option.
Here you'll see all the translated links for the translated content. To add a fresh translated link, press the "edit" icon next to the link and make the required changes.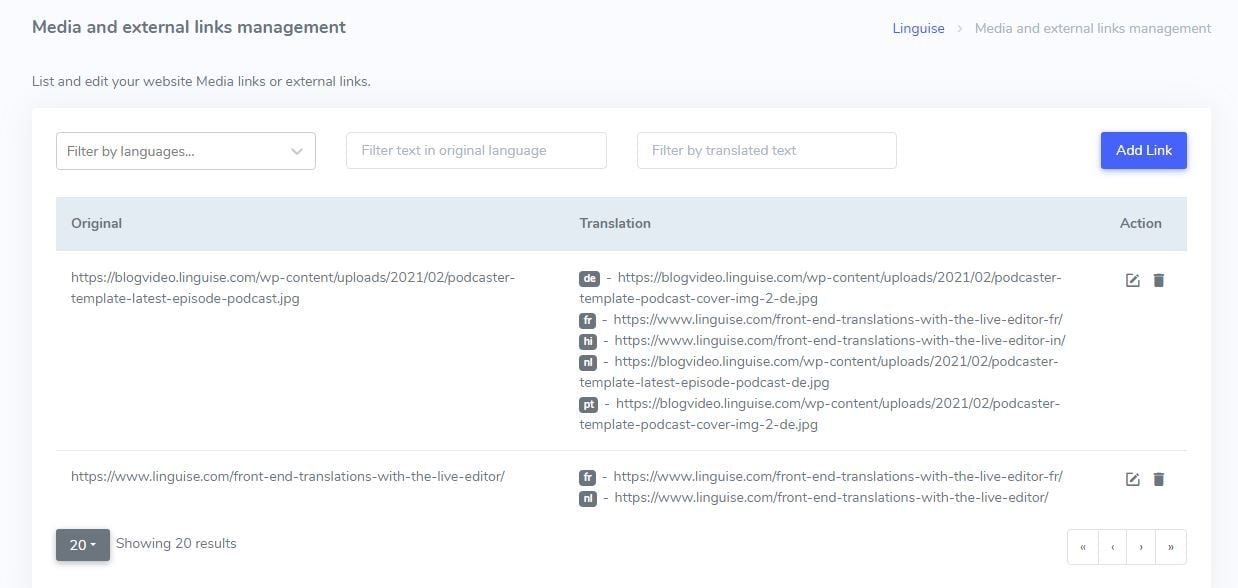 Ready to explore new markets? Try our automatic translation service for free with our 1-month risk-free trial. No credit card needed!
Translate images anywhere on your website.
Because of their versatile usage, sliders have become popular with many web designers. To ensure complete website localization, you should also consider translating the slider content and images. At times, multiple sliders on the website may contain a large collection of images. Translating WordPress images for different languages might be a cumbersome task.
Therefore, automatic image translation tools might come in really handy. Linguise allows you to translate images directly from the front end. This functionality can be applied to all sorts of media regardless of their types. This includes images, sliders, videos, or any other graphic media. Simply go to the frontend editor and click on any element of your website, dynamic or not.

From here, you can navigate to the settings where you can change the text of your images into your desired language. Besides image text, you can also translate meta information such as title and alt attribute.
This will ensure that your website ranks on top in multiple languages. If the image contains a link, you can also edit it. For instance, if you're translating an ebook cover, the translated version should link you to the translated copy of the book.
Let's suppose that there is an image of an ebook in English. Clicking on that image links you to the English version of the ebook on Amazon. If you translate the cover image into Spanish, Linguise allows you to edit the link. By changing the link to the Spanish copy of the book, you can redirect the readers to the correct book.
When done right, translating images and images can open new doors for businesses. It allows them to reach an audience beyond international borders and attract new visitors and clients. Websites that use Linguise experience 40% more traffic from Google, Baidu, and Yandex search engines.
Linguise is constantly updating its core translation system, considering the benefits of image and link translation. Apart from translating your pages' image URLs and links, it also generates and submits multilingual sitemaps. The service recently added a "background" dictionary feature to improve the translation content. If you have any more questions regarding image translation, please contact us.