Every company is shifting their business online as internet services are increasing rapidly. WordPress is one of the most accessible platforms to build a website, especially for beginners. It allows you to customize the website according to your brand's image, but having a website is not enough. To target a broader market, you need to have your website translated into other languages to make it accessible.
Moreover, most non-English natives use WordPress because it can create websites in multiple languages. Despite this advantage, WordPress doesn't have a built-in feature to create a multilingual website. However, you can quickly resolve this issue by using a WordPress automatic translation plugin to convert your website into any language you want.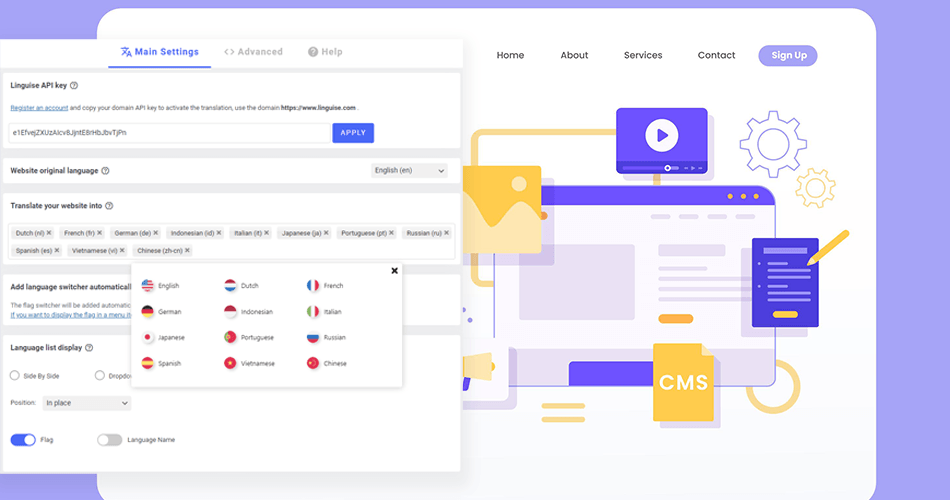 The importance of automatic translation plugins for WordPress websites
Before entering into the best automatic translation plugins for WordPress recommendation, below are several reasons why automatic translation plugins are important on websites.
Auto-translate plugins are essential for WordPress websites as they make content accessible to a wider audience by providing translations in multiple languages. Here are some reasons why this plugin is so important:
Increased accessibility:

With the automatic translation plugin, website owners can provide content in multiple languages, making their website accessible to people who speak different languages. This is especially useful for businesses or organizations that operate in multilingual areas or have a global audience.

Improved user experience:

Auto-translate plugins can enhance the user experience by making it easier for visitors to use content in their preferred language. This can help increase engagement and reduce bounce rates, ultimately leading to higher conversion rates.

Optimize for SEO:

By providing content in multiple languages, automatic translation plugins can improve a website's search engine optimization (SEO) by increasing its visibility in search results. This can help attract more traffic to your website and improve your overall online presence.

Cost-Effective:

hiring a professional translator to translate website content can be costly. Auto-translate plugins can help website owners save money by providing fast and easy translations in multiple languages.

Easy Implementation:

Most auto-translation plugins are easy to install and use, making them a convenient solution for website owners who wish to offer multilingual content without having to invest in complex translation software or services.
Factors to consider when choosing an automatic translation plugin for WordPress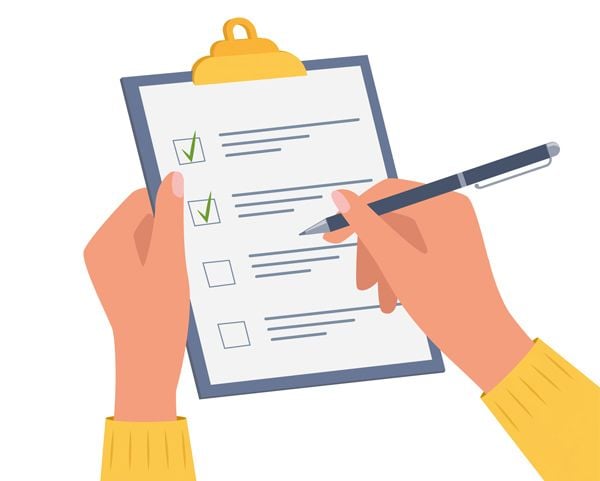 When choosing an automatic translation plugin for your WordPress website, there are several factors you should consider to ensure you choose the best option for your needs. Here are some key factors to keep in mind:
Accuracy:

One of the most important factors to consider is the accuracy of the translation. Look for plugins that use advanced translation technologies such as machine learning and artificial intelligence to ensure accurate translations.

Languages:

The number of languages ​​supported by the plugin is also important. Check if the plugin supports the language you need to translate your website. Some plugins offer more language options than others.

User Interface:

The plugin's user interface should be easy to use and integrate seamlessly with your WordPress website. Look for plugins that offer a user-friendly interface and clear documentation.

Customization:

The ability to customize translation settings and results is also important. Look for plugins that allow you to adjust the quality of the translation, select specific pages or sections to translate, and customize the appearance of the translation on your website.

Speed:

Translation speed is important to ensure a smooth user experience. Look for a plugin that offers fast translation speeds and minimal impact on your website's performance.

Compatibility:

Make sure the plugin is compatible with your version of WordPress. In addition, it is compatible with other themes and plugins.

Price:

The cost of the plugin should also be considered. Some plugins offer a free version with limited features, after which you are asked to subscribe if you still want to use the features. Make sure to choose a plugin that fits your budget and offers the features you need.
Taking the above factors into account, you can choose an automatic translation plugin for your WordPress website that meets your needs and provides accurate translations for your users.
The top six WordPress translation plugins
You will find multiple WordPress translation plugins online, but you need to use the perfectly tailored one for your specific requirements and enough reliable to maintain your SEO on a long term.
Now that the automatic translation has evolved in a good way with improvement on both the translation quality and the translation cost, it's easy to say that's a basic requirement in WordPress plugin. Speaking of, in the WordPress market you have 2 approaches:
Historical plugins that are mainly built for manual translations but have implemented automatic translation with an additional cost
New plugin that are based on automatic translations first but also offer translation revision by humans of all the WordPress translated content
Look at the list below to find out the best automatic translation plugins for WordPress.
Break Language Barriers
Say goodbye to language barriers and hello to limitless growth! Try our automatic translation service today.
1. Linguise automatic translation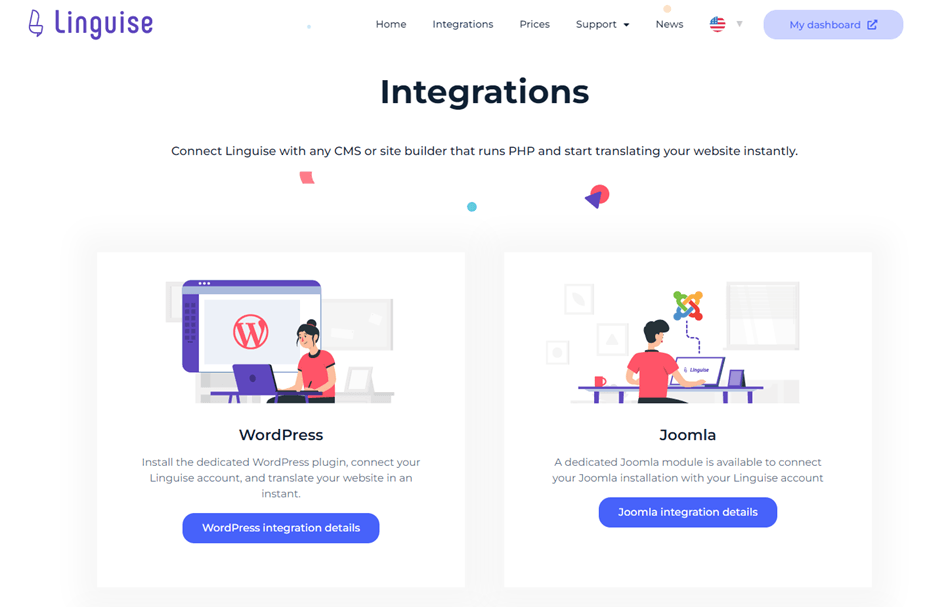 Linguise translation is a reliable WordPress translation plugin that translates any website within a few minutes. Its easy-to-navigate features help beginners to create a website in any language. This WordPress plugin connects with the API to ensure the website's compatible with all WordPress Page Builder plugins.
One of the main advantages of using Linguise is that it always creates highly accurate translations. Additionally, it supports the translation of SEO features in a website coding, such as metadata, URL, and changing alternate links according to the translation language.
After subscribing to Linguise, you can access multiple features such as the frontend translation editor for translators to edit all automatic translations from your website public side.
There's also a very complete dashboard with translation statistics, number of translated words, characters, and input bandwidth you utilized in the last 30 days while using Linguise.
A chart showing the number of visitors on every translated webpage. Peak timings on specific days for high activity on different translated web pages.
Using Linguise for website translation will increase your traffic on Google, Baidu, and Yandex by 40%. Linguise offers various affordable programs on a monthly and annual basis.
PRICES
Linguise is the most affordable translation plugin of this comparison.
The lowest-priced subscription plan is $15 per month or 165$/year and offers 200,000 translation words in unlimited languages. There's also a possibility to subscribe to unlimited translations for large website.
Ready to explore new markets? Try our automatic translation service for free with our 1-month risk-free trial. No credit card needed!
2. TranslatePress (Translate WordPress)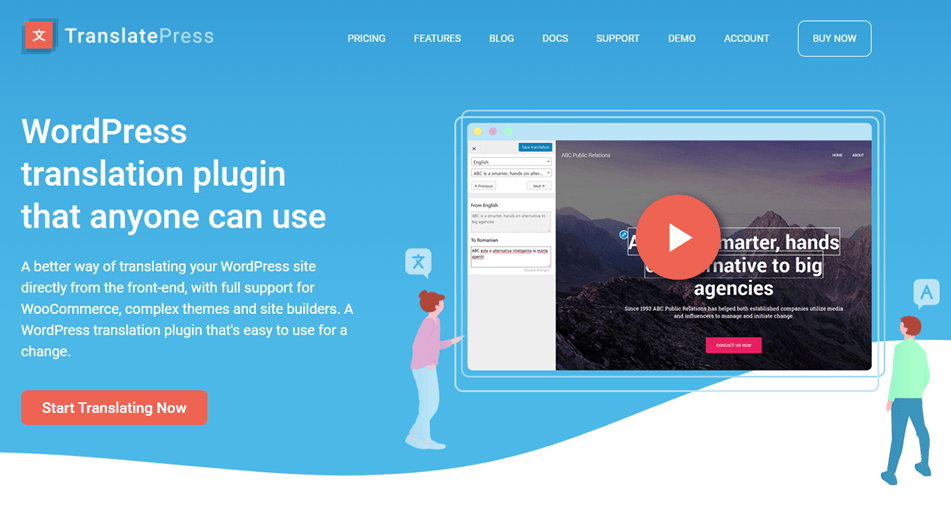 TranslatePress translates pages from frontend and is mainly a manual translation plugin but also offers option for automatic translation systems. Using this plugin, you can easily translate all content on your website directly from the front end. TranslatePress provides a live preview of every change you make on a web page while switching to another language.
TranslatePress allows you to translate the page yourself for people who prefer to translate their web pages manually. Or you can assign a third-party translator to translate the website's content without providing access to the admin area.
PRICES
TranslatePress requires the business version ($139/year) to have access to all languages, navigation translation and URL translation. The automatic translation connectors (Google, DeepL) require purchasing translation quota from those companies. If you add both, this is the most expensive translation plugin of the comparison.
3. Weglot automatic translation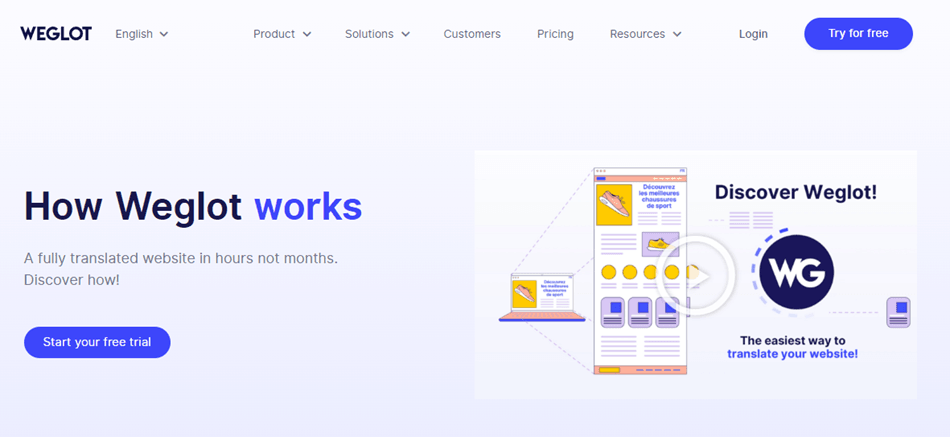 Weglot is one of the most popular translation plugins around the world. It is available for WordPress, Shopify, BigCommerce, and other eCommerce platforms. It is a cloud-based translation plugin that uses the internet to translate the website into various languages. The Weglot translation database consists of more than 100 languages.
If you don't want to use automatically suggested translation, Weglot also provides professional translators to help you achieve the results. You can control all features and edit them from the plugin's main dashboard. In addition to page translation, it can handle product pages and your website's workflow.
You can convert multilingual versions of one website and switch between them with the language switcher button.
PRICES
You can check if Weglot is the right fit without any cost as it offers a free service trial to first-time users. In the free trial, you can translate 2,000 in only one language (it represents 2 or 3 webpages). Then, you can choose from multiple subscription plans—the pro package for a small website costs €490 per year with 5 languages included.
4. WPML (WordPress Multi Lingual)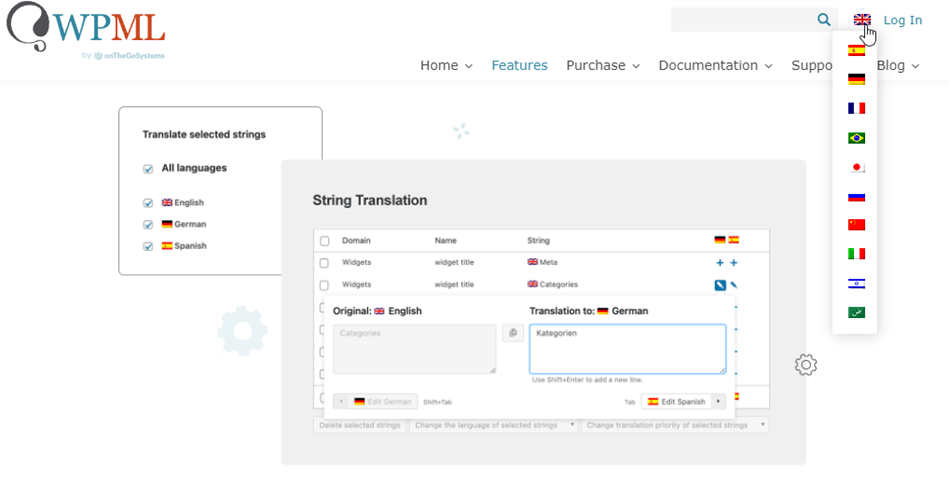 WPML is associated with the translation of over one million websites, it's the historical translation plugin. It allows you to translate your website into 65 available languages without coding. 
WPML has a unique translation mode called 'Translate Some.' By activating this mode, you can convert posts, pages, and any type of content on your website into your preferred language. Moreover, this mode has a built-in editor to check the translated content's grammar and spelling to ensure the content is entirely free of flaws. Basically, it duplicates your website content into multiple languages, it's pretty powerful but becomes quickly very complex to manage.
WPML's second translation mode is termed 'Translate Everything.' This translation mode is quite handy when you are short on time. It automatically translates the web content while editing it simultaneously. So, you don't have to spend double the amount of time translating and double-checking the translated web pages.
Every WordPress theme and plugin is highly compatible with WPML, making it quite supportive to work with. WPML has a massive and comprehensive knowledge database, but it still allows you to pair with external translation service providers.
PRICES
WPML has different service packages with reasonable prices for the plugin alone with manual translations. The "Multilingual CMS" subscription package costs $99 per year to get all the integration. The automatic translation is based on a credit system and becomes costly quickly. If you compare to Weglot and Linguise, for 200 000 words translation in 5 languages it'll cost an additional 637$.
5. GTranslate (Google Translate)

GTranslate or Google Website Translator is a multilingual WordPress automatic translation plugin. It uses the online Google Translate system API to translate web pages into any language you want. If you are using GTranslate, a default Google Translate button will appear on the website's page.
Every feature of this plugin is easy to set up and shows visible results. GTranslate can convert a webpage into more than 100 languages. It has a single database that stores your specific settings for future reference. Another advantage of using GTranslate is that it doesn't negatively impact the page's loading time. As a result, even content-heavy and complex coding websites can function correctly.
GTranslate creates a sidebar widget on the web page showing its total translated versions on the web page. Website users can select the language they want to see the page in. But mainly, the plugin detects the country's origin through web cookies that provide access to the user's browser settings. The main issue with the plugin is that the translation editor to edit automatic translation is very basic and not very suitable for professional translators.
PRICES
GTranslate offers a 15-day free trial that covers the translation of unlimited words in all languages. However, you cannot access any SEO features while using the free trial. After the trial period, you can select a suitable subscription plan. The first  to include SEO features costs $30 per month or $299 per year.
6. Polylang translation plugin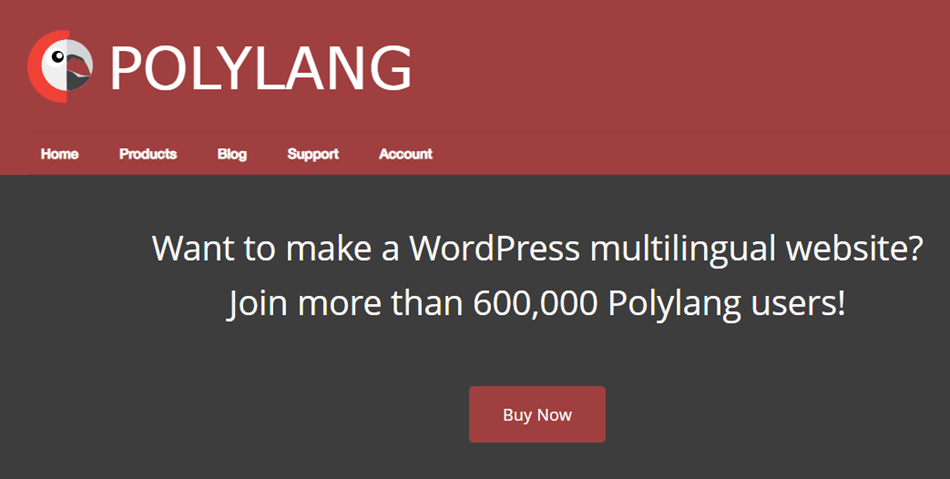 Polylang is another famous WordPress plugin for website translation. More than 500,00 people have installed this WordPress plugin to convert their websites into multiple languages. One of the main reasons for its popularity is the easy-to-use design. Even beginners can understand its simple settings and translate pages, posts, URLs, and post tags on the website.
However, Polylang does not cover the translation of WordPress themes and other plugins. This is because it doesn't have an internal eCommerce support system. So, you have to buy an external add-on to ensure your website's themes and plugins are also translated accordingly.
To use Polylang, you must select the languages you want to convert the website into. After creating the profile, download the required language packs. This will add a widget to the navigation menu and create subdomains for every language. Users can switch between different translated versions using the language switcher widget.
The essential Polylang plugin is free of cost for everyone to use with:
Translation of posts, pages, media, and tags
Translation of customized posts and taxonomies
Translation of menu and widgets
Subdomains for every translated webpage
This plan doesn't offer translation of slugs, URLs, or WooCommerce integration. If you want to avail all these additional features, you have to buy a Polylang Pro subscription. It costs €99 for one website, €198 for three websites, €297 for five, and €495 for 25 sites per year.
Business owners must expand their services internationally to scale their companies and increase the average revenue. However, a business expansion on an international level requires a website supporting the country's native language. If you are not familiar with the native language, it can cause a hitch in your plans. But you can smoothly launch your business internationally by using translation plugins for WordPress. They automatically convert the website into a selected language and help you prepare it in no time.
Ready to spread your business across the globe? Use Linguise to translate your website into any language you want effortlessly.