Translation and localization play a crucial role, especially on popular platforms like PrestaShop. With an increasingly diverse market and customers coming from various cultural backgrounds, it is important for online stores to be able to adapt to different languages ​​and cultural contexts.
Therefore, for those of you who own an online shop on PrestaShop, it is important to know what the best translation is for PrestaShop. In this article, we will explore the importance of translation and localization in the context of PrestaShop and introduce some of the best modules that can help you translate efficiently.
How important is it to use modules to translate PrestaShop?
Using the translation module on your PrestaShop or eCommerce website certainly provides a number of benefits. Below are several reasons why it is important for you to use the Translate module.
Global market reach: The translation module helps you reach customers from various language backgrounds, expanding your potential market share globally.
Increased sales: By reaching potential customers worldwide through multiple languages, translation modules can significantly increase opportunities for increased sales and revenue from international markets.
SEO benefits: By providing translated content, you can increase your website's visibility and ranking in search results for different languages, increase organic traffic and attract more potential customers from different regions.
Increased user convenience: The translation module makes the shopping experience easier for users who speak foreign languages, allowing them to browse and transact easily without language barriers, thereby increasing conversion rates and customer satisfaction.
Options translation and localization modules PrestaShop
After knowing the importance of translating PrestaShop using the translation module, next we will discuss the PrestaShop translation module options that you can use.
Actually, there are many PrestaShop modules or addons that you can use to translate, apart from that you can also translate with the built-in features. However, the built-in feature allows you to upload the translation results, which is different from the module option that we will discuss now.
PrestaShop default localization
PrestaShop default localization is the default translation in PrestaShop when you have a site or eCommerce on that CMS. This built-in module is free and has dozens of translation language options.
The translations produced in this module come from Crowdin, which is an open translation community, so no one can translate various languages ​​there.
Key features
Dozens of languages ​​available
Import localization package
Currency settings
Live editor translation
SEO & URL translation
Disadvantages of PrestaShop's default localization
Import languages ​​manually: to add a new language, you have to import the file yourself that you got from Crowdin. If you import languages ​​manually, you may need to manually update or maintain those translations when there are updates or changes in the source. This can be a time-consuming task and requires special attention.
Different translation quality: because it comes from Crowdin, where many people translate, the quality of the translation results between languages ​​may vary. Varying translation quality can lead to low consistency in message consistency and terminology between languages. This can make the user experience less homogeneous and difficult to maintain a uniform brand image.
Completely manual configuration for adding new languages: apart from importing it yourself, you also have to do several things manually, such as entering hreflang codes, language flag images, and even date formats. Manual increases the risk of human errors. Entering hreflang codes, language flag images, and date formats manually can lead to mistakes and delays, impacting the functionality and appearance of your website or application.
Not 100% SEO Friendly: PrestaShop's default localization can translate URLs, but it doesn't do this automatically. Store owners must manually set the language for each URL. This extra step is not only time-consuming but can also lead to uneven SEO performance. Automated translation would ensure consistent and efficient URL translations, improving your website's SEO and making it more accessible to a global audience
Translate all - Free and unlimited translation
Translate all – Free and unlimited translation is a PrestaShop module that allows users to translate their website content for free and unlimited. Like most translation modules, this service makes it easy for users to accommodate multilingual needs, so they can translate efficiently into multiple languages.
Key features
Automatic translation
Word exception
Find and replace
Exact display of the percentage of translations performed for each language
Translates all elements, such as emails, themes, content
Compatible with various translation services
URL and keyword translation
The features above are basic features of a translation module, therefore the Translate module still lacks several features that should be able to support the translation process.
Disadvantages of  Translate all
After discussing what features are available. Below are several disadvantages of the PrestaShop Translate all module.
Translation quality: Translate all claims that it can translate PrestaShop but does not provide details regarding the quality of the translations it produces. Apart from that, he also did not say what technology they used in this translation process, whether it really produces an accurate translation or whether it is like automatic translation like Google in a browser. Without information about the methods or technology used, users cannot measure the extent to which the translation is accurate and of high quality. This may cause related requests and reliability of the translation results.
No language flags display: Translate all allows users to provide a language switch button in the form of a dropdown which already has several selected languages. However, Translate all does not provide a language flag feature next to the language name, even though this can make it easier for users when searching for the target language because language flags make searching easier.
Can't translate images: every image must have its own ALT image, ALT image is one of the factors that influence SEO, therefore it should also be translated. However, the Translate all module does not provide this feature.
Not SEO Friendly: even though the website is translated, it must still be SEO Friendly, including translating meta, multilingual sitemaps, proper use of hreflang, etc. Some SEO elements have been attempted by Translate all, but there are still many that have not. So, this module still doesn't fully support SEO. Search engines tend to rank higher on sites that are well optimized for all SEO elements
Doesn't allow adding translators: PrestaShop also doesn't allow you to add translators to the dashboard, even though adding a professional translator can help correct the translation to make it better.
Unlimited and Free Translation - One Translate Module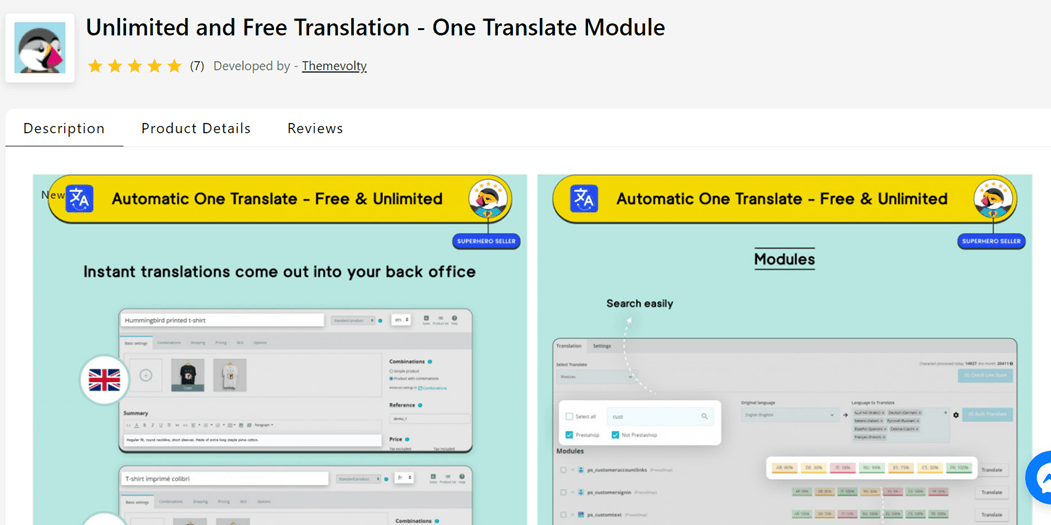 Unlimited and Free Translation is a module that can translate thousands, hundreds, or even millions of categories, products, attributes, images, features, and so on. This module has been used in more than 15,000 stores since its creation. You can improve the translation capabilities in your PrestaShop account or store with One Translate. Your shop language can be translated more easily using this module.
Key features
Precentege of translations for all languages
Automatic translation with one click
Exclude from translation
Find and replace words
Translation of links, URLs, keywords
Multi currency supported
Disadvantages of Unlimited and Free Translations
Based on Google Translate: the module translates website content based on Google Translate or other engine technologies such as Micosoft, Yandex, and DeepL, you can choose one of them. Even though this machine translation is not that bad, often the resulting translation provides an unnatural and unnatural arrangement of words or phrases.
Exclude only word-based translations: this module only supports word-based translations, no other types for example by URL, line or page. This will take quite a while if there are a lot of words or content that you want to activate the translation for.
There is no language flag: the language switcher only displays the language name, not the language flag icon. Without a language flag, users may have difficulty identifying the selected language. This can be especially problematic if there are several languages ​​with similar names or if the user does not recognize the name of the language.
Do not allow adding members or translators: does not allow users to add members, whether in the form of admins, managers or professional translators. If the project involves multiple languages, a translator or team of translators may be required who have specialized knowledge of those languages. Limitations on adding professional translators may limit the project's ability to handle diverse language requirements.
There are no most viewed pages: only language translation percentages available, no information on frequently visited pages. Information about the most frequently viewed pages is usually used to identify the most popular or effective content. Without this data, it is difficult to optimize content or better adjust marketing strategies.
No media and external link management: no features that can be used to translate media or images and external links. Without external link management features, the risk of errors in customization or links to outside resources may increase. Such errors can harm user experience and impact SEO.
Glotio Automatic Translation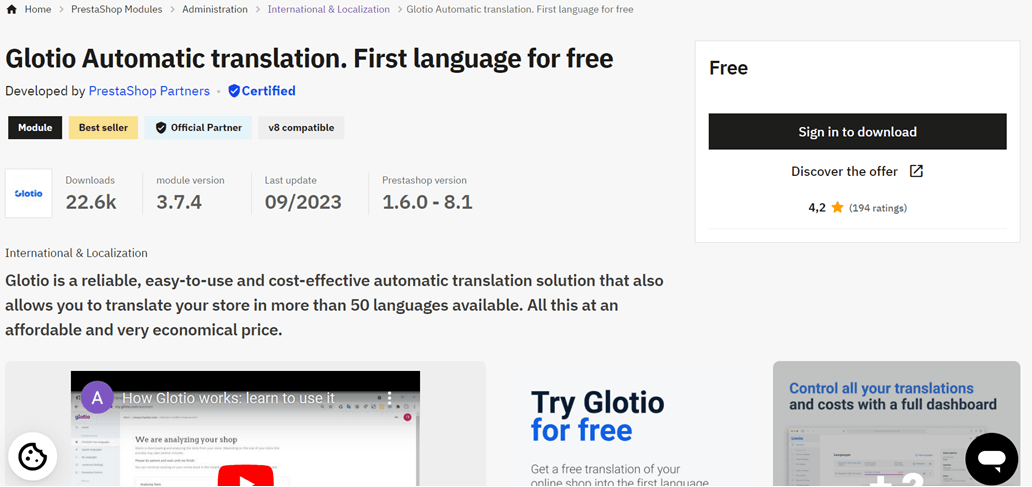 The next PrestaShop translation module is Glotio which to date has been downloaded more than 22 thousand times. This module is available for free but users must pay a subscription if they want to get the full features.
Key features
Translate first language for free
50 languages ​​available
Powerful tools for editing and proofreading
There is no limit to the number of translated page views.
Find and replace
List of exceptions
Translate all text in PrestaShop
Disadvantages of Glotio
Doesn't support Elements with PageBuilder, etc: Glotio doesn't support translation of elements that use PageBuilder, custom modules, or Elementor. The inability to translate custom elements built with tools like PageBuilder or Elementor can hinder the ability to create rich and varied multilingual pages.
Only 1 language translated for free: this module is free, but users can only translate 1 language for free, unlimited languages. Users or businesses that require support for multiple languages ​​may feel limited by limits on the number of languages ​​that can be translated for free. This can be an obstacle to growth or expansion in the global market.
Does not support exceptions by URL or inline: only supports serving content by word, none by URL or inline. Even though it can make it easier for users if they want to load a lot of words or content.
Does not support image translation: does not support image translation or ALT text on the image, even though this is one of the influences of multilingual SEO.
These are some of the shortcomings of the PrestaShop module in translating PrestaShop websites. Therefore, you need to look for alternative translation services.
One of them is Linguise automatic translation. This is a website translation that is integrated with PrestaShop. This service is able to provide various support features which can be a solution to the Translate All shortage.
Let's discuss it in more detail below.
Break Language Barriers
Say goodbye to language barriers and hello to limitless growth! Try our automatic translation service today.
Why Linguise is the best translation modules for PrestaShop?
As we discussed previously, Linguise can be the best solution for translating PrestaShop compared to all Translate. Why is that? Because Linguise offers various interesting features that are not available in Translate at all.
Below is some of the support available at Linguise, including the following.
Perfect translation quality, up to 97%
If the module above doesn't clearly tell you how accurate their translations are, then Linguise doesn't. Linguise dares to guarantee that we have perfect translation quality up to 97% similar to human translation.
So you only need to improve 3% to make it perfect. Apart from that, we also have quality translations per language in several languages ​​as follows, so it is guaranteed that the quality of Linguise translations is perfect and as natural as human translations.
| | | | |
| --- | --- | --- | --- |
| | NMT Translation | Human Translation | Quality |
| English-Spanish | 5,428 | 5,550 | 97% |
| English-French | 5,295 | 5,496 | 96% |
| English-Chinese | 4,594 | 4,987 | 92% |
| Spanish-English | 5,187 | 5,372 | 96% |
| French-English | 5,343 | 5,404 | 98% |
| Chinese-English | 4,263 | 4,636 | 92% |
Apart from that, not only do we provide a language switcher feature, we also provide various language flags which will appear together when setting the switch.
So not only the language name appears but also the flag, this is what the settings look like on the dashboard.

Next is the feature for translating media and external links, as in the following image, you can translate image links and external links that lead to external websites.
You can do it easily and translate it into more than 80 languages ​​on the Linguise dashboard.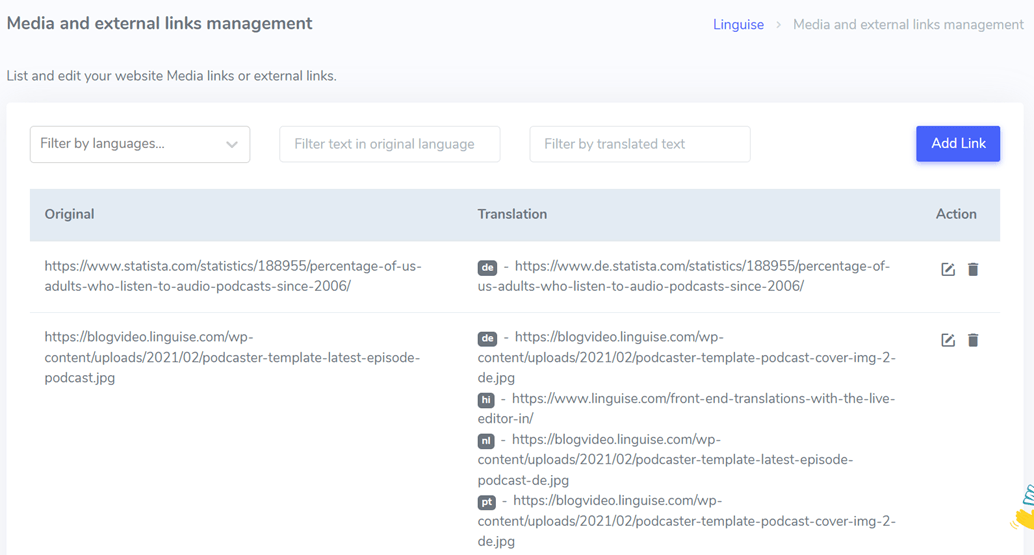 Linguise really supports multilingual SEO, it's no surprise that this translation service is completely SEO Friendly. Some of them include using a list of hreflang tags, automatic metadata translation, multilingual sitemaps, alternative URLs, and several others as in the following image.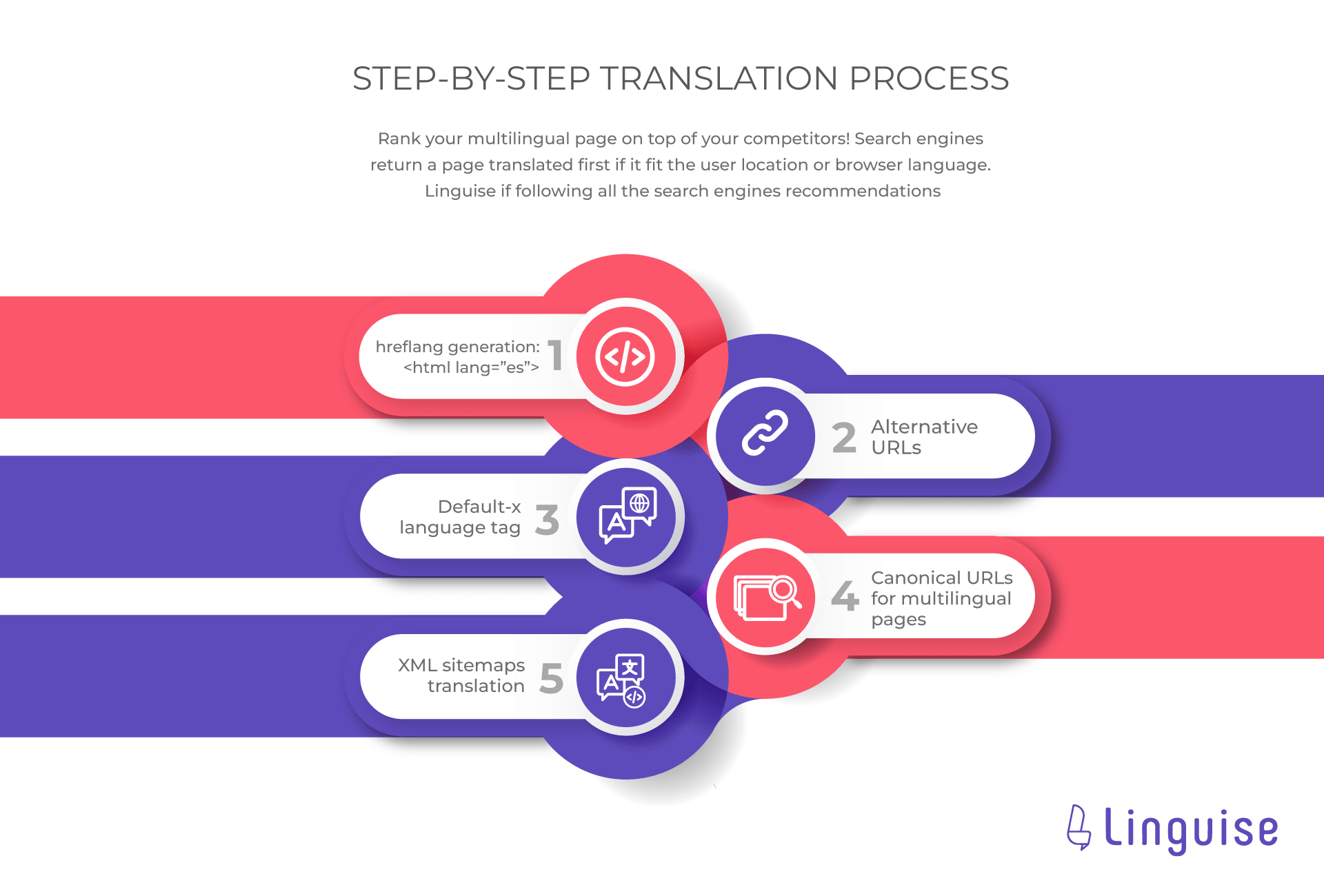 Possibility to add translator
Additionally, Linguise also allows users to add professional translators to their Linguise dashboard. They can set access rights, languages, and even websites that they will help translate.
You can add as many translators as you want via the Linguise dashboard.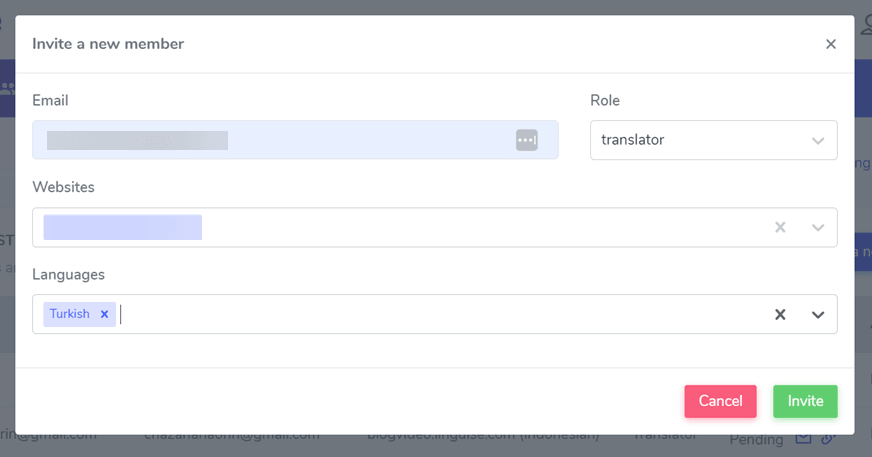 Apart from the features above, we will also show you our superior features such as the live editor and global translation exclusion.
Even though the module above also has live editor feature, there are things that differentiate it, perhaps in terms of appearance. Linguise has an inspired appearance so that users are comfortable using it and not confused even if they are still beginners.
As you can see in the following widget, there are two parts, original text and translation, which you can immediately adjust to the translation results. Apart from that, you only need to choose which part you want to translate.
To translate it, you can access it via the Linguise dashboard by selecting the language first.
Translation exclusion rules
Next are the rules for translating. There are several rules available in Linguise, namely
Replace Text
Content exclusion
Ignore inline
So, if there is content that you want to exclude from translation, you can set it according to your needs, whether only text, replacing text, requiring 1 full content, based on URL or line.

Ready to explore new markets? Try our automatic translation service for free with our 1-month risk-free trial. No credit card needed!
Start translating your Prestashop with Linguise - 1 Month Free Trial
After knowing each feature of the module above, now do you know which one to use? Compared to some of the modules above, Linguise is better able to provide more and more complete feature support.
Apart from that, Linguise is also highly integrated with PrestaShop and its various modules and guarantees accurate translation results. What are you waiting for? Sign up for a Linguise account now for free 1 month trial with any feature and install  Linguise automatic translation on PrestaShop!