Website localization is an effective tool to tailor your digital content and make it more attractive to potential customers in the target market. By localizing webpages, you can ensure they are suitable for different customs, languages, and cultures. As a result of website localization efforts, businesses often encounter enhanced customer engagement levels on their websites. By leveraging this feature, you can foster a deeper connection with your readers and build stronger relationships. To kick-start your localization process, the most crucial step is to translate your website in its entirety.
In this comprehensive guide, we'll take you through a few easy steps to help you swiftly and easily translate your website from English to Russian. Before delving into the details, let's first examine the fundamental choices available for translating websites.
Russian translation will give the access a huge market
As of 2022, Russia had the highest population of any European country, with 144.7 million people. The other European countries with the largest populations were Turkey (85 million), Germany (83.4 million), the United Kingdom (67.4 million), and France (65.6 million).
Of course, it also the largest country in Europe by far and also in the world with a land area of 16,376,870 Km² (6,323,142 mi²).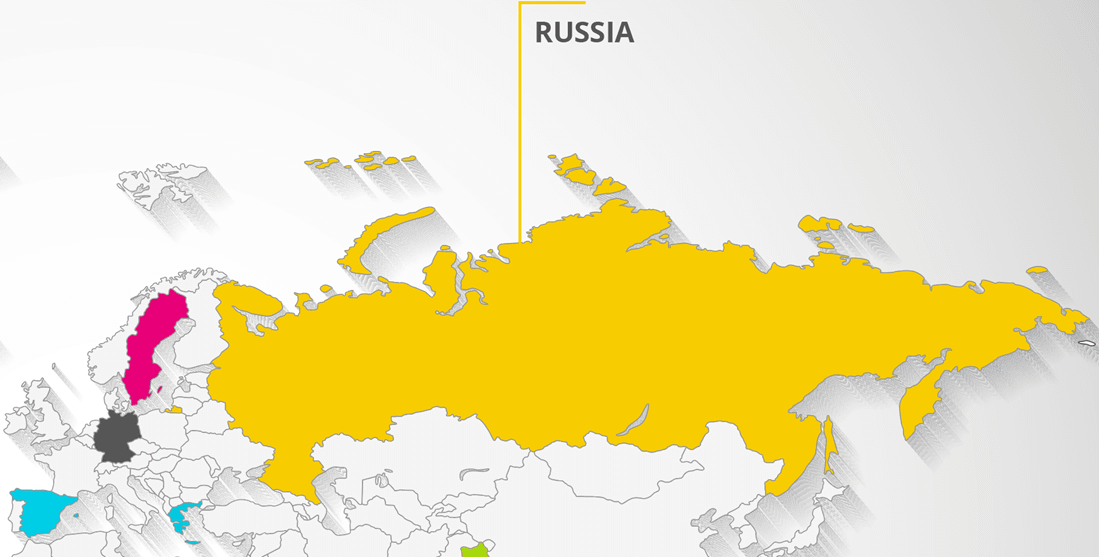 Russian is the main language spoken by the majority of people in Russia, and it is also used as a second language in other countries that were formerly part of the Soviet Union. It is part of the Slavic language family and belongs to the eastern branch of this group.
In Russia, there are 35 languages that are recognized as official languages in certain regions, in addition to Russian. Additionally, there are over 100 minority languages spoken in Russia at present. Recently approved amendments to the Russian Constitution state that Russian should be the language of the "state-forming people."
Russian is the main language spoken by the large majority of people in Russia, and it is also used as a second language in other countries that were formerly part of the Soviet Union. It is part of the Slavic language family and belongs to the eastern branch of this group.
The Russian language is written using a Cyrillic alphabet.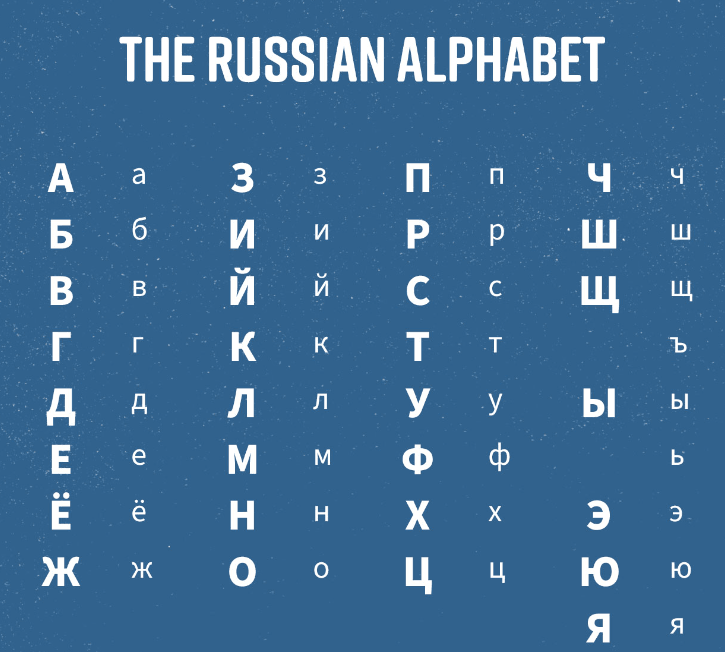 A few essential ways to translate your website to Russian
When translating your website, you have two main choices available: human translation or machine translation. Both provide different benefits and drawbacks depending on your needs and budget. Regardless of which option you choose, the goal is to make sure that no matter where in the world someone visits it they can understand what's written clearly and effectively.
From English to Russian with human translation only
Does it exist anymore? You have to consider that all the large translation companies are using machine translation + human proofreading. The human-only translation is financially possible only for tiny websites.
Though, professional translators will take on this task for a fee and deliver results that machine translations cannot replicate. Several agencies offer human translation services at competitive rates;
Human translation is advantageous in that it considers context, structure, and linguistic subtleties. Furthermore, rigorous processes such as proofreading and quality control are typically incorporated into the process.
Russian language is complicated and expensive
Russian translation are expensive for a reason, you cannot learn the Russian in a couple of weeks, actually it'll take more than 44 weeks. In the difficulty of learning classification, Russian is category 5, which is pretty high. There are various reason like the Cyrillic Alphabet to learn, grammatical specificity…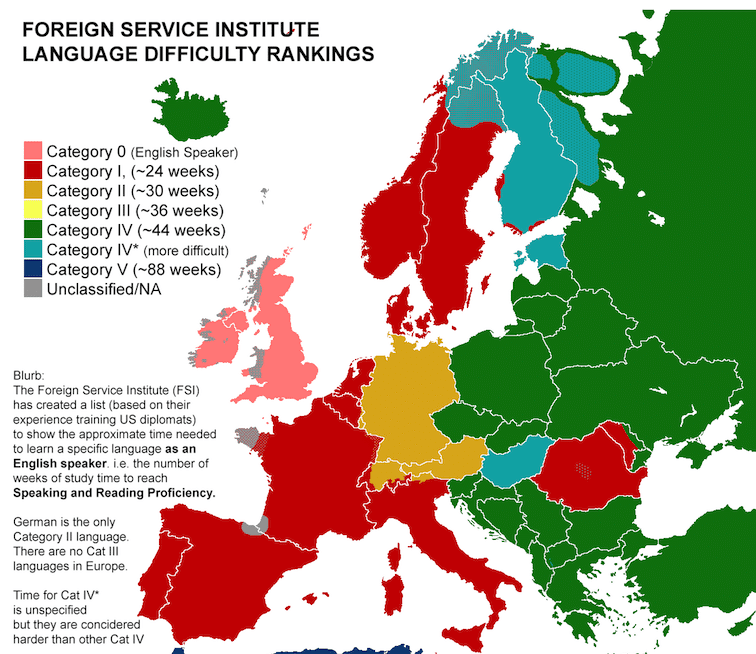 Using DeepL or Yandex public tool for Russian translation
Through the application of sophisticated artificial intelligence, Machine Translation provides instantaneous translations from one language to another with remarkable accuracy. Take Google Translate as an example – this groundbreaking technology utilizes a neural machine translation system to translate web pages into myriad languages.
In this example, we'll prefer DeepL that focuses on European languages or even more Yandex automatic translation that is specialized in Russian language. Both tools are working like Google Translate, you'll add your text into the translation tool and the translation will be done instantly.

You can also add a URL to get a full-page translation or use a browser extension.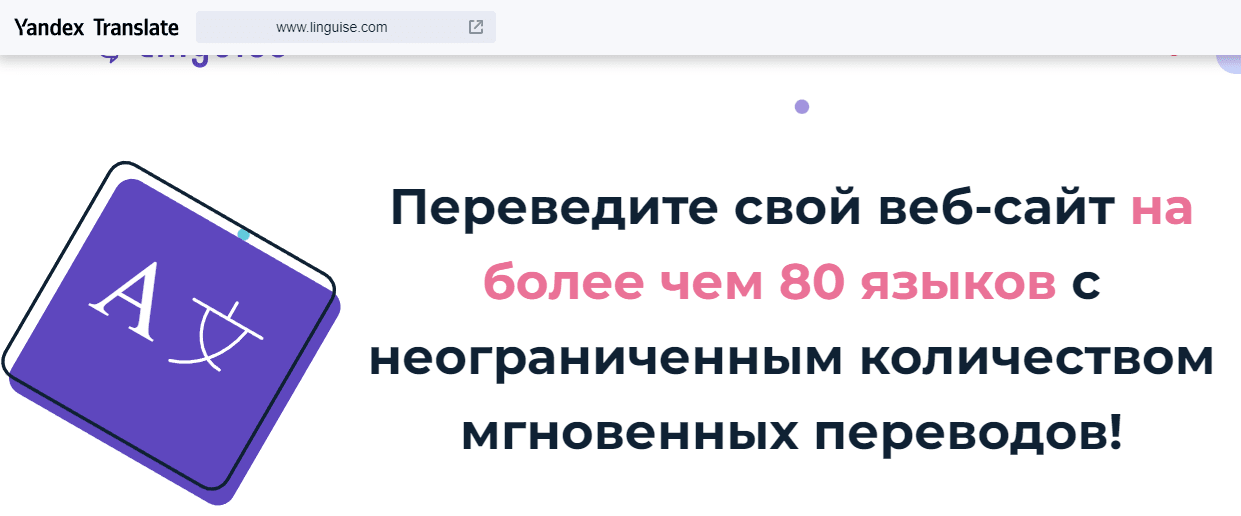 Problems with free, machine only, translation
The major problem is that's not a real website translation, no Russian URL will be attached to a Russian page content, therefore your website won't appear in search engines in Russia.
The automatic tools like Google Translate, DeepL or Yandex all have a paid version for a reason. The pro version is more accurate because it's using a translation model, for example a medical website won't use the same translation model as a legal website. It's detected automatically by those professional tools. The other advantage of the paid version is that there's no limitation of usage in the number of translated words.
Also, there are times when some words and phrases remain untranslated. This is the result of Google Translate's (or it's competitors) inability to translate text embedded in an image or any visual element used on a webpage. Even the automatic translation option offered by Chrome fails to comprehend such content accurately.
Fantastic news, you don't have to settle for the drawbacks of Google Translate! Instead, try Linguise which provides neural machine translation (with translation models) that is fully SEO indexed. Over that, there's an optional human translation services.
Using neural machine translation for Russian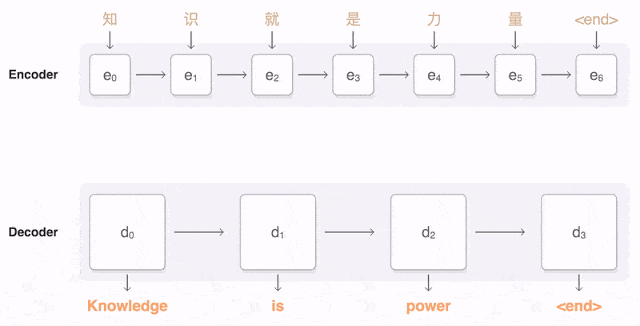 Neural machine translation (NMT) is a form of machine learning that automatically translates content from one language to another. It is considered to be the most accurate form of machine translation because it uses artificial intelligence to generate translations.
NMT works by following a set of rules and using statistical models to analyze translations, which eliminates the need for human input. These machines continuously update their database and translation patterns, making the translations more effective for the end user. In addition to being accurate, NMTs can be easily integrated into any software using APIs or SDKs.
When comparing the cost to human translators, NMT is often more cost-effective and efficient.
Break Language Barriers
Say goodbye to language barriers and hello to limitless growth! Try our automatic translation service today.
Automatic high-quality Russian translation with Linguise
Overcoming the costs associated with translating blogs and other websites can be a major challenge. Fortunately, Linguise eliminates many of these roadblocks by providing an efficient, economical solution that reduces both time and financial investment.
In a mere fifteen minutes, you can deploy your website in up to 80 diverse languages – Russian, Italian, Spanish, and beyond! Linguise makes it easier than ever before: within those 15 minutes you'll have taken care of all the translations associated with your project.
Translate and edit Russian translation of your website in 15'
Introduction of the translation tool
Not only will Linguise translate all of your content but also 3rd party plugin material so that you have no worries about missing out on any important information. Plus, to ensure maximum visibility for your site, Linguise team optimizes main SEO components like meta info, page titles and multilingual sitemaps!
What makes Linguise such an outlier when compared to other website translation tools? Primarily, it is coming with an accessible cost, even while it uses neural network-powered translations, which ensure high-quality translations in no time. But there's more—much more—that distinguishes Linguise from other translation extensions.
Linguise's translation editor and dashboard
Automatic translations are good, but machines are still catching up with humans. And so, translation editors are still a required feature. Thankfully, Linguise's translation editor is completely up to the task.
There are two ways to edit your blog's translations. The first way is through Linguise's dashboard, a one-stop page to control the plugin. The main page of the Linguise dashboard shows statistics describing the most popular languages and the overall page views.
The dashboard is also the main way you can edit translations. Through the dashboard, you can access the translation editor, which lists the strings and their translations. You can click on any translation, in any language, to edit it from the Linguise dashboard.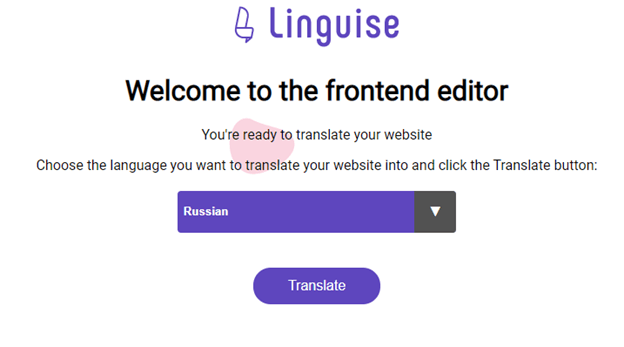 Step 1: Linguise registration to get an API key
To use the Linguise Automatic Multilingual Translator on your website, you can install and configure the plugin provided by Linguise. This plugin is compatible with popular content management systems (CMS) like WordPress and Joomla. Once the plugin is set up, you will be able to translate your website automatically into multiple languages.
First you need to register an account to get an API key. The first month is totally, no credit card is required, so you can test with any risks.
Once you connect to your Linguise dashboard, the next step is to set up your new domain and get the API key. The API key is required to check which language is activated and help the neural translation model translate the pages. Get the API key and save it for later use. 

Step 2: Add the Russian language to your list
Now that you've registered your domain URL, choose the native language of your website and the languages you want to translate to.  Here we'll choose our base language English to target Russian language (plus many others).

Step 3: Install and configure the Linguise plugin
The next step is to install the WordPress plugin or Joomla extension or the PHP script. We'll detail the WordPress procedure as it's the most popular tool to manage websites. 
From the WordPress repository install it as you normally install any WordPress plugin by uploading it to your site, by downloading and uploading the plugin or just by using the auto installer.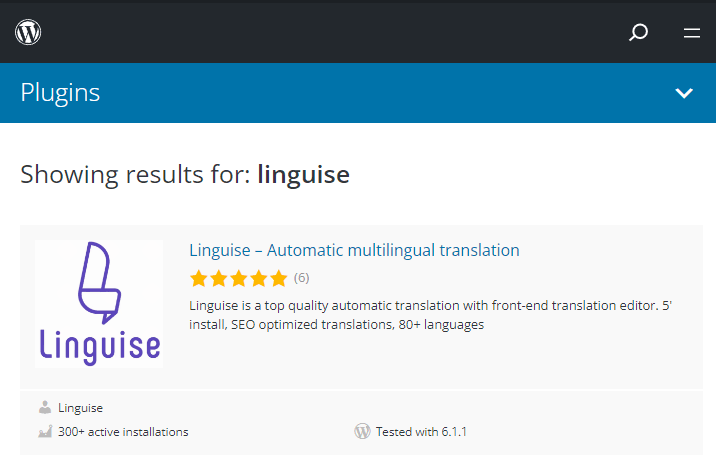 Then copy-paste the API key into your website content management system's extension or plugin configuration settings. If the API key is correct, just click apply to load all the language you've selected in the previous step, including Russian!
From this point, note that 100% of your website is already translated in Russian!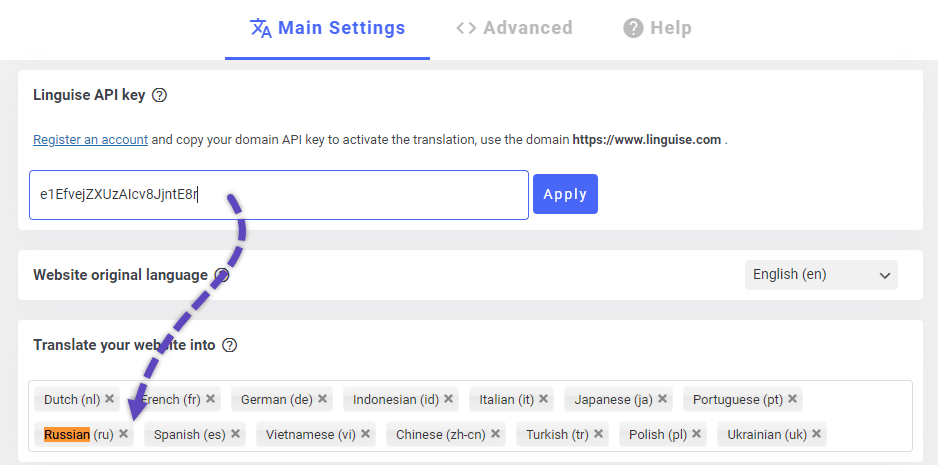 Step 4: Linguise language switcher example
To carry on, be sure to press the Save button. When you take a glance at your website from the visitor's point of view, you'll see a language switcher widget that enables visitors to translate all pages in an instant with only one click!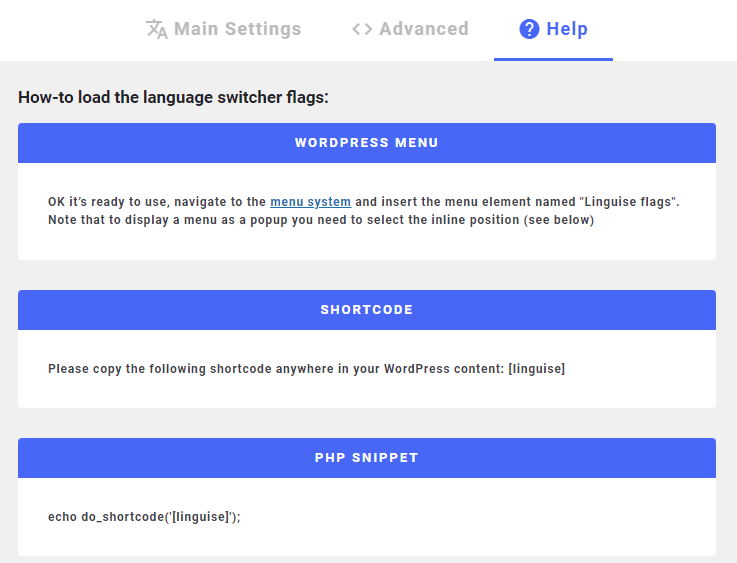 There are also literally tons of design setup for the flag language switcher. For example, you can setup the Russian flag to be squared, with border radius or totally round like below.
When you have finalized all the design and function configurations, click Save Settings and Linguise to take care of the rest.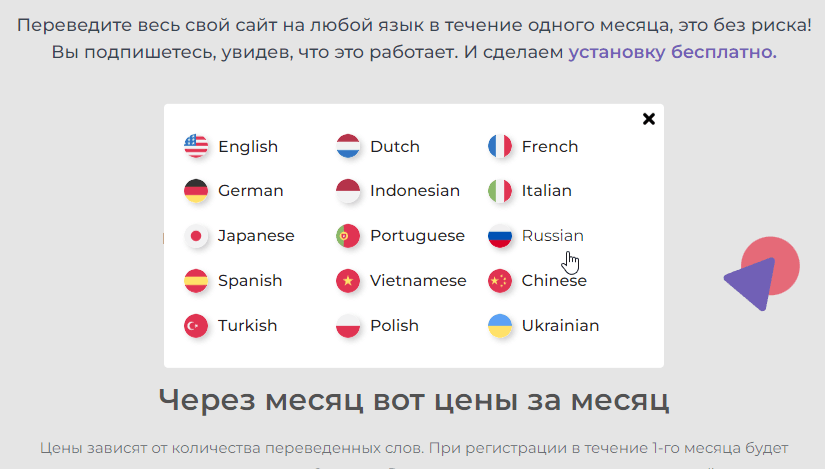 Ready to explore new markets? Try our automatic translation service for free with our 1-month risk-free trial. No credit card needed!
100% of the Russian translated content is editable
After your website has been translated, you can make changes to it using the Live Editor from Linguise. The Linguise Live Editor provides users with editor and navigation modes that allow you to navigate the front end of your website and make real-time changes to the website content and its metadata as well.
Here's an example of the frontend editor with the main controls, it's not a Russian translation, but it works exactly in the same way in all the languages.
By utilizing Linguise, you can quickly and seamlessly translate your entire website into any language of your choice. Moreover, with the intuitive editing interfaces that come included in this powerful tool, you have full control over all of your translations to ensure their accuracy and precision.
With the Visual Editor, you can instantly preview your WordPress website as you make modifications to translations in real time on a live page. This enables you to keep tabs on context and design simultaneously.
With the convenient search bar on top, you can swiftly locate and edit translations or other material. Plus, clicking on the Translation options button will permit you to build rules for your translation files. Moreover, with Linguise, you can easily get in touch with professional translation services right from the web application as an additional feature. All you need to do is choose which pages of your website should be professionally translated and start!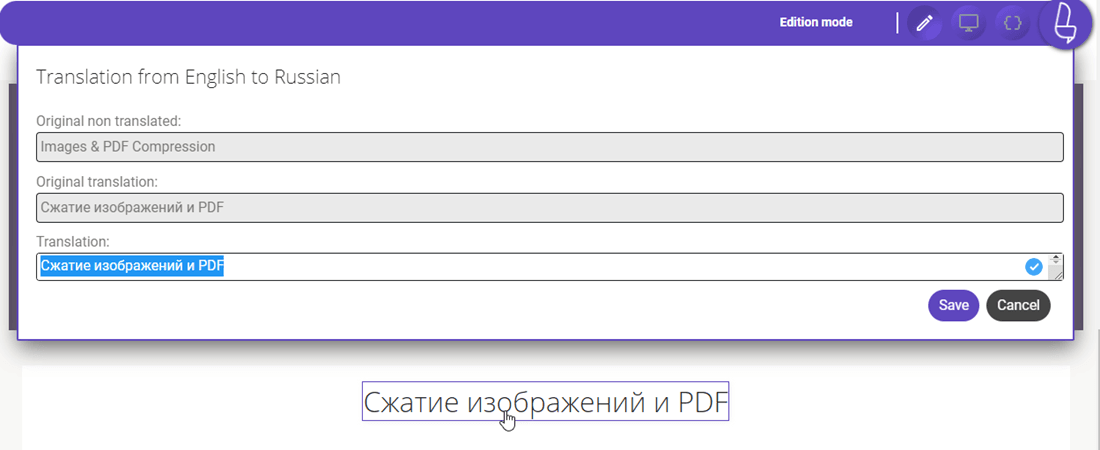 Linguise pricing for Russian website translations
You can use Linguise free version with one-month period, with up to 600 000 words translated, and you have one month free for each new domain! (no credit card is required to register).
If you've planned to translate your website only in Russian language, that would represent 600 pages of 1000 words for a cost of $25/month or $275 per year. There's also a smaller plan for smaller websites plus an unlimited translation plan for considerable websites. Here's a direct registration link in case you want to try it now for free
START
INCLUDED IN 1st MONTH FREE TRIAL

200 000 translated words

Unlimited translated page views

Unlimited languages

1 website per plan with one month free
PRO
INCLUDED IN 1st MONTH FREE TRIAL

600 000 translated words

Unlimited translated page views

Unlimited languages

1 website per plan with one month free
LARGE
ACCESSIBLE WITH SUBSCRIPTION

UNLIMITED translated words

Unlimited

translated page views
By localizing your website for new target audiences, you can not only grow into previously untapped markets but also increase sales.
It is essential not to rely on free automatic translation as you'll only lose time and won't be accessible by Russian native speakers. Human translation only will be too expensive as Russian is a complex language to translate. High-quality automatic translation tools like Linguise, with a proofreading option seems to be the ideal solution.